Pantry Vegetable Beef Soup Recipe
This Pantry Vegetable Beef Soup is a simple weeknight meal, easy to make with ingredients stocked in the pantry; add ground beef or turkey and serve!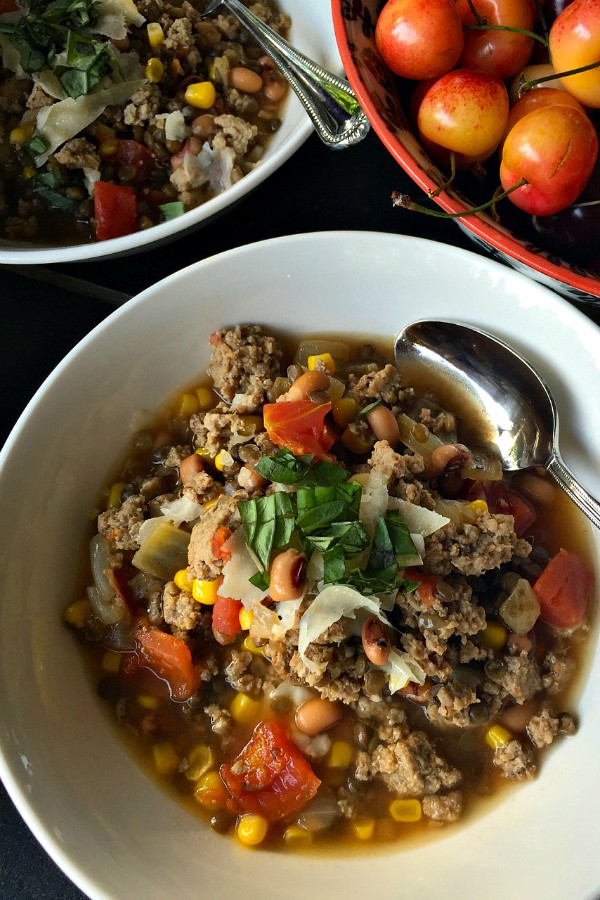 Friends, are you menu planning for the week ahead? ENNJOY this Pantry Vegetable Beef Soup – your family will love you! Made with mostly items from your pantry … blackeye peas, corn, tomatoes, stock … just add your favorite meat!
Last week, my sisters and I went to lunch. We do this often, and always for our birthdays.
I love this quote that I found on Pinterest. It says it all.

I'm also really going to miss my sisters when we move! (sniff-sniff)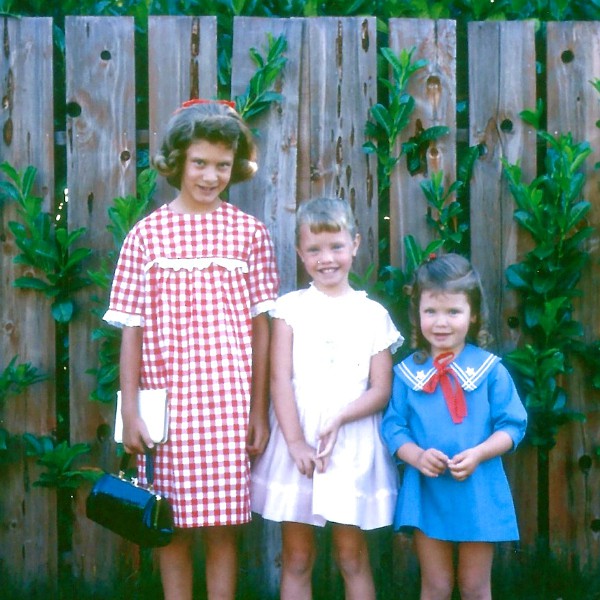 (Fortune Drive, Medford, Oregon 1967–pretty sure we were headed to Sunday School.)
There's nothing quite like a sister. We've had some pretty fun times together – here, here, and here.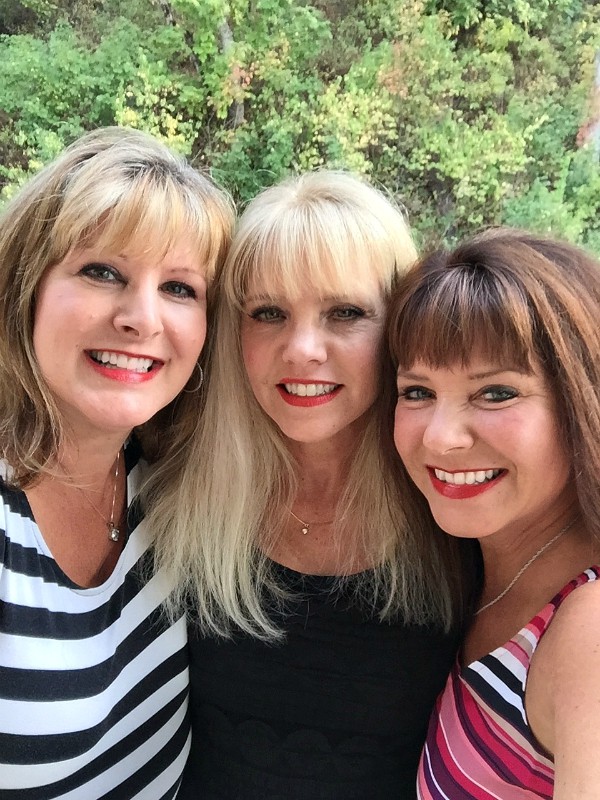 Organizing and cleaning the pantry
I also think back to one of my birthday gifts years ago, a gift to help me organize and clean out my pantry. Only a sister would take the time to do this, right? Hee hee. I have the best sisters!
Since I actually did clean through my pantry last week, I whipped up a healthy vegetable soup, made mostly with what was in my pantry!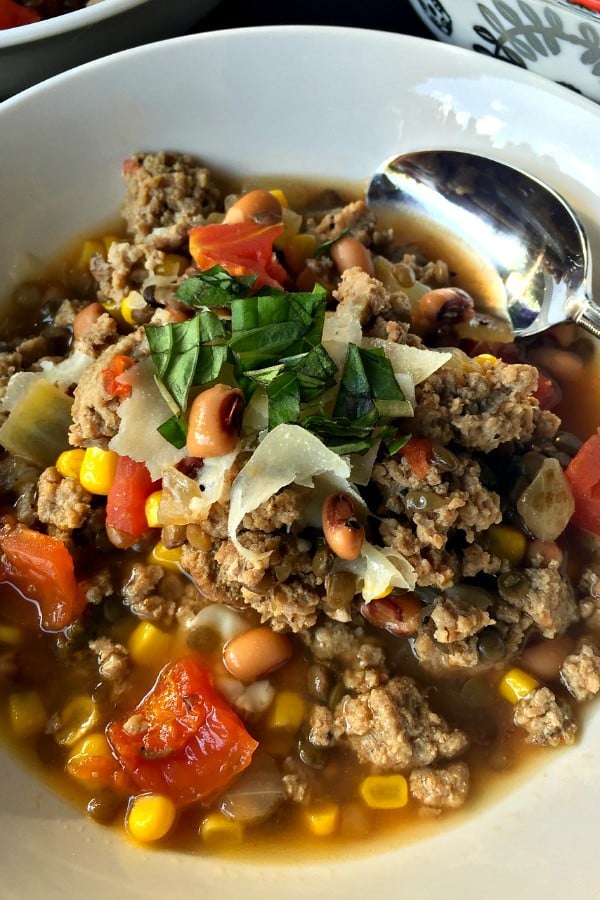 Pantry Vegetable Beef Soup
Simple, with tomatoes, beans (actually, black-eyed peas), corn, and stock.
Add the beef or ground turkey.
And of course, the flavor of the soup is all in the seasoning, right?
I've been using Rodelle's Texas Style Briskett Rub.
Sweet and smokey with a hint of heat.
It goes well with chicken, pork chops, steak … and soup!
So we added fresh Parmesan that I brought home from my recent trip to Italy, with fresh basil from the garden.
Served with cherries on the side and lemon bars for dessert.
I'd say the perfect, light summer meal!
ENJOY!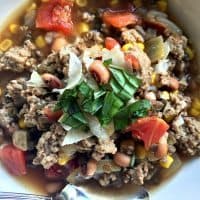 Print Recipe
Pantry Vegetable Beef Soup
Ingredients
1

pound

ground beef or turkey

1

onion

chopped

1

Tbsp.

olive oil

1 15

oz.

can Bush's Blackeye Peas

drained

1 15

oz.

can corn

drained

1 15

oz.

can diced tomatoes

1

quart

chicken or beef stock

Salt and pepper

Favorite seasoning

Parmesan cheese

Fresh basil
Instructions
In a large frying pan, heat the oil on medium. Add the chopped onion and sauté for 4-5 minutes. Add the ground beef or turkey. If using beef, you may need to drain after cooking. Season to taste; set aside.

In a large pot, add the peas, corn, tomatoes, and stock. Heat to boiling; turn heat down to low. Add the beef and onion mixture. Season to taste. Cook on low for 20 minutes.

Garnish with fresh Parmesan cheese and chopped basil; serve!
More pantry recipes: Vegetable and Pasta Soup [The Little Kitchen], Greek Yogurt Ranch Dip [Cupcake & Kale Chips], Loaded Chocolate Chip Cookie Bars [Crazy for Crust], Cheesy Italian Baked Cannelini Beans [RE], Tortilla Chicken Pie [RE].
SaveSave