Butternut Pear Soup
This Butternut Pear Soup recipe is made with pears and butternut squash. The perfect autumn soup to enjoy for a cozy meal!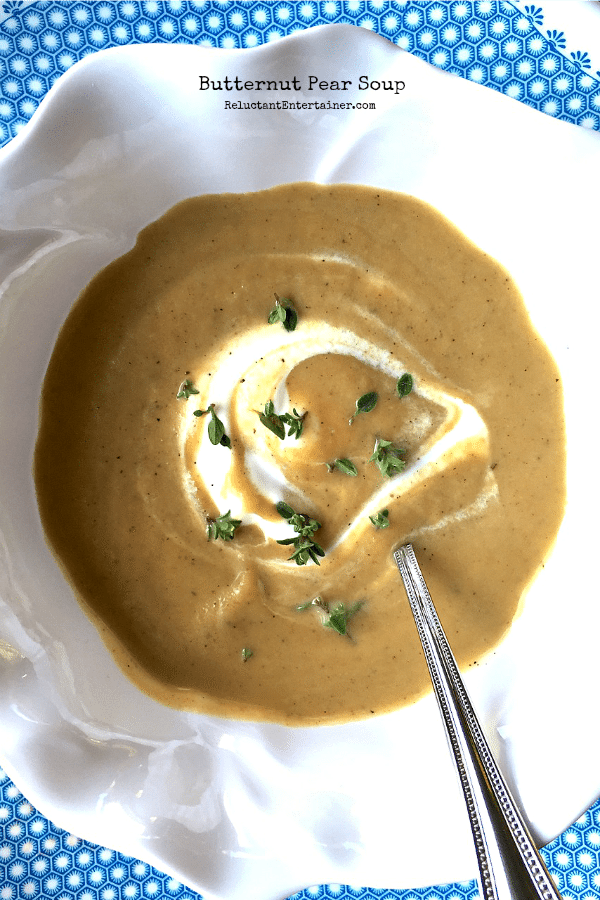 I love giving Harry & David's Royal Riviera Pears as gifts this time of year. These delicious pears are dear to my heart, having worked closely with Harry & David over the past few years, but also having enjoyed the beauty of their orchards and fresh produce right in my own hometown! I'm spoiled, I know.
Butternut Pear Soup.
Today I'm sharing a very easy, butternut pear soup recipe. I've made several batches of this soup, because guess what? It doesn't last long in my house. It's devoured almost as quickly as I make it. Oh, and don't forget every box of pears comes with the "special" gold-wrapped pear!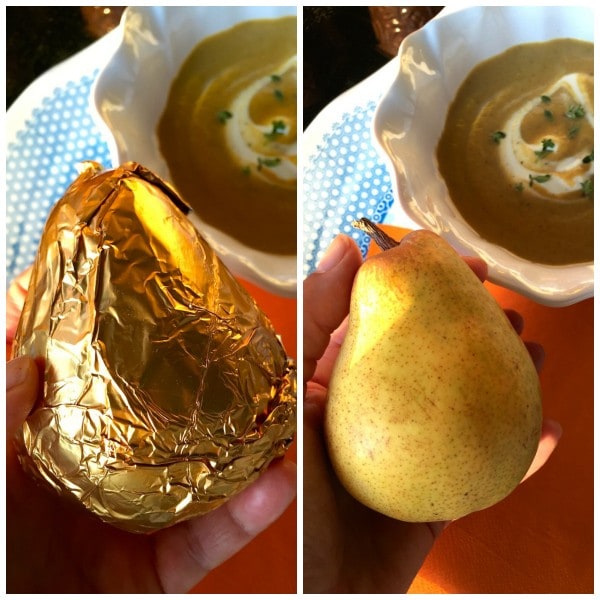 Next week I'm hosting a ladies dinner party, and this soup is on the menu! The gram masala is a great addition, and of course the fresh thyme really adds to the flavor.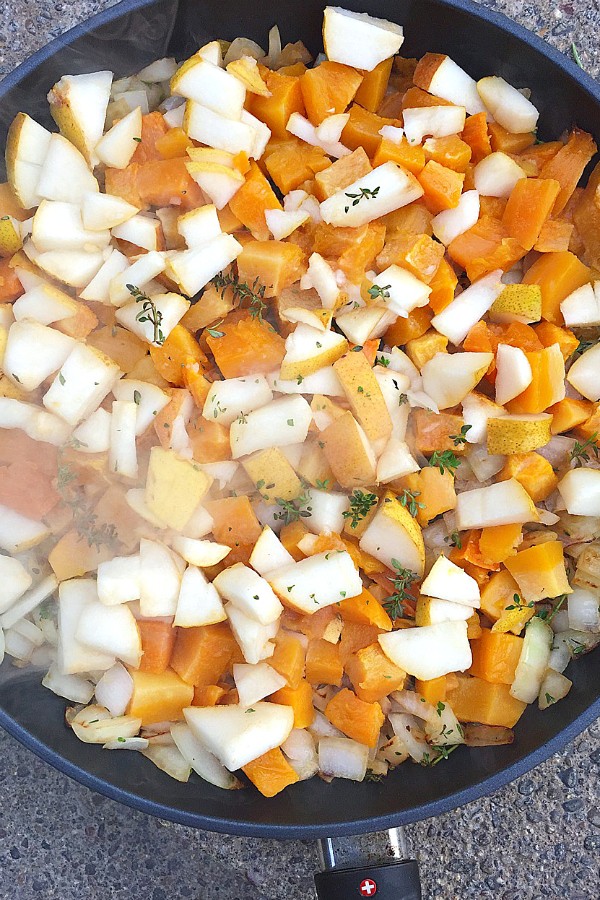 Saute the onions, butternut squash, and pears.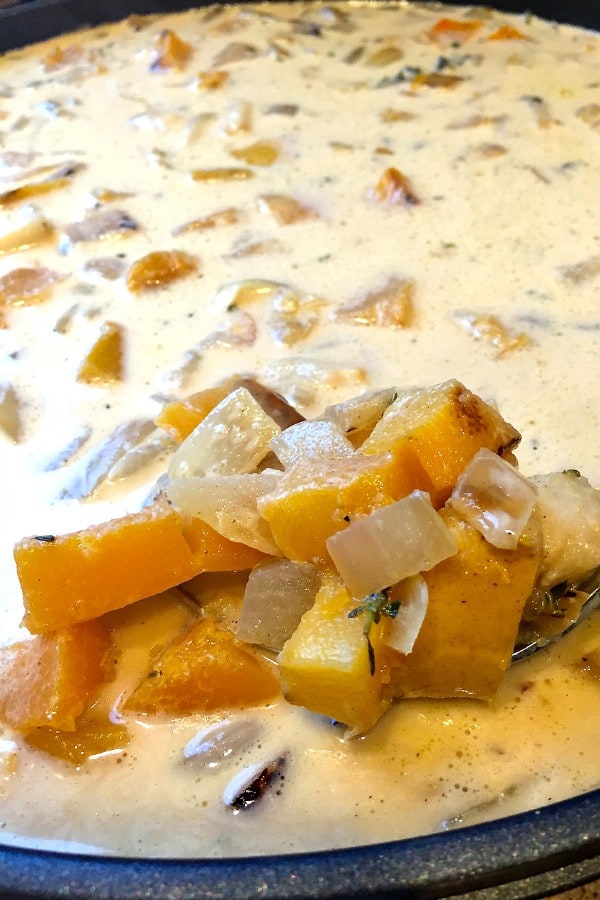 Add the rest of ingredients, puree and serve. The most delicious bowl of soup – thanks to Harry & David!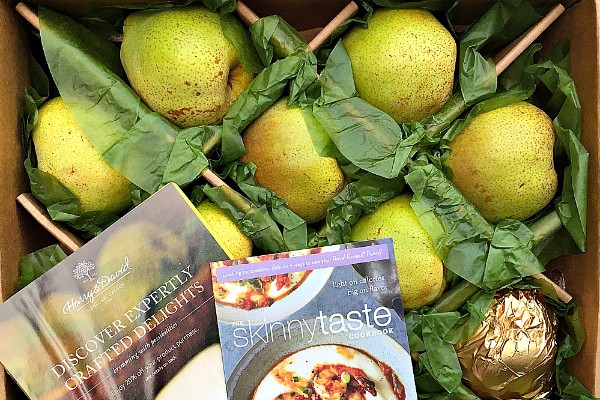 Please leave a comment telling me why you think pears are the perfect gift to give?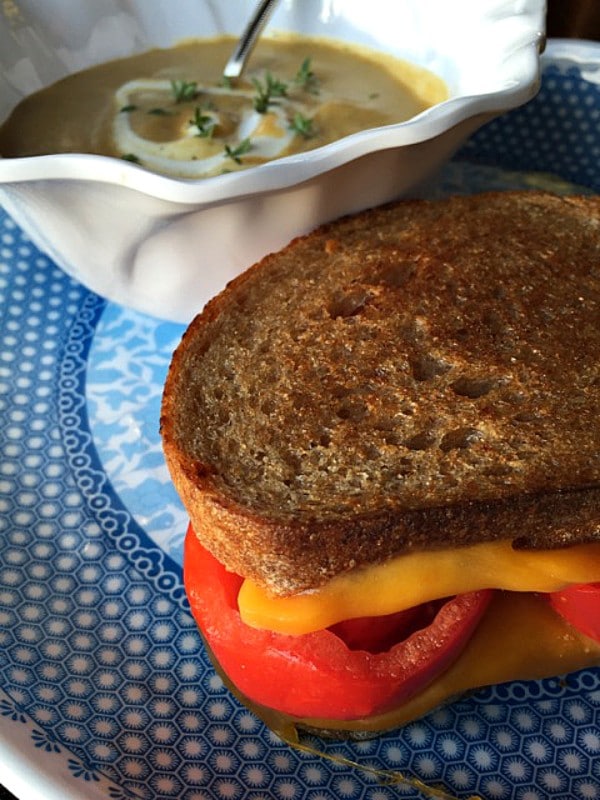 Butternut Pear Soup
Using precooked butternut squash, this recipe takes about 25 minutes to whip up! If using raw butternut, bake at 400 degrees and cook for about 20 minutes (1/2 cup water, butternut, salt and pepper, 2 T. honey) until tender (with a fork). Oh, and this soup tastes the BEST with a grilled cheese and tomato sandwich!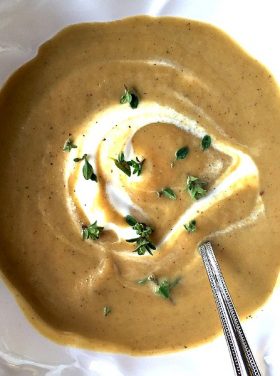 Ingredients:
2 Tbsp. olive oil
1 large sweet onion, chopped
1 Tbsp. fresh thyme (1 tsp. dried)
1 lb. butternut squash, peeled and cooked
2 pears, cut into small pieces (skins on)
6 cups chicken stock
1 cup heavy cream
1 tsp. salt
1/2 tsp. pepper
2 tsp. gram masala
Creme fraiche & fresh thyme (optional topping)
Directions:
Heat olive oil in a large sauté pan, add onions and thyme and cook for about 5 minutes until soft.
Add cooked squash, pears, chicken stock, heavy cream, gram masala, salt and pepper; bring to a boil and simmer for about 10 minutes.
Use blender to puree the hot soup.
Garnish with creme fraiche & fresh thyme.
All images and text ©
Are you following me on Instagram, Twitter, Facebook and Pinterest? Thanks being here today, and if you'd like to subscribe to Reluctant Entertainer, to have each post delivered straight to your e-mail box, then please add your email, here. It's really easy!
Disclosure: Harry & David is providing the winner with a box of Royal Riviera pears. I was also provided with a box of pears. There are affiliate links in this post.