Pumpkin No-Churn Ice Cream
Hanging on to summer, enjoy this Pumpkin No-Churn Ice Cream with Ginger Snap Cookies. A simple early autumn dessert to serve to dinner guests!

Enjoy this easy recipe to make ahead and freeze, Pumpkin No-Churn Ice Cream with Ginger Snap Cookies!
Friends, I just love the month of September. It think because it's still full of warm days, but there's also such a hint of fall every morning with the chill in the air. My morning walks are my favorite!
I'm not quite in the mood to start setting out fall decor, are you? But I really do love fall and pumpkin recipes and mums (I just bought one!), and starting to think about nesting!
Here's another recipe to save for this beautiful fall season: Bourbon Maple Pumpkin Pie Parfaits.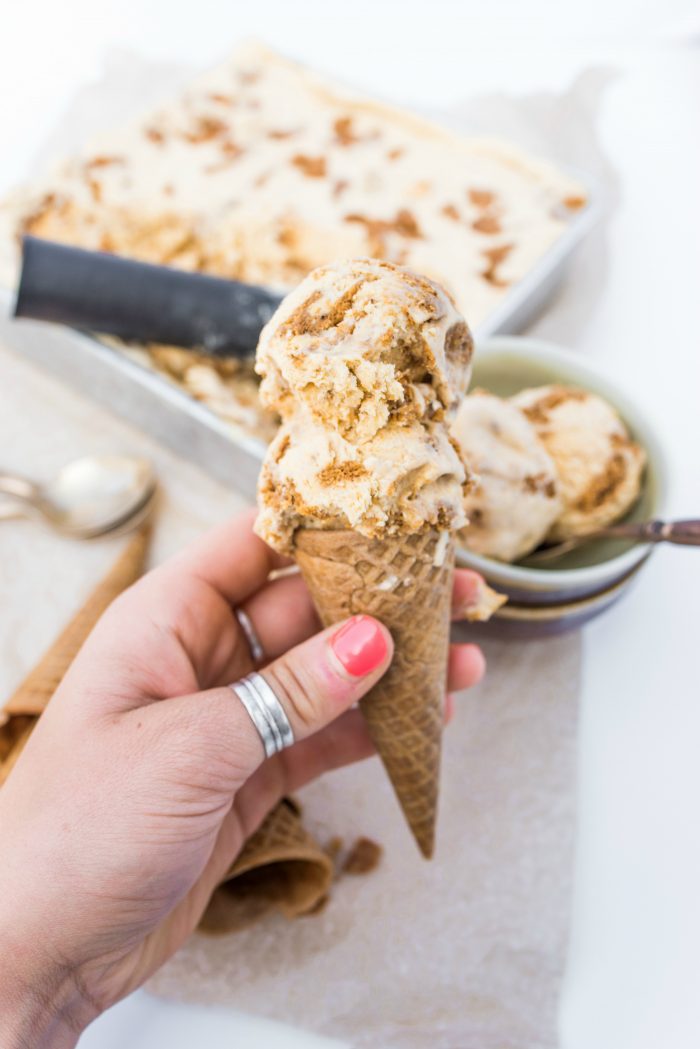 Pumpkin No-Churn Ice Cream
Today I'm sharing a recipe that goes well with summer and fall: Pumpkin No-Churn Ice Cream with Ginger Snap Cookies.
Ice cream (yay, summer!), and pumpkin (hello, fall!)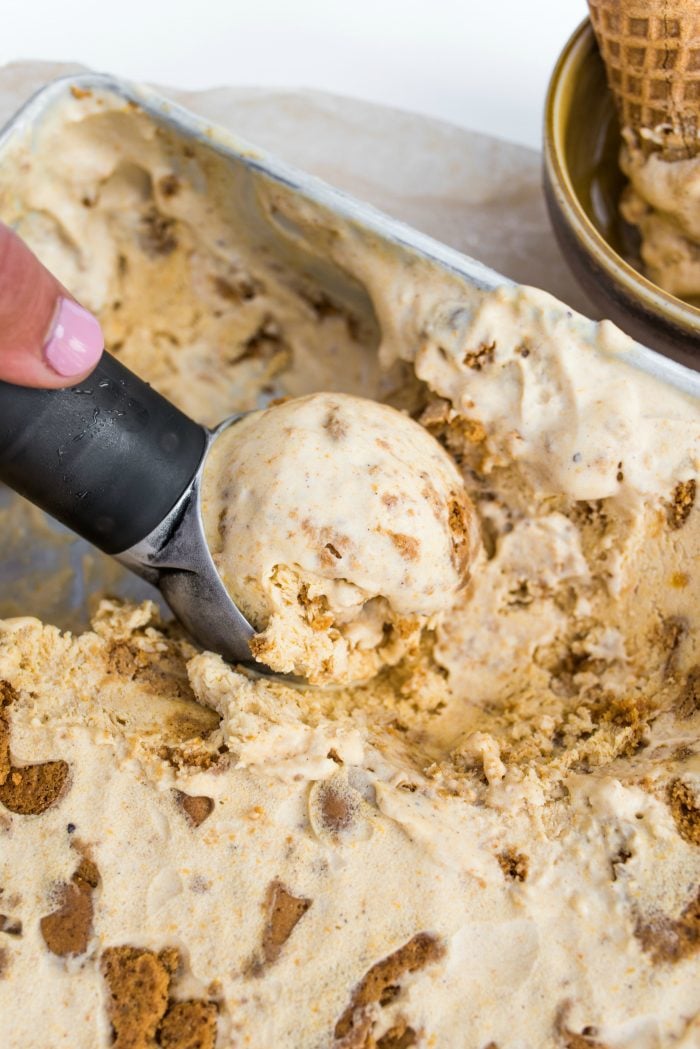 Ginger snap cookies
And then ginger snaps too? Stop it!! These are my favorite cookies!
So good, make ahead and keep handy in your fridge for company!
Hopefully you can discipline yourself and not eat it all (like I would). :)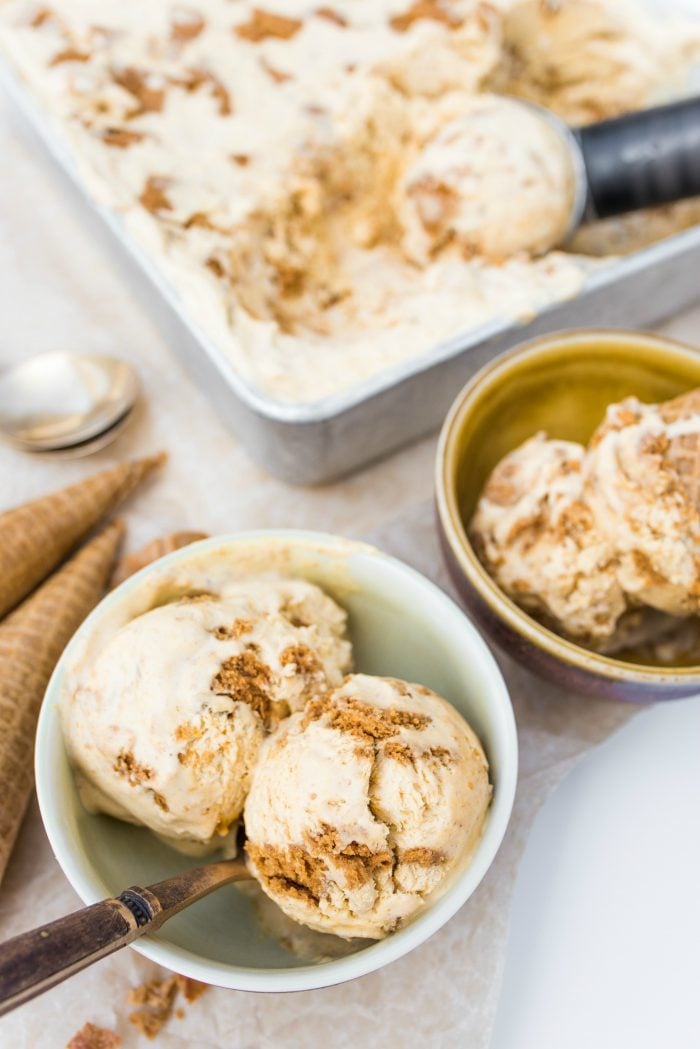 Fall is here!
Another thing I love about the crisp autumn air is the cool breeze that blows the aspens on the side of our house.
I love this quote by Melissa Michaels: "Fall Nesting doesn't depend on what you see outside your door, it's about what you long to feel on the inside." [Don't forget you can win a $500 Wayfair card, plus you may like this Apple Goody Dessert!]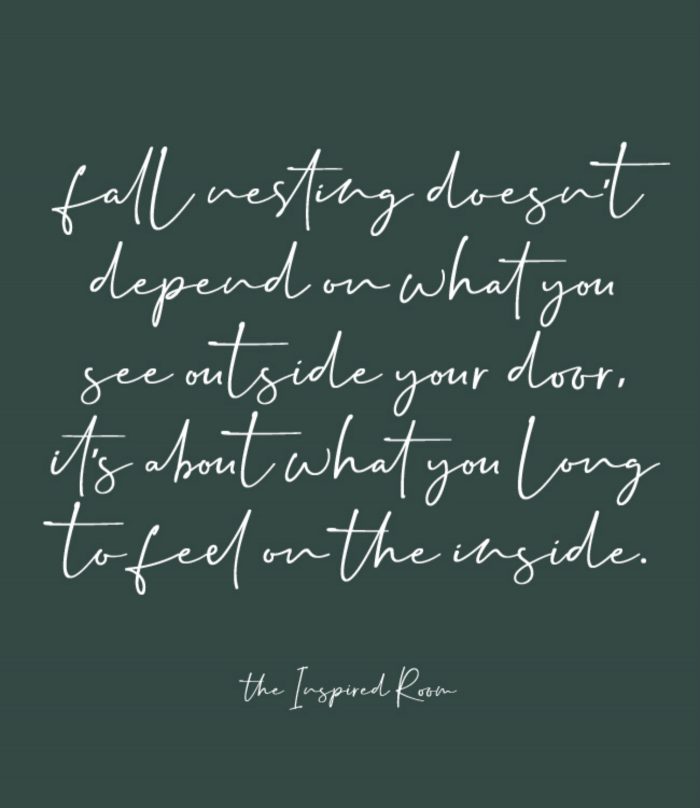 I love the coziness that happens in our home as our schedule slows down a tiny bit, and we nestle inside earlier when it gets dark and chilly outside. We hang together as a family.
Then on the weekends, invite a few friends into our home for dinner.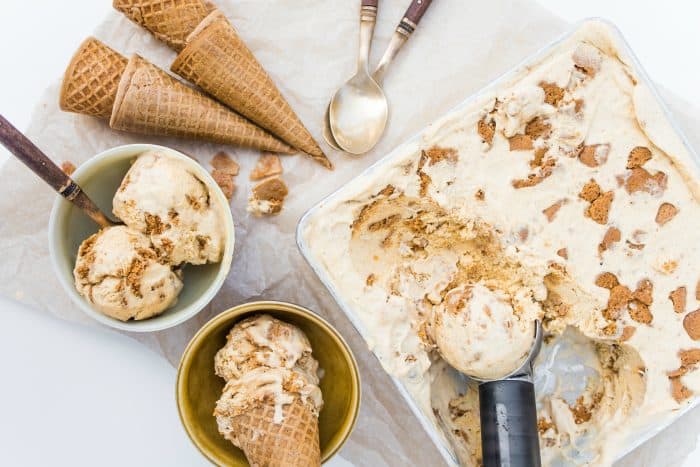 For dessert? This super easy ice cream recipe!
Enjoy!
PS. Have you tried No-Churn Tiramisu Ice Cream?
Get the Recipe: Pumpkin No-Churn Ice Cream with Ginger Snap Cookies
The ice cream lasts about 2 weeks.
Ingredients
1 14-oz. can sweetened condensed milk
1 teaspoon vanilla extract
2/3 cup 100% pumpkin puree, not pumpkin pie filling
3/4 teaspoon ground cinnamon
1/4 teaspoon nutmeg
3/4 teaspoon fine sea salt
Pinch of cloves and allspice
1/2 teaspoon orange zest, optional
4 oz ginger thins or ginger snaps, roughly chopped
2 cups heavy cream
Instructions
In a medium bowl, mix together pumpkin puree, sweetened condensed milk, vanilla, spices, and orange zest (optional).

In a second large bowl, beat the heavy cream with an electric mixer or in a stand mixer on medium-high speed until stiff peaks form, 3 to 4 minutes.

In a large bowl, combine the pumpkin puree with the vanilla, salt, cinnamon, nutmeg, orange zest (optional), sweetened condensed milk, cloves, and allspice. Mix until all ingredients are well combined.

Next, gently fold the whipped cream into the pumpkin, stopping when the mixture looks smooth, with no more streaks of whipped cream.

Finally, mix in the cookies until they are well dispersed.

To freeze the ice cream, pour the mixture into a loaf pan, or metal cake pan. Spread the top until it is flat, then press a sheet of wax paper on top until there are no air bubbles underneath—this will prevent the top from getting icy.

Transfer to the freezer and freeze for at least 6 hours.

Serve with cones, cookies, or simply in bowls.
Hello and welcome to my home and table!
I'm Sandy—lover of food, family, cooking, THE BIG BOARD, travel, and bringing people together. Through great recipes and connection around the table, we become better, stronger, and more courageous people. Feasting on Life is real, and every time we do it, we grow a little more. Read more...