Cashew Pesto Wild Sockeye Salmon with Heirloom Tomato
Cashew Pesto Wild Sockeye Salmon with Heirloom Tomato is cooked to perfection on a pellet grill, with smoky flavors. Topped with a dairy-free cashew pesto!
In the spring here in central Oregon, you never know if you're eating inside or out. But one thing we do know, we are grilling for almost every meal. And making a delicoius Cashew Pesto Wild Sockeye Salmon with Heirloom Tomato recipe tooday!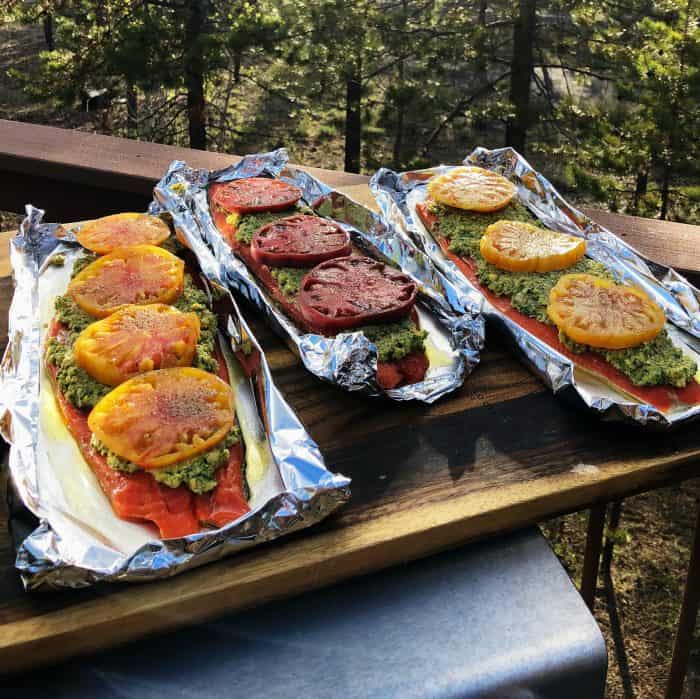 Grilled Wild Sockeye Salmon
A few weeks ago friends came to enjoy a flavorful Cashew Pesto Wild Sockeye Salmon with Heirloom Tomato dinner, served with a side of Grilled Tequilla Oregano Onions (recipe coming soon), a large green and fruit salad.
This recipe is awesome for your dairy-free guests! (Oh, and looking for a dairy-free dessert? You'll love this 5-minute Vegan Coconut Cream Dessert and Vegan Almond Butter Coconut Cookies — so good!) Plus, it's on the table in less than 30 minutes, perfect for a summer party!
Woodwind Woodfire Pellet Grill
An amazing addition to our entertaining this spring has been the Woodwind Woodfire Pellet Grill. It combines the convenience of propane with the deep flavor of wood. And it is exceptionally easy to use. We were surprised to find out how few pellets it needed to cook an entire meal.
This is what you can do with this amazing grill: Grill, Smoke, Bake, Roast, Braise, BBQ and Sear.
The grill has a huge cooking area (570 square inches) and a removable upper warming rack, that gives you enough room to cook for the entire neighborhood.
After each use, Camp Chef advises that you clean out the ash container, which is as easy as pulling a lever. And what is remarkable is how few ashes there really are! (Pellet box below.)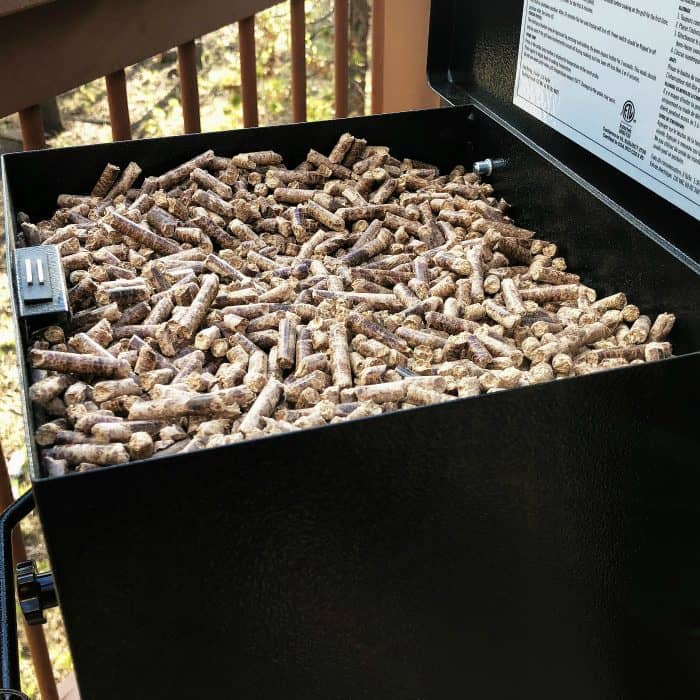 Set the temperature and walk away
It's the first time we've had an outdoor cooking system that lets you set the temperature and walk away, and that also has a built-in temperature probe so you no longer overcook the meat.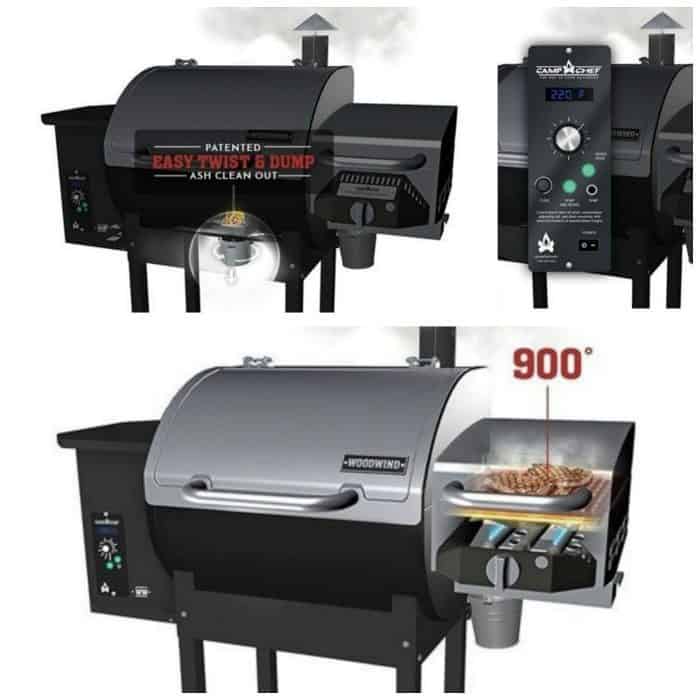 How to grill steak
You can set the grill temperature between 160 and 500°. And then in order to get that high temperature sear that so many people enjoy, you can get the propane sear box as high as 900°!
This is especially wonderful for steak. You can cook your steaks on a lower temperature in the grill area, making sure that it is cooked to your liking on the inside and is smothered in smoky flavor. And then transfer your steak to the propane-fueled sear box, which can go as high as 900°, giving your steaks that steakhouse flavor and look and crisp, caramelized sear.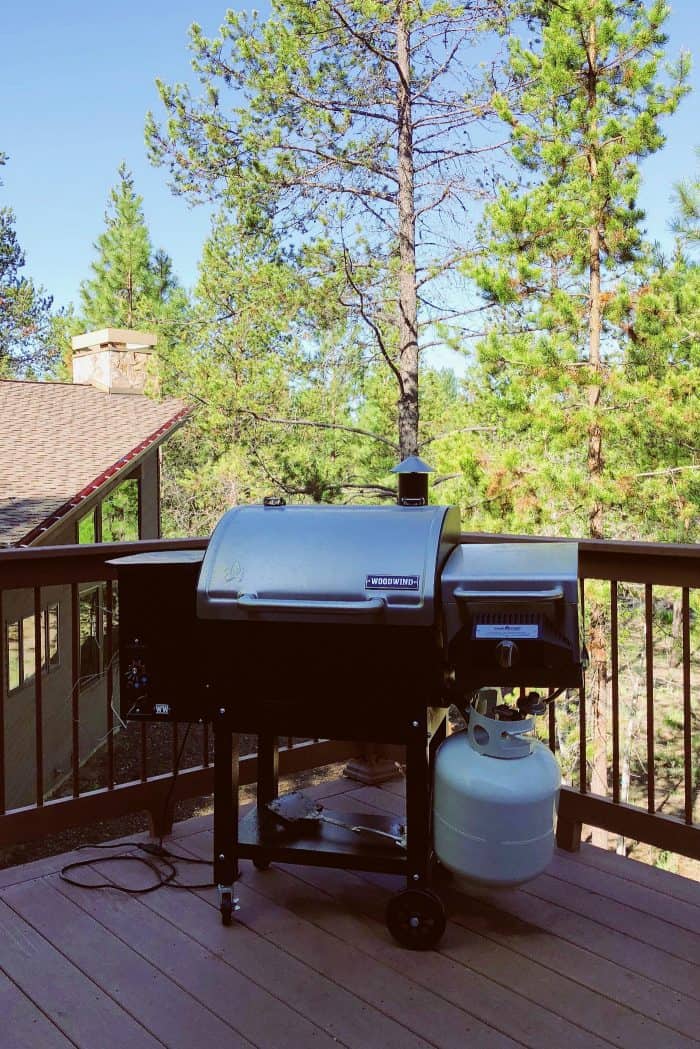 The Woodwind Wood-fire Pellet Grill brings easy and delicious BBQ right to your back patio. Take a peek at ours!
Cashew Pesto Wild Sockeye Salmon with Heirloom Tomato
We've cooked steak and chicken on our new grill, but this Cashew Pesto Wild Sockeye Salmon with Heirloom Tomato is our NEW favorite! The flavors … out of this world!
Start off with salmon filets. (We bought this Wild Sockeye Salmon at Costco.)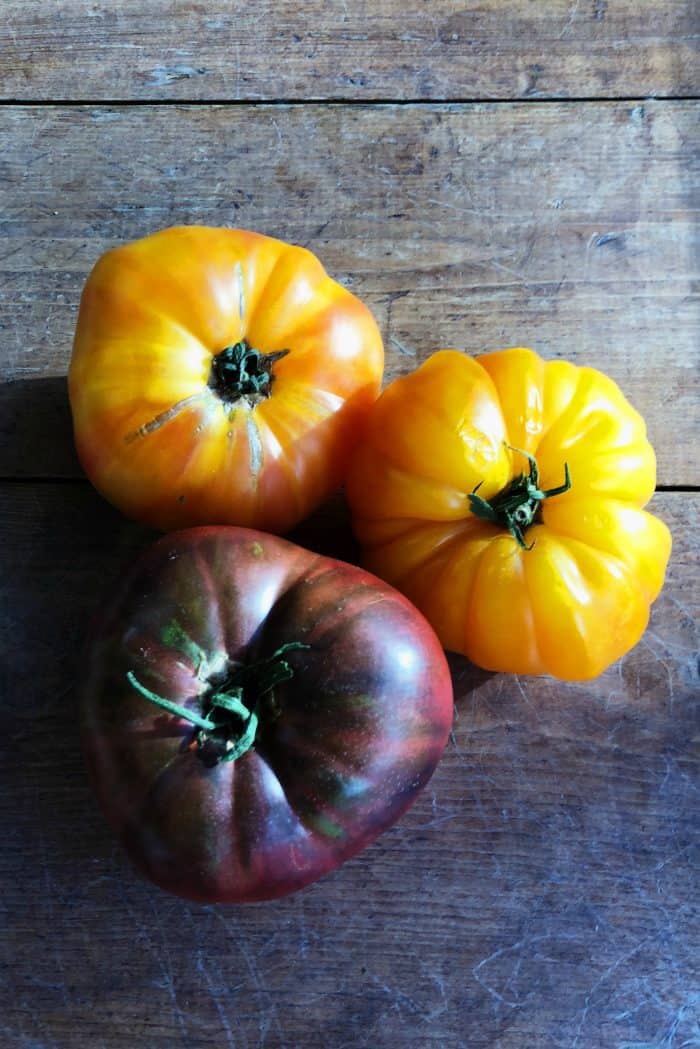 Fresh garden heirloom tomatoes. (Thanks to our local Market of Choice for carrying these.)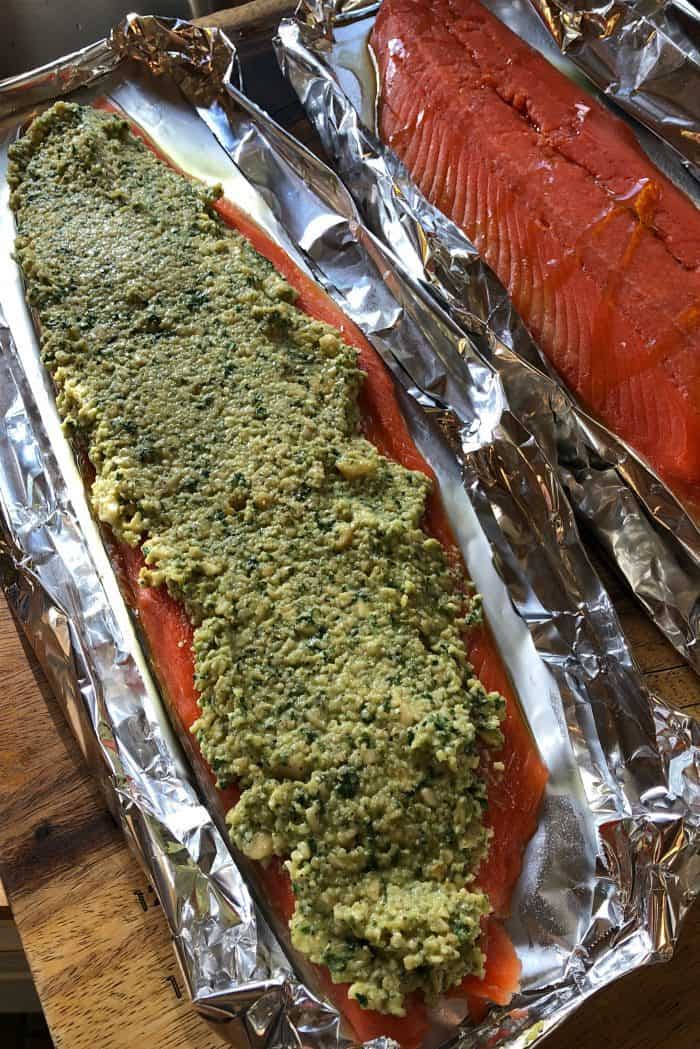 Make your own (dairy-free) cashew pesto!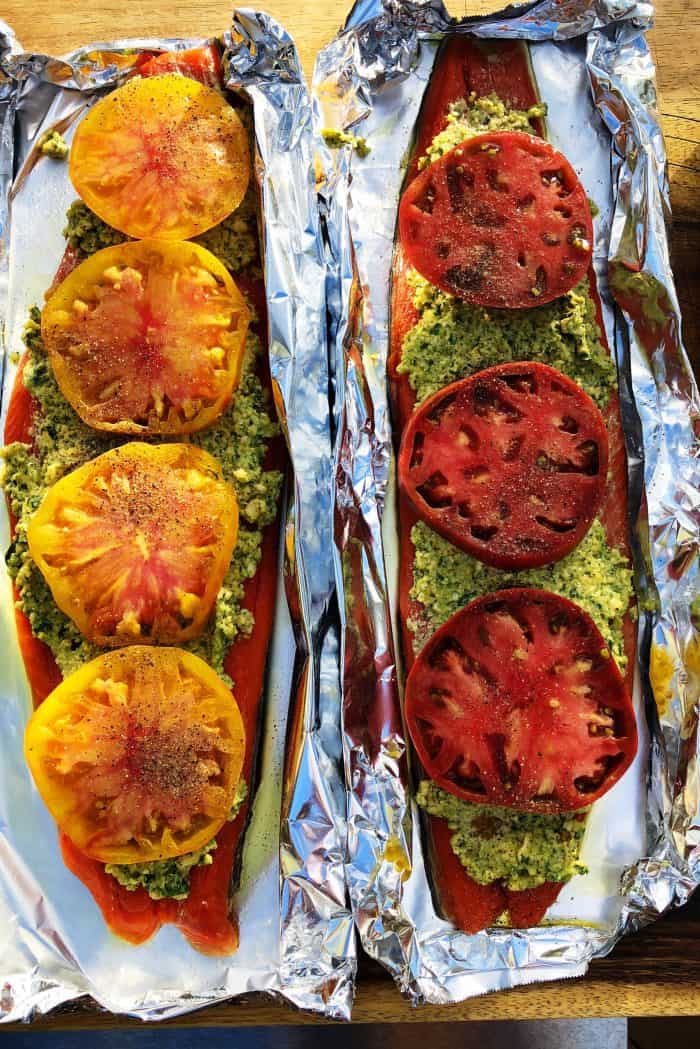 Ready, set … GO! Grilled to perfection!
This meal was the essence of summer and good friendships, we all agreed.
More salmon recipes
More salmon recipes: Grilled Lemon Dill Salmon [RE], Wild Rice Stuffed Salmon [Belly Full], Asian Sticky Salmon in Foil [Oh Sweet Basil].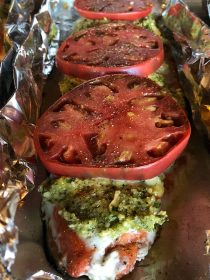 Get the Recipe: Cashew Pesto Wild Sockeye Salmon with Heirloom Tomato
Ingredients
2-2.5 pound Wild Sockeye Salmon filet, we buy at Costco
3 medium heirloom tomatoes
1 cup finely ground cashews
1/2 cup plus 1 Tbsp. olive oil
1-2 large bunches fresh basil
2 tsp. pepper
2 tsp. salt
4 tsp. honey
4-5 tsp. garlic
6 tsp. lemon juice
Instructions
Rinse and dry Wild Sockeye Salmon filets. Layer two sheets of foil together, large enough for the salmon, and fold up the sides to make a tray. Place filet on foil. (We used 3 trays, so 6 pieces of foil).

To make the pesto, in a food processor, combine basil, olive oil, garlic, salt, pepper, honey, and lemon. Process until smooth. Add in finely ground cashews and continue to blend until smooth.

Spread pesto evenly on fish. Slice tomatoes and place on top.

Place on grill at 300 degrees heat, for about 10 minutes, or until white areas appear on the top of the salmon. Cooking time will depend on thickness of fillet. Use the back of a spatula method to see if fish is done. (Press on the fish using the back of a spatula. If fish is firm, then it is done. If it is spongy, you need to keep cooking it:)

Remove from the grill and serve immediately!
This post is sponsored by Camp Chef as I am reviewing their amazing Woodwind Woodfire Pellet Grill.
Camp Chef provided us with this amazing grill, but as always, all opinions are my own. We only write about what we love and use here on RE. This post has affiliate links. Every purchase from these links supports RE at no extra cost to you. Thank you!
Hello and welcome to my home and table!
I'm Sandy—lover of food, family, cooking, THE BIG BOARD, travel, and bringing people together. Through great recipes and connection around the table, we become better, stronger, and more courageous people. Feasting on Life is real, and every time we do it, we grow a little more. Read more...