Cheesy Ground Turkey Ramen Skillet Recipe
Enjoy Cheesy Ground Turkey Ramen Skillet Recipe, a delicious cheesy weeknight meal made with your favorite ramen, baked to perfection!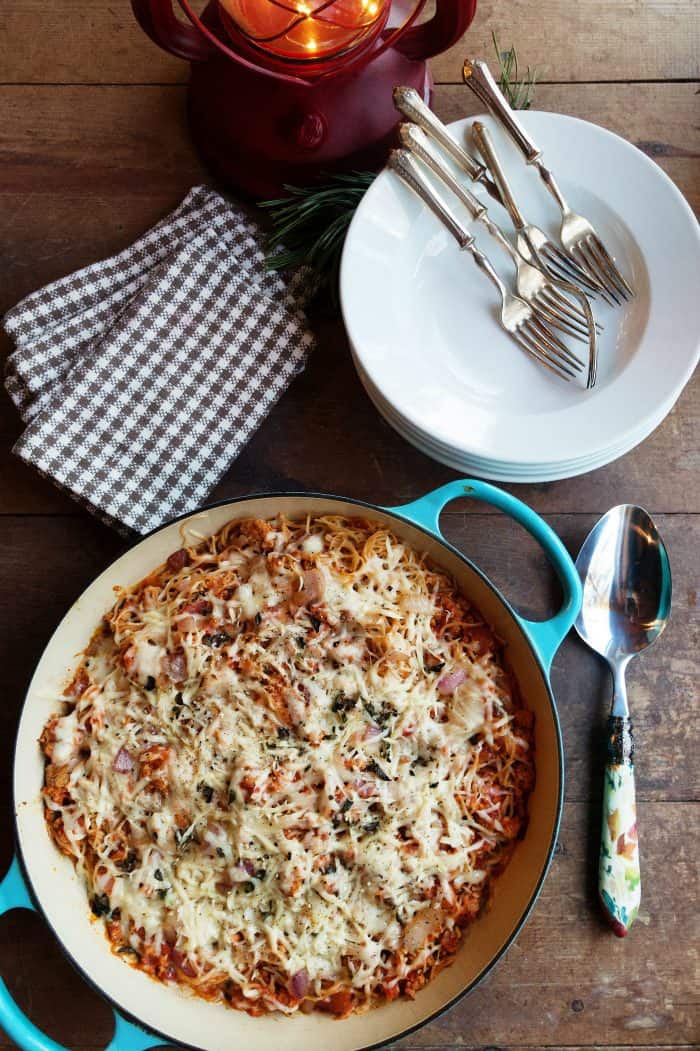 Friends, I heard something that I loved the other day. It was from my son, but it reminded me of something I shared awhile back.
Our sons went to a work party over the weekend, and we were talking about the new people they have met. The oldest said it's fun meeting new people, and what he loves about holiday parties is looking around for others sitting by themselves.
How sweet is this? Now, of course, this is a more introverted personality popping through Elliot's bubbliness, but still … that warmed my heart.
The lonely, the more quiet, reserved people who may not feel as "at home." These are the peoople we should be looking for, inviting over, and reaching out to.
That was my little love lesson for the week. I want to love more, be aware of my surroundings more, and look for opportunities.
It's true, our heart shapes our actions!
How blessed are we, anyway, with personalities and gifts to give to others? :)
A little more on "neighboring" here, and here.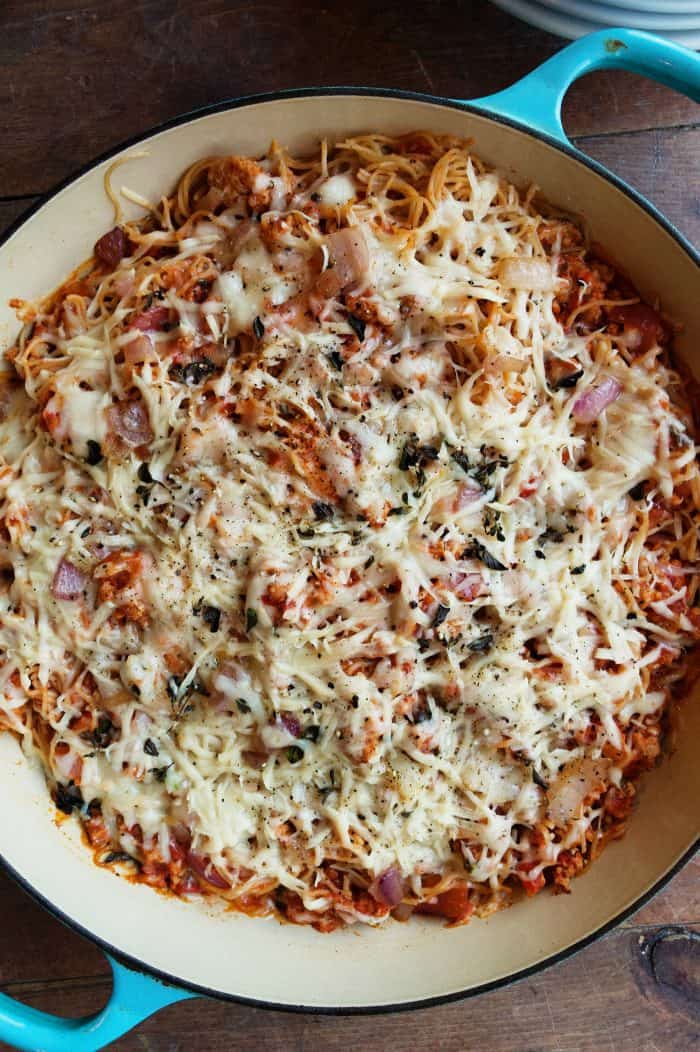 Cheesy Ground Turkey Ramen Skillet Recipe
Last week, we enjoyed this Cheesy Ground Turkey Ramen Skillet Recipe, when I was looking for a recipe to make using Organic Millet & Brown Rice Ramen that we had purchased at Costco.
Mm-m-m … so good! Have you tried this ramen yet?
We love skillet recipes, like this Skillet Lemon Chicken, and Skillet Mexican Lasagna!
Add your favorite marinara sauce, with lots of cheese!
Enjoy and have a great week, Friends!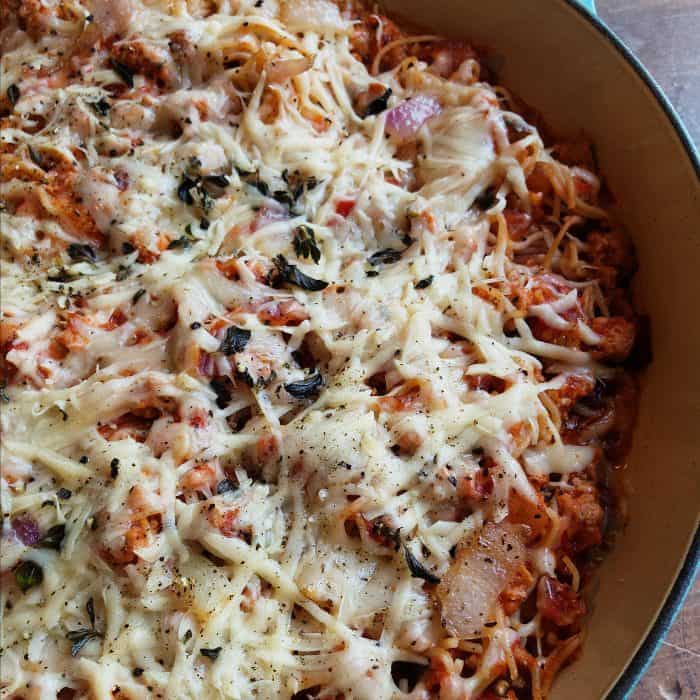 Get the Recipe: Cheesy Ground Turkey Ramen Skillet Recipe
Ingredients
2 Tbsp. olive oil
1 pound ground turkey
3 packets, about 8 ounces ramen noodles (we buy Organic Millet & Brown Rice Ramen)
Salt
1 red onion, chopped
5 garlic cloves, thinly sliced
1 25 oz jar Delallo Pomodoro Fresco marinara sauce
3 Tbsp. chopped fresh oregano, save 1 Tbsp. for topping
1 Tbsp. red wine vinegar
1 1/4 cups mozzarella cheese, grated
1 1/4 cups Parmesan cheese, grated
1 1/4 cups pepper jack cheese, grated
Salt and pepper
Instructions
Heat oil in a large oven-proof skillet over medium-high. Add onion and cook 3-5 minutes, adding garlic toward the end. Saute for 1 minute. Add ground turkey and cook for additional 5-6 minutes, stirring to crumble, until meat mixture is golden brown. Remove from heat.

Cook ramen noodles according to package directions (about 3-5 mintues) in lightly salted water. Drain and rinse with cold water.

Stir in marinara sauce, oregano, and vinegar into the meat mixture; cook 5 minutes. Add ramen noodles; gently mix. Sprinkle 1 cup of each of the 3 cheeses into meat mixture. Sprinkle with remaining cheeses.

Bake at 375 degrees for 15-20 minutes; cheese will be bubbly and melted. Sprinkle with fresh oregano; serve!
More ramen noodle recipes: Quick Ramen Noodle Soup [Fifteen Spatulas], Ramen Cabbage Salad [Valerie's Kitchen], Ramen with Sweet and Sour Pork [Belly Full], and Ramen Antipasti Salad Platter Recipe [RE].

Hello and welcome to my home and table!
I'm Sandy—lover of food, family, cooking, THE BIG BOARD, travel, and bringing people together. Through great recipes and connection around the table, we become better, stronger, and more courageous people. Feasting on Life is real, and every time we do it, we grow a little more. Read more...