Family Hike and Healthy Chicken, Orange and Kale Salad
This Healthy Chicken, Orange and Kale Salad is perfect for lunch or dinner, any time of year!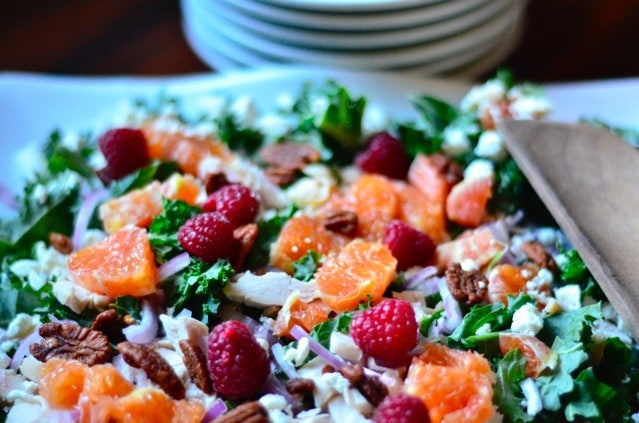 Last week, while the boys were still home from college, we spent one day hiking Pilot Rock, outside of Ashland, Oregon, not too far from the beautiful Mt. Ashland Ski Resort. Studies show that *Fathers now want more of a connection with kids and home life, and that requires putting in the time. I'm happy to say that our kids have had this kind of a father since the day they were born. He's the driving force in getting our family into the outdoors on a regular basis. Not only does he value family time, he's a great example to our family why we need this time away; the benefits of the how nature brings us all together. For this, I am eternally grateful.
Coming home off the mountain left our family of 5 starving and wanting a healthy dinner. STAT.
Mom, What's for dinner?
Do you ever panic when you hear those words? LOL I've learned to be prepared, and since we're all on a semi-health kick this New Year (meaning not hard core, but reaching for as much healthy food as we can), I'm glad I had these key ingredients on hand:
-Bag of organic kale greens.

-Fresh produce: Cara Cara oranges, fresh raspberries, red onion.

-Rotisserie chicken.

-Nuts and cheese: pecans and feta cheese.
I whipped up a giant kale salad, adding the dressing, and massaging it into the leaves, then letting the salad sit for 30 minutes.
Put a loaf of frozen bread in the oven.
Dinner was made!
Here's the beauty about a salad like this, though, if you don't have the ingredients. You can stop at any grocery store and pick up those items in less than 15 minutes!
Another tips that helps you be prepared when making salads is that you can freeze feta cheese. It changes the texture a bit, but it's great for salads!
How to freeze feta cheese:
Taking the fresh cheese, place it in an airtight freezer container or Ziploc bag, seal and label. Freeze up to 45 days. After defrosting, use on salads or cooked dishes.
We reflected on our hike.
Such beauty on a clear, somewhat warm day (for January).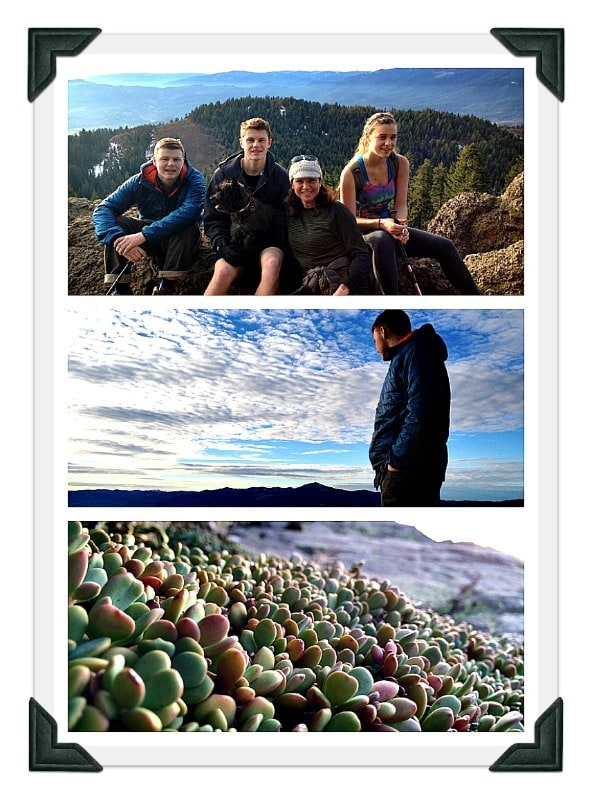 The clouds were amazing.
Succulents growing up on top.
Thankful to be together.
Every day is a gift.
I'm happy our family loves kale now, because we grow it in our garden (a lot of it!) and use it for salads (Baby Kale Salad and Pomegranate Kale Salad), Kale Chips, and also put it in our smoothies.
The salad is fantastic to serve to guests, too.
I always love entertaining when I know I'm putting good, healthy food into our guests' mouths. And I think they love it, too.
What's your favorite combination with kale for a salad?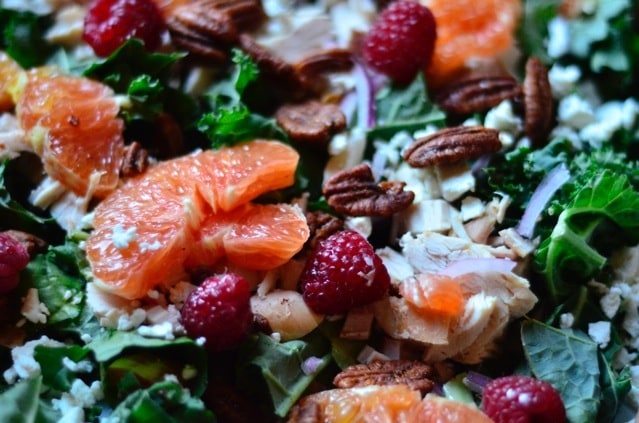 Get the Recipe: Chicken, Orange and Kale Salad Recipe
Ingredients
2-3 cups Rotisserie chicken, pulled and chopped
1 10 oz. bag kale, washed and chopped
2 seedless oranges, sliced
3/4 cup feta chese
1 cup fresh raspberries
1/2 cup thinly sliced red onion
1 cup spicy pecans, or toasted
1/4 cup red wine vinegar
1 tablespoons lemon juice
1 teaspoons honey
1 teaspoons salt
Freshly ground black pepper
1/2 cup olive oil
Instructions
Mix the vinegar, lemon juice, honey, salt, and pepper. Gradually blend in the oil, whisking thoroughly.

Place the kale and onion in a large bowl. Add the dressing, setting aside 3 Tablespoons, massaging it into the leaves. Allow to sit for 30 minutes.

Place the kale mixture on a large platter adding the chopped chicken, orange slices, fresh raspberries, feta cheese and nuts.

Drizzle the remaining dressing on top; toss to serve.
We bought the Cara Cara oranges from Costco. You can read more about them, here.
Hello and welcome to my home and table!
I'm Sandy—lover of food, family, cooking, THE BIG BOARD, travel, and bringing people together. Through great recipes and connection around the table, we become better, stronger, and more courageous people. Feasting on Life is real, and every time we do it, we grow a little more. Read more...