Chicken Rice Soup Recipe
Chicken Rice Soup is perfect with leftover chicken, turkey, and your favorite rice and fresh vegetables! Fresh dill makes it even better!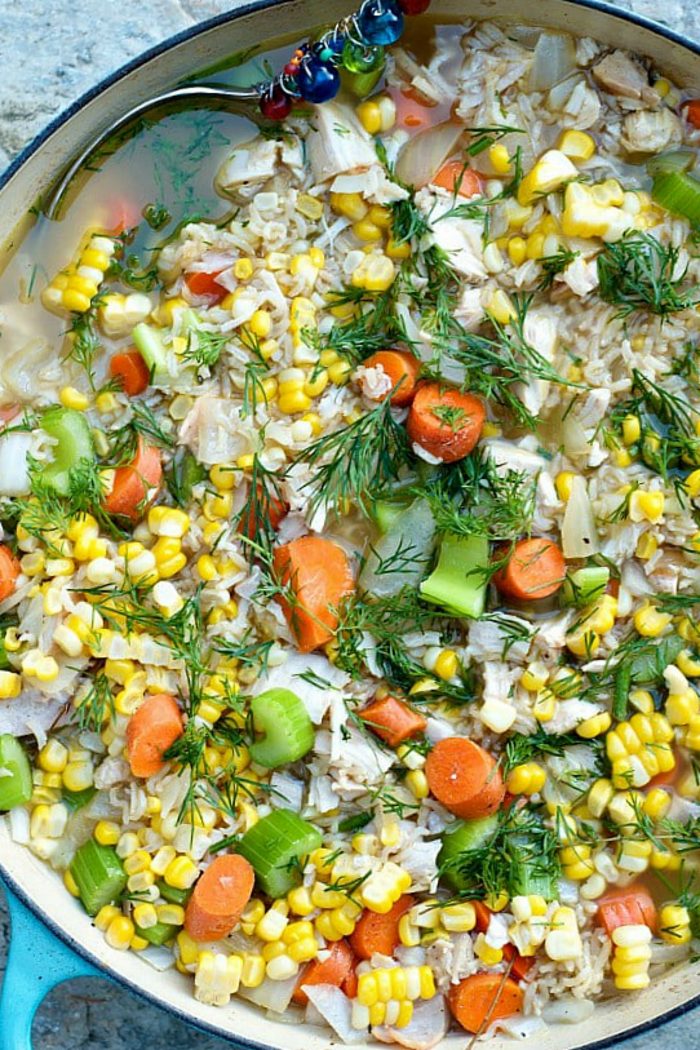 Enjoy a bowl of delicious Chicken Rice Soup, made with fresh vegetables!
On the table in no time, your famik or guests will love this comforting soup, served with a side salad and hot crunchy bread.
How to make chicken rice soup
In a braiser pan, cook the onions, and then add carrots and celery.
Add chicken stock and thyme, and while cooking, boil the corn (or you can use canned corn).
Cut corn off the cob and set aside.
Add chopped rotisserie chicken, corn, fresh dill, salt, pepper, and cooked rice.
Simmer and serve!
Small house movement
Lately, my husband and I have been dreaming about a smaller house. And soup goes well with "cozy." :) Maybe you've tried my Slow Cooker White Bean Basil Chicken Soup or New Potato Chicken Soup. My friend, Heidi, makes a killer Slow Cooker Thai Chicken Soup – so good!
With the small house movement, there are so many options … build a small house in the city, on a piece of land, out in the country, in the back of our property.
Where so many around us want more, bigger, and better, we're actually thinking of less, smaller, and still better. "Better" is defined differently by each person, usually meaning whatever you decide is an improvement over what you currently have.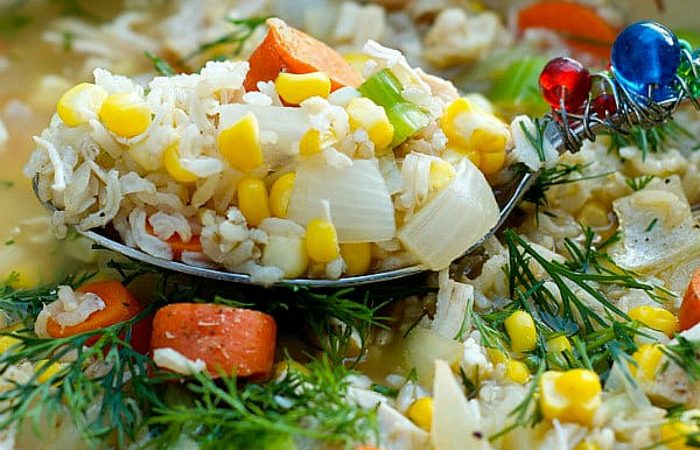 We love our 1970's home that we've put so much work into, with so many great memories here, but there's something inside us that says, "simplify."
I look forward to being with my husband when life slows down a little for us. Our baby is a high school senior, so we'll soon be empty-nesters. As we grow older, it seems each day brings more blessings, and we become more appreciative of what we've been given, and hopefully more humble, too.
Simple, yet fine
An appreciation for simple, yet fine, things, is what we both have.
We've always surrounded ourselves with people, and that is the ultimate blessing in life. Possessions come and go, and so do "seasons of life" friends sometimes, but the core friendships that stick around, year after year—salt-of-the-earth-friends—is what our hearts desire. I believe God made us that way, for good, positive connections, where we grow and share.
Small living
This is where "small house" or "small living" comes in.
People always say, "I'll be happy when …" but every day we've been handed is the "when." Are we happy today?
There will always be something better than what you have. The important thing is to be content and grateful for each day's blessings.
What's important?
What fills a large, or a small space?
These are the things important to us: People, books (uplifting and inspiring), art, great music, church, the best foods (healthy and fresh), and did I say people? I really believe we are not living our life to its fullest without people, because you know, they, too, influence our lives!
We want the best that is possible in life.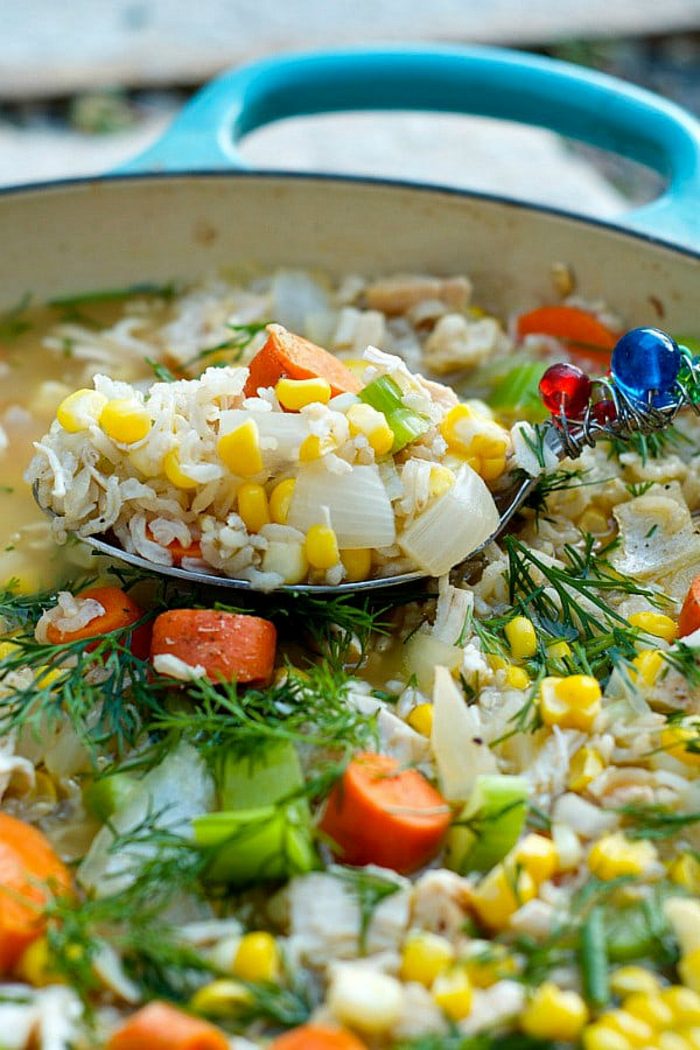 Chicken Rice Soup
I'm not sure where our dreams will take us, but for today, this recipe would FILL A SMALL HOUSE with love–fresh dill scent, chicken and rice simmering, crunchy carrots, celery and onions.
I seriously could eat this type of lunch or dinner in any season. Chicken Rice Soup is pure comfort.
It would taste even better if we shared it with another person or two, around our small table, in a cute little small house!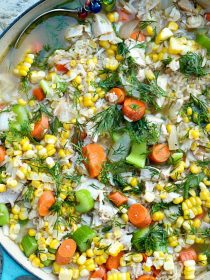 Get the Recipe: Chicken Rice Soup
I love to take leftover chicken and rice from a previous meal, and save the ingredients to make this soup recipe the next day. Excellent with turkey instead of chicken, and it's okay to use frozen corn!
Ingredients
2 Tbsp. oil
1 medium sweet onion, diced
4 carrots, sliced (don't need to peel)
4 stalks celery, sliced
4 sprigs fresh thyme
6 cups chicken stock
4 corn cobs, cooked, cut off the cob (about 1 1/2 cups of corn – frozen corn also works)
2-3 cups cooked chicken, chopped (rotisserie chicken is fast!)
1 cup fresh dill, chopped
2 Tbsp. salt
Pepper
2 cups brown basmati rice, or your favorite kind of rice, cooked
Instructions
In a large frying pan or braiser, heat the oil on medium-high and add the onions. Cook for about 2 minutes, adding the carrots and celery. Cook and stir for another 3-4 minutes, adding the chicken stock and thyme. Bring to a boil, then simmer for about 10 minutes.

While the vegetables and stock are simmering, boil the corn for about 6 minutes; cool and cut off the cob. Set aside.

Add the chicken, corn, fresh dill, salt, pepper, and cooked rice. Gently stir, bring to boil; simmer for 5 minutes.

Serve!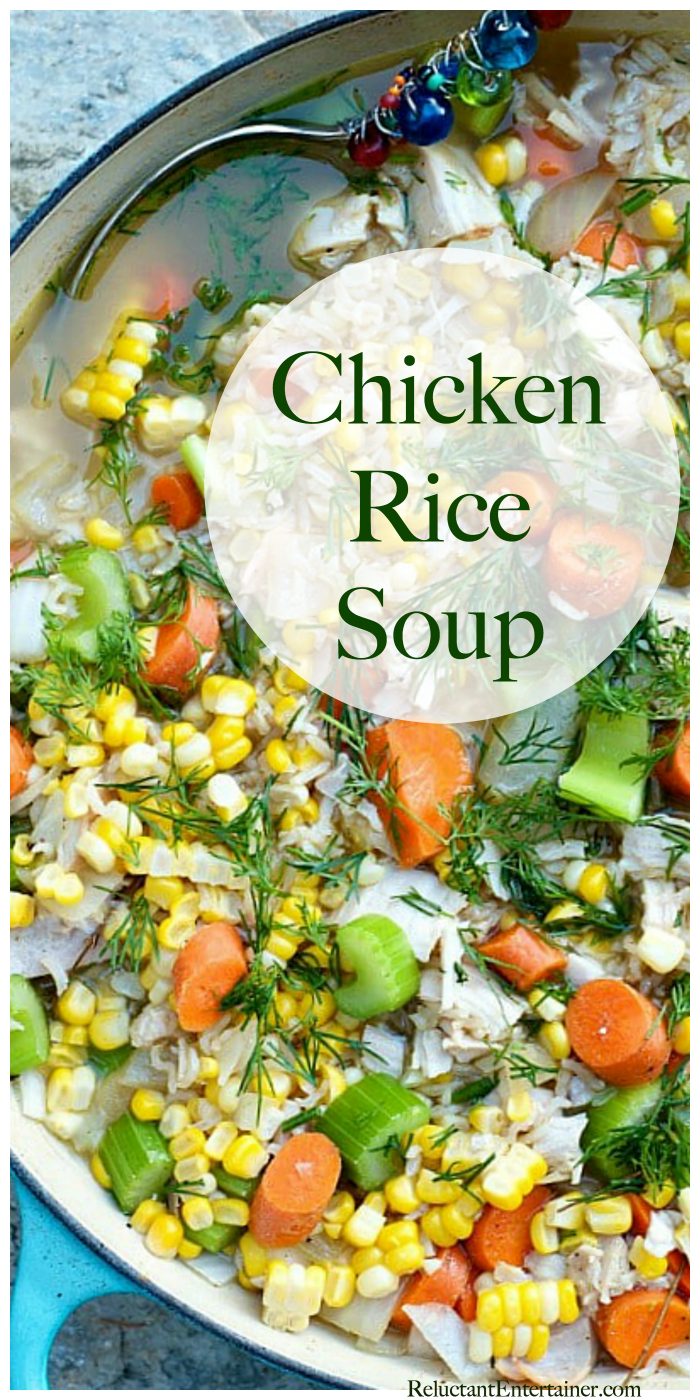 Hello and welcome to my home and table!
I'm Sandy—lover of food, family, cooking, THE BIG BOARD, travel, and bringing people together. Through great recipes and connection around the table, we become better, stronger, and more courageous people. Feasting on Life is real, and every time we do it, we grow a little more. Read more...