Slow Cooker White Bean Basil Chicken Soup
Cozy and delicious Slow Cooker White Bean Basil Chicken Soup, a great weeknight meal. Top with shaved Parmesan cheese and diced red onions!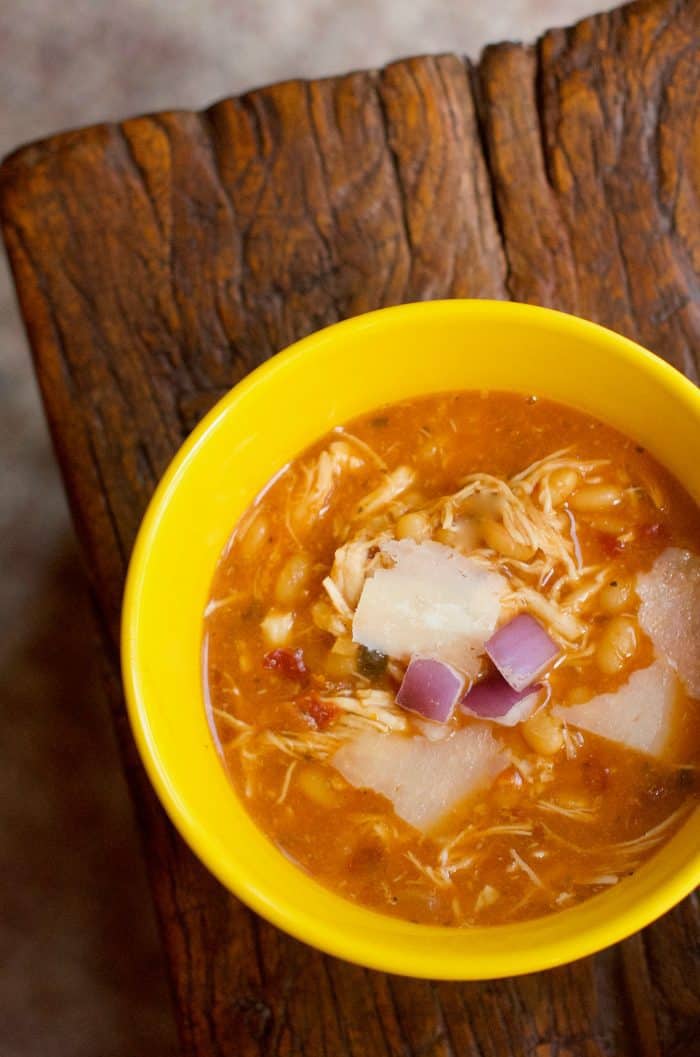 Healthy eating is the main conversation in our home these days, since it's winter and the beginning of the year (goals, goals, goals)!
Embracing wholesome ingredients of chicken, beans, and veggies simmering together in a slow cooker all day long–feels just right at the end of the day, when we get to enjoy a cup of Slow Cooker White Bean Basil Chicken Soup. Or, you may want to try this Slow Cooker Chicken Enchilada Soup (for Taco Tuesday!)
Slow Cooker White Bean Basil Chicken Soup
All you need are these ingredients for this soup!
Onion + celery + garlic
Diced tomatoes
White beans
Chicken breasts
Basil + salt + white pepper
Crush red pepper (optional)
Chicken stock
Sundried tomatoes
Parmesan cheese
Red onion (garnish)
I'll share something new that I did this week, I went to lunch with a new friend.
I came home and thought about what makes me happy. Meeting people, and listening to their stories is what I love. Less about me, more about others. I remembered this post, with 10 Rules for a Great Conversationalist – great tips! :)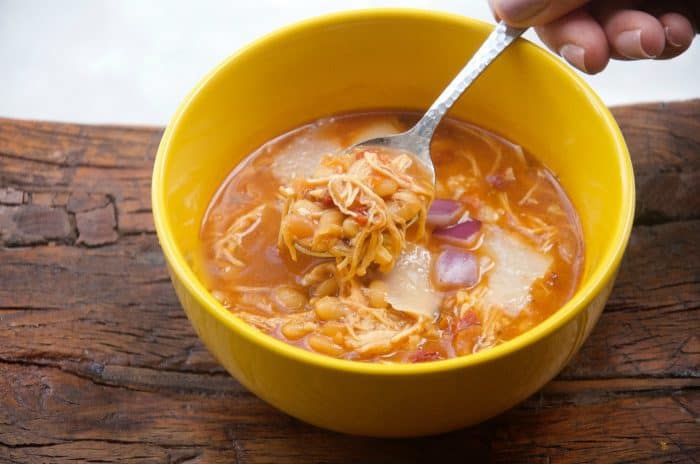 Living an authentic life & chicken soup
I wish I could have brought a bowl of this hot Slow Cooker White Bean Basil Chicken Soup for us to share, but instead we went out for a bowl of soup.
I wrote this down in my journal this morning, that living an authentic life means venturing out of the mundane. Yes, I work at home, and can get caught up in my own little world with my online blog friends. Experiencing the true moments of happiness for me though is usually when I'm with other people.
It's when I savor the small things, lunch or breakfast with a friend, a phone call or email to an old friend, or finding a new recipe to try. Oe that is easy, tasty, and one my family will love (like this Chicken Soup).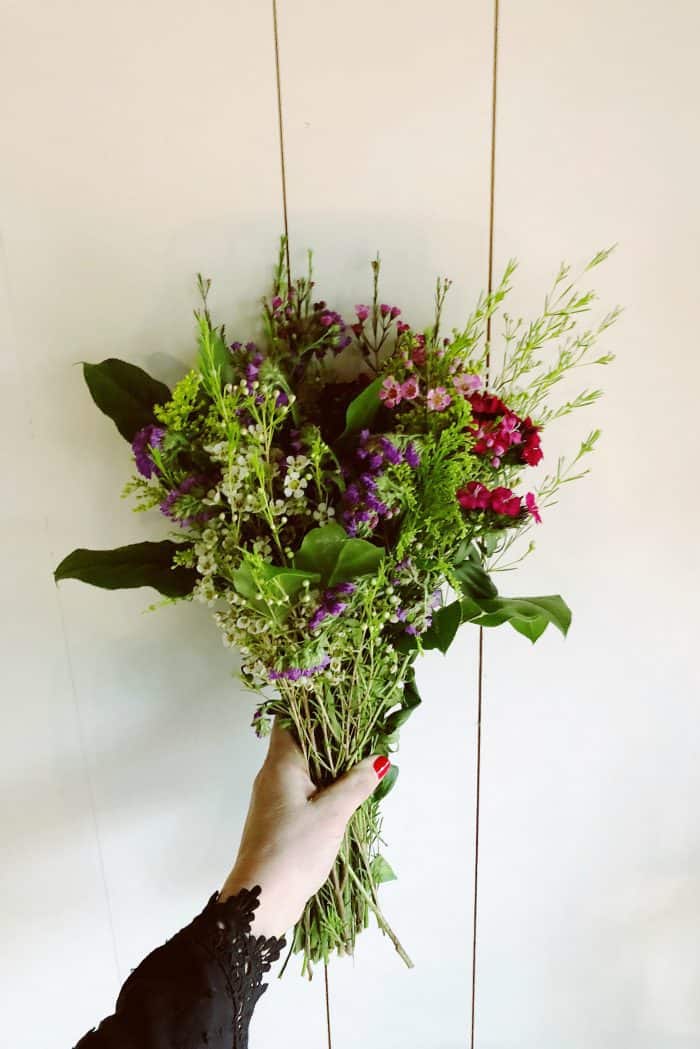 I also love buying myself flowers from the grocery store, and coming home to arrange them in my favorite Mackenzie-Childs vessel.
Move the flowers around until they look just right, and then I set them in a place where I can enjoy them throughout the day.
What's something new you can try, or venture out to, or truly enjoy this new year? It may involve people, or not.
For me, I'm always happier after I've spent time with others, and hear their stories.
White Bean Basil Chicken Soup
Enjoy this simple Chicken Basil Soup recipe that can be made in the slow cooker.
Spray the bottom of the slow cooker; add the ingredients, cook on low all day long, and walk away. It's really that easy!
A hearty soup that the whole family loves, just add fresh Parmesan and red onions, and you'll be filling up your bowl for seconds, I promise!
Enjoy!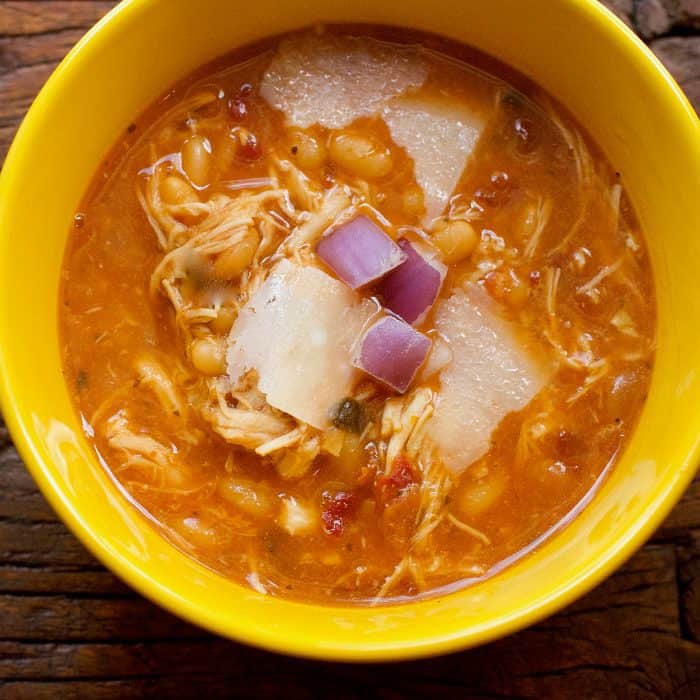 More soup recipes to try:
Hearty Southwest Black Bean Soup [Tidy Mom]
Beef and Bean Soup Recipe [Wears Many Hats]
Get the Recipe: Slow Cooker White Bean Basil Chicken Soup
Ingredients
1 small onion, chopped
2 stalks celery, chopped
4 tsp. garlic
1 15 oz can diced tomatoes
1 15 oz can white beans (drained)
3 chicken breasts, you can use frozen
2 Tbsp. dried basil
1 tsp. salt
1 ⁄2 tsp. white pepper
1 ⁄4 tsp. crushed red pepper flakes, optional
2 cups chicken stock
½ cup sundried tomatoes, optional
1 cup Parmesan cheese, shaved
¼ cup chopped red onion, for garnish
Instructions
Place in a slow cooker, along with other ingredients, onion, celery, garlic, tomatoes, beans, chicken, spices, and stock. Sundried tomatoes are super yummy (but optional).

Cook on high 3-4 hours, or on low 6-7 hours.

Shred chicken with 2 forks before serving.

Top with shaved Parmesan cheese and chopped red onions and enjoy!
Notes
reposted from Jan 2018
Hello and welcome to my home and table!
I'm Sandy—lover of food, family, cooking, THE BIG BOARD, travel, and bringing people together. Through great recipes and connection around the table, we become better, stronger, and more courageous people. Feasting on Life is real, and every time we do it, we grow a little more. Read more...