How To Make Garlic Bread with Regular Bread
Garlic bread doesn't have to be fancy, and it doesn't need to be made with bread from a bakery. Instead, grab a loaf of sandwich bread and get ready because I'm going to show you how to make garlic bread with regular bread.

Mom used to make garlic bread this way, and you'll often see it called Poor Man's Garlic Bread, because it uses every day sandwich bread. But you know what? Sometimes the simplest recipes are the tastiest!
You can't beat the flavor of deliciously buttered bread, garlic, and parsley. And, this garlic bread made with regular bread is so easy to make! It cooks under the broiler and is ready in no time.
Perfect with soup, stews, casseroles, and Italian pasta dishes, you can pair this recipe with so many dishes! I also love it as a snack – this garlic toast is just that good!

Why I love this recipe
It's quick, easy, and delicious!
I almost always have these ingredients on hand – no last minute trips to the store!
This recipe is easily doubled to feed a crowd.
I can get it all ready to go and just pop it in the oven before serving.

Gather these ingredients
Sliced bread – Any sandwich bread will do. I like using whole wheat.
Butter – Softened.
Parsley – Fresh parsley adds incredible flavor.
Garlic powder

How to make the best garlic bread with regular bread
Preheat the oven to 425-F. Position the rack about 4 inches from the top under the broiler.
Mix the softened butter, chopped parsley, and garlic powder together.
Spread the mixture on both sides of each slice of bread.
Lay the bread on a cookie sheet and broil it on the top rack until toasted, then flip it over and toast the other side.
Slice in half and serve!

Tips & substitutions
Any kind of bread will work for this recipe so use what you've got. Sliced sourdough, whole grain white, whole wheat, and grainy breads are all delicious in this recipe.
To soften the butter first, microwave it for 15 seconds and then mash it up with a fork or spoon.
You can make the garlic butter mixture up to a day in advance. Keep it in the fridge until you're ready to make it.
If you're having trouble spreading the butter on your bread, freeze the bread for 20 minutes to firm it up a bit. Then the butter will just glide on smoothly.
Don't walk away! The broiler can burn the bread really easily – keep an eye on it while the slices are under the broiler.
Top the bread with a sprinkle of Parmesan or other cheese to make cheesy garlic bread.
A pinch of crushed red pepper will add a bit of spice!

Serving suggestions
Serve this amazing and easy garlic bread made with regular bread with all your favorite soups, stews, pastas, salads, and more! Some of my favorite ways to serve this are on a charcuterie board with all sorts of tasty dips and dippers, meatles meals, and of course, pastas smothered in delicious sauce.
Storage
Store any leftovers in an airtight container in the fridge. It will also freeze; freeze it in airtight freezer-safe plastic bags or containers. Warm your garlic bread under the broiler for 30 seconds or so to reheat it.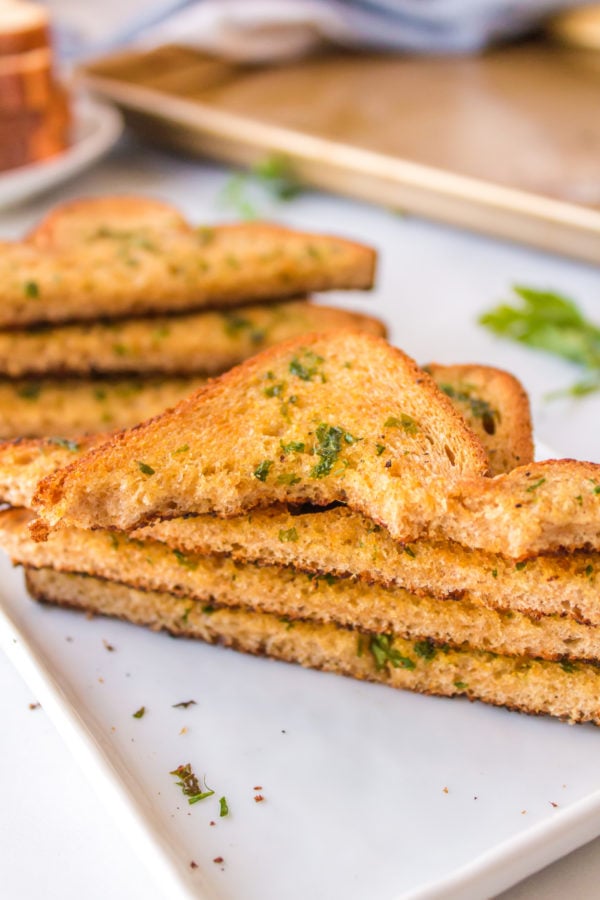 Check out these awesome bread recipes while you're here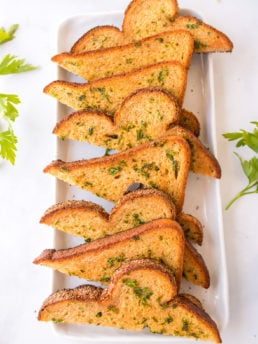 Get the Recipe: How to make garlic bread (with regular bread)
Grab a loaf of sandwich bread and get ready because I'm going to show you how to make garlic bread with regular bread, with butter & parsley. They call this the poor man's way of making garlic bread (the way my mom made it).
Ingredients
8 tablespoon softened butter
½ cup parsley
1 tablespoon garlic powder
8 slices sliced bread, use a regular loaf whole wheat bread
Instructions
Preheat your oven to 425 degrees on broil. Make sure the rack is 4 inches from the top.

Mix the softened butter, chopped parsley and garlic powder together. (You can soften the butter by putting it in the microwave for 15 seconds.)

Spread the mixture on both sides of each piece of sliced spread.

Put it on a cookie sheet. Broil on top rack in oven; each side for 3 minutes or until toasted.

Slice and serve (or serve whole).
Hello and welcome to my home and table!
I'm Sandy—lover of food, family, cooking, THE BIG BOARD, travel, and bringing people together. Through great recipes and connection around the table, we become better, stronger, and more courageous people. Feasting on Life is real, and every time we do it, we grow a little more. Read more...