Chicken Tortilla Soup with Fresh Cilantro
This Chicken Tortilla Soup with Fresh Cilantro is the perfect weekend, casual dish to make for guests. Add toppings of fresh tomatoes and sour cream!
This weekend was a perfect time to make a cozy winter meal for the family, Bush's Beans Chicken Tortilla Soup with Fresh Cilantro. You should have heard the Mm-m-m's and Ah-h-h's around our table as I brought out the pot, with condiments of sour cream, cheese, and fresh cilantro on the side. Oh, and a big basket of yummy chips!
Chicken Tortilla Soup with Fresh Cilantro
Since we're trying to eat lighter now that the holidays are almost over, this recipe was perfect for a Saturday evening meal. We also decided that next time we make it, we'll make brown rice or quinoa to make it last longer. Thank you, Bush's Beans, for this fabulous recipe!
I texted my kids, who were all in different places, that dinner was ready, and to bring their friends! This recipe feeds a crowd!
What I love about adding beans to a soup recipe is that they help make the meal healthier, and stretch it to feed more mouths.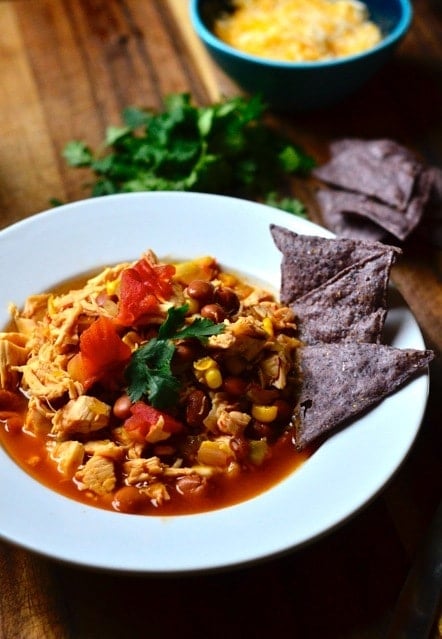 What makes the flavor pop is the fresh cilantro.
I'm not a cook that loves to run to the store, so a tip I've learned if you don't have fresh herbs, reach for the dried herbs in the cupboard.
Tips on cooking with fresh herbs:

– 1 teaspoon of dried herb equals 1 tablespoon of fresh herb

– Both fresh and dried herbs enhance the flavor of a meal without adding any calories

– Add fresh herbs at the end of the cooking process to keep the bright, original color

– Add dried herbs at the beginning of the cooking process to intensify the flavor and blend with other ingredients
Seasoned with savory spices, including chili powder and cumin, and fresh cilantro, this zesty soup is sure to be your new family favorite, just like it is ours!
Do you think using fresh herbs add to a soup recipe? What's your favorite herb to add?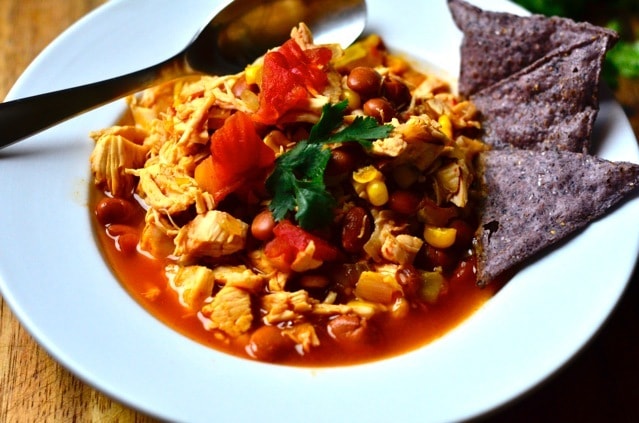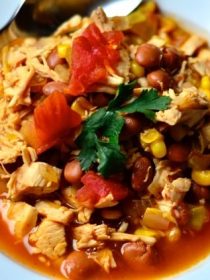 Get the Recipe: Chicken Tortilla Soup with Fresh Cilantro
Add extra beans and quinoa or brown rice to stretch the meal!
Ingredients
2 pounds chicken, cooked and shredded
2 16 ounce cans BUSH'S® Pinto Beans, drained
1 15 ounce can whole tomatoes, mashed and undrained
1 12 ounce can (jar) enchilada sauce
2 T. olive oil
1 large onion, chopped
1 4 ounce can chopped green chiles
2 garlic cloves, chopped
8 cups chicken broth
2 cups water
1 teaspoon ground cumin
1 teaspoon chili powder
1 teaspoon salt
1/4 teaspoon black pepper
1 10 ounce package frozen corn
2 tablespoons fresh cilantro, chopped
tortilla chips
Instructions
Saute the onion in 2 tablespoons of olive oil.

Combine all ingredients except cilantro and tortilla chips in a large pot.

Bring to a boil, then cover and simmer for 30 minutes on low.

Serve with fresh cilantro, sour cream, cheese, and tortilla chips.
This post is sponsored by Bush's Beans; but as always, all opinions are my own!

Hello and welcome to my home and table!
I'm Sandy—lover of food, family, cooking, THE BIG BOARD, travel, and bringing people together. Through great recipes and connection around the table, we become better, stronger, and more courageous people. Feasting on Life is real, and every time we do it, we grow a little more. Read more...