Top 15 Recipes and Entertaining Ideas 2013
When I think of 2013 coming to a close, I think about all the warm, inviting moments with family and friends around our table in southern Oregon. It makes my heart leap for JOY! I'm grateful for what I do here on RE, and for my readers. Thank you for being a part of my journey this year (and sharing my 50th birthday with me!) in sharing my ideas and recipes, trips and family moments.
I am thankful for YOU!
Here are some words that make me SMILE when I think about 2013; memories and experiences around our table …
Newness. Renewal. Giving. Sharing. Cozy and Comfortable Entertaining. Rejuvination. Flexibility. Celebration. Tradition. Family. Feast. Imperfect. Happiness. Relativity. Joyfulness. Help. Kindness. Hospitality. Connection. Soul Talk. Meaning. Words. Gratitude. New Friends. Humility. Table. Thankfulness. Hearty. Festive. Friends. Neighbors. Beauty. Earth. Garden. Table. Love. Daily Bread. People.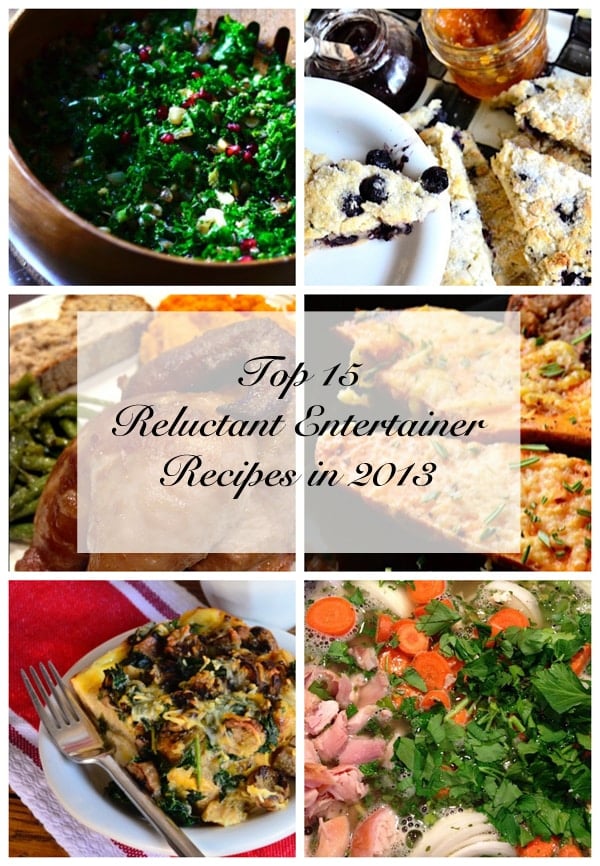 Top 15 Recipes:
1.  Pomegranate Kale Salad
2.  Blueberry Scones
3.  Marinated Cornish Game Hens
4.  Sweet Potatoes with Rosemary
5.  Sausage Egg Kale Strata
6.  Rotisserie Chicken Noodle Soup
7.  How to make Superfood Salad Mix
8.  3-Ingredient Green Salad
9.  Roasted Butternut Squash Black Bean Enchiladas
10. Pistachio Lime Baked Salmon
11. Turkey Pesto Onion Sliders
12. Apple Carrot DOG Biscuits
13. Flourless Date Chocolate Cake
14. Baked Salami Chips
15. Roasted Chicken with Grapes and Rosemary
Top 15 Entertaining Posts:
1. Hosting a 'New to the Neighborhood' Luncheon
2. Hosting a Holiday Gathering
3. Freedom at Christmas
4. Canvas Drop Cloth Tablecloth
5. How to Wipe off Sharpie Markers from Wine Glasses
6. Chalkboard Paper Runner
7. Valentines Day Party with Menu and Party Games
8. Pet Dog Etiquette
9. Pear Chalkboard Tabletop
10. Penny Game Conversation
11. Fiesta Party
12. My Dining Room Isn't Big Enough
13. Tips to Throwing a Successful Dinner Party
14. 4th of July Table
15. Glam Camping Tips
Happy 2014, Friends!