Christmas Day Breakfast: Pear Vanilla French Toast Casserole
Enjoy Christmas Day Breakfast: Pear Vanilla French Toast Casserole! Make ahead this delicious moist breakfast or brunch dish for your holiday company!
Just in time for Christmas Day Breakfast: Pear Vanilla French Toast Casserole should be on your menu! Although this post was written 7 years ago, I miss my sisters at Christmastime, and wish we could be together this weekend.
Christmas Day Breakfast: Pear Vanilla French Toast Casserole
But first, 7 years ago … I was looking forward to my sisters coming over for brunch … to celebrate Christmas, sisterhood, and to reminisce about our Mom.
When our mom passed away, the 3 of us told each other that we'd always remember her at Christmastime by giving to each other, in "Millie-style." That may sound odd, but our Mom Millie knew exactly "how" to buy gifts for us girls. She knew us well–what we liked, what would make us happy–and she always gave us the perfect gifts.
So gifts from eachother are under or tree today!
So what did I serve for breakfast/brunch for my sisters?
Easy Pear French Toast Casserole, which you prepare the night before.
Sisters are easy. They don't look too carefully at the dishes in the sink, the unvacuumed floor, or the clutter-y piles around the house (Christmas cards, wrapping paper, … stuff everywhere). Sisters are also easy because they, just like my Mom, know exactly what kind of gifts to give. I am blessed by my wonderful sisters!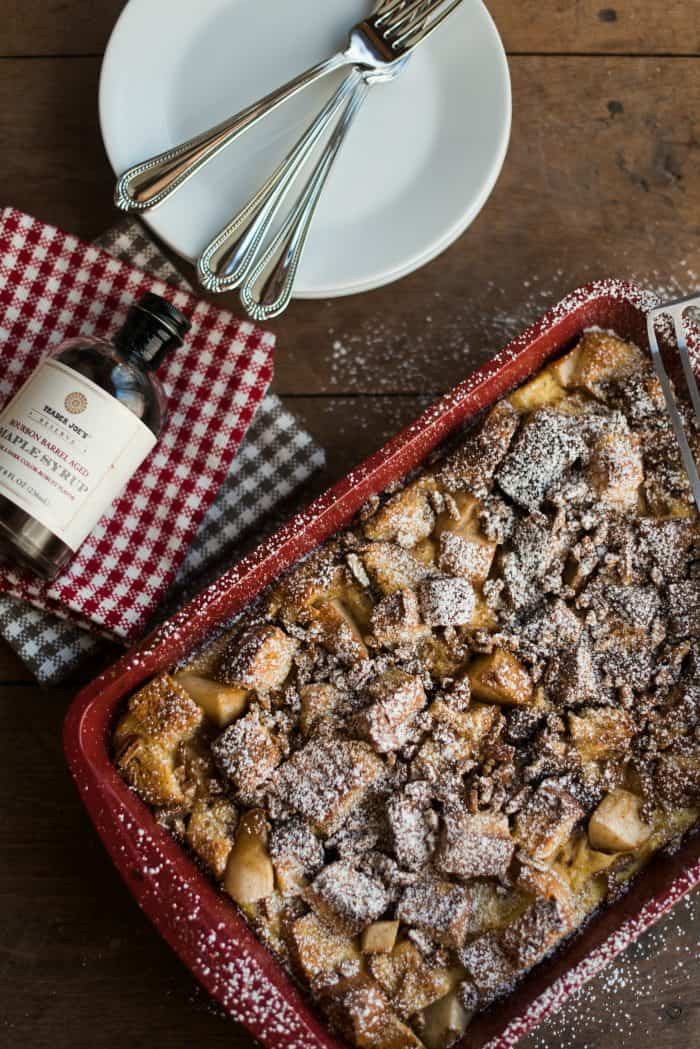 Pear Vanilla French Toast Casserole
The point of my story today is this: Make life simpler on Christmas morning by making my Pear Vanilla French Toast Casserole.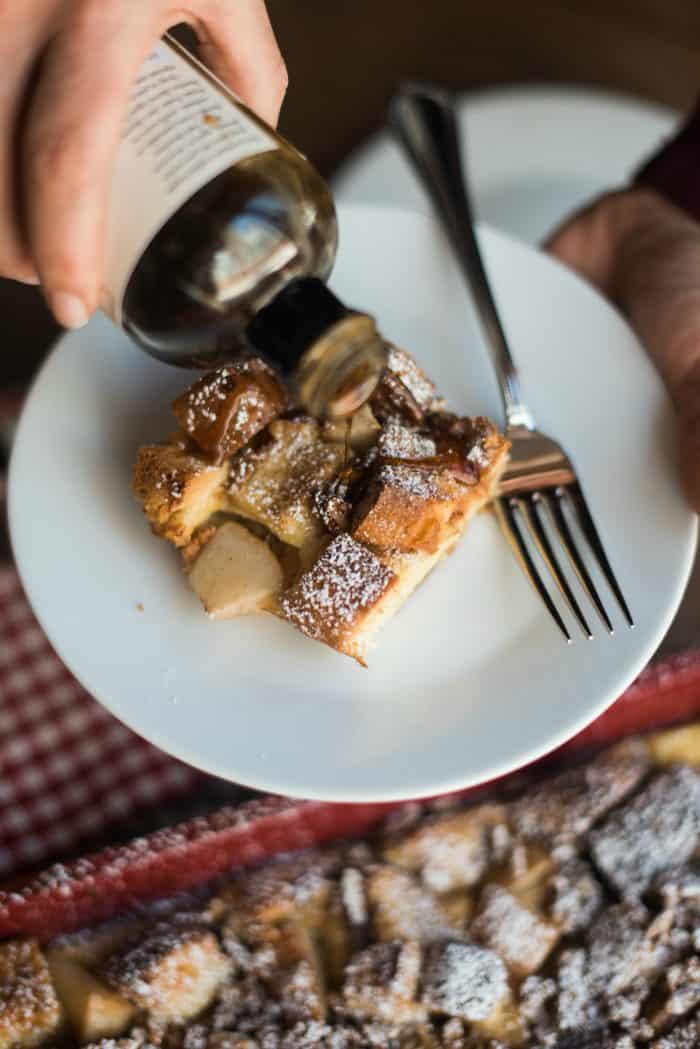 You make it up the night before, so no matter how late you sleep in, all you have to do is pop it in the oven.
I can guarantee that your family is going to love you on Christmas Morn!
Merry Christmas in heaven, Mom! We love you!
What are your plans for Christmas Morning breakfast this year?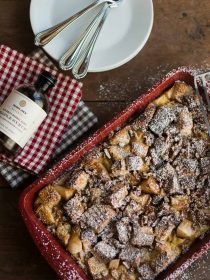 Get the Recipe: Pear Vanilla French Toast Casserole
You can replace the French bread with Challah bread.
Ingredients
3/4 cup dark brown sugar
1/2 cup butter
2-3 fresh pears, peeled and sliced, or 28 oz. canned pears, drained and sliced
4 cups French bread, cut into small pieces (better to not use the crust)
1/2 cup pecans, chopped
10 eggs
2 cups milk or cream
2 tsp. vanilla
powdered sugar and maple syrup
Instructions
Melt the brown sugar and butter in a saucepan over medium heat. Allow to boil and quickly reduce heat to simmer. Remove from heat and pour into a well-greased 9x13 pan, making sure it is spread evenly.

Cut/cube the pears and arrange evenly on top of the brown sugar mixutre. Sprinkle the French bread pieces over the pears. Cube the second pear and place on top.

Beat eggs, milk, vanilla together and pour evenly over the entire mixture. Press bread lightly into egg mixture to avoid dryness and to soak up all the eggs/milk. Cover and refrigerate overnight.

Preheat oven to 350. Bake uncovered for 40 minutes, or until it becomes puffy and the eggs are no longer runny.

Sprinkle nuts and dust with powdered sugar; serve!
More breakfast casserole ideas: Overnight Fireman's Breakfast Casserole [Garnish with Lemon], Winter Breakfast Casserole Recipe [RE], Buttery Cheese Egg Casserole [Crazy for Crust], and Pear Bread Pudding with Caramel Sauce [RE].
Hello and welcome to my home and table!
I'm Sandy—lover of food, family, cooking, THE BIG BOARD, travel, and bringing people together. Through great recipes and connection around the table, we become better, stronger, and more courageous people. Feasting on Life is real, and every time we do it, we grow a little more. Read more...