Cranberry Goat Cheese Stuffed Dates
Enjoy Cranberry Goat Cheese Stuffed Dates, an easy appetizer to bake or grill. Medjool dates are stuffed with cranberry goat cheese and wrapped in bacon.
Friends, are you looking for a "melt-in-your-mouth" appetizer for the holidays? You can bake these Goat Cheese Stuffed Dates, but let me tell you, there's something about the grilling process that makes these dates so tender and soft.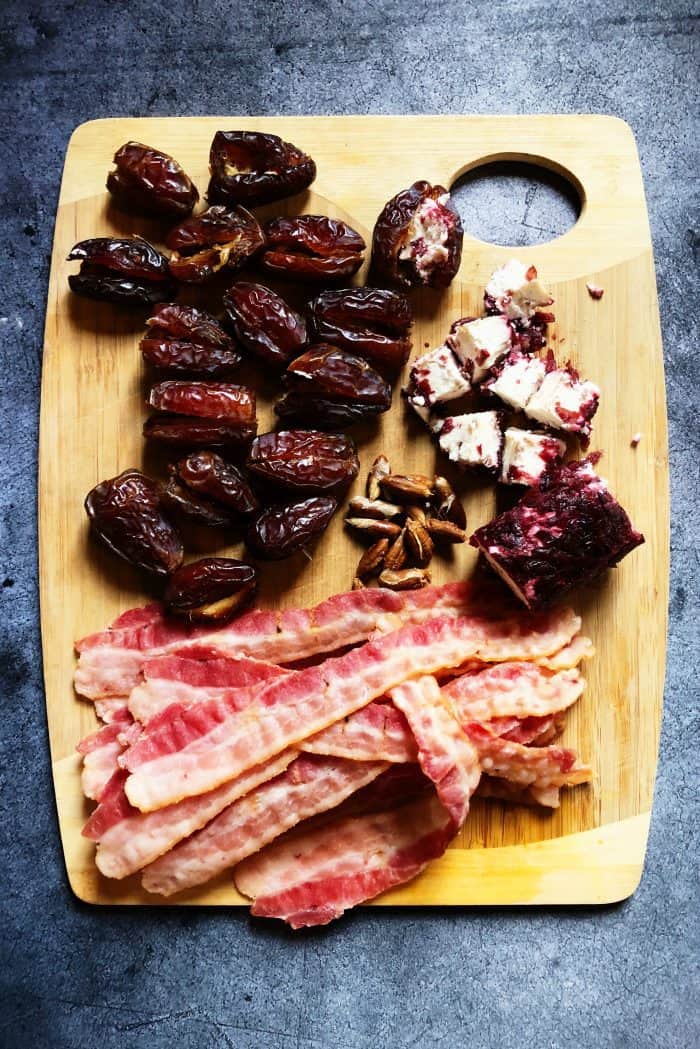 Dates stuffed with cheese
There's nothing better than dates stuffed with cheese, with bacon wrapped around the outside. Charred and cooked to perfection. Add in "cranberry" goat cheese – perfect for the season!
What are stuffed dates?
Traditionally stuffed dates are boiled dates, filled with meat, mint and parsley. It's an Israeli dish served on rice or bulgur, using either fresh or dried dates.
I grew up eating dates in this Pumpkin Date Bread and these Date Crinkle Cookies (perfect for the holidays).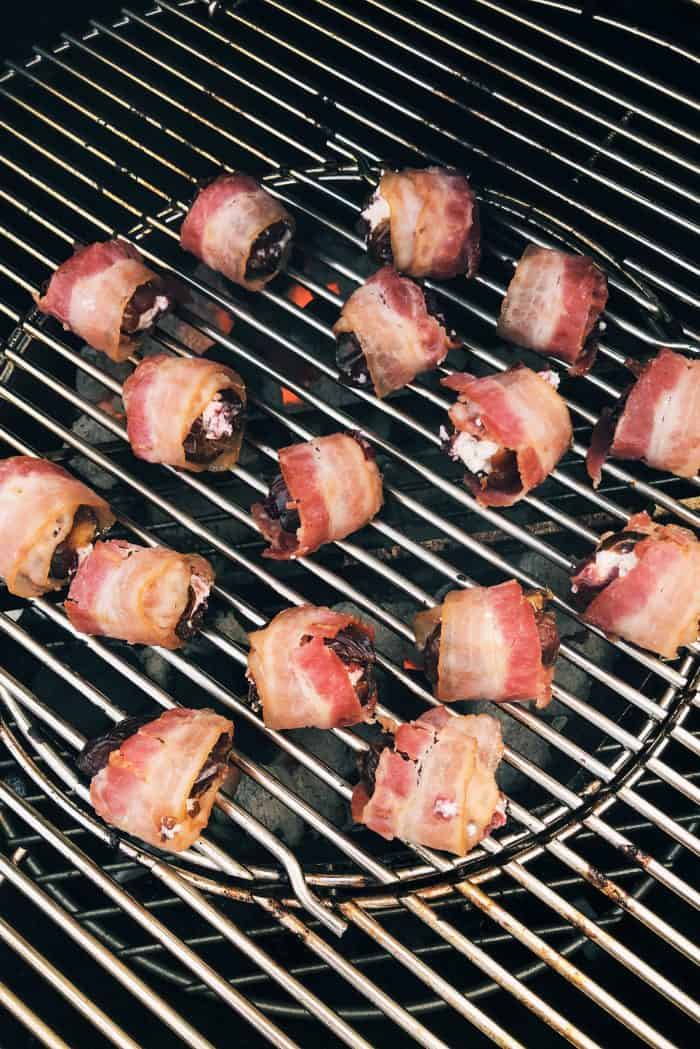 Cranberry Goat Cheese Stuffed Dates
I got away with wrapping each date with 1 piece of pre-cooked bacon.
The cheese? You can use regular goat cheese, but because it's the holidays, I used this amazing Cranberry Chevre Goat Cheese.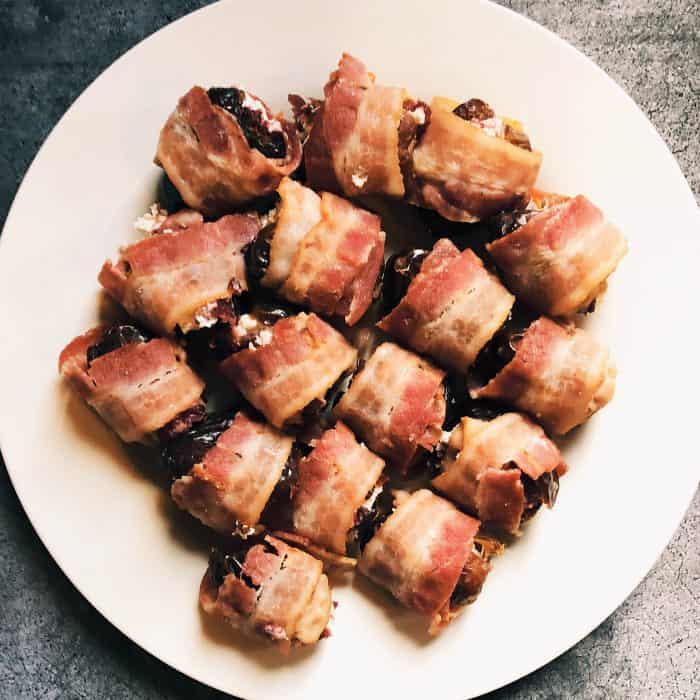 How to bake dates
Guess what? No toothpick involved.
If you don't want to grill, try baking at 400 degrees for about 15 to 18 minutes. The timing for stuffed dates really depends on the size and the type of bacon that you use. If you use precooked (like I did), then it takes less time than a super fatty bacon.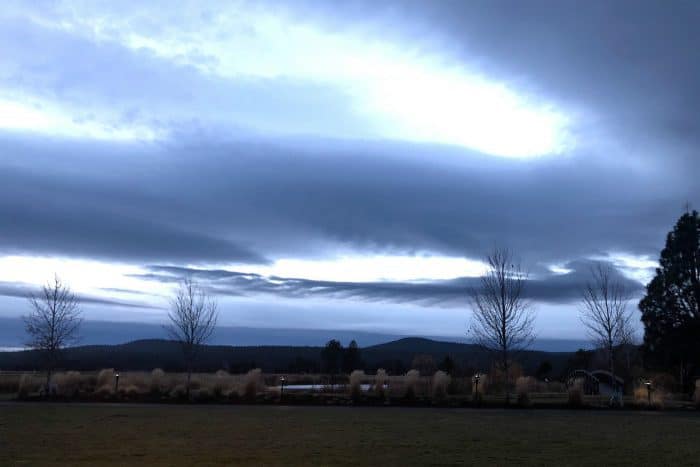 Riding bikes to dinner
My husband and I rode our bikes to dinner last week. We left at dusk, riding to our destination, enjoying the outdoor fire and the beautiful pink sunset. So lucky, we walked out to as far as the path would take us, to feel a cold breeze on our cheeks, hand-in-hand.
We still hold hands and kiss and spend as much time together that we can. I'm so grateful that we love to spend time together.
Here's a yummy dinner menu:
Browned Butter Rosemary Scallops with Mascarpone Polenta
Pancetta Roasted Brussels Sprouts (with hot crunchy bread)
Classic Easy Gourmet Salad from RecipeGirl
White Chocolate Peppermint Bark Ice Cream Cake
or
Dark Chocolate Fudge Pomegranate Fudge from How Sweet Eats
Appetizers … well of course, these Cranberry Goat Cheese Stuffed Dates.
The simplest things remind us of our blessings–getting together with friends, taking a walk, sharing the beauty of a sunset with another person. Even if we simply share appetizers and a glass of wine, sometimes we just need a little nosh and a little hug. :)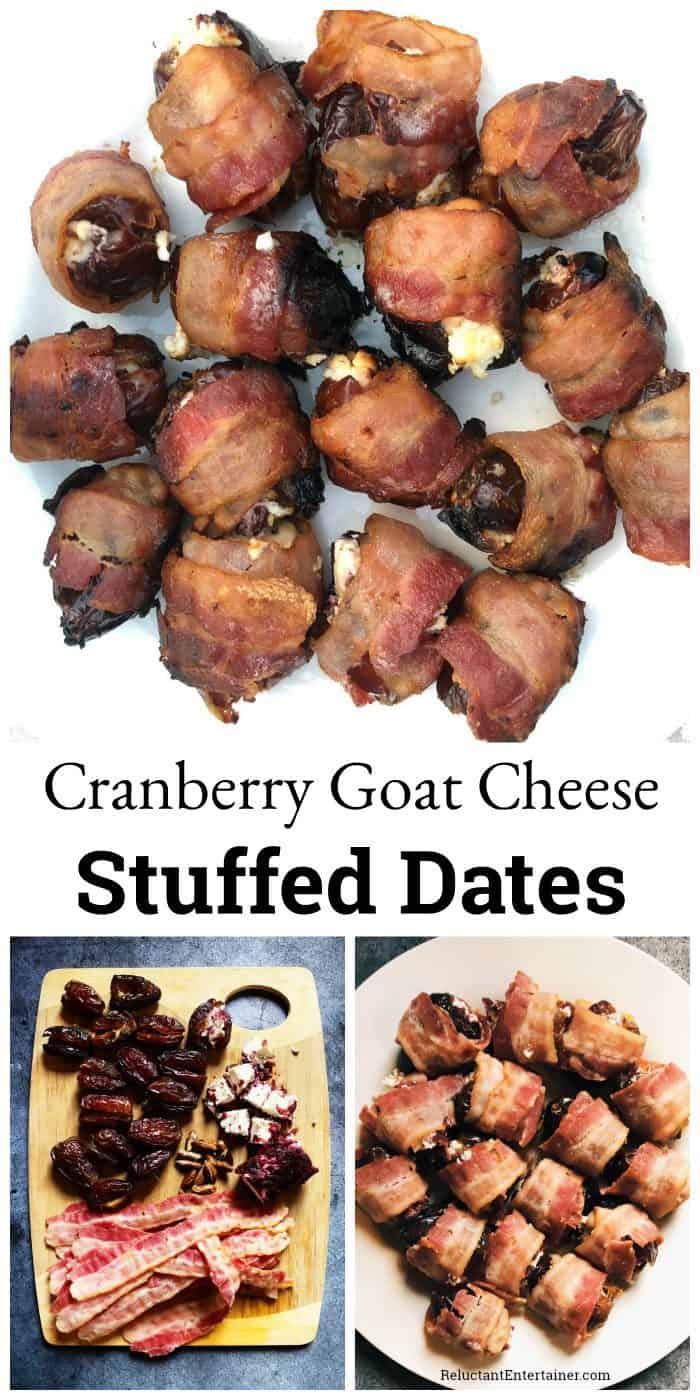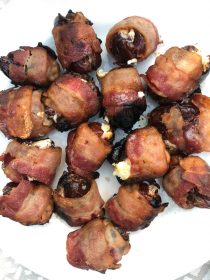 Get the Recipe: Cranberry Goat Cheese Stuffed Dates
Ingredients
16 Organic Medjool Dates, seeds removed
4 oz. Cranberry Chevre Goat Cheese, cut into 16 small pieces
16 pieces fully cooked bacon - I buy at Trader Joe's
Instructions
Remove the seeds from the dates. Stuff the dates with chunks of cheese, squeezing back together at the cut seam. Wrap each stuffed date with 1 piece of bacon. Place the dates on a plate until ready to bake or grill.

To Grill: Place the dates on the the grill (about 350 degrees), and cook, or heat? turning them over twice. Cook for about 7 minutes.
Notes
To Bake: Preheat oven to 400 degrees F. Roast for 15 to 20 minutes or until bacon is crisp.
Hello and welcome to my home and table!
I'm Sandy—lover of food, family, cooking, THE BIG BOARD, travel, and bringing people together. Through great recipes and connection around the table, we become better, stronger, and more courageous people. Feasting on Life is real, and every time we do it, we grow a little more. Read more...