Creamy Shrimp Fettuccine Alfredo
This Creamy Shrimp Fettuccine Alfredo is a quick and easy recipe, delicious served at a sit-down holiday dinner or a casual party dish!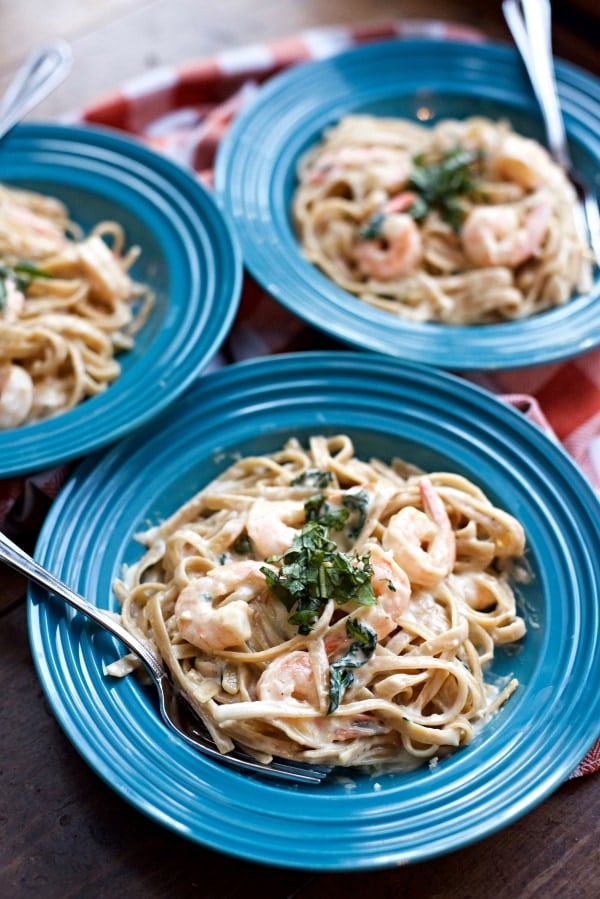 Hey, Friends, what style do you fall into when hosting? And are you hosting a dinner for Valentine's Day this year?
This Creamy Shrimp Fettuccine Alfredo is a crowd pleaser. It's simple, everyone loves fettucine (including kids!), and it tastes divine!
Over the years, I've really tried to go from being a perfectionist, to a more casual, loving, easy-going hostess. Part of the process has been realizing that my style is mine, it's no one else's, and so I've taken my eyes off of how others do it. I've allowed myself to not compare, but to relax, and do what works best for our family!
Sometimes this means a sit-down dinner, but in the almost year of living in our new mountain home, I'd say I've definitely gone more cozy, intimate, casual.
It could be the season of life we are in, or the fact that I'm busy, so easy is best.
Easy is best when I can still make room for people!
Ultimately, it's that soul connection that I long for now with entertaining, more than a perfect dinner menu!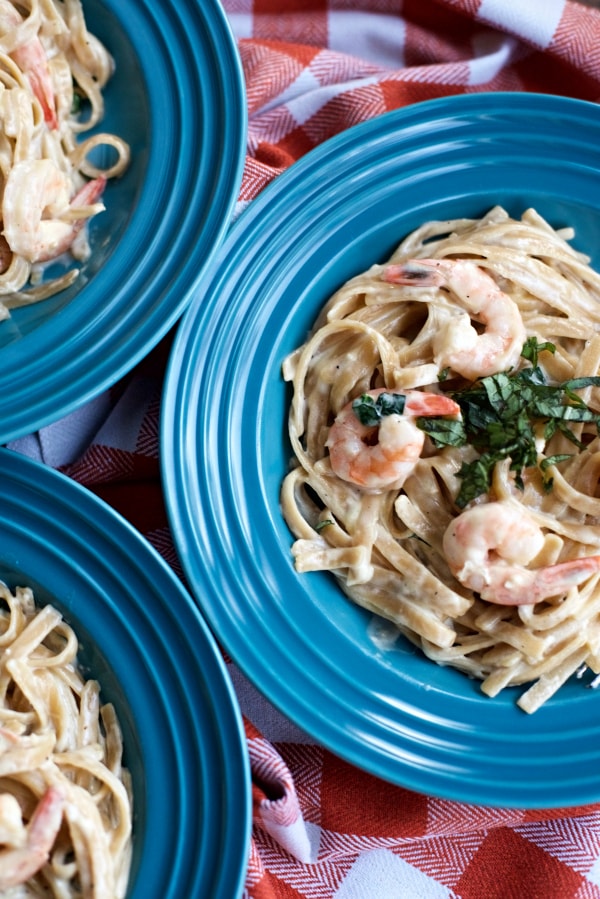 Creamy Shrimp Fettuccine Alfredo
For this recipe, make the sauce and cook the shrimp.
Cook the pasta (we buy DeLallo pasta – the best!) while your guests are mingling over appetizers.
Serve a giant salad and fresh bread.
And in no time, you'll have a BIG POT of Creamy Shrimp Fettuccine Alfredo to serve to your guests!
Here are 3 styles of entertaining.
Me-centered. This kind of entertaining makes everything look "perfect" and new. Being caught up with all the details in making things look good and perfect, and making sure that your guests think you are the BEST hostess in the world.

Just-because. Hosting because you've either over-commited yourself, you feel obligated, but you don't really have any enthusiasm for guests coming over.

Guest-centered. Creating a warm environment for our guests, with thoughtful, subtle touches, and a person-centered attitude, rather than a setting-centered attitude. A beautiful, gentle, easy-flowing way of practicing hospitality, because the food and environment don't matter as much as the people.
Which style do you fall into?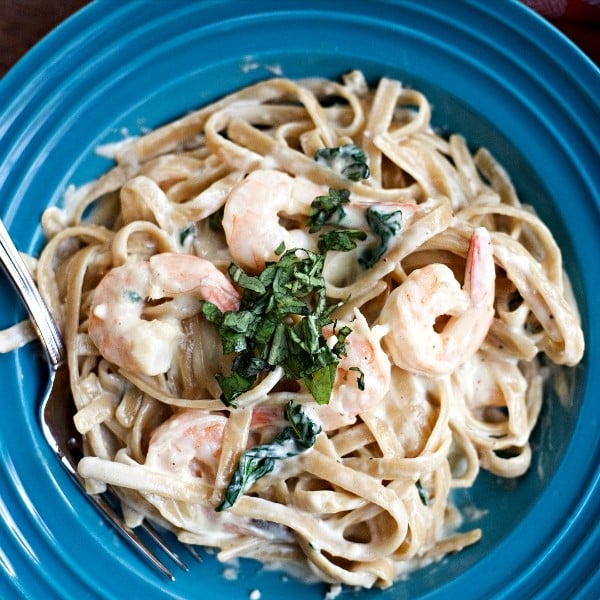 Get the Recipe: Creamy Shrimp Fettuccine Alfredo
Ingredients
1 Package Fettuccine Pasta, I buy DeLallo
4 c. heavy cream
4 Tbsp olive oil
2 Tbsp garlic
1 pound frozen shrimp, thawed
3 c. spinach
1 c. parmesan cheese
1 c. sharp cheddar cheese
1 c. gouda cheese
2 tsp. ground pepper
2 tsp. salt
Instructions
Heat 2 Tbsp olive oil in pan. When hot, add garlic and cook until golden. Add heavy cream and reduce heat until cream simmers. Allow cream to simmer until it is reduced by half, stirring frequently.

In separate pan, add remaining olive oil, spinach, and shrimp. Cook on medium until spinach reduces, and shrimp is almost fully cooked. It should be mostly pink and firm, but not fully. Turn off heat.

Add cheese, salt, and pepper to the cream when it has reduced. Stir in, and allow to melt completely. Next, add shrimp and spinach. Continue to simmer on low.

In large pot, cook fettuccine according to package directions.

Serve and garnish with fresh basil and parmesan.

Hello and welcome to my home and table!
I'm Sandy—lover of food, family, cooking, THE BIG BOARD, travel, and bringing people together. Through great recipes and connection around the table, we become better, stronger, and more courageous people. Feasting on Life is real, and every time we do it, we grow a little more. Read more...