Tart Cherry Ginger Teriyaki Salmon Recipe
This Tart Cherry Ginger Teriyaki Salmon Recipe is delicious ginergy, sweet and tart way to cook salmon! In the table in less than 30 minutes!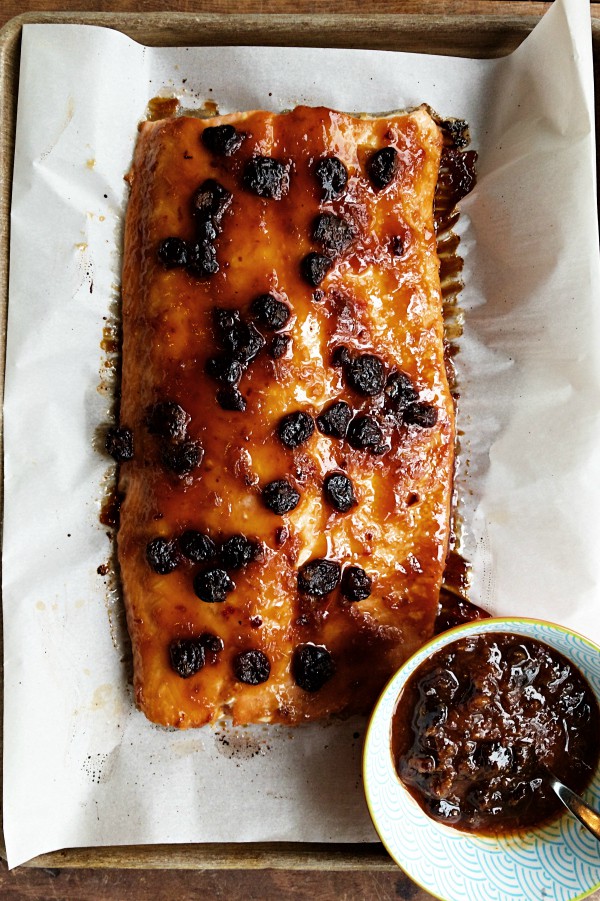 Friends, my husband and I were reminiscing about our trip to Africa a few years back, and how little we were allowed to pack (26 pounds each, for 2 weeks). We pulled it off, it all worked out. But then our conversation moved quickly to the real reason for our trip, justice in action, God working through the hearts of kids. We had obstacles to personally work through, which of course happens with anything meaningful. We were digging in deep, reaching for courage and strength, it wasn't easy.
Sometimes we never see the fruits of our labors, and sometimes we do!
When I think about hospitality, it's really easy today to avoid the table, and people in general. Especially when we've been hurt, or now in our world, with so much political divide. I'm not talking about disrespectful people in our lives, or when there's disdain and contempt involved (yes, it happens, it's happened to us).
It's when you put hurts aside, and resolve that today counts, and make room at our tables for love, acceptance, and new relationships!
… go deep, Friends! Try something new, don't get stagnant with your hospitality!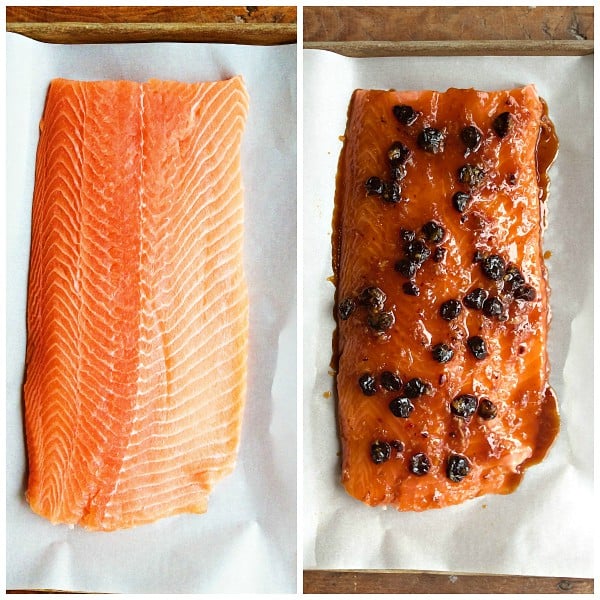 Tart Cherry Ginger Teriyaki Salmon Recipe
One of our favorite salmon recipes is this Ginger Teriyaki Salmon Recipe. My husband makes this recipe, it's his specialty, and it's doable for the most basic cook.
We buy dried tart cherries at Costco! I think you can buy them at Trader Joe's, too.
Aren't reluctant entertainers always looking for a good, basic recipe, that's good enough for company?
This one is that!
My hubby and I are headed to Jaguar Creek, a special place near Belmopan, Belize, for a retreat that we've been looking forward to for quite some time now.
Going deep for us means action. Doing something now. Making our faith tangible in a hurting world. We're going to be learning about biblical justice, stewardship and calling.
And then, think Mayan ruins, rain forests, and tropical foods. What could be better!? I can't wait to share more on our return!
We're taking a little detour to San Pedro first, and you can follow along on my Instagram!
Happy Weekend, Friends!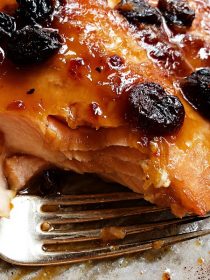 Get the Recipe: Tart Cherry Ginger Teriyaki Salmon Recipe
Ingredients
1 pound salmon filet
1/4 cup teriyaki sauce
1/4 cup pickled ginger
1/4 cup spicy cherry relish or jam
1/4 cup dried tart cherries, I buy mine at Costco
Sea Salt
Instructions
Combine teriyaki sauce, pickled ginger, relish (or jam), and dried tart cherries in a small food processor. Puree until mixed (there will be chunks).

Lay the salmon pieces on a parchment-lined baking sheet. Lighty salt with Sea salt

Pour the sauce over salmon fillets, spreading evenly.

Preheat oven to 450 degrees. Bake salmon for 12-15 minutes.

Serve!
More salmon recipes:
Baked Spiced Salmon with Coconut Milk
Hello and welcome to my home and table!
I'm Sandy—lover of food, family, cooking, THE BIG BOARD, travel, and bringing people together. Through great recipes and connection around the table, we become better, stronger, and more courageous people. Feasting on Life is real, and every time we do it, we grow a little more. Read more...