Delicious Marinated Steak
This Delicious Marinated Steak is the perfect quick meal, for outdoor entertaining and grilling season!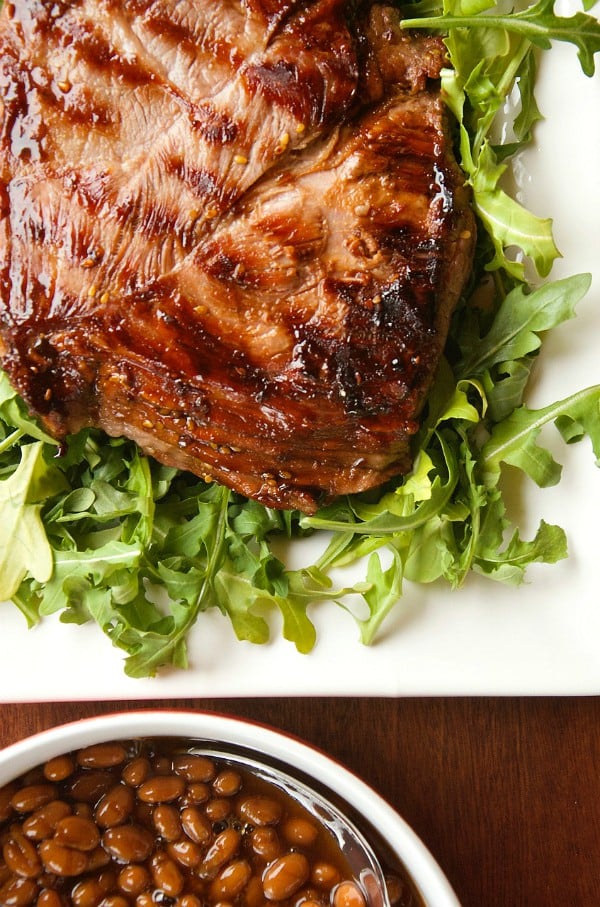 Friends, I've been on a purging spree and one of my projects has been to sort through my dishes, deciding which ones to keep and which ones to give away, or which ones go to Good Will. I must say, it feels good. We're gearing up for a giant yard sale, which means I have some exciting news coming very soon! :)
Once or twice a year it's good and necessary to dig deep, and really thin out the kitchen and pantry. I have a more minimalistic view now, so I'm challenging myself on what I really need for a functional kitchen!
Dishes, dishes, dishes …
I love my blue set from Q Squared, because they go so well with Cinco de Mayo, spring, 4th of July, even fall time entertaining. I do love blue! Oh, and I also love my red set. Last year I worked with Q Squared NYC who graciously provided me with these beauties. Then there's my set of 24 white Dollar Store plates. Oh, which ones will I keep?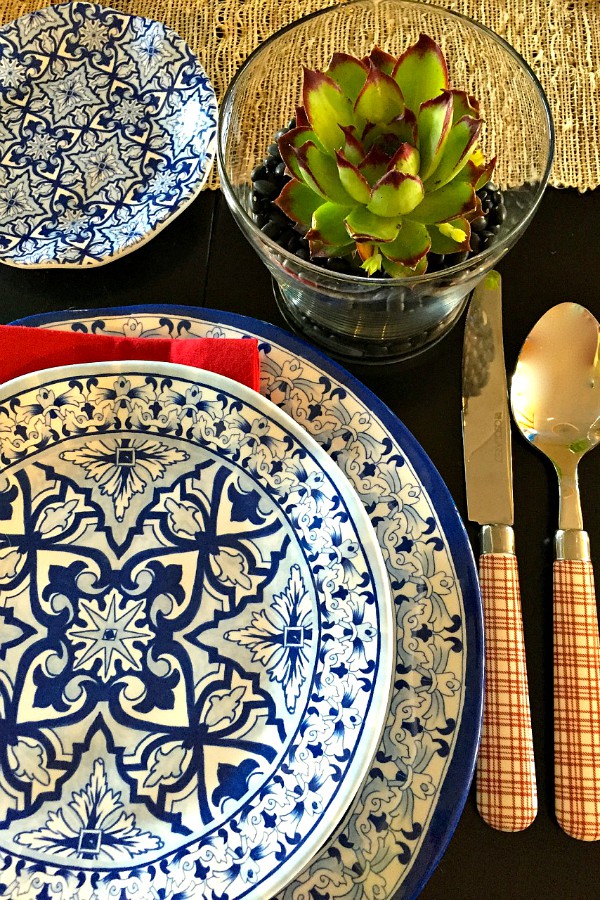 For Cinco de Mayo last year, I hosted a large party, and my centerpiece was small glass vessels, with beans and succulents from our garden. This year we may celebrate on a smaller scale :)
What to keep, what to give away
I'm asking myself if I've used them in the last year, and if not, they're going in the yard sale box!
Love what you love. Enjoying your kitchen means really paying attention to the things that make you happy, and getting rid of the stuff that just sits there. That feels heavy.
It means being open to new ideas, tips, and thinning out.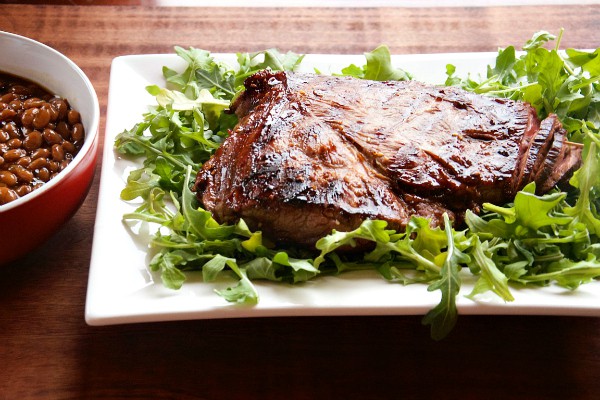 Delicious Marinated Steak
I also want to share with you today a very delicious dinner that I recently made, since it's grilling season. I'm always looking for a yummy marinade, and the flavors of this Delicious Marinated Steak are the bomb!
Since it's time to fire up the grill (at least in Oregon), this is an easy one, with very few ingredients, a unique blend of spices gives a bold twist on traditional grilled steak. (I wrote a little blurb about grilling, here.)
Also, this recipe was created with gluten-free guests in mind, and delicious served with a side of beans!
Happy Thursday! Will you be entertaining this weekend?
Get the Recipe: Delicious Marinated Steak
Ingredients
1/2 tsp ground nutmeg
1/2 tsp ground cumin
1 tsp ground cinnamon
1 tsp ground ginger
2 Tbsp chili powder
1/2 tsp ground turmeric
2 Tbsp garlic salt
1 cup olive oil
4 each hanger, flat iron or strip steaks
1 each large plastic resealable bag
Instructions
In large bowl, combine all spices and oil. Set aside.

Place steaks in large plastic resealable bag. Pour marinade in bag and shake to evenly coat steaks.

Refrigerate for 3 hours to overnight.

Set clean, well-oiled grill to medium-high heat. When grill is hot, using tongs, place steaks on grill and cook 2-3 minutes on each side or until internal temperature is at least 145 degrees F.

Using tongs, remove steaks from grill and place on platter. Let rest for 3 minutes.

Hello and welcome to my home and table!
I'm Sandy—lover of food, family, cooking, THE BIG BOARD, travel, and bringing people together. Through great recipes and connection around the table, we become better, stronger, and more courageous people. Feasting on Life is real, and every time we do it, we grow a little more. Read more...