Dill Pickle Pasta Salad
If you're a fan of pasta salads, then wait until you get a taste of this one! This Dill Pickle Pasta Salad is creamy, chunky, and loaded with tangy dill pickles. It's got a great flavor, and don't worry, it isn't too pickle-y! There's lots to love in this salad, so grab a fork and dig in!
This Dill Pickle Pasta Salad was inspired by my friend Holly's recipe, and boy, oh boy, is it ever good! This is the perfect pasta salad recipe for BBQs, gatherings, potlucks, and anytime you need to serve a dish that'll feed a crowd and that everyone will love.
Dill Pickle Pasta Salad
This easy salad has a great texture, and has bacon (we love bacon!). I make it with medium shell pasta, though any short pasta shape will work. The dressing is creamy with a bit of tanginess, and there are lots of great flavors in the salad that all work together.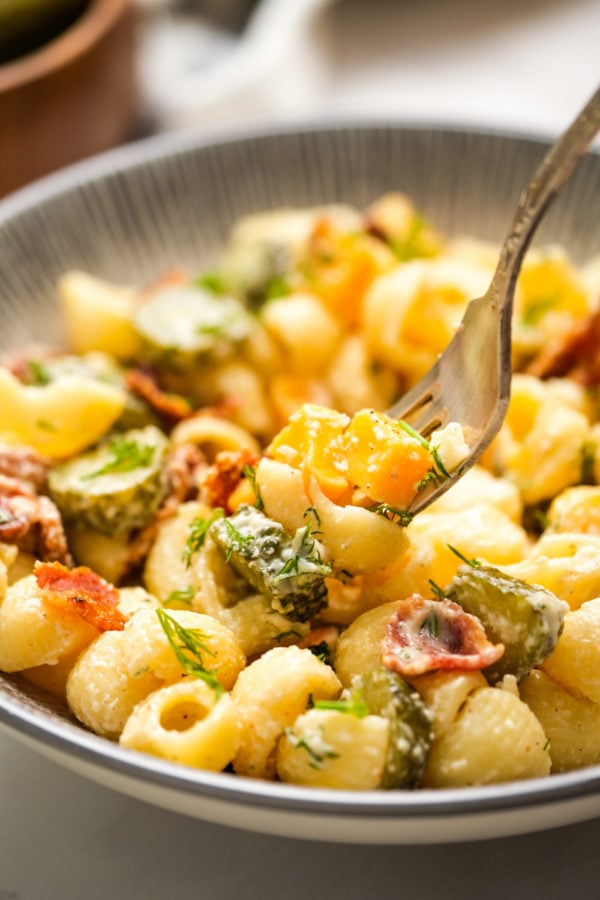 The secret behind this recipe is the two types of pickles. There are tangy dill pickles in the recipe and sweet pickles to help balance the flavors and add more crunch.
This is another one of those salads that tastes better after sitting for a bit, so you can make it ahead of time and then just pull it out of the fridge when you're ready to serve!

Why I love this recipe
It's creamy, crunchy, tangy, and bacony, and has all the good things in it!
You can make it ahead of time and impress everyone with the bowl of delicious Dill Pickle Pasta Salad.
Everyone loves this salad, and it pairs so nicely with so many summery dishes!

Gather these ingredients
Pasta shells – Medium shells, dry.
Dill pickles – Look for smallish dill pickles and save the juice.
Sweet pickles – Look for small pickles.
Colby cheese – Cut into small cubes.
Bacon – Cooked and crumbled bacon pieces.
Fresh dill – Chopped.
Mayonnaise
Sour cream
Pickle juice
Onion powder
Cayenne
Salt and pepper – To taste.

How to make Dill Pickle Pasta Salad
Cook the pasta according to the package directions. Drain it and rinse it with cold tap water to cool it down. Make sure it is drained well and set it aside.
Combine the mayonnaise, sour cream, pickle juice, salt and black pepper, onion powder, and cayenne in a small bowl until well-mixed and smooth. Set this aside.
Add the chilled pasta to a large bowl and add the sweet and dill pickles, cubed cheese, bacon, and 2 tablespoons of fresh dill. Toss to combine.
Add the dressing to the salad and stir to coat. Adjust the salt and pepper if needed and chill for at least an hour or up to overnight.
Garnish with the remaining dill, serve and enjoy!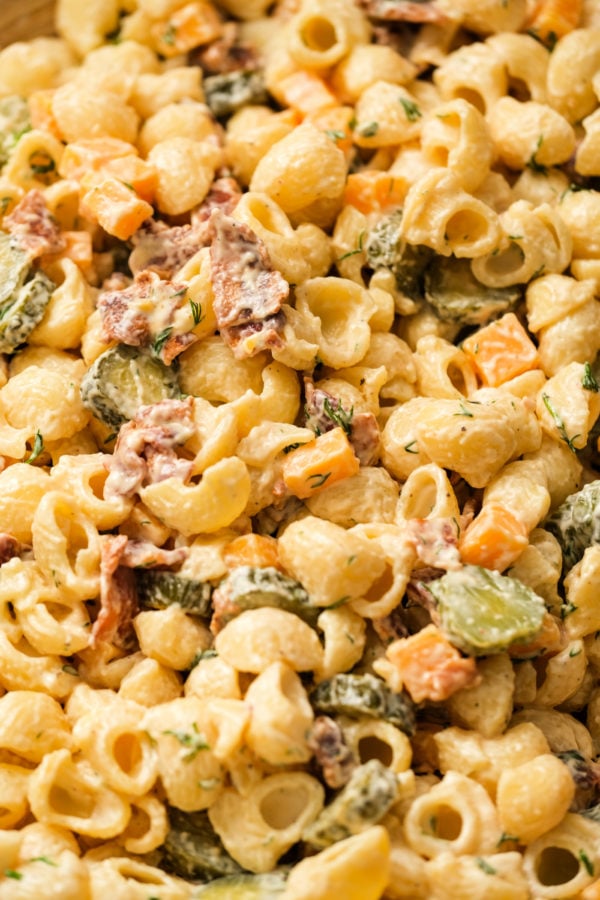 Tips & substitutions
Pasta should be quite al dente for pasta salads. Cook the shells for a minute less than the recommended cooking time and chill them under cold water quickly to stop the cooking process.
You can use Greek yogurt in place of the sour cream.
If your pickles are larger, dice them so you're not biting into huge hunks of pickles.
Dicing cheese so small can be tricky. You can use the large holes on a box grater instead.
I freeze the juice from pickle jars when the pickles are done. If you freeze it in an ice cube tray, then you can just use as much pickle juice as you need.
You can make the pasta up to a few days in advance. Cool it and drain it and keep it in a zipper-top plastic bag or a bowl covered with plastic wrap in the fridge until you're ready to make the salad.

Serving suggestions
I love this Dill Pickle Pasta Salad with anything off the grill, especially burgers! Make your favorite burgers or add a bowlful of this salad to an epic slider board and really wow everyone! Grilled chicken and grilled steak also pair well with this easy pasta salad that's great as a side dish or the main carb of the meal.

Storage
Store any leftovers in an airtight container in the fridge for 2-3 days. Add a splash of milk to the leftovers to help get them creamy again – the pasta will absorb some of the liquid as it sits in the fridge.

Check out these awesome pasta salad recipes while you're here
Get the Recipe: Dill Pickle Pasta Salad
Creamy, tangy, crunchy, and loaded with flavor, this easy Dill Pickle Pasta Salad is perfect for any kind of summertime gathering!
Ingredients
FOR THE PASTA SALAD:
1 lb. dry medium shell pasta about 3 cups
2 cups sliced dill pickles, small, plus more for garnish (reserve the juice)
½ c. sliced sweet pickles, small
2 c. diced Colby cheese, cut into uniform very small cubes
1 ½ cup cooked, crumbled bacon pieces
4 tbsp. fresh dill, divided
Salt & pepper to taste
FOR THE DRESSING:
1 c. mayonnaise
½ c. sour cream, or plain Greek yogurt
¼ c. pickle juice, from the jar
½ tsp. ground black pepper
½ tsp onion powder
¼ teaspoon cayenne pepper
½ tsp. salt
Instructions
Cook the pasta according to the package directions; drain, rinse with cold water to cool the pasta, and drain again. Set aside for 5 minutes. [Best to cook 1 minute less for al dente.]

For the dressing: Stir together mayonnaise, sour cream (or Greek yogurt), pickle juice, black pepper, onion powder, cayenne pepper, and salt in a small bowl until smooth, set aside.

For the salad: In a large bowl, add the cooled pasta, pickles (sweet and dill), cheese cubes, bacon, and 2 Tbsp fresh chopped dill; add the dressing, and stir to coat. Salt and pepper to taste!

Refrigerate at least 1 hour and up to a day ahead.

Before serving, garnish with more diced pickles and remaining 2 Tbsp fresh dill on top. Serve!

TIP for post: Substitute grated cheddar cheese (wide pieces, not finely shredded), and save time on dicing!
Calories: 487kcal, Carbohydrates: 33g, Protein: 18g, Fat: 31g, Saturated Fat: 12g, Polyunsaturated Fat: 10g, Monounsaturated Fat: 8g, Trans Fat: 0.04g, Cholesterol: 62mg, Sodium: 926mg, Potassium: 268mg, Fiber: 2g, Sugar: 4g, Vitamin A: 984IU, Vitamin C: 8mg, Calcium: 321mg, Iron: 1mg
Hello and welcome to my home and table!
I'm Sandy—lover of food, family, cooking, THE BIG BOARD, travel, and bringing people together. Through great recipes and connection around the table, we become better, stronger, and more courageous people. Feasting on Life is real, and every time we do it, we grow a little more. Read more...