Don't Miss Your Own Dinner Party by Trying to Do it All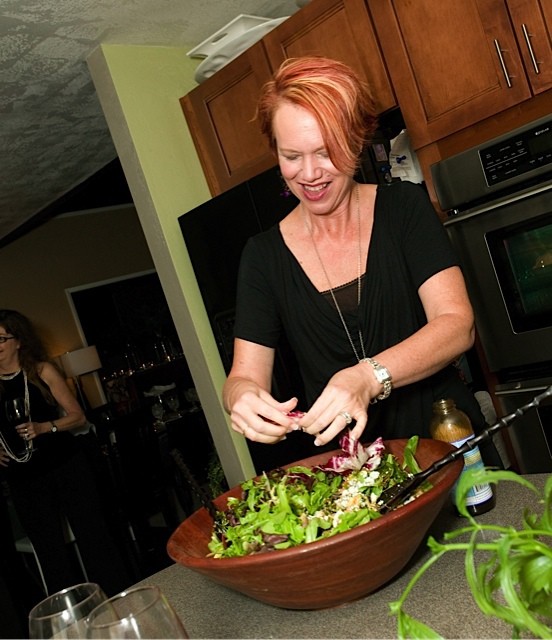 When I was in my thirties I worked way too hard at my own dinner parties. I really did try to do everything myself.
I'd say in the last 10 years I've learned a better rhythm to serving my guests, when I realized that I was missing out.
I wanted to enjoy my own parties, so this is how I changed my hostessing:
How to NOT miss your own dinner party:

1. Cook recipes that entail cooking or preparing food ahead of time. In other words, choose easy recipes that involve a very little last minute prep.

2. Ask for help when you need it, especially for last minute details (chopping, pouring water, gathering chairs, lighting the candles).

3. If others jump in to help, be gracious and give them a job.

4. Have a pre-dinner chat with your spouse or friend on the roles of serving. (I'll serve the salad, you cut the meat, etc.)
One of the things I figured out I was missing was sometimes the best conversation. If I was in the kitchen, and came back to the group, the best had come and gone … and I missed it.
Even though it's easy to catch up, or catch on, still, no one wants to be stuck in the kitchen, or even worse, miss their own dinner party!
On a level from 1-5 (1 being you never ask for help), what's your comfort level for asking for help in the kitchen when entertaining?
Hello and welcome to my home and table!
I'm Sandy—lover of food, family, cooking, THE BIG BOARD, travel, and bringing people together. Through great recipes and connection around the table, we become better, stronger, and more courageous people. Feasting on Life is real, and every time we do it, we grow a little more. Read more...