Downton Abbey Egg Salad Tea Sandwiches
Enjoy Downton Abbey Egg Salad Tea Sandwiches and a visit to Highclere Castle with Lady Carnavon. Make these easy Egg Salad Tea Sandwiches for your next tea! Watch the VIDEO!
Three years ago I was in London, working Grey Poupon (DowntonAbbeyKitchens.com). We stayed at The Ritz London, and visited Bampton and Highclere Castle! With the 6th and final season of Downton Abbey on PBS, this was such an excitng trip!
Having tea with The Lady, we enjoyed these Downton Abbey Egg Salad Tea Sandwiches!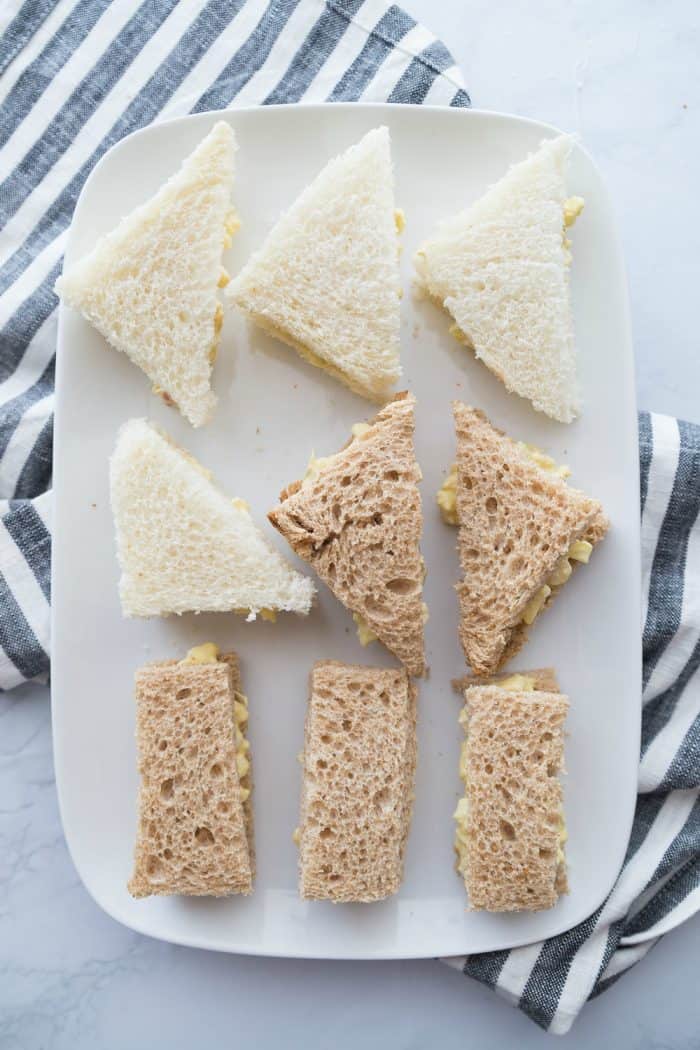 These little bites of goodness (my favorite!).
Visit RecipeGirl for a full Downton Abbey Dinner Party Menu as well – a super fun way to host a party!
Highclere Castle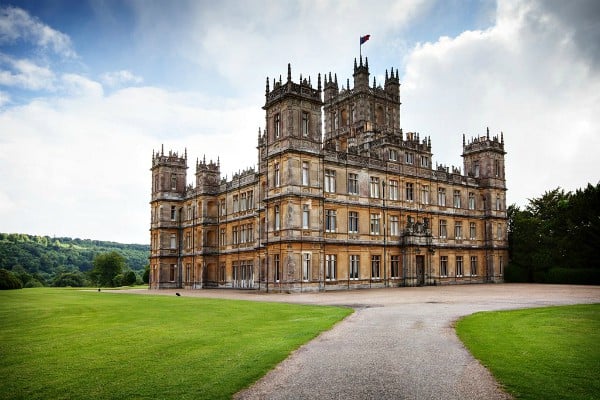 Here's a peek view of the castle, and the beauty surrounding it!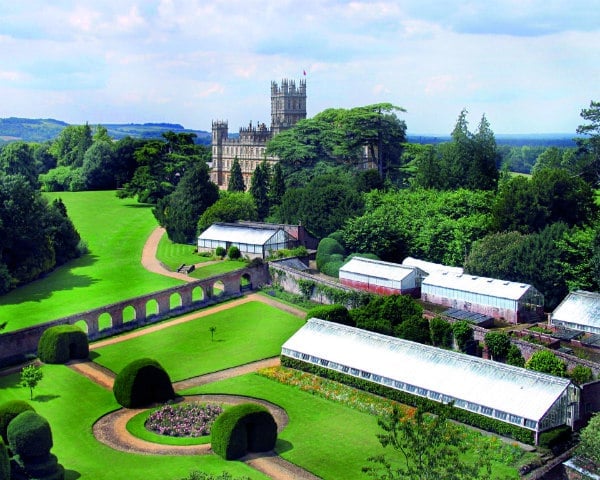 Bampton
Not only did we have tea and tour the castle, we also visited the lovely town of Bampton, so quaint and quiet, you couldn't hear a pin drop! It's called the "Downton Mile" and the walk takes you down along the streets, to Downton's Cottage, the hospital (Bampton's library), ending at the church.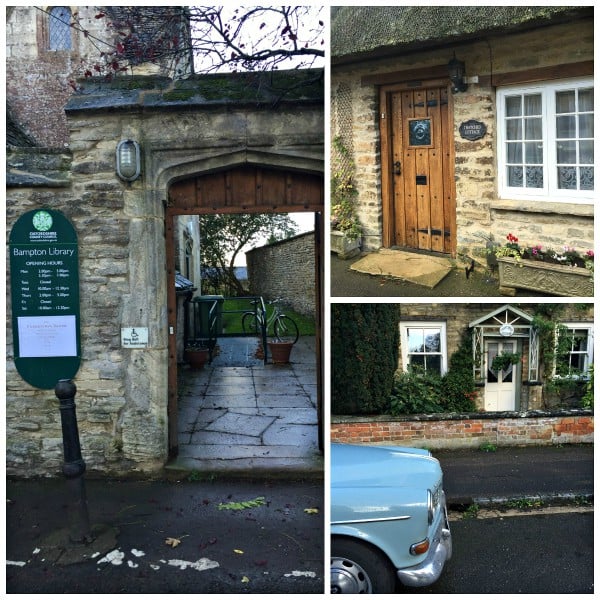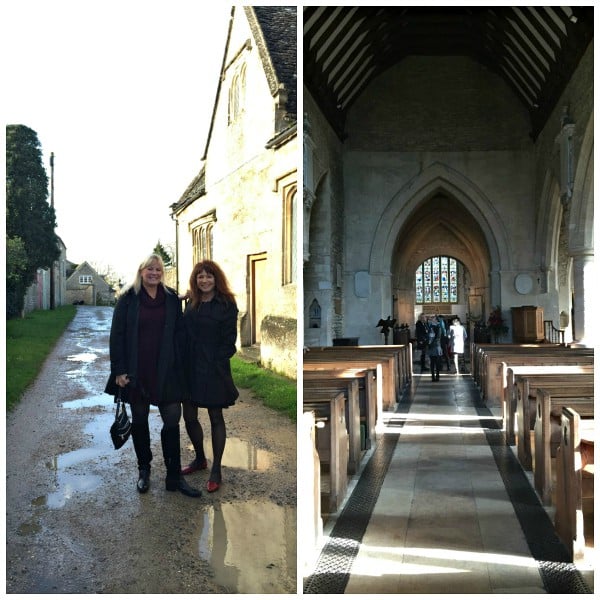 We all know what happened in this this church … the final season!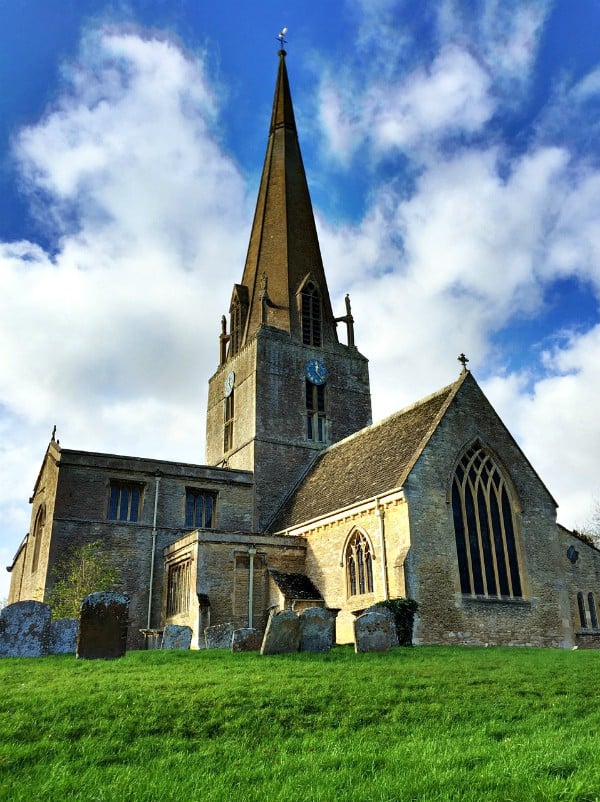 Bampton & Highclere Castle
We then drove from Bampton, about 30 miles out through the countryside, arriving at the Highclere Castle!
The rain stopped, with a small window period of sunlight, we couldn't believe that we were actually here!
My friends on the trip were Lori (RecipeGirl), Adrianna (A Cozy Kitchen), and Stephanie (I am a Food Blog).
Now let's take a tour through the castle.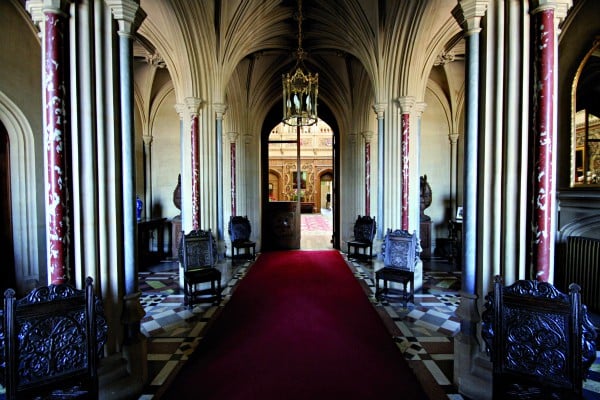 The grand hallway.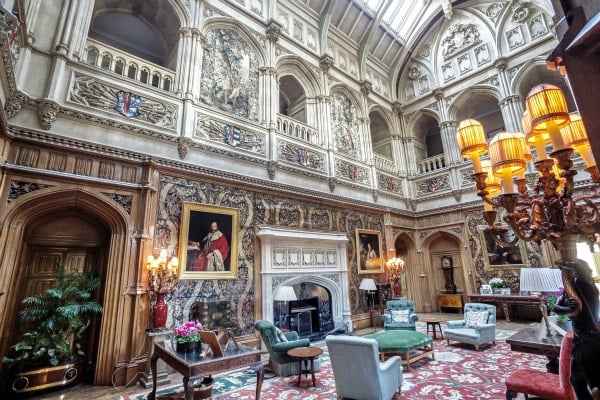 The saloon.
The dining room.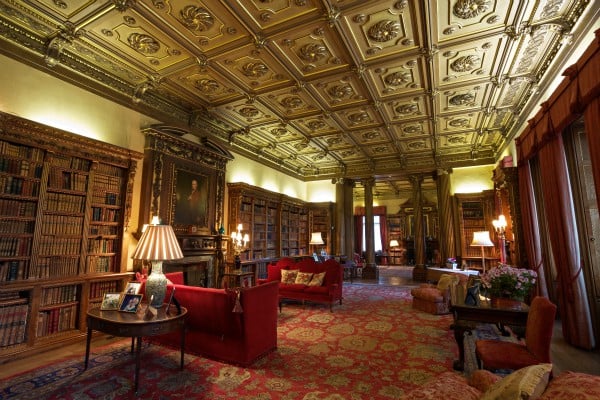 The library.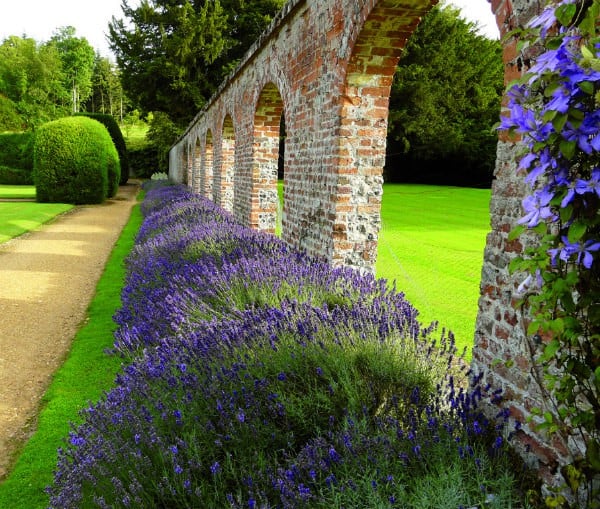 The lovely gardens.
Tea time with Lady Carnavon
Ending with a lovely time of tea with Lady Carnavon!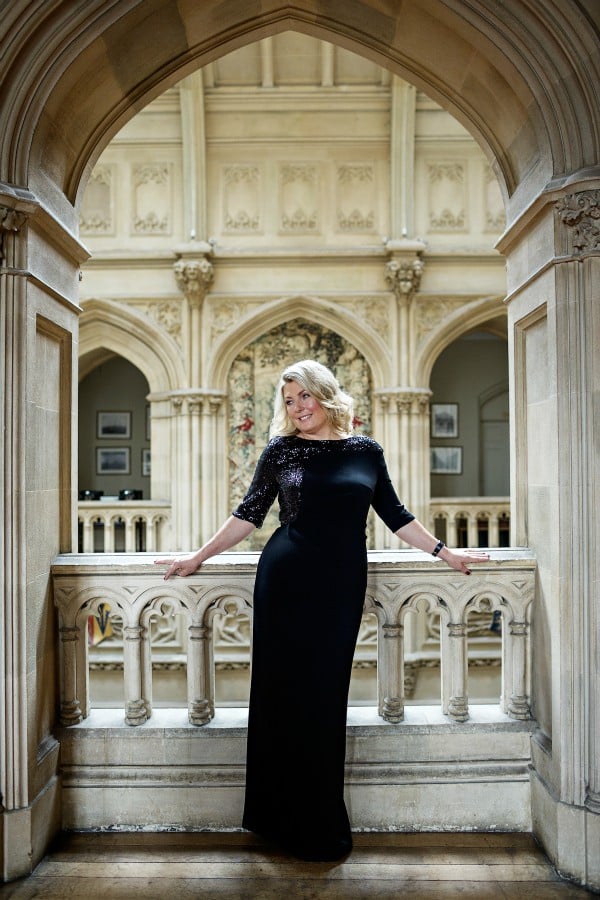 Beautiful Lady Fiona.
What I love about "tea" is the relaxation, slowing of life, and conversation, something we need more of in our busy lives!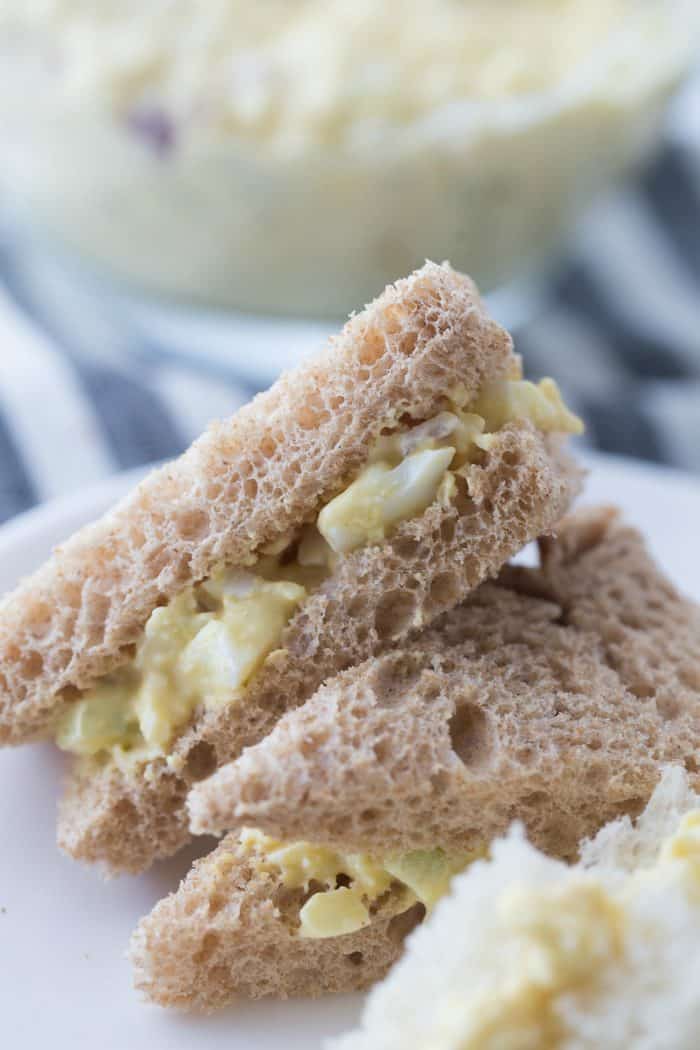 Downton Abbey Egg Salad Tea Sandwiches
Today I'm sharing a simple Egg Salad Tea Sandwiches recipe, made with Grey Poupon mustard.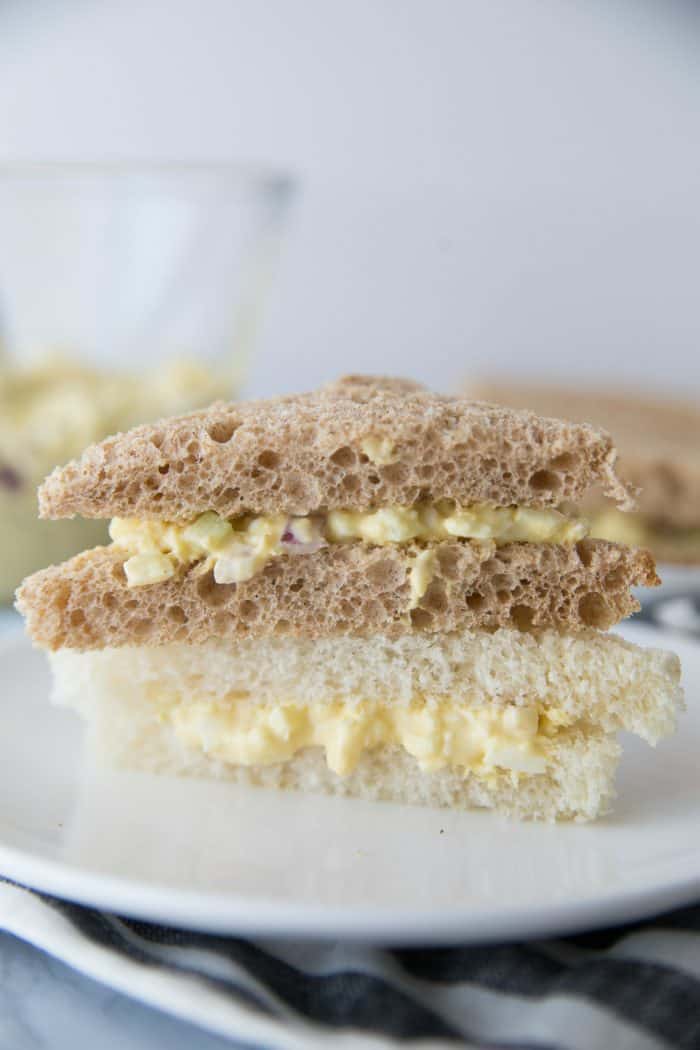 The "tea" menu can include your favorite hot tea, sandwiches with the crust removed, and scones with fruity jam and cream.
Here are a few classic finger sandwich ideas. You can cut the bread in different shapes, rectangles, circles, or triangles. One of my favorite combinations is cream cheese, turkey and apple.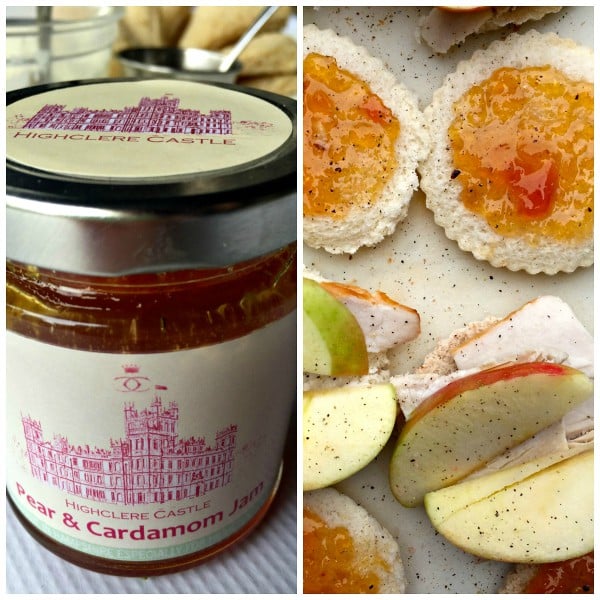 As far as scones, remember that they are best warm from the oven. Here's my basic blueberry scone recipe.
Serve with clotted cream or whipped mascarpone cheese. YUM!
Be sure to use a good jam with the cream mixture. I bought some pear jelly at Highclere Castle!
I know this trip was a once-in-a-lifetime experience, one that I'll cherish in my heart forever. :)
This trip was paid for by Grey Poupon (Kraft Foods), but all opinions are my own. More posts on my stay in London, HERE.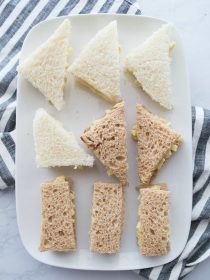 Get the Recipe: Downton Abbey Egg Salad Tea Sandwiches
To hard cook eggs, boil the water; place the egg gently, one at a time using a spoon, into the water. Bring to boil; set the timer for 10 minutes. Remove from the boiling water, run cold water over the eggs. Peel under running water!
Ingredients
6 hard cooked eggs, peeled, mashed
6 Tbsp. celery, finely chopped
6 Tbsp. red onion, finely chopped
4 tsp. Dijon mustard
4 tsp. lime juice
1/3 cup mayonnaise
1 loaf bread, crusts removed
Instructions
Place mashed hard cooked eggs, celery, red onion, dijon mustard, lime juice, and mayonnaise in a medium bowl; mix well.

Cut white bread into pieces and spread with the egg salad. Serve!
Notes
Originally posted JAN 2016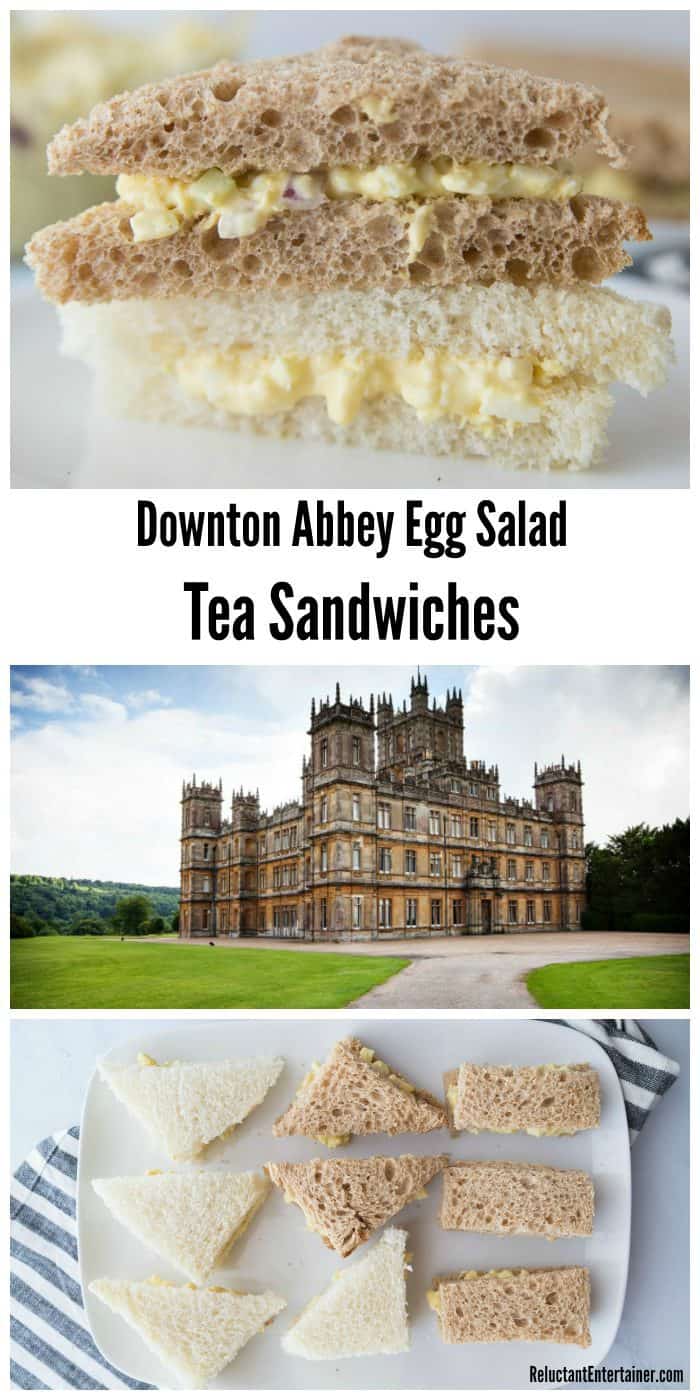 Hello and welcome to my home and table!
I'm Sandy—lover of food, family, cooking, THE BIG BOARD, travel, and bringing people together. Through great recipes and connection around the table, we become better, stronger, and more courageous people. Feasting on Life is real, and every time we do it, we grow a little more. Read more...