Flank Steak with Cocoa Chili Rub
For grilling, make a Flank Steak with Cocoa Chili Rub, barbecued to perfection! Serve on tacos or sandwiches with guac and crunchy bread!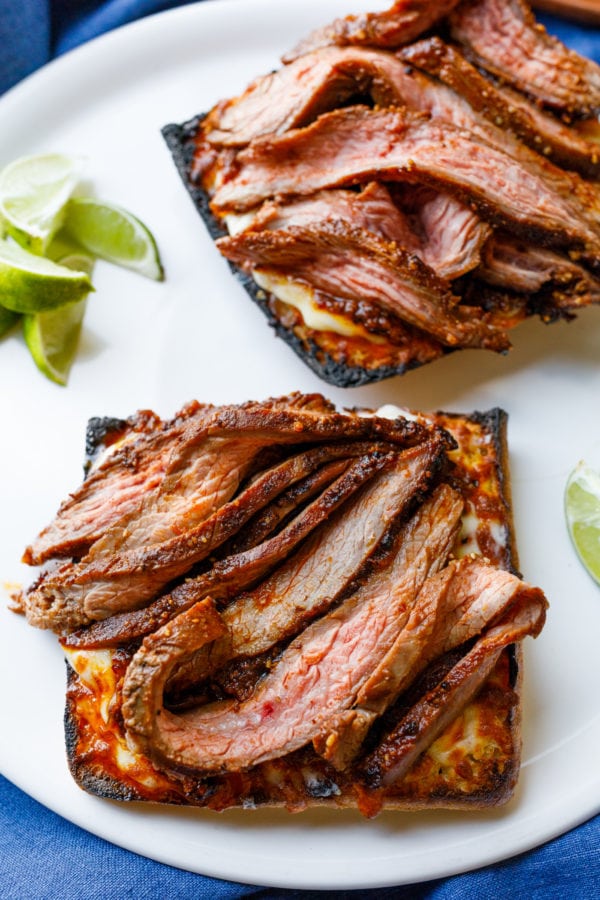 Friends, we are so happy with our Camp Chef wood pellet grill! Just a few steps outside our house it sits, and it gets used a lot. This time, only a few minutes on the grill, we whipped up this Flank Steak with Cocoa Chili Rub.
Flank Steak with Cocoa Chili Rub
This recipe is a rub of ground ancho chile, paprika, and dark cocoa powder, that brings an earthy, flavor to flank steak. You can serve the steak on tacos, as it's best served in flour tortillas with guacamole.
Ingredients for cocoa chili rub for flank steak
Brown sugar
Cumin + coriander + ancho chili powder
Ground pepper
Dried minced garlic
Sweet paprika
Dark cocoa powder
Fank steak
Kosher salt
Avocado oil
Who knew flank steak could be so tender? From kitchen to table, this delicious steak will take you less than ten minutes to grill.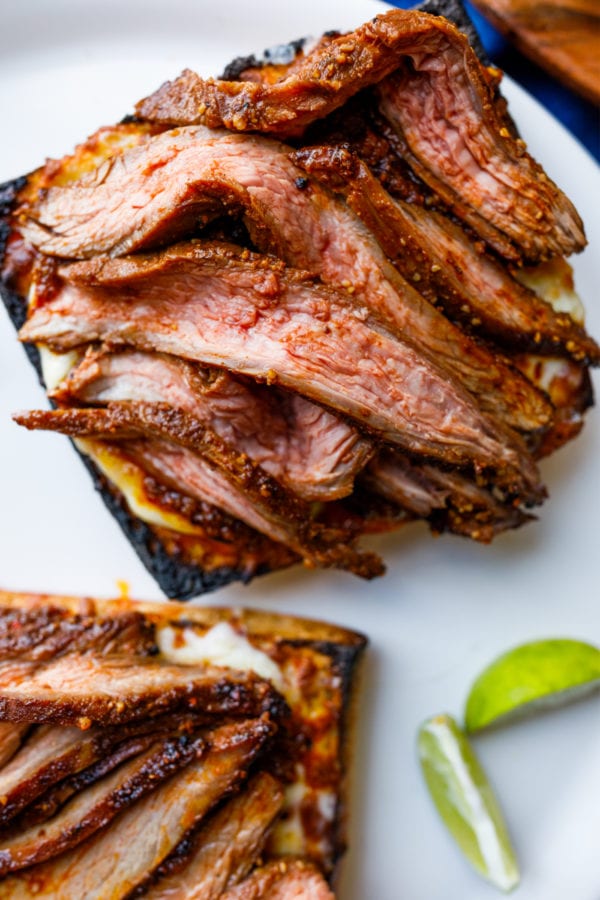 How to serve flank steak
This steak is perfect for grilling or broiling. The combination of chili, cocoa, and brown sugar make for a steak that is smoky, sweet, bright, and subtly chocolaty all at once. Pop it on the grill (we love that wood-fire flavor).
Flank steak and skirt steak are both long, odd-looking cuts of steak. Wonder if you've ever eaten either of them? If you've ever had fajitas, then chances are it was skirt steak.
In most recipes, they can be used interchangeably.
Recipe coming soon for this open-faced steak sandwich, or just toast your favorite bread. Add cheese, steak, and a squeeze of fresh lime. DELISH!
More flank steak recipes
Flank steak is just delicious, and easy. Not only does it cook quickly, it has wonderful flavor. The recipe is coming next week for this amazing steak sandwich (above).
Lemon Garlic Butter Flank Steak with Mushrooms
Or, try my New York Steak Marinade.
How to cut flank steak
Slice it thinly and against the grain for maximum tenderness.
Please cook it rare, so the flavors pop. If you overcook flank steak, there's nothing special about it, and it's tougher.
Overcooking flank steak is the mistake that most people make; you can make this recipe perfectly in just 10 minutes!
Adapt the spices
So here is a little secret that my daughter would tell you about me. I'm not an overly-spicy meat lover. Abby loves to kick up the spices a notch, but she's great at adapting the recipe, too.
Always adapt the spice level according to who is coming for dinner, by adding less or more chili powder.
The rub in this recipe will coat two-plus pounds of steak, which we usually buy at Costco. You can buy two nice filets in one pack.
We like to marinate one one way, and then the other with another recipe. Serve it for two nights. I love getting two meals out of a pack of meat. Of course it depends on how many people you are serving.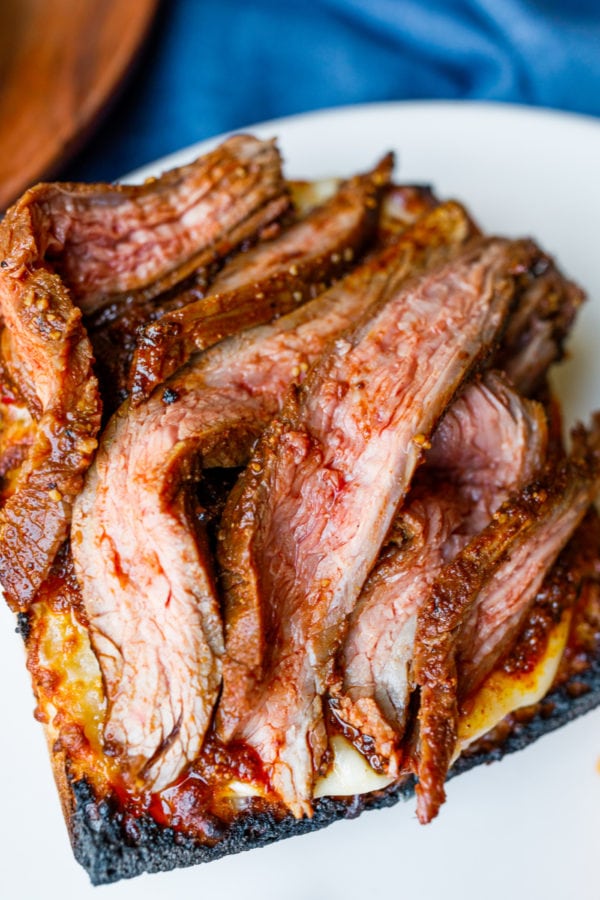 Is flank steak tough or tender?
Flavor and texture: Flank steak has tons of intense beefy flavor, but can be a little tough. That's why you need a good seasoning, and do not overcook it. A little undercooked equals TENDER!
Cooking flank steak: Flank steaks take to marinades very well, and some marinades can help to tenderize the meat. But with this recipe, a dry rub works just as well.
Friends, we just returned from Clear Lake, staying at a lakehouse with dear friends. Let's just say it was one of the most relaxing weekends we've had in a long time. Have you visited Clear Lake? It's the largest lake in California!
"Nature does not hurry, yet everything is accomplished."

― Lao Tzu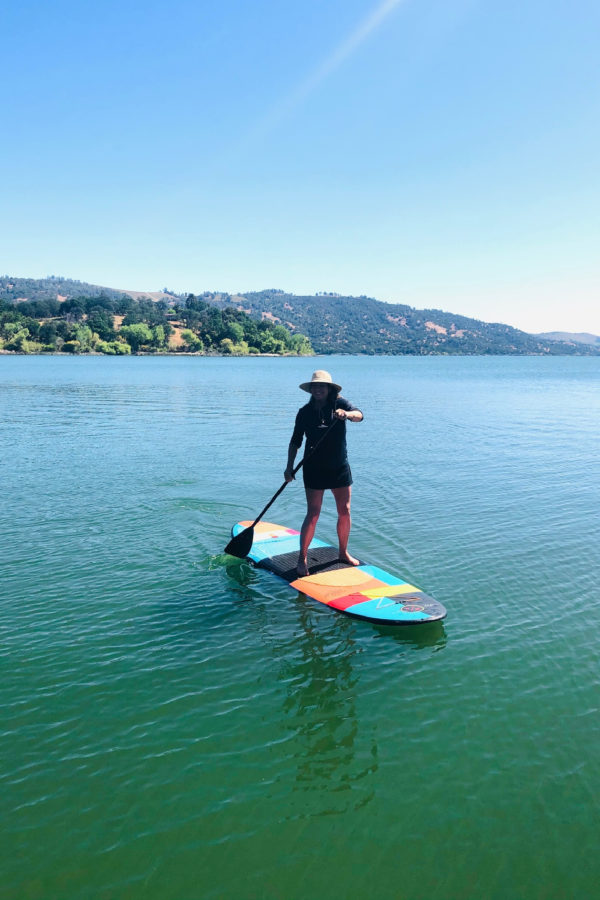 I hope you're off to a great summer, friends.
I can say I've already been bikeriding, hiking, paddleboarding, and kayaking so far. No swimming yet, and we had snow yesterday (on May 19th?) Go figure!
We're very excited for some new summer recipes we'll be sharing on RE in the next few weeks!
Don't forget to follow me on Pinterest, too! Happy almost-weekend!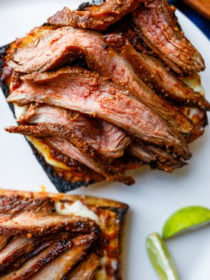 Get the Recipe: Flank Steak with Cocoa Chili Rub
This steak is perfect for grilling or broiling. The combination of chili, cocoa, and brown sugar make for a steak that is smoky, sweet, bright, and subtly chocolaty all at once. You can serve it a la carte paired with a vinegary salsa, on tacos, or crunchy bread with cheese.
Ingredients
1 Tbsp brown sugar
1 tsp cumin
1 tsp coriander
1 Tbsp ancho chili powder
2 tsp fresh ground pepper
1 ½ tsp dried minced garlic
3/4 tsp sweet paprika
1 ½ tsp dark cocoa powder
1 2-3 lb flank steak, rinsed and patted dry
2 tsp kosher salt
2-3 Tbsp avocado oil
Instructions
Season the flank steak evenly with kosher salt on both sides—about 1-2 1/2 teaspoons. Let sit for at least 30 minutes. Heat broiler to high and line a rimmed baking sheet with foil. Spray with nonstick spray and set aside.

In a small bowl, combine the brown sugar, cumin, coriander, chili powder, ground pepper, minced garlic, sweet paprika, and cocoa powder.

When the steak is room temperature, pat off any excess water with a paper towel, then season with the spice rub. Pour on the oil and rub the seasoning in so it adheres to the steak.

Transfer steak onto the baking sheet and place under the broiler on the top rack. Broil for 4 minutes, then flip over and broil for an additional 3-4 minutes for medium rare—the steak will be fragrant, caramelized, and lightly charred. Or, flash-sear it on the grill on high heat (one side only).

Remove from the oven (or grill) and allow to rest for at least 10 minutes before slicing thin and serving.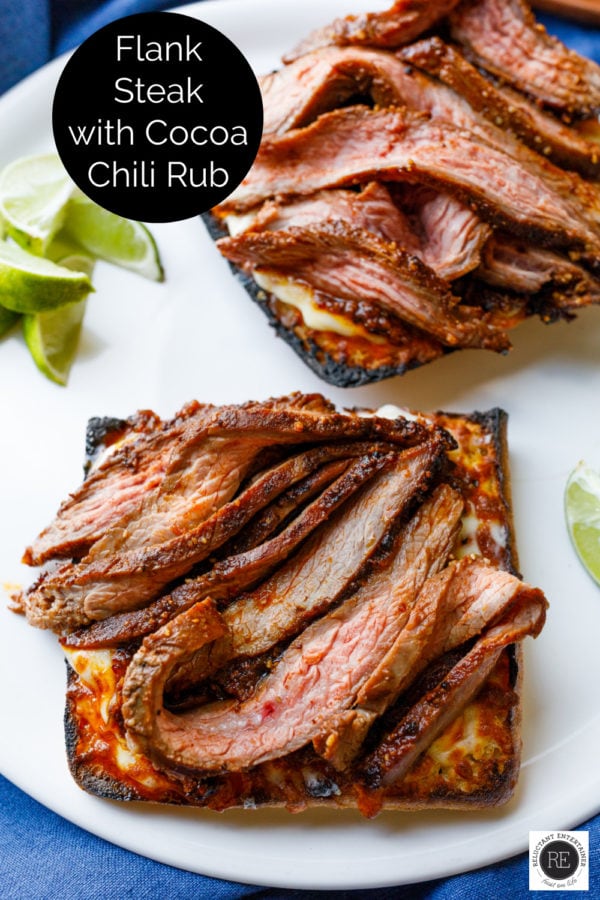 Hello and welcome to my home and table!
I'm Sandy—lover of food, family, cooking, THE BIG BOARD, travel, and bringing people together. Through great recipes and connection around the table, we become better, stronger, and more courageous people. Feasting on Life is real, and every time we do it, we grow a little more. Read more...