St. Patrick's Day Fried Eggs in Green Pepper Rings
For a festive St. Patrick's Day, try these delicious Fried Eggs in Green Pepper rings for breakfast, lunch, or dinner!
Friends, if I were a songwriter, I'd write about sweet camellias. I mean, is there a springtime flower that is sweeter?
My neighbor has always allowed me to cut a few blossoms to enjoy in the springtime. Last year, I set the table outside and we had friends over for a warm, early spring dinner! Today in Oregon could be one of those days, the temps are warm, the sky is blue, and the camellias are in fresh bloom!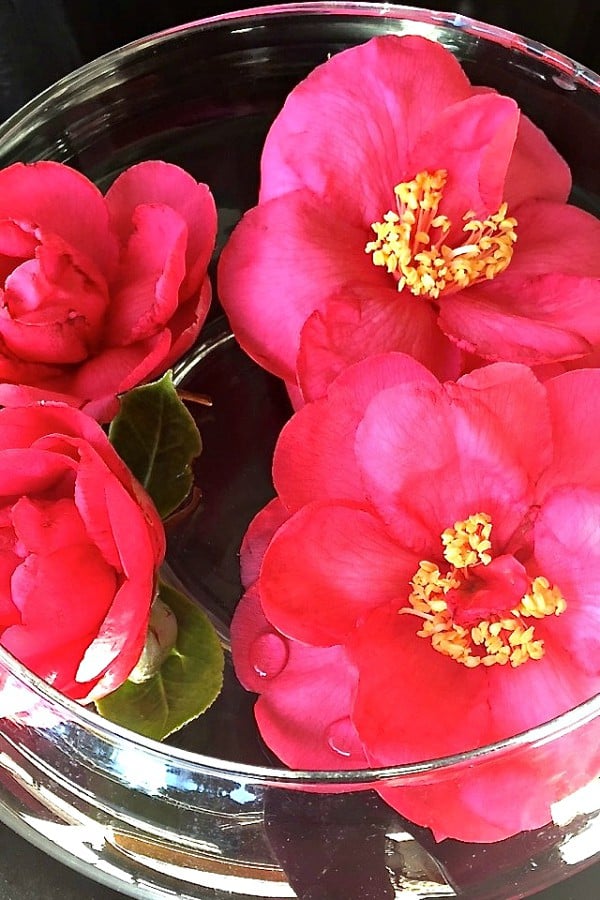 My good friend Laurel taught me a trick a few years back on how to clean spotty glassware. Do you have vases or vessels sitting in cupboards that are difficult to get shiny clean? I do, so this past week I pulled out the Laurel trick, and shined up all my glassware.
If you're following me on Snapchat (Sandy Coughlin) you may see some of my tips, tricks, house, yard and garden, and decorating decor ideas that I often share.
Here are a couple of my snaps, step-by-step.
How to clean spotted glassware:
1. Buy Denture Cleanser Tablets from the Dollar Store (24 tabs in each box).

2. Follow directions, adding warm water to one tablet.

3. Let the warm water soak in the vase or vessel.

4. Rinse and use!
Fried Eggs in Green Pepper rings
Now, what goes deliciously well with beautiful camellias on the counter?
Since St. Patrick's Day is right around the corner, so eggs in pepper rings!
Easy! I've posted these several times over the years, but since we are an Irish family, I decided to actually include the recipe!
Sprinkle a little bit of Parmesan cheese on top before you flip over – delicious!
Enjoy, my friends!
What is your favorite springtime flower?
Fried Eggs in Green Pepper
Try to find green peppers that are shaped like a shamrock.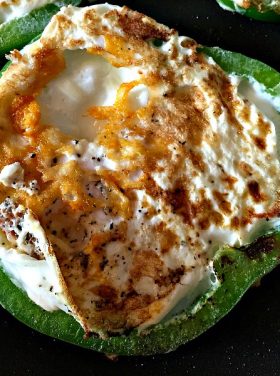 Ingredients:
1 large bell pepper (or 2 small), cored
Nonstick spray, for preparing the pan (or butter if you prefer)
6 eggs
Paremesan cheese
Salt and pepper, to taste
Directions:
Cut the bell pepper from top to bottom in slices that resemble rings.
Prepare a skillet with a light layer of oil or nonstick cooking spray. Place 6 of the bell pepper rings on the skillet over medium heat. Crack an egg into each ring and allow it to spread out to fill the bell pepper ring. Season the eggs with salt and pepper, to taste.
If you like your eggs soft, cook over low heat for 3-5 minutes, or until the eggs are cooked to preference.
If you like your eggs hard, break up the yolk with the skillet for even cooking. Cook 6-9 minutes, or until the eggs are cooked to preference.
Sprinkle with fresh Parmesan cheese (optional); flip if you like it cooked over-easy! Serve!
All images and text ©
More St. Patrick's Day breakfast recipes:
Green Smoothie Waffles {RecipeGirl}
Cheesy Leftover Mashed Potato Pancakes {Just a Taste}