Salmon Spaghetti Carbonara
Who doesn't love an easy carbonara recipe, especially topped with a beautiful salmon filet? This post will show you how easy it is to make a delicious seafood meal at home, any night of the week. This Salmon Spaghetti Carbonara recipe is for everyone whose heart beats faster for a good old-fashioned pasta dish.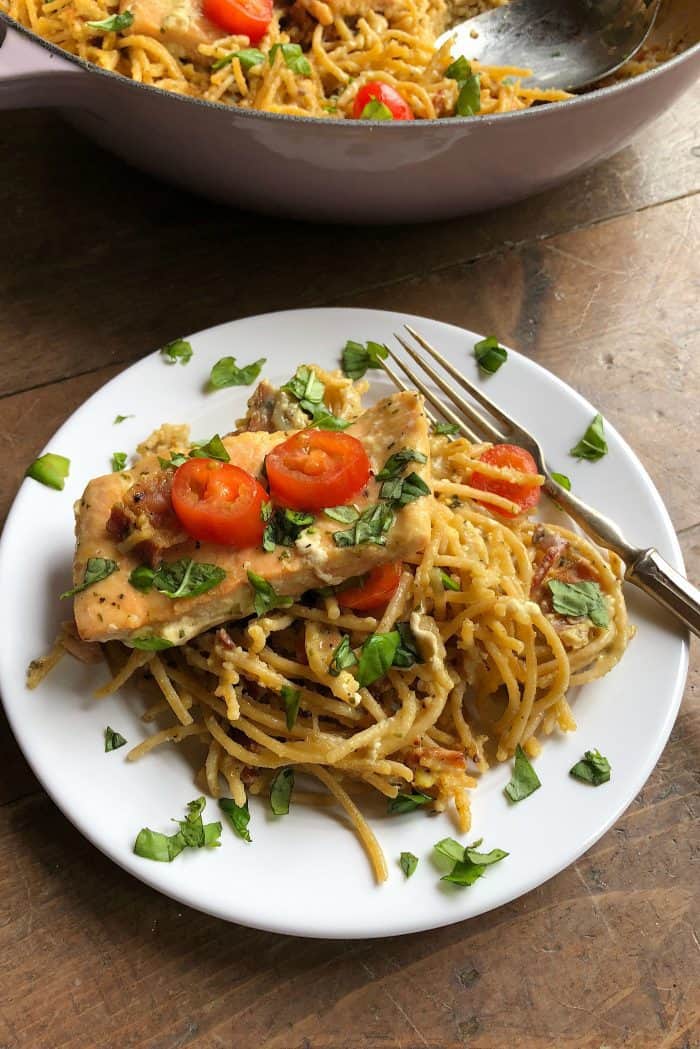 Friends, for Lent or any time of year, a great carbonara is about balancing the egg, cheese, bacon, and pasta. Because there are few ingredients, adding Simply Bake Salmon by Gorton's takes this recipe to a new level. I'm partnering with Gorton's on for this delicious post today!
Salmon Spaghetti Carbonara
Making this dish with high quality ingredients, such as Simply Bake Salmon by Gorton's, good quality cheese and pasta, makes this dish perfect for company!
And look at the colorful presentation!?
You know what I mean-it's nice to have a tried-and-true, classic, tasty meal when company comes for dinner!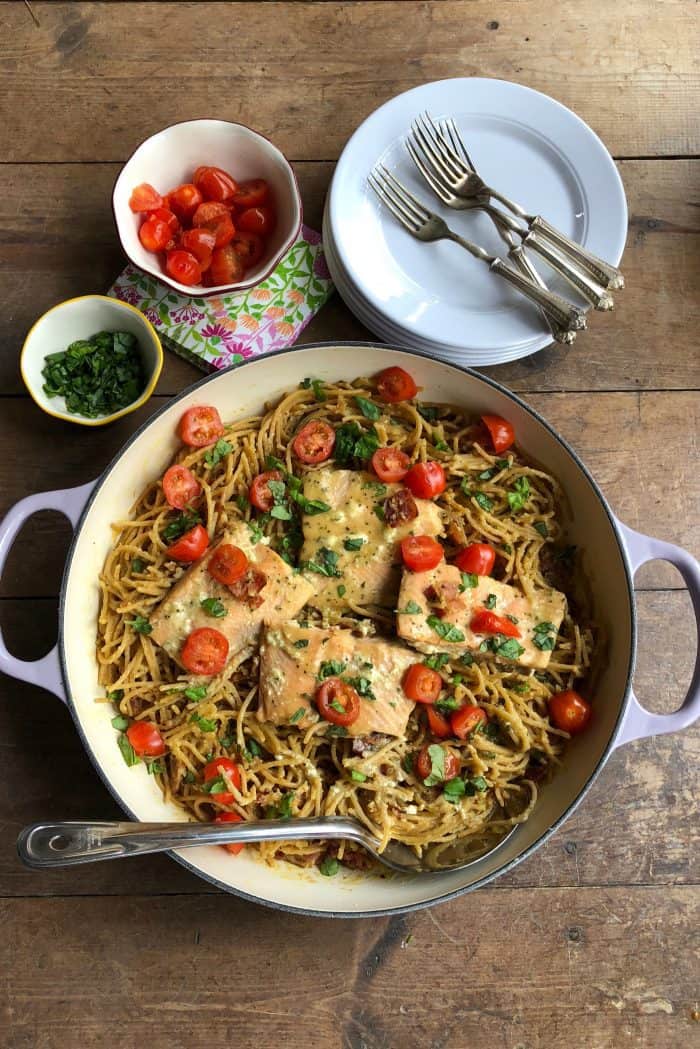 What you'll need to make Salmon Spaghetti Carbonara
Gorton's is a company that has been around for 167 years, with the finest frozen seafood. I love their fish to add to classic dishes, and to keep in the freezer for weeknight meals or last-minute guests.
It turns out that you actually can "trust the Gorton's fisherman" (their long-running slogan), since they have fed families for generations.
In each package there are two fresh-caught frozen salmon filets, already perfectly seasoned with roasted garlic and butter. Besides the salmon, the ingredients for this recipe are very simply of good quality: pasta (we love whole grain pasta), eggs, cheese (Dubliner cheese is delish, but you can also use Parmesan), and your favorite pork (we love bacon).
How to make Spaghettie Carbonara
While the pasta is cooking, start baking the number of packets of Gorton's Simply Bake Salmon (Roasted Garlic & Butter) that you will need. This recipe serves 8, but you can totally cut the recipe in half.
It only takes about 24 minutes for the salmon to bake.
The secret to making a good carbonara is tossing beaten eggs with the hot pasta, right off the heat, so that the eggs thicken into a velvety sauce, without scrambling.
Traditional carbonara does not have salmon on top, but since we love fish for Fish Friday, this has turned into one of our favorite Friday night recipes!
Besides, it's a beautiful presentation — don't forget fresh basil and cherry tomatoes!
Cheers!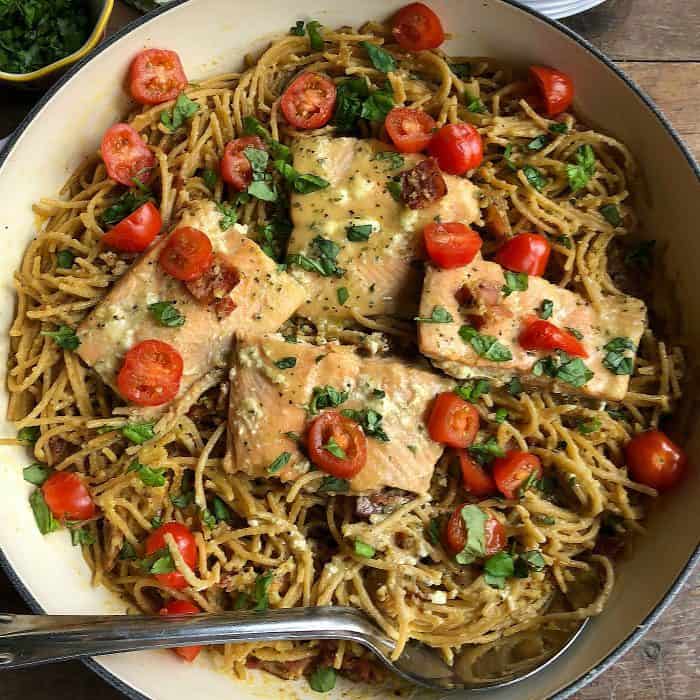 Visit Gorton's online for their whole line of products, in the frozen food section of your grocery store. They have a variety of options to choose from, from meals to appetizers.
Looking for a yummy salmon cakes recipe? Make your own (with above salon, yum!), or try this Skinny Pink Salmon Salad Recipe (with Gorton's chilled salmon). So good!
Get the Recipe: Salmon Spaghetti Carbonara
The easiest pasta dish you will ever make, with simple ingredients: pasta, eggs, cheese, bacon, and salmon!
Ingredients
4 boxes, 8 pieces Gorton's Simply Bake Salmon (Roasted Garlic & Butter)
16 oz. whole wheat spaghetti pasta
4 large eggs
2 cups freshly grated aged cheese, we buy Dubliner or Parmesan
10 slices bacon, diced
4 cloves garlic, minced
Kosher salt and freshly ground black pepper, to taste
3-4 Tbsp. chopped fresh basil leaves
1 cup cherry tomatoes, halved
Instructions
In a 350 degree oven, cook the salmon acording to package directions, for 24 minutes.

At the same time the salmon is cooking, in a large pot of boiling water, cook pasta according to package instructions; reserving 1 cup of water. Drain pasta well.

In a small bowl, whisk together eggs and cheese; set aside.

Heat a large skillet over medium high heat, adding bacon and cooking until brown, about 6-8 minutes; drain off excess fat.

Stir in garlic for about 1 minute. Reduce heat to low.

In the same pan as bacon and garlic, stir in pasta and egg mixture quickly, gently tossing and stirring to combine; season lightly with salt and pepper to taste. Add reserved pasta water; gently mix.

Serve immediately with one salmon filet on top of each serving; garnished with fresh basil and cherry tomatoes if desired.
Disclosure: This post is sponsored by Gorton's Seafood, though I created a recipe to showcase their Simply Bake line of frozen seafood. As always, all opinions are my own. Thank you for supporting the brands and businesses that I work with!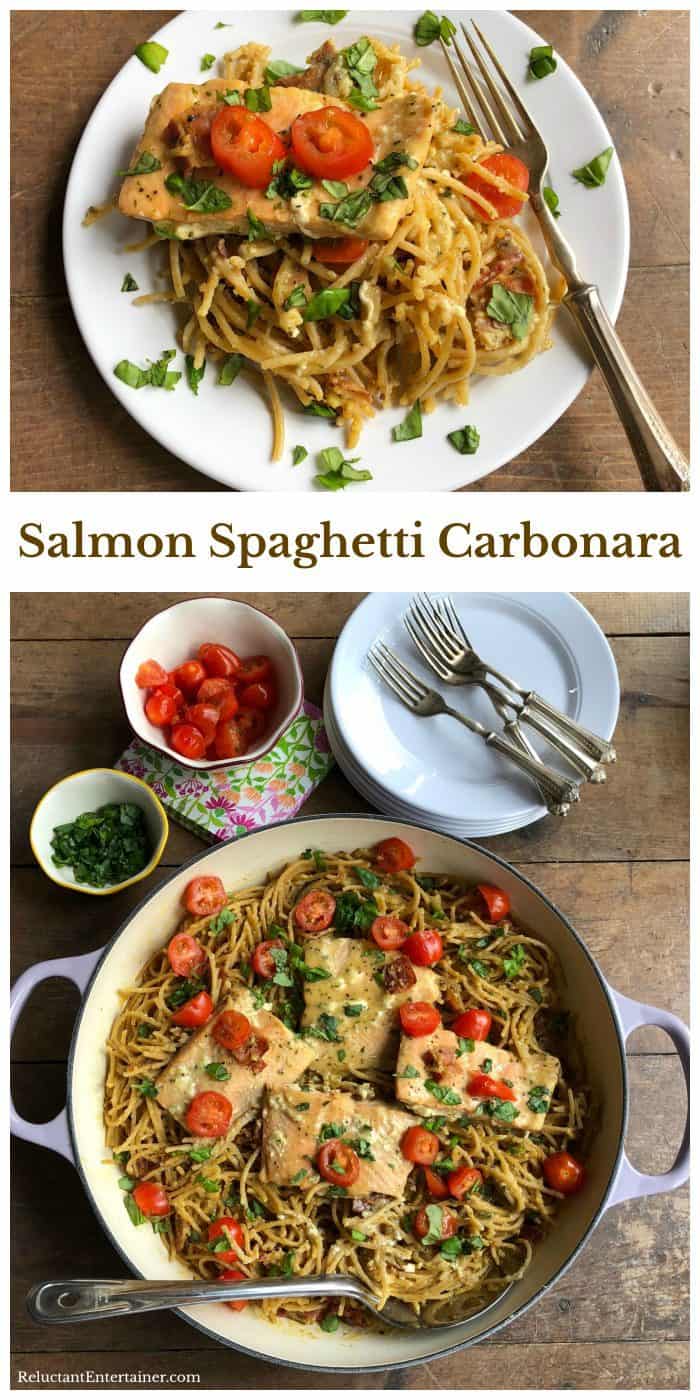 Hello and welcome to my home and table!
I'm Sandy—lover of food, family, cooking, THE BIG BOARD, travel, and bringing people together. Through great recipes and connection around the table, we become better, stronger, and more courageous people. Feasting on Life is real, and every time we do it, we grow a little more. Read more...