Gluten-Free Blueberries Waffle Board
A breakfast or brunch Gluten-Free Blueberries Waffle Board, with delicious sausage, waffles, syrup, and more! Set out your favorite toppings!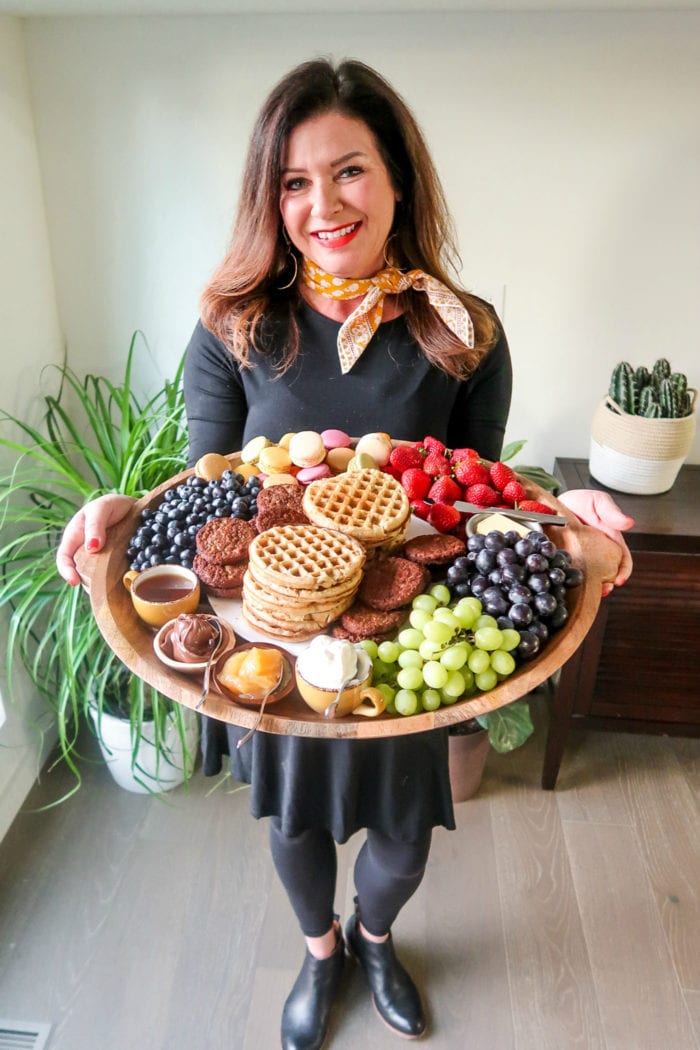 Gather your people together for this lovely, EASY Gluten-Free Blueberries Waffle Board! I also have a new post, How to Season a Charcuterie Board, with tips on how to season and clean the boards! :) Below you can grab the links to all my new boards.
Gluten-Free Blueberries Waffle Board
Set in the middle of a table, sit around with your friends or family with a cup of coffee, and ENJOY!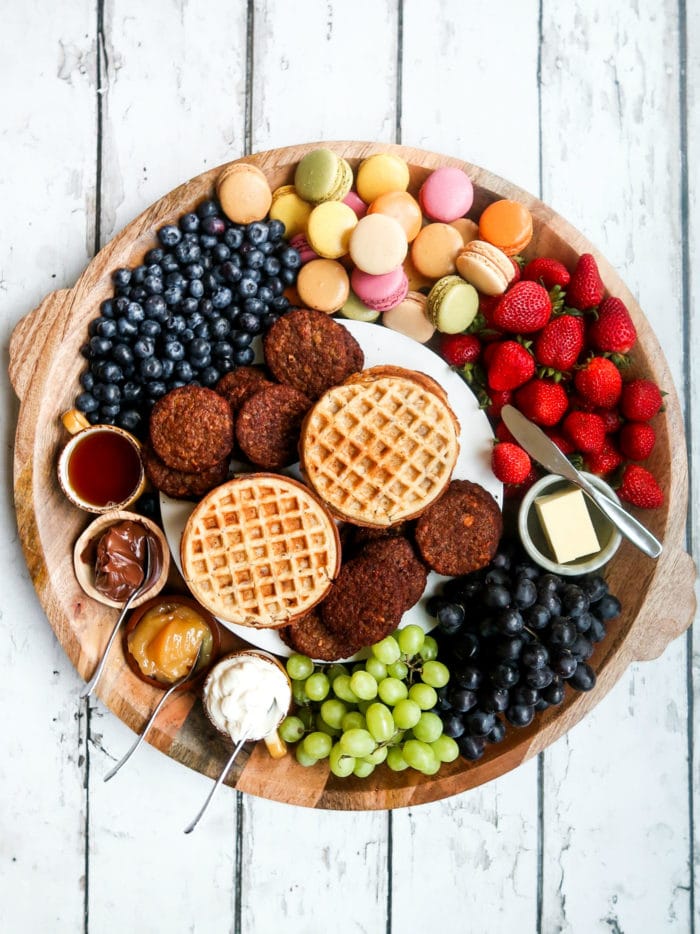 Ingredients for a blueberry waffle board
Gluten-free Blueberry Waffles
MorningStar sausage patties
Purple & green grapes
Fresh blueberries
Macarons
Maple syrup
Nutella
Lemon curd
Vanilla yogurt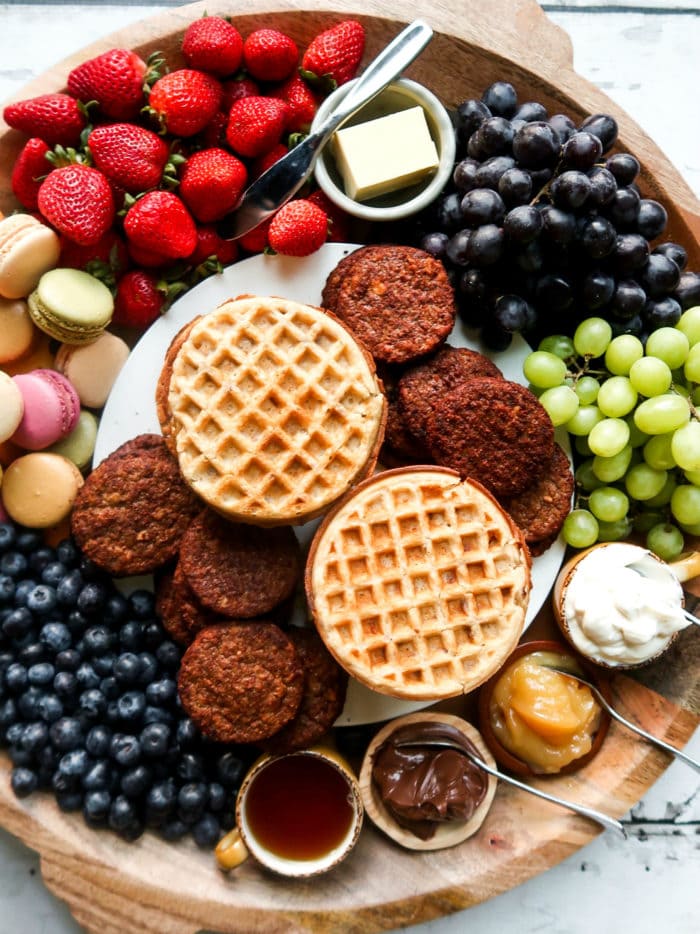 We're so grateful for the weather we've had these past weeks! The morning light, afternoon warmth on our back deck, and early-evening walks. We even snuck in a bike ride last week!
We've had beautiful times with friends, and eating together. Even in hard times, or uncertain times, we can find joy in the little things.
Being curious …
One gift of each day is to embrace the curiosity that helps rediscover our passions, helps with the mundane of the everyday, and gives us HOPE.
Being curious about the things around me (which is constant when I'm in the great outdoors), gives me a fresh perspective.
Being outside also stimulates my prayer life and wonder of God.
I was just reading this week about how God's mercies are new each morning. This means our perspective can be too.
And our perspective on things we take for granted, like eating together, can be challenged.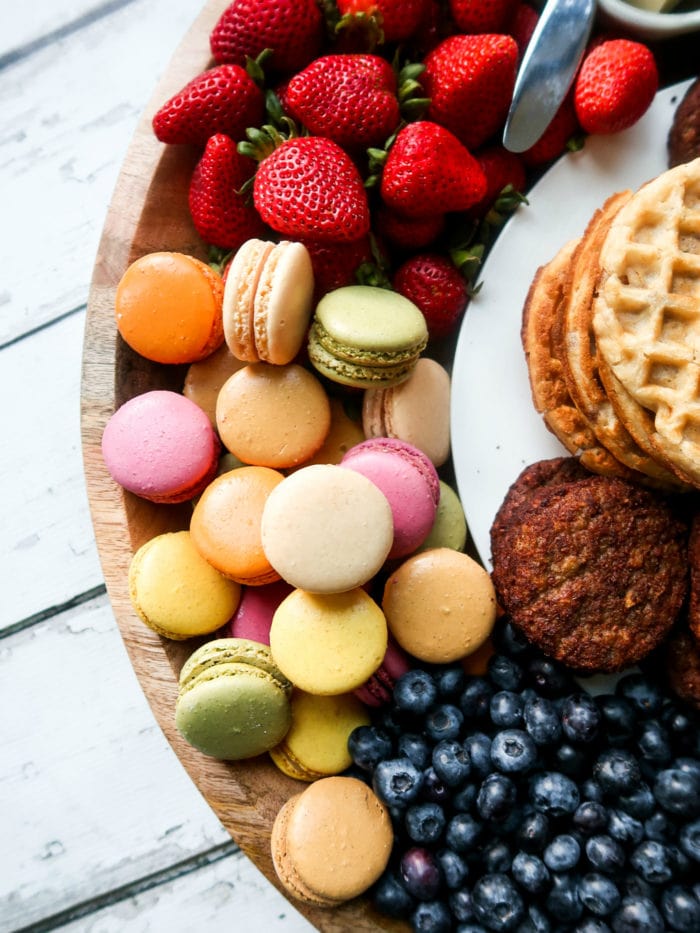 Beautiful food
A board is simple. It can be a mosaic picture of ingredients put together–colors, aspects, textures, flavors—a beautiful piece of art.
Perhaps being curious about food and its beauty can be as simple as trying a new recipe to spice up our meals. Or being curious about others, and wanting to get to know them more.
Food + people = love.
More breakfast or brunch blueberry recipes to try:
Blueberry Cardamom Vanilla Smoothie
Best Blueberry Muffins [Two Peas and Their Pod]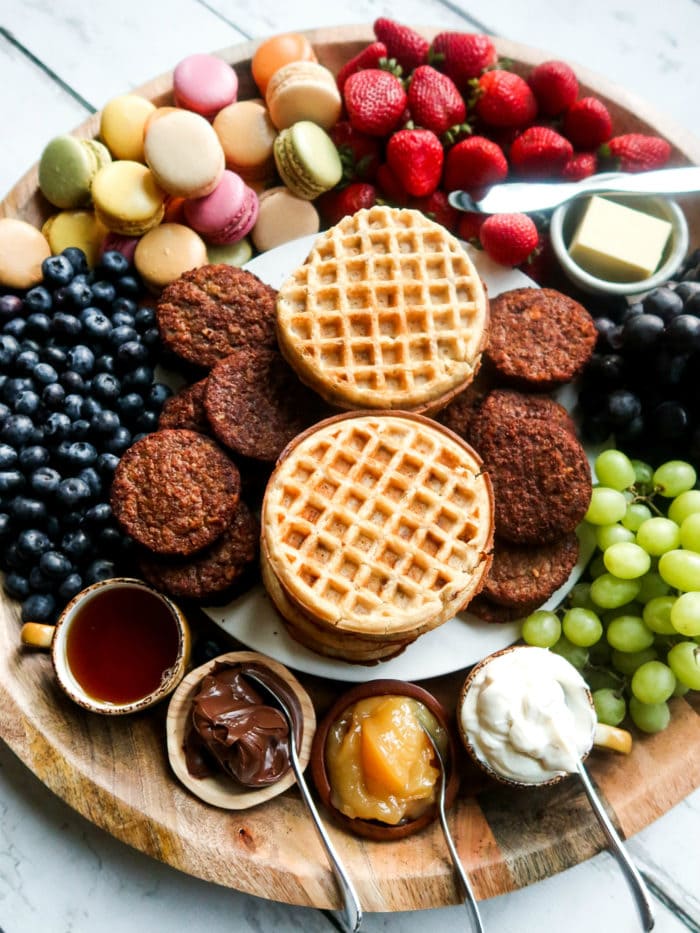 Waffles are easy. So invite this next weekend, Friends!
Friends, The Big Board® is here! Yes, I've partnered with JK Adams, the premier woodmaking company in Vermont, with my own line of RE boards!
20-inch round, maple
26-inch round, maple
12 x 36-inch maple
NEW 12 x 24-inch maple
23-inch Lazy Susan
26-inch ebonized BLACK, cherry
12 x 36-inch ebonized BLACK, cherry
A board with a lip (or raised edged) so the food doesn't fall off
FOOD SAFE
Made in the USA
Undercut handles (a unique design)
Thank you for your support, as we've sold out so many times already!
Order The Big Board® today!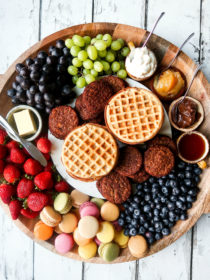 Get the Recipe: Gluten Free Blueberry Waffle Board
Ingredients
1 box "Vans" gluten-free Blueberry Waffles, 12
3 pkg. MorningStar sausage patties
Purple & green grapes
2 cups fresh blueberries
1 box, Trader Joe's variety macarons
Maple syrup
Nutella
Lemon curd
Vanilla yogurt
Instructions
Prepare the waffles and keep warm in the oven. You can toast in the oven or toaster. Cook the sausage.

On a large board, arrange the food, ending with filling in open areas with fruit and macarons!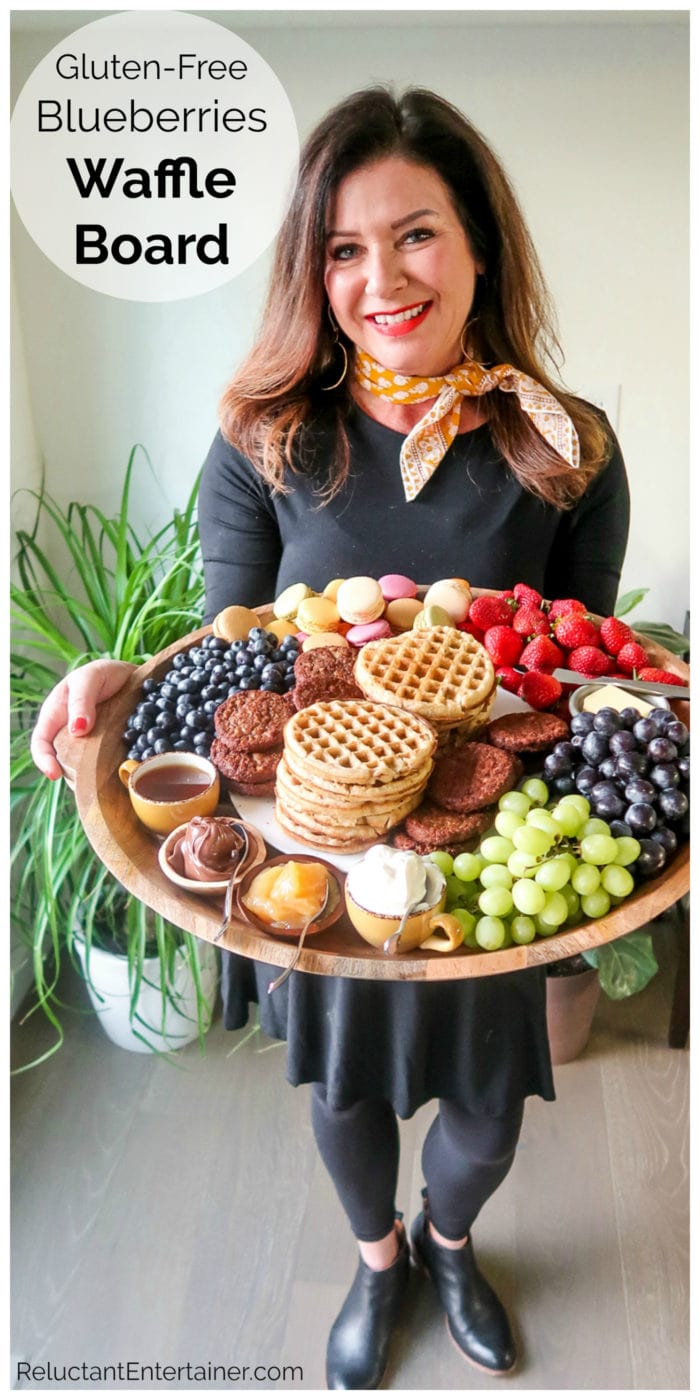 Hello and welcome to my home and table!
I'm Sandy—lover of food, family, cooking, THE BIG BOARD, travel, and bringing people together. Through great recipes and connection around the table, we become better, stronger, and more courageous people. Feasting on Life is real, and every time we do it, we grow a little more. Read more...