Grape Gruyere Puff Pastry Bites
A few of my favorite things … grapes, rosemary, puff pastry, and Gruyere cheese! Put it all together for Grape Gruyere Puff Pastry Bites!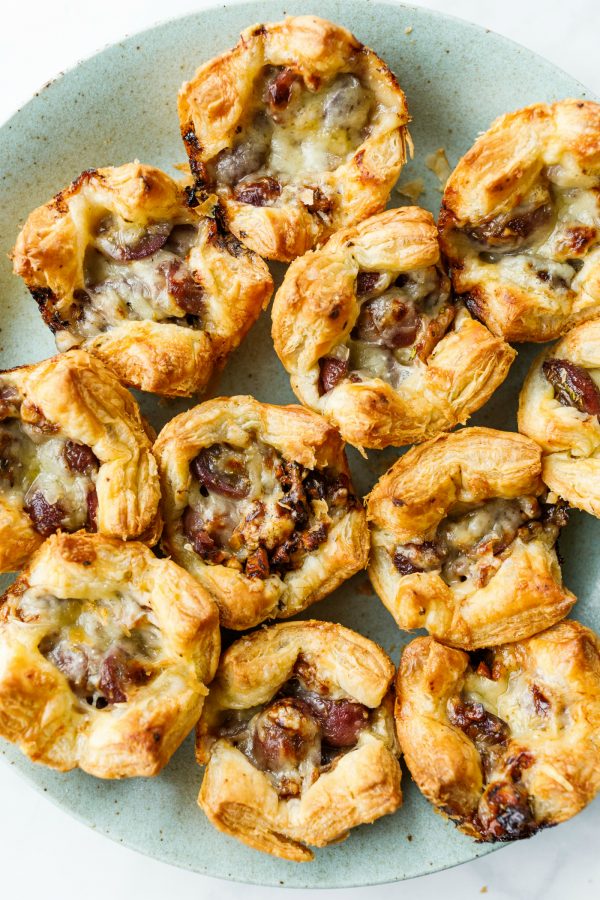 Friends, it's hard to believe these are the last few days of 2020! Are you ready for 2021? I am!
Grape Gruyere Puff Pastry Bites
Today I'm sharing one of my favorite recipes, perfect for NYE or any holiday: Grape Gruyere Puff Pastry Bites. You can also try Puff Pastry Nachos or Caramelized Onion Brie En Croute.
We sent out a heart-felt Christmas letter this year—yes, with an update on our family—but also with a tender reminder of the things, big and small, that we are grateful for.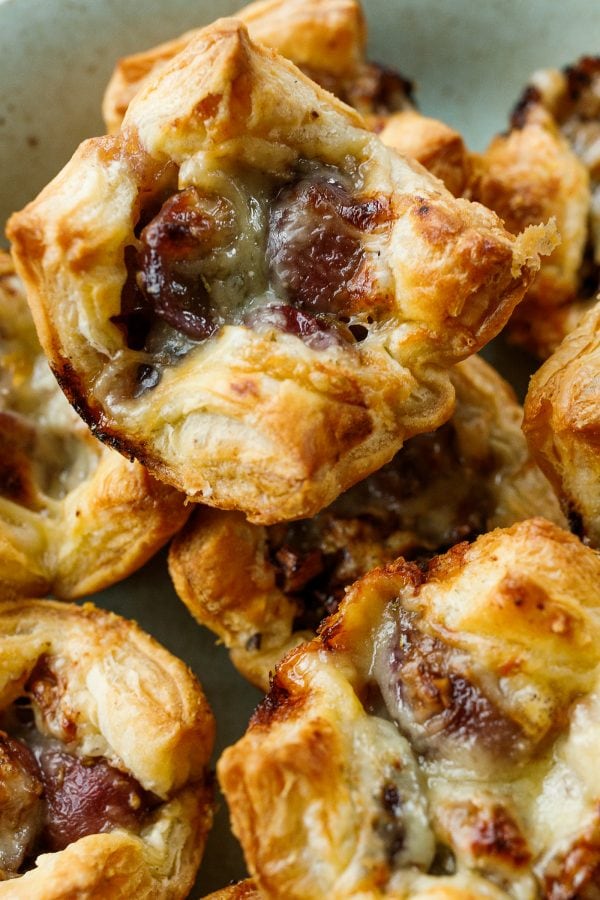 Thank you RE readers
Truly I'm very grateful for my RE readers, amazing emails and photos of your boards, comments, and so much love and support! WOW. I'm a lucky girl to have you all. And please tag me with #thebigboardRE or #reluctantentertainer if you share your boards on social media! I want to see them!
Puff pastry appetizers
I love puff pastry this time of year (yes, I've been on my bike downstairs every day! ha), so today I'm sharing a new Gruyere cheese Puff Pastry recipe with grapes and rosemary. Perfect for New Years (day or eve). Even though hosting might look a little different this year, we can still make our favorite homemade recipes.
This is all you need to make this beautiful appetizer:
Puff pastry
Butter
Red seedless grapes
Walnuts
Rosemary
Gruyere cheese
Kosher salt to taste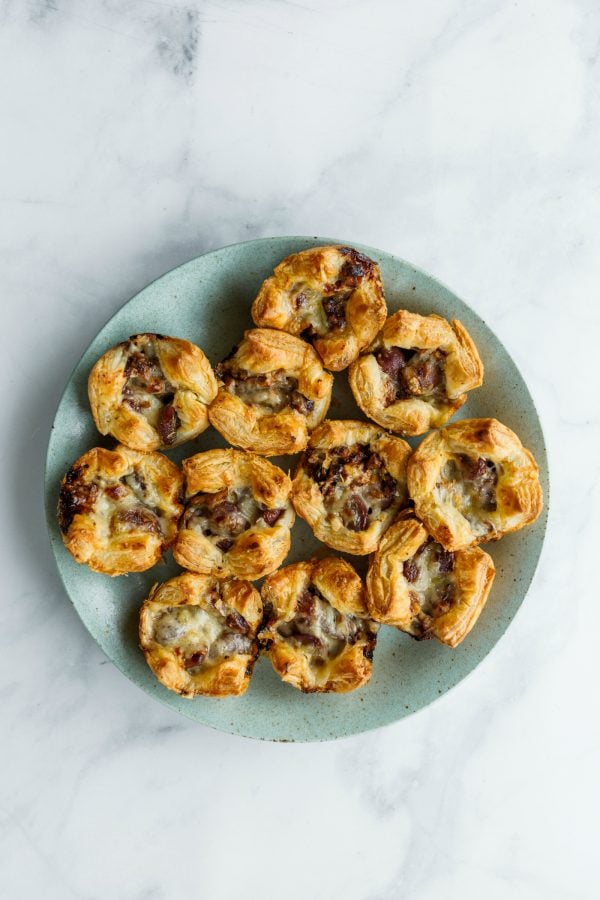 New Year's Eve appetizer
Serve these bites on a board with other ingredients, like a cheese ball, pears and apples, your favorite crackers, olives, and of course rosemary for garnish.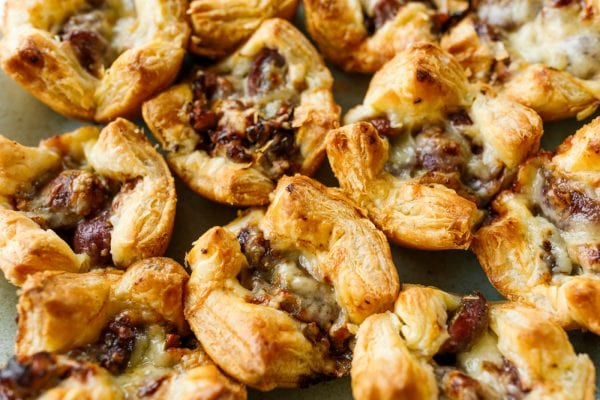 The Great Constellation
With winter solstice, come and gone, we now look forward to the days getting a little longer. Which reminds me of the Great Constellation. Did you see it, too? Where Jupiter and Saturn align, resembling the Christmas star, it was a great thing to see on our nighttime walk last week.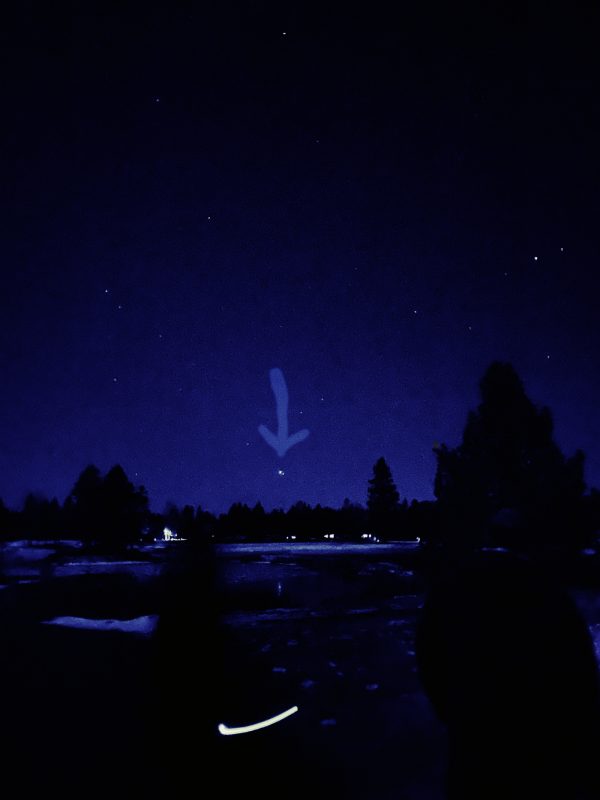 Some more winter boards:
Winter Rustic Charcuterie Board
I hope you're having a restful, fun week, whatever you are doing!
Get the Recipe: Grape Gruyere Puff Pastry Bites
Ingredients
1 sheet puff pastry, thawed
3 TBSP butter
2 cups red seedless grapes, halved
1/3 cup walnuts, roughly chopped
1 Tbsp fresh rosemary, finely chopped
3/4 cup grated Gruyere cheese
Kosher salt to taste
Instructions
Preheat oven to 400 degrees

Roll out puff pastry into a 12''x12'' square. Divide the sheet into 12 squares and place each of them in a lightly greased muffin tin and refrigerate for 20 minutes.

In a medium saucepan, melt butter over medium-low heat. Add grapes, rosemary, and walnuts and sauté until softened and fragrant, 8-10 minutes. Remove from heat and set aside.

Take muffin tin out of the refrigerator. Working quickly, evenly divide the sautéed grapes into each cup. Brush the exposed edges of the pastry with egg wash, then top each cup with the grated Gruyere cheese, about 1 Tbsp. If the tin and puff pastry no longer feel chilled, place in the refrigerator for 5 minutes.

Bake cups for 20-25 minutes, or until puffed and golden brown. Remove from the oven and serve warm.
Hello and welcome to my home and table!
I'm Sandy—lover of food, family, cooking, THE BIG BOARD, travel, and bringing people together. Through great recipes and connection around the table, we become better, stronger, and more courageous people. Feasting on Life is real, and every time we do it, we grow a little more. Read more...