Greek Style Chicken Drumsticks
This crowd-pleasing dish, Greek Style Chicken Drumsticks, is delicious with tender meat that falls off the bone. Serve over rice – loved by all!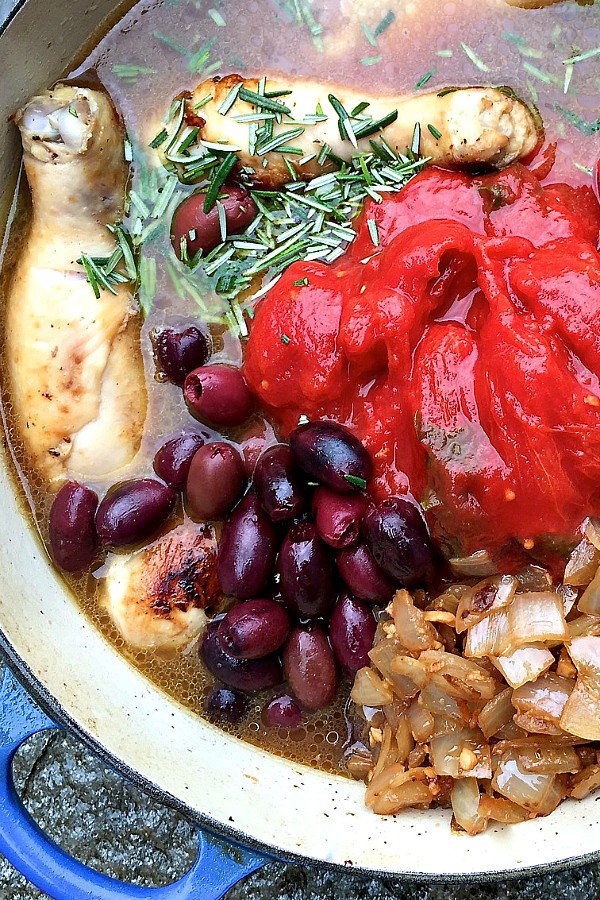 Friends, last Sunday, as a big pot of Greek Chicken Drumsticks was simmering on the stove, I was thinking about how to be imperfectly happy. My solution: Invite friends over for a spontaneous dinner.
Our friends, who we hadn't seen in over a year, said yes! It was just the 4 of us, and we had a delightful, much needed time together.
I say imperfectly happy, because nothing is ever perfect when we host in our home, but it sure makes me happy anyway!
One thing I've learned is that spontaneous entertaining is pretty easy. Although it does take a bit of courage, a push toward a goal, and pulling the dinner together quickly, I find I worry way less than before a planned-out dinner party.
There is no perfect
No matter how good you are at entertaining, no matter how hard you try to make it perfect, learn to go with the flow.
1. Focus on a one-pot meal. Ask your guests to bring something simple (since it's last minute), whether bread, dessert, or even a salad or raw vegetables.

2. Set the table. Don't overthink it. If you don't have a centerpiece, just add candles (the perfect ambience).

3. Love your imperfect home. Learn how to do a quick "10-minute cleaning" routine.
Remember that your home is where your heart lives. And this is where people can learn more about your heart – loving, caring, and knowing you! In turn, more importantly, you will create space for others around your table, and you will be able to learn from them.
True connection
We need people in our lives. True connection (with the outside world) helps us grow, become better people. When we isolate ourselves, our own ideas and thoughts become our gods. That is a scary place to be in, because then we start thinking that our ways are always superior. It's good to be challenged by others, as "iron sharpens iron."
It's good to learn how to show love to others.
What I learned about this night was, people truly do love this dish I'm sharing today. :)
Learn to enjoy the table
I've also learned to be present around the table (forget the dishes) and enjoy the moment. Yes, we always bus the dishes, stacking them over by the sink. But then we head straight back to the table.
Because I don't want to miss out.
Around the table is where we seat our hearts, calm our minds, listen and learn, become authentic and real.
This is where true inspiration lives.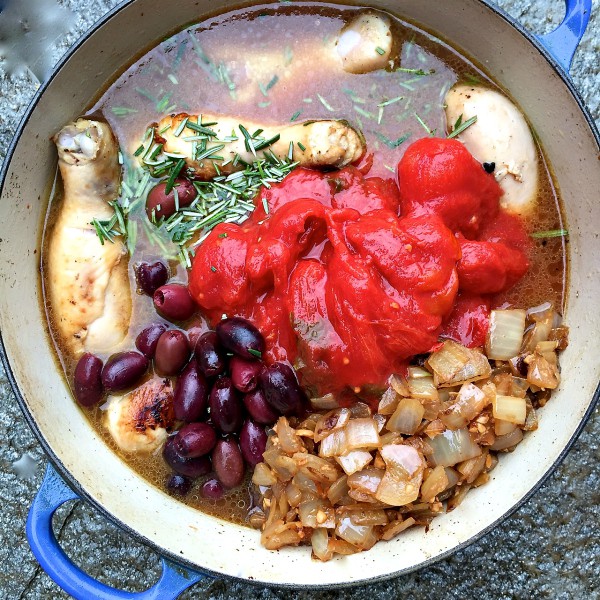 Greek Style Chicken Drumsticks
This recipe is delicious with drumsticks, but also works for chicken thighs!
My friend cooked this for us awhile back. I found the Organic Coconut Vinegar (new to me!) at Nature's Grocers, and found that Trader Joe's does not carry it.
Use a large pot or braising pan (I used my LeCreuset) to cook this dish to perfection, creating the most juicy one-pot meal!
M-m … M-m … M-m …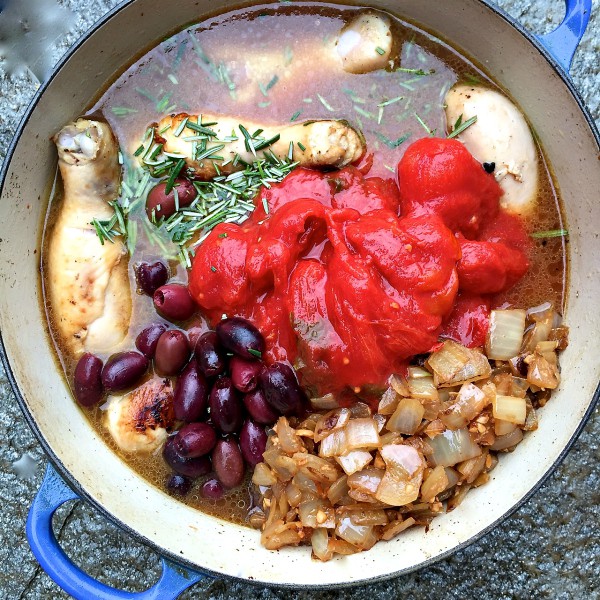 Print Recipe
Greek Style Chicken Drumsticks
Don't skimp on the coconut vinegar … it's the "star" ingredient. (I buy it at Nature's Grocers.)
Ingredients
16

chicken drumsticks

1

large onion

diced

4

Tbsp.

coconut oil

2

cloves

garlic

2

large shallots

1

cup

organic coconut vinegar

4

cups

chicken broth

2

cans diced tomatoes

drained

1/2

tsp.

cinnamon

2

tsp.

salt

2

tsp.

black pepper

1

jar

6 oz Kalamata or Castelvetrano olives

4

Tbsp.

fresh rosemary
Instructions
Prepare the chicken drumsticks by laying on a tray; salt and pepper both sides (leave the skin on).

In a large deep pot or deep braiser, melt 2 Tbsp. of coconut oil on medium heat. Add the onion and cook for 3-4 minutes. Add in the garlic and shallots and cook another 2 minutes. Remove from the pan; set aside.

In the same pot, add the remaining 2 Tbsp. of coconut oil until hot and melted. Add the chicken drumsticks (you may need to do in 2 batches), skin side down, cooking 3-4 minutes; turn over and cook on the other side until golden brown.

Add in all the chicken drumsticks; pour in the coconut vinegar while the pan is hot. It will bubble and foam (which is why you need a deep pot); simmer for 2 minutes.

Pour in the chicken broth and tomatoes; add the cinnamon. Add in the reserved onion mixture and the cinnamon; season with salt and pepper.

Pour the olives over the top and add the fresh snipped rosemary. Cover and simmer on low heat for 2-3 hours, until the chicken is tender with a fork. Serve on top of rice, quinoa, or mashed potatoes.
More chicken recipes:
One-pot Chicken Paprika Thighs
Baked Chicken Teriyaki Tenders
Asian Glazed Drumsticks {Skinnytaste}
Buffalo Chicken Drumsticks {Foodie Crush}