Green Salad with Beets and Quinoa
Green Salad with Beets and Quinoa is delicious served as a side or a main dish recipe!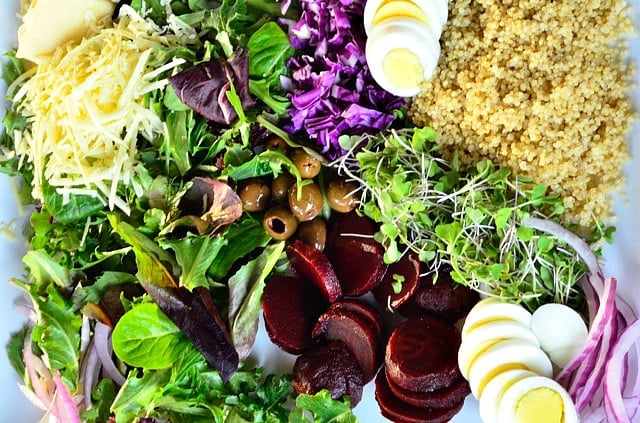 My husband and I recently met some new friends. We immediately felt a warmth and connection; a desire to know them more. Wanna come for dinner? we asked them.
We've been doing this friendship/dinner party thing for almost 23 years now, forming new bonds with other people, together as a couple. "Going there"— exposing ourselves, becoming vulnerable and "known."
Notes from a Blue Bike
As Tsh writes in her new book, Notes from a Blue Bike, about the Slow Food Movement, you can join me over at The Art of Simple today, as I'm sharing a few of my thoughts on how this relates to entertaining in our life.
Green Salad with Beets and Quinoa
If you're coming over from Tsh's blog, for the delicious Green Salad with Beets and Quinoa recipe, you've come to the right place!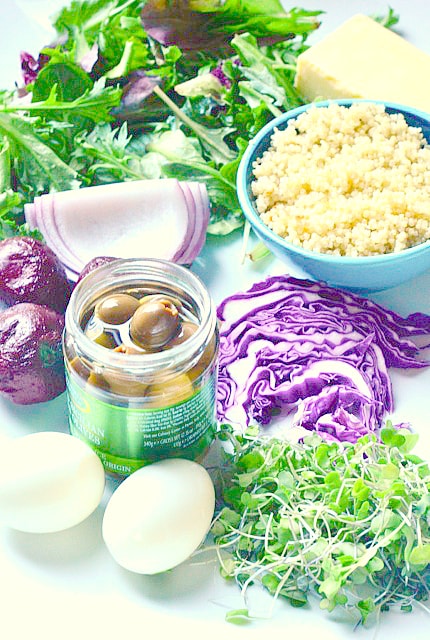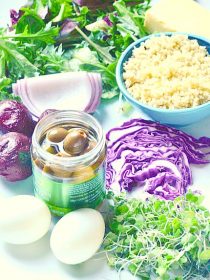 Get the Recipe: Green Salad with Beets and Quinoa Recipe
Ingredients
1 tablespoon red wine vinegar or sherry vinegar
3/4 teaspoon balsamic vinegar, optional
1/2 teaspoon Dijon mustard
1 small garlic clove, finely minced or pureed (optional)
Salt and freshly ground pepper
1/4 cup extra virgin olive oil
6 ounce mixed baby salad greens, washed and spun dry
2 medium or 4 small beets, roasted (about 3/4 pound), peeled and cut in small wedges or half-moons
1 cup quinoa, pre-cooked
2 hard cooked eggs, sliced
1/2 cup Dubliner or sharp cheddar cheese
1/4 cup pitted green olives
1/4 small red onion, finely sliced
1/2 cup red cabbage, finely chopped
1/2 cup micro greens, optional
Instructions
Whisk together the vinegars, garlic, salt and pepper in a bowl or measuring cup. Whisk in the olive oil.

Toss with the lettuces, quinoa, beets, cheese, egg, onion, olives, cabbage and micro greens just before serving.

Hello and welcome to my home and table!
I'm Sandy—lover of food, family, cooking, THE BIG BOARD, travel, and bringing people together. Through great recipes and connection around the table, we become better, stronger, and more courageous people. Feasting on Life is real, and every time we do it, we grow a little more. Read more...