Homemade Green Curry Butternut with Fish
Homemade Green Curry Butternut with Fish is a comforting, healthy dish to serve over brown rice. A fish bowl made with fresh veggies, and tilapia or rockfish.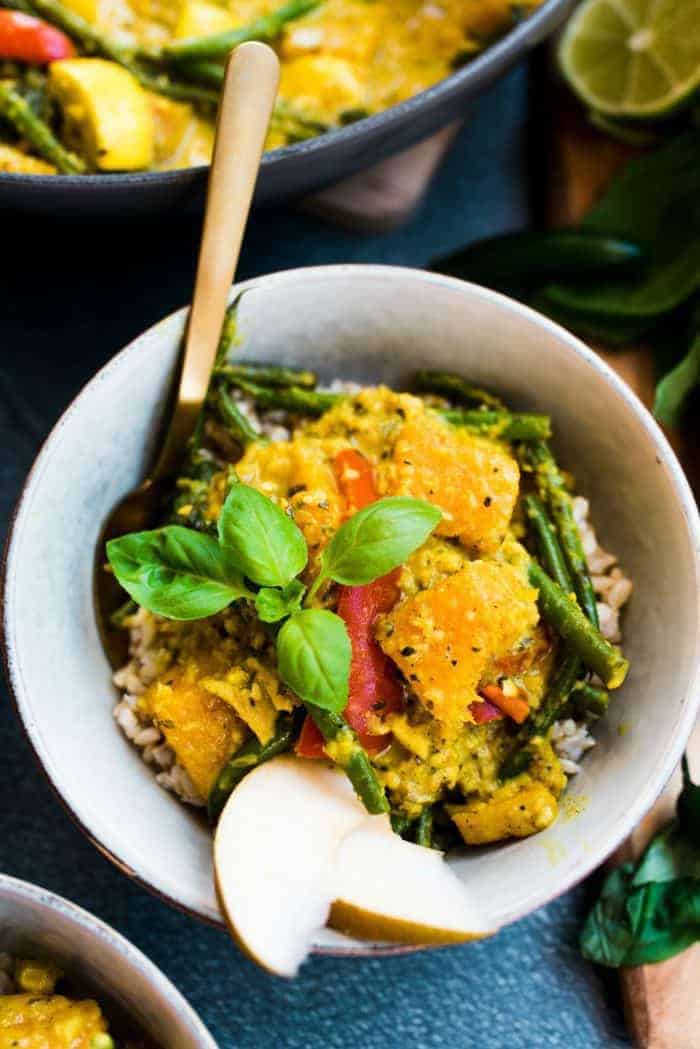 Friends, you've heard me talk about hygge (pronounced "hoo-gah" ). It's the uber-trendy Danish concept of coziness, which reminds me of this Homemade Green Curry Butternut Squash with Fish recipe that I'm sharing today. It also reminds me of my recent trip to Denmark (which I'll be sharing more on soon!)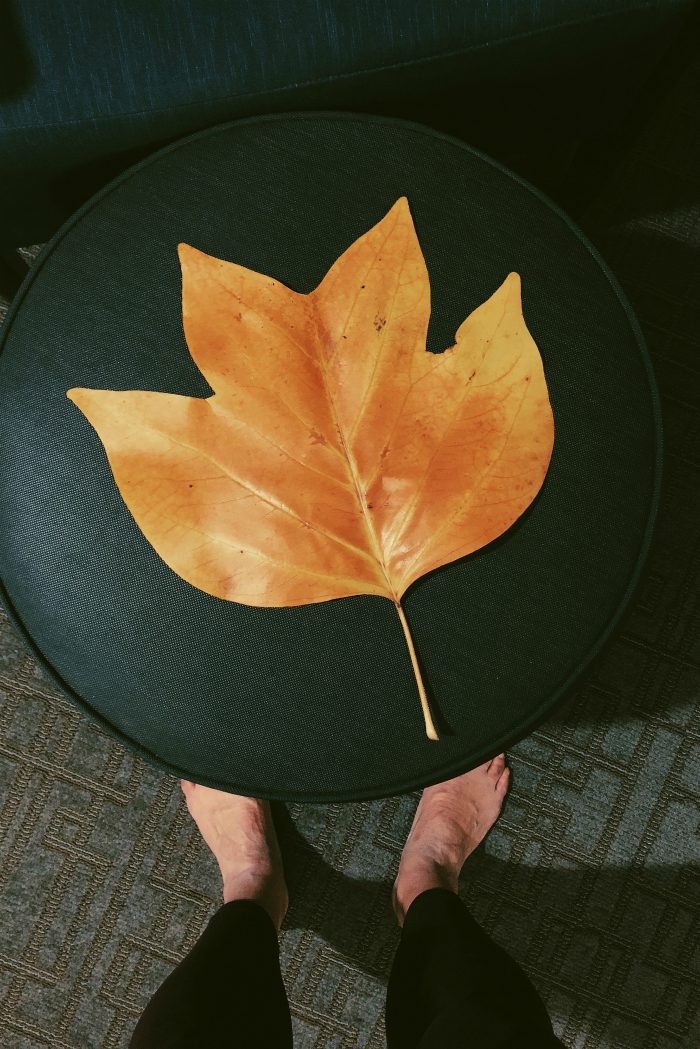 The leaves are falling and the gloomy evenings are upon us. Have you noticed how dark it's getting now? It makes me want to curl up with a bowl of soup, or something hot and comforting for dinner.
Homemade Green Curry
This green curry recipe is creamy, rich, and so fresh—makrut lime leaves and lemongrass are a must for bringing an authentic flavor to this dish!
You can find these ingredients in an Asian market or ordered on Amazon.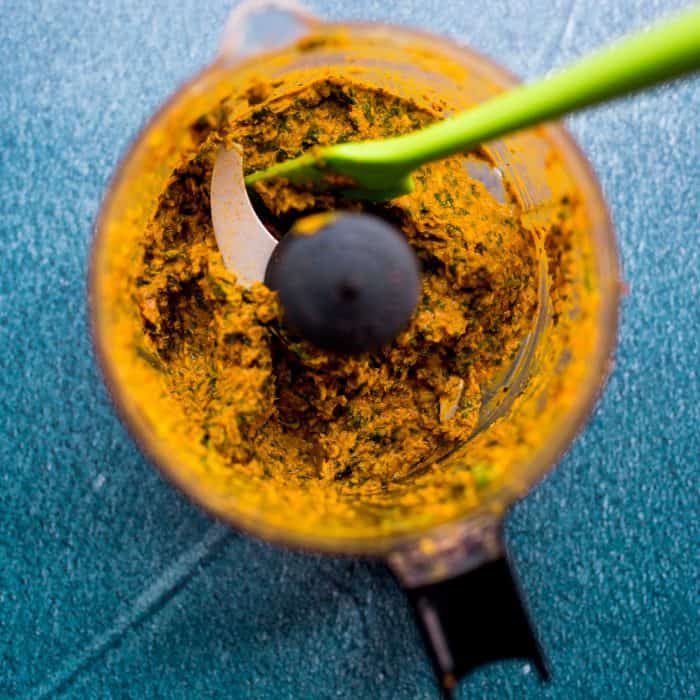 This recipe takes a little time, but why not take the time to make a dish that is so good (and great as leftovers).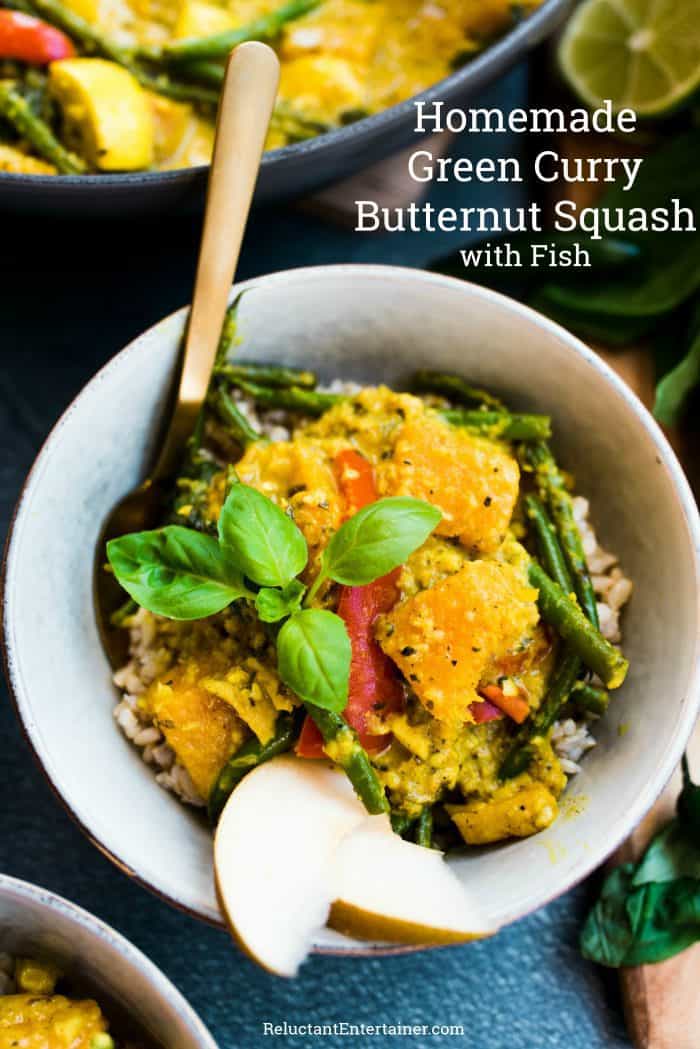 Homemade Green Curry Butternut with Fish
The key to a great lunch or dinner "bowl" is to start with a great base, whether it's brown rice, quinoa, a combo of the two. This recipe today is served over brown rice!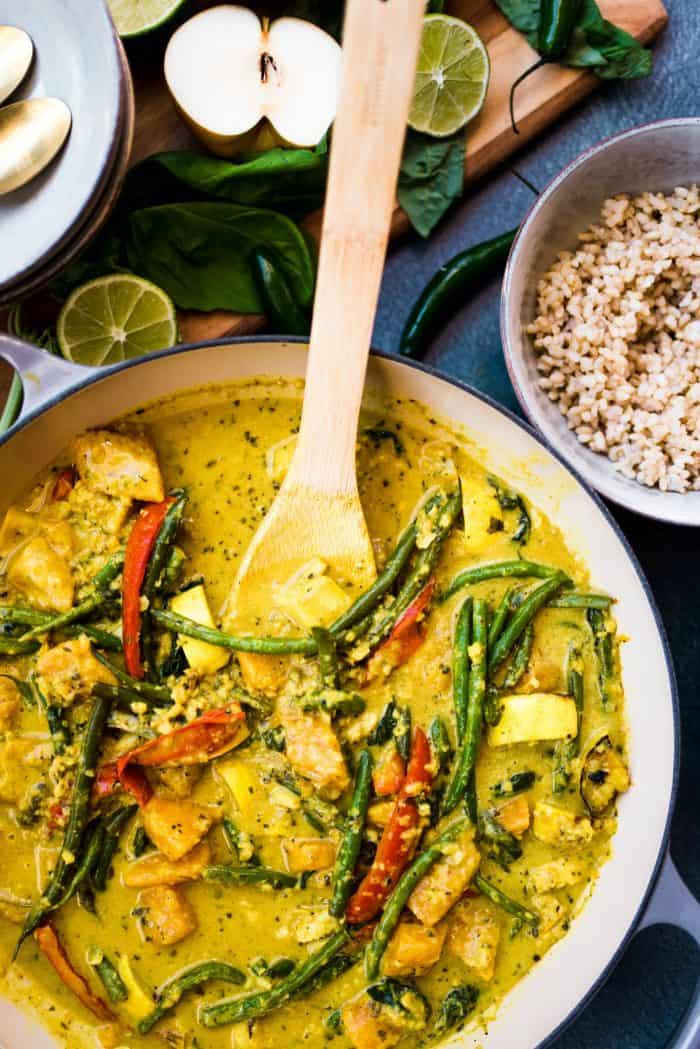 We love to cook brown rice in our instant pot multi-cooker, but did you know you can also buy it frozen at Trader Joe's? It's really yummy, and all you do is microwave it (if you are in a pinch).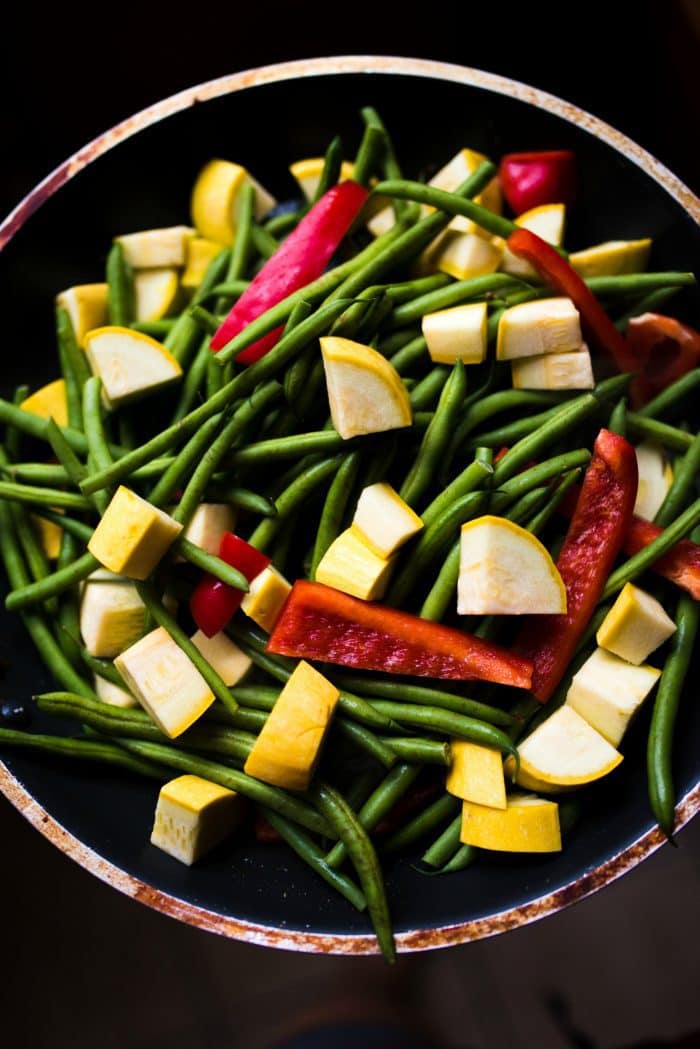 Start with fresh veggies.
Serve in large bowls. We have 12 of these larger bowls and they are great for curries, soup, stew, or "bowls," which we make quite often.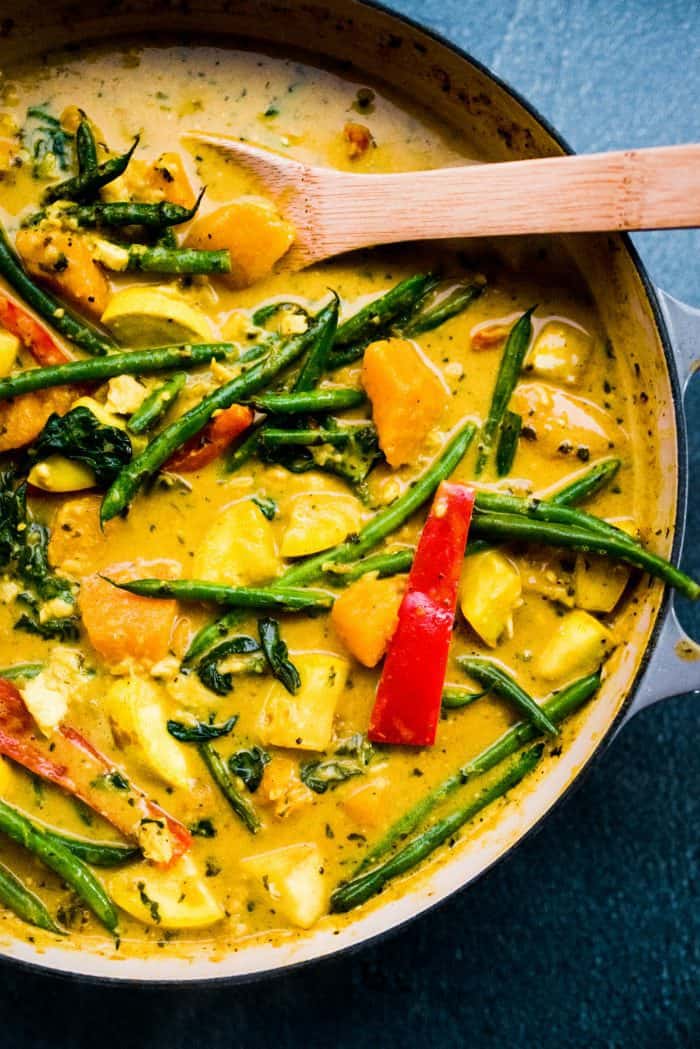 Running out of time
Another option is to use pre-made green curry paste for a quicker meal preparation!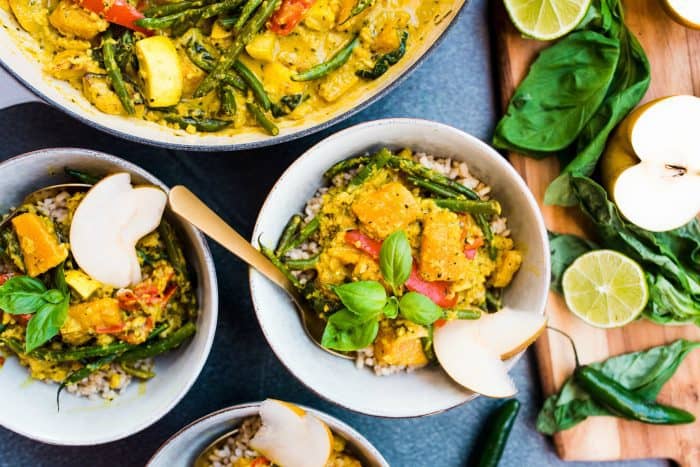 Here are four tips for experiencing hygge in your kitchen this fall:
Serve a comfort dish. With plenty of fall harvest foods, like pears, green beans, butternut squash, and peppers, make a homemade green curry sauce to serve with these veggies and fish. We love tilapia or rockfish for this recipe.
Light candles at the dinner table. Candles add a warmth and glow and a cozy feel to the table. Dim the lights and enjoy!
Set the table for every meal. Set a simple table at every meal, with (paper?) napkins and your favorite drink. There's something about a set table that makes it feel cozy and special (rather than an unset table with no preparation).
Gather your people. Invite people you love over for a home-cooked meal, followed by great conversation. You can also play games around the table or watch a movie. Don't forget these charcuterie ideas—a super fun way to bring people together!
ENJOY!
Yield: 5-7 servings
Homemade Green Curry Butternut with Fish
Homemade Green Curry Butternut with Fish over brown rice.

Homemade Green Curry Butternut with Fish over brown rice.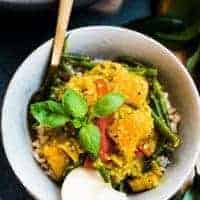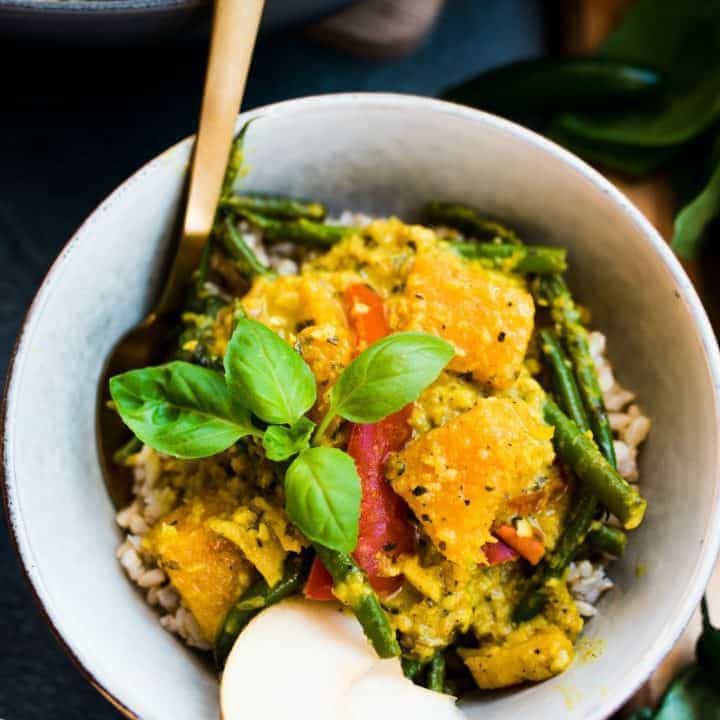 Ingredients
1 tsp. coriander
1⁄2 tsp. cumin
20 whole peppercorns
1 tsp. cardamom
2 Tbsp. roughly chopped cilantro
2 tsp. ground turmeric
1⁄4 tsp. Thai shrimp paste
1⁄4 tsp. freshly grated nutmeg
3 cloves garlic, thinly sliced
2 tsp. dried kaffir lime leaves
1-2 serrano peppers, stemmed, seeded, minced (*the more serrano peppers, the hotter the curry!)
1/2 tsp. cayenne pepper
1 medium shallot, finely chopped
1 (2") piece lemongrass, peeled and thinly sliced
1 (1 ½") piece ginger, peeled and thinly sliced crosswise
Juice and zest of 1 lime
Kosher salt, to taste
1 tsp. fish sauce
1 cup chopped cilantro
2 cans coconut milk
1 generous handful of whole basil leaves
1-2 Asian pears
1 yellow zucchini
1/2-1 Ib. green beans
12 oz baked butternut squash
1 red bell pepper, cut into thick strips
6-8 tilapia or rockfish fillets, washed, dried, and seasoned with salt and pepper
Brown rice for serving
Instructions
GREEN CURRY PASTE: On low heat, add coriander, cumin, peppercorns, and cardamom into a skillet—mix until fragrant and slightly toasted, about 1 minute.
Transfer to a food processor along with cilantro, turmeric, shrimp paste, nutmeg, cayenne, garlic, kaffir lime leaves, serrano, shallot, lemongrass, ginger, lime zest, juice, first sauce, and 2-3 Tbsp. water; puree until smooth. Season with salt, and set aside.
In a large skillet, heat 3 Tbsp. oil on high heat. When hot, add in vegetables—green beans, bell pepper, and yellow squash—and sauté for 5-6 minutes, stirring frequently. Salt and pepper lightly, then set aside.
In a large saucepan, combine curry paste and coconut milk over medium-high heat; allow curry to simmer for 6-8 minutes. Reduce heat to medium, then add fish—stirring lightly until almost cooked through, about 3-4 minutes.
Next, add in the sautéed vegetables and butternut squash, and toss lightly in the sauce. Add in a generous handful of fresh basil and allow curry to cook on low for 4-5 more minutes.
Remove from heat, garnish with basil, sliced Asian pear and serve with brown rice.
Notes
*Another option is to skip making the homemade method use pre-made green curry paste, for a quicker meal!

More Thai recipes: Thai Chicken Fettucine Salad [RE], Authentic Pad Thai Recipe [Savory Sweet Life], and Chicken Pad Thai [Wishes and Dishes].