Roasted Chicken with Honey Bacon Pears
A delicious meal, Roasted Chicken with Honey, Bacon, and Pears. This comfort, easy chicken recipe can be served over rice or polenta!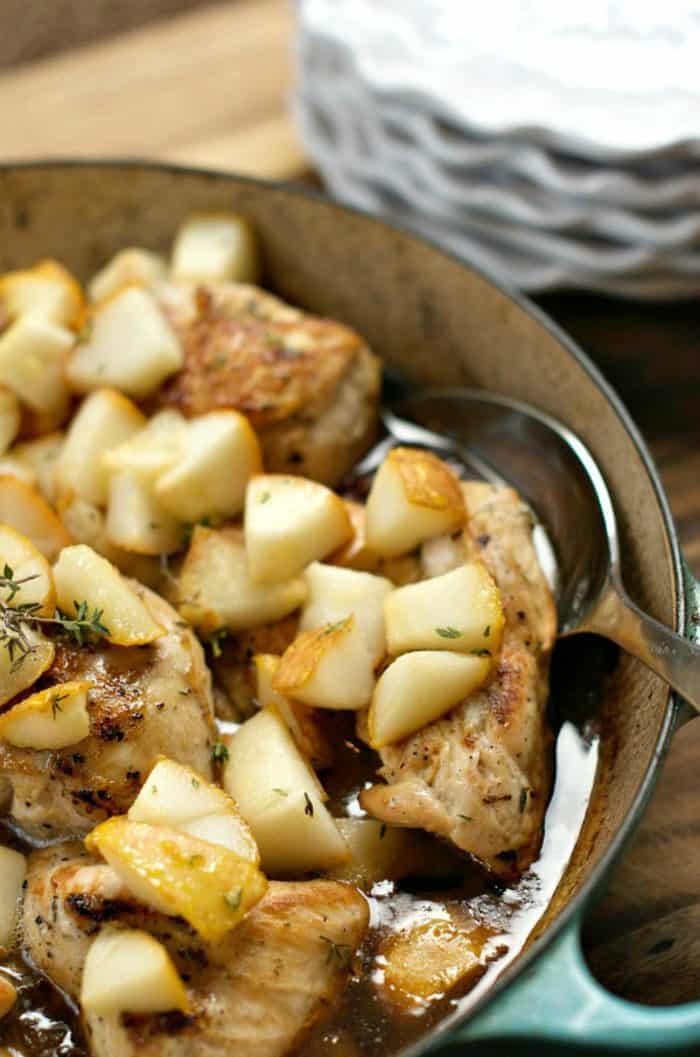 Friends, happy FIRST DAY OF FALL!
Enjoy this one-pot chicken and pears dish for a weeknight meal.
With the sweet flavors of pears with savory bacon, it's the perfect dinner combination. You may also love my Delicious Pear Quinoa Salad or Brussels Sprout Pear Bratwurst Sheet Pan Dinner!
Or, if you love chicken dishes, try this popular One-Pot Chicken Paprika Thighs recipe!
One-Pot Roasted Chicken with Honey Bacon Pears
Start with your favorite braiser or large cooking skillet (with a lid).
I started by sautéing the bacon and onions.
Add the chicken. Mix the pears with honey …
Hot in the pan, I served it on a bed of arugula.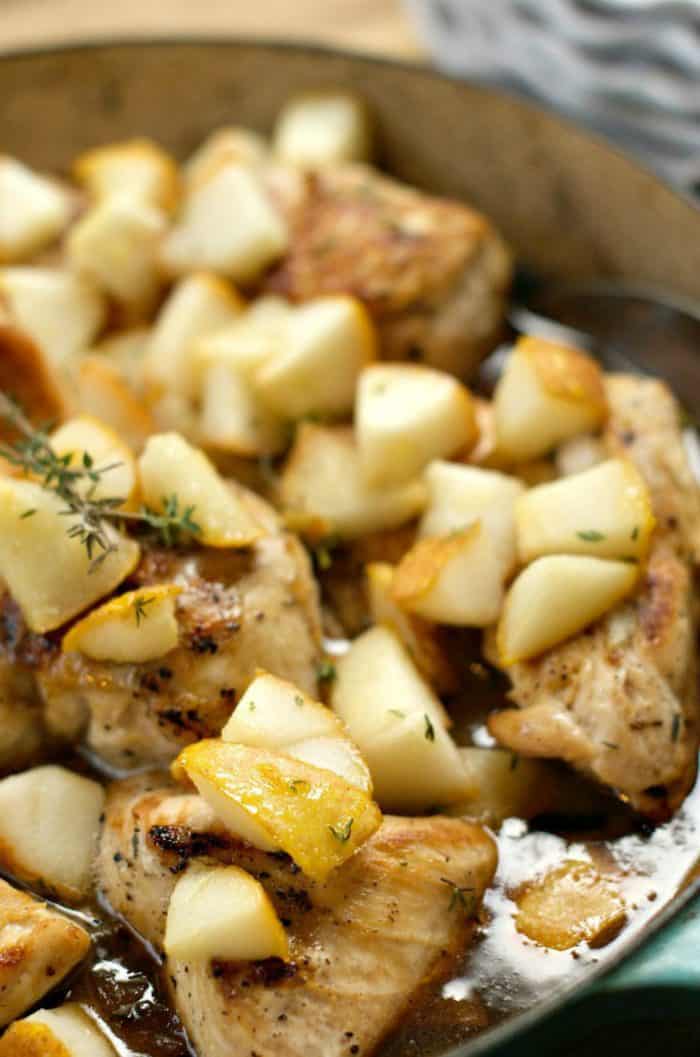 Ingredients for this chicken and pear dish
Chicken breasts
Sweet onion
Olive oil
Bacon
Kosher salt and freshly ground black pepper
White wine
Fresh thyme
Honey
Barlett pears (our favorite this time of year)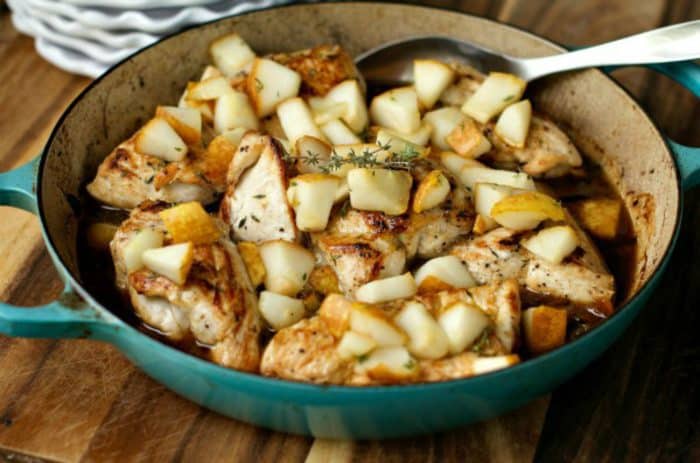 I love this quote from Pooh … perfect for today.
"It's the first day of autumn! A time of hot chocolatey mornings, and toasty marshmallow evenings, and, best of all, leaping into leaves!" Winnie the Pooh
One-pot chicken dishes are my favorite for Fall! And of course the lovely colors, breeze, scent of the forest, chilly mornings. Yes to hot chocolate or coffee in the morning. Sweaters, boots, vests, and scarves. Brisk walks and ….. I JUST LOVE FALL!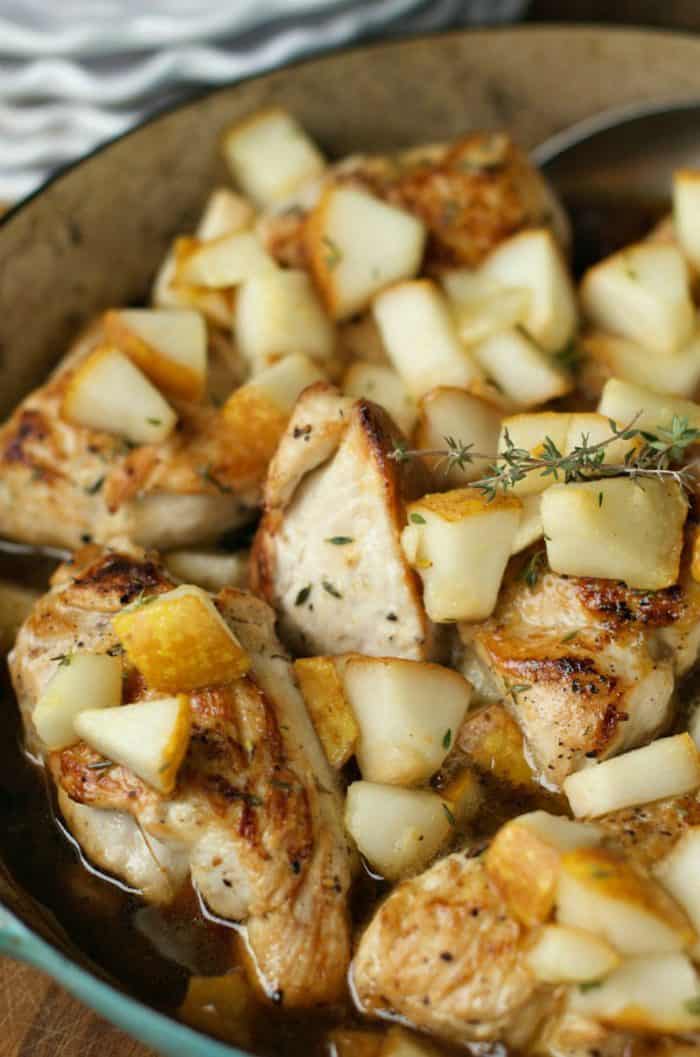 Roasted Chicken with Honey Bacon Pears
This week I made this killer recipe that I had waiting for my sweet guy when he got home from coaching soccer.
Sweet and delicious, and it's pear season! YAY! We love pears, and I'll be sharing a few more recipes coming up this season, with delicious pears!
More dishes with pears:
Brussels Sprouts Recipe with Pears, Blue Cheese, and Walnuts [The Cookie Rookie], Pear Almond Barley Salad [Wishes and Dishes].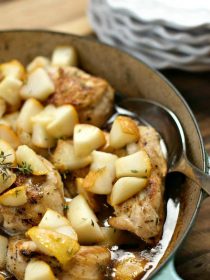 Get the Recipe: Roasted Chicken with Honey Bacon Pears
A simple one-pot chicken dish with pears, bacon, and fresh thyme.
Ingredients
4 whole chicken breasts, cut in half (4 pounds)
1 medium sweet onion, chopped
Olive oil
8 strips bacon, chopped
Kosher salt and freshly ground black pepper
1 cup white wine
4 T. fresh thyme, finely chopped
1/2 cup honey
2 Barlett pears, cut in chunks (leave skin on)
Instructions
Preheat the oven to 400°F. Rinse the chicken, then dry it very well with paper towels, cutting the breasts in half. Salt and pepper each piece.

Heat 2 tablespoons olive oil in a pan over medium heat, adding the chopped onions and bacon and sautéing for 3-4 minutes. Add the wine and cook for another 2 minutes. Remove the onions and bacon from the pan and set aside.

In the same pan, add a few tablespoons of olive oil and fry the chicken breast on each side for 2 minutes, or until golden brown.

In a separate bowl, toss the pears, honey, 1 tablespoon of freshly chopped thyme, and salt and pepper. Drizzle the mixture with olive oil. Mix and set aside.

Place the onion mixture on the bottom of a roasting pan, with chicken breasts on top. Sprinkle with 1 tablespoon freshly chopped thyme, and place the pan in the hot oven. Roast the chicken for 20 minutes.

The last 10 minutes, remove the chicken from the oven and pour the pear mixture with the juices over the top. Bake another 10 minutes.

Remove from the oven and serve right away on a bed of polenta, mashed potatoes, mashed sweet potatoes, or arugula. Garnish with fresh thyme.
Notes
Originally posted OCT 2015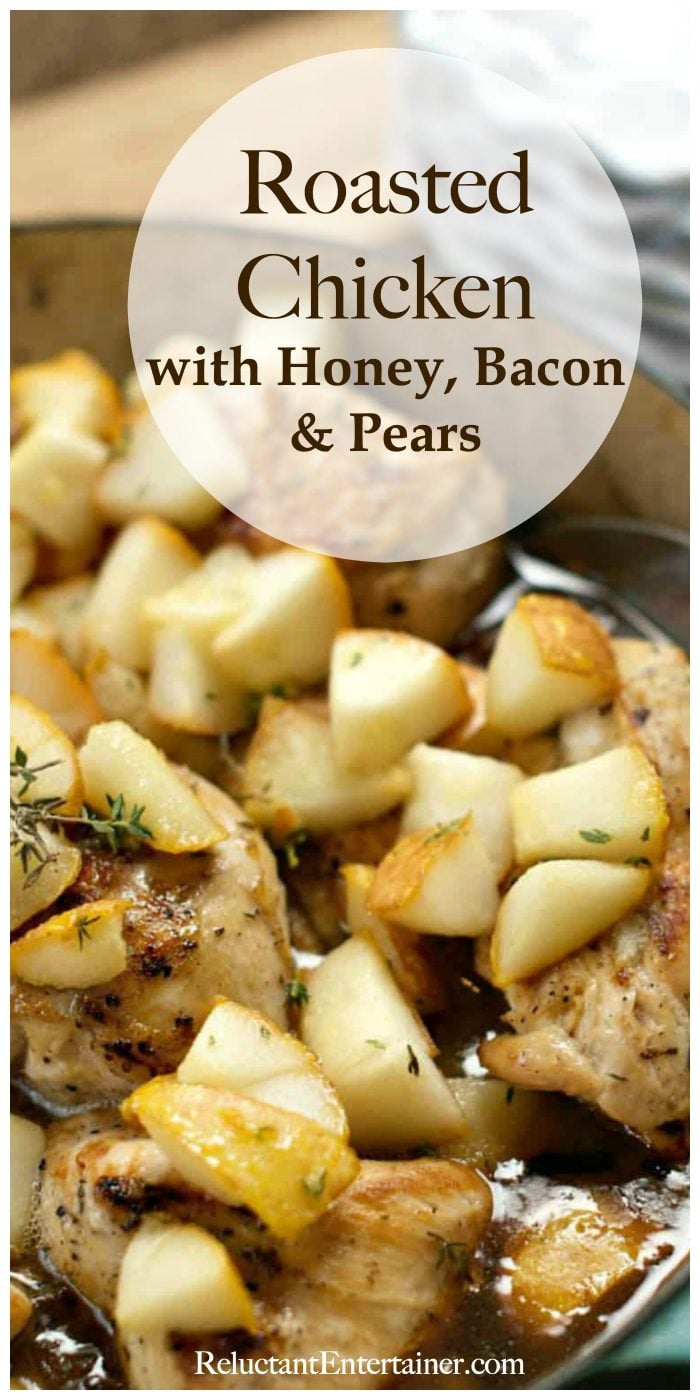 Hello and welcome to my home and table!
I'm Sandy—lover of food, family, cooking, THE BIG BOARD, travel, and bringing people together. Through great recipes and connection around the table, we become better, stronger, and more courageous people. Feasting on Life is real, and every time we do it, we grow a little more. Read more...