Marinated Chickpea Tuna Salad
Enjoy a bright, vinegary Marinated Chickpea Tuna Salad, full of protein. Make ahead for lunch, or it's perfect for a picnic!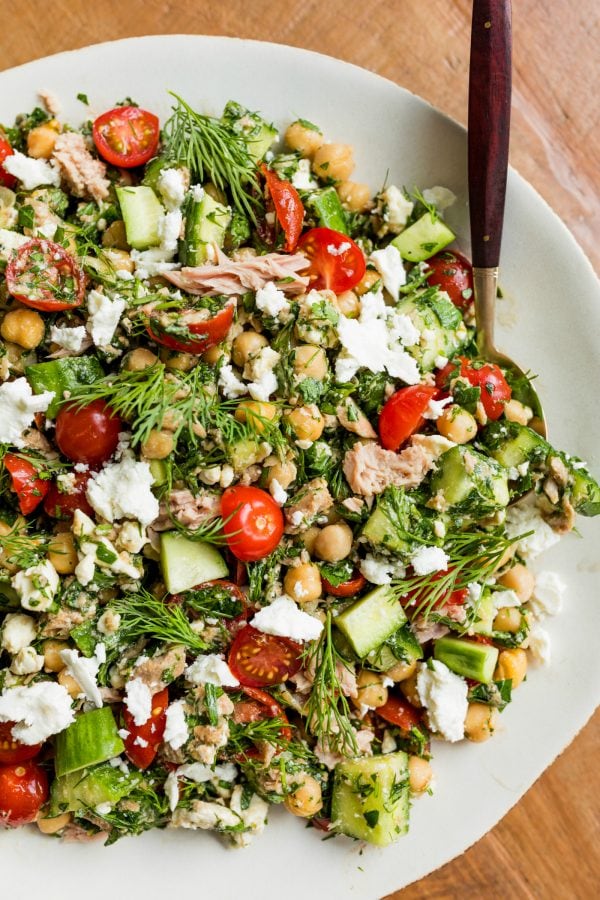 Friends, we're big tuna fans over here! Here are 9 Easy Canned Tuna Meals to try, but I think you're really going to love my lunch recipe I'm sharing today.
Marinated Chickpea Tuna Salad
This tuna salad recipe is inexpensive and easy to make! It's a great make ahead recipe, because it's filling, and the flavors get better as they sit. Also, tuna is easy to keep stocked in the pantry!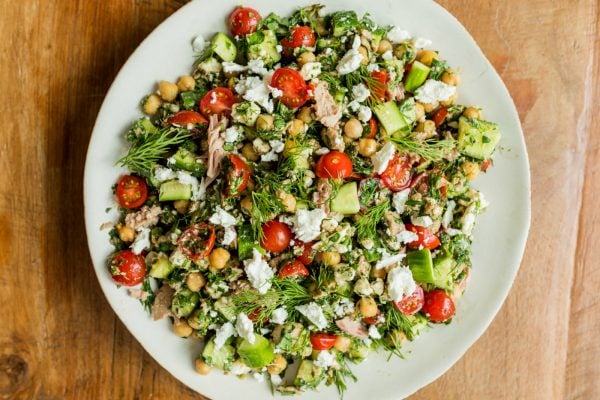 Leave the tuna flaked into large pieces, as they will break down slightly as you mix the salad.
Additionally, keep out a few fresh pieces of dill, cucumbers, tomatoes, and feta to garnish.
Ingredients for Chickpea Tuna Salad
Cherry tomatoes, Persian cucumbers
Fresh dill, fresh parsley
Chickpeas (or garbanzo beans)
Tuna
Feta cheese
Balsamic dressing (buy it or make your own, recipe below)
This recipe is as easy as it gets! Make your own balsamic dressing and set aside.
Drain the chickpeas and tuna.
In a large mixing bowl, combine all the ingredients together and lightly mix. Drizzle with dressing.
As I mentioned, it's even better as it sits in the refrigerator for a couple of days.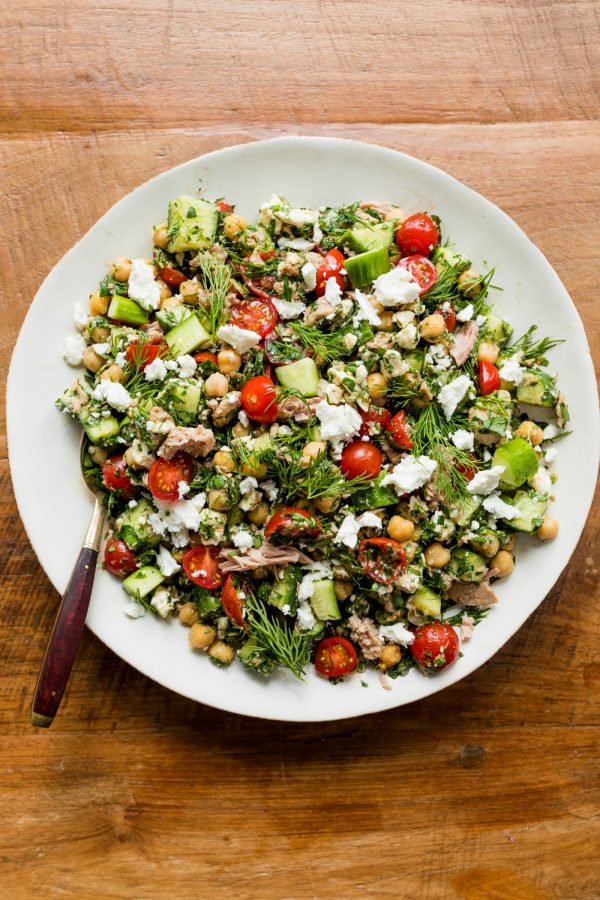 How do you dress up canned chickpeas?
On a cookie or baking sheet, spread out the chickpeas, and drizzle with a bit of olive oil. Season with salt and pepper and mix it all up. Roast for 20 minutes or so, or until golden brown.
Or, try some of my recipes here:
Tuna and Nooodles Potluck Dish
Potluck Spaghetti Tuna Salad Recipe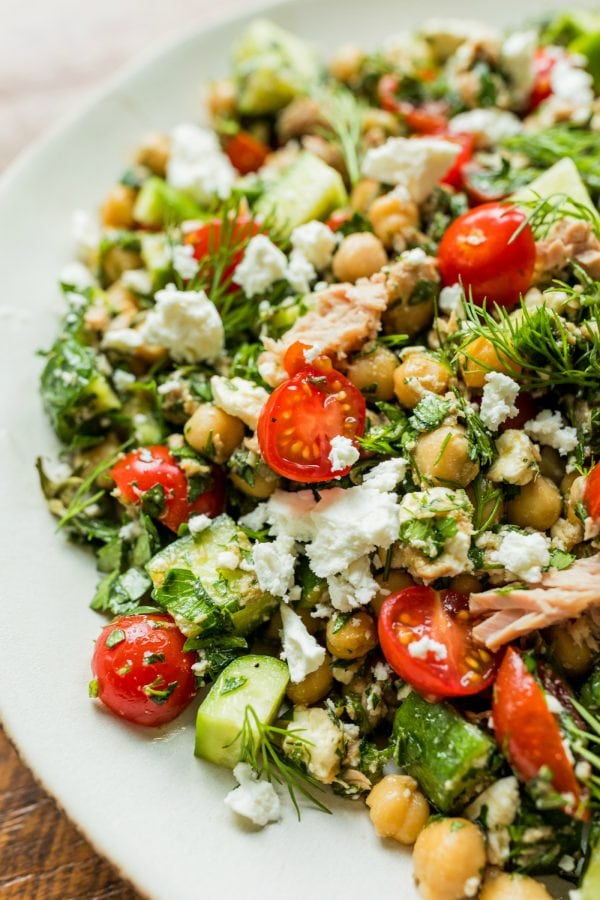 Can I eat canned chickpeas raw?
Yes! Canned chickpeas are already cooked and ready to serve, so you can eat them out of the can! To prepare them for a salad, usually all you have to do is rinse and drain them.
I do have a recipe, Cucumber and Chickpea Salad, where you quickly saute them in hot olive oil before making the salad. SO GOOD!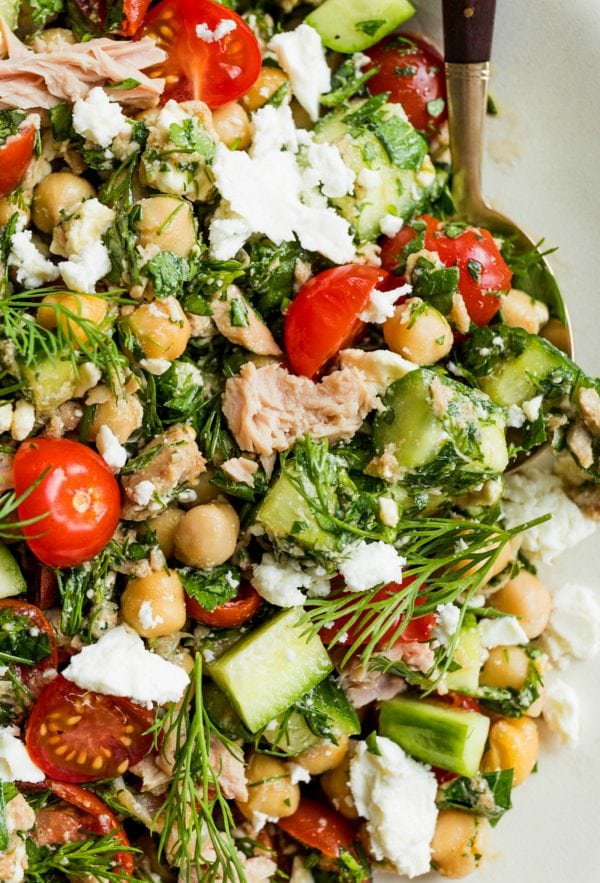 I've never been a person who can easily quiet her mind. Just ask my sisters and close friends, as I'm always racing ahead, thinking of what comes next! But when we moved to central Oregon four years ago, this is when things changed for me, when we moved to a small mountain town.
If you follow me on Instagram, I usually try to walk five miles a day. Sometimes I'll share a bit of nature and what's good for the soul … when I'm out on a walk.
Each season brings new colors, and right now with fall arriving, it can be a little unpredictable, with all of the wildfire smoke we've had.
No matter what the colors though, fall is a time to be present and grateful, and to take it all in.
Happy Fall, Friends!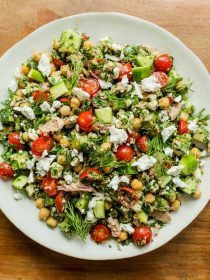 Get the Recipe: Marinated Chickpea Tuna Salad
Ingredients
1 cup cherry tomatoes, halved (about 26 tomatoes)
3 Persian cucumbers, or 1/2 large english cucumber, cut into 1'' quarters
1 bunch chopped dill, stems removed
1 can chickpeas, drained and rinsed
1 bunch parsley, finely chopped
1 can tuna, flaked into large pieces
1/2 cup feta, crumbled
Balsamic Dressing
1/4 cup olive oil
2 tsp balsamic vinegar
2 tsp lemon juice
2 tsp lime juice
1 Tbsp honey
Salt to taste
Instructions
In a large mixing bowl, combine the chickpeas, tuna, cucumber, and tomato. Set aside.

In a small mixing bowl, combine the olive oil, balsamic, lemon, lime, honey, and salt to taste. Whisk until combined, then pour over the chickpea mixture. Toss with your hands and marinate for 20 minutes.

After the chickpeas have been sitting, add in the chopped dill and parsley. Mix well, and adjust salt if needed.

Serve cold, and garnish with fresh pieces of dill, cucumber, tomato, and feta if desired.
Hello and welcome to my home and table!
I'm Sandy—lover of food, family, cooking, THE BIG BOARD, travel, and bringing people together. Through great recipes and connection around the table, we become better, stronger, and more courageous people. Feasting on Life is real, and every time we do it, we grow a little more. Read more...