How to Make a Summer Ice Cream Trough Dessert
Looking at How to Make a Summer Ice Cream Trough Dessert for a big kid party? This ice cream dessert is a party hit every time!
The beauty of this awesome summertime dessert recipe I'm sharing today, Summer Ice Cream Trough, is it doesn't have to be perfect to serve to your guests! It's fun, creative, and you can use what you have in your kitchen (cake mix, brownies, leftover cake), and even leftover ice creams from your freezer. Look around for creative toppings and pile them on! Make it for a kid birthday party, a picnic in the park, or a summer get-togehter. It actually could be fun for adults, too!
But first … My boys both turned 19 and 21 last week and I cannot believe how quickly time has flown by. It really has …
It only seems like yesterday when I was planning their birthday parties. I always had a goal to keep the parties simple and fun. Since we have a pool, many times kid would come for a swim party. (Elliot turning 5, who's now 21! Yes, with a broken arm.)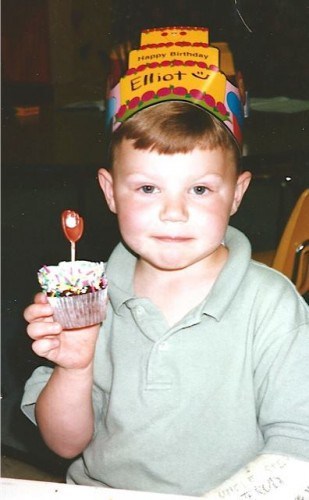 I found something I wrote about my boys (now men) quite a few years back. It warmed my heart, because honestly, parenting is not for the faint of heart. It takes hard work and discipline and isn't always easy!
Here's what I wrote in my journal:
5-30-2007:
There are so many gifts I want to give my boys, such as courage and confidence, and for them to understand their uniqueness. If I could, I'd wrap these up with a huge ribbon on top. I hope that they would know that with teenage challenges come lessons that they will learn for life. And that from those lessons comes wisdom.
My sons are true gifts from above, and I knew that when they were handed to me 19 and 21 years ago. But I understand it even more now … I'm a grateful Mama.

So back to the fabulous summertime dessert. It's called an Summer Ice Cream Trough Dessert and it's a brilliant idea for a quick way to make a festive dessert that will feed a crowd!
Here's what you will need:
Buy a garden trough or something large that you can layer the cake (some people use a rain gutter), ice cream, bananas, etc. in. I used a plastic planter box (usually used in window boxes), 24 inches long. For a larger party, you can use 2 of these!
Depending on which size trough you use, you can also make it up in advance and place in it the freezer! Easy!
What to buy for (1) 24″ trough:
Trough – 24″ long
1 cake mix or brownie mix (bake in advance)
Plastic wrap
1 gallon ice cream
Spray whipped cream
Syrups
Bananas
Cherries
Any other topping (candy bars, etc.)
It's sticky and gooey, but oh, so good!
How to assemble the trough:
1. Put ice cubes on the bottom.
2. Place plastic wrap on top of the ice cubes.
3. Cut your cake into cubes, or layer it on top of the plastic wrap.
4. Scoop or slice the ice cream on top of the cake.
5. Place plastic wrap over the whole trough and FREEZE until you are ready to use.
6. Right before serving, pull out of the freezer and fill the rest of the container with whipped cream, sliced bananas on the side, cherries on top, or any other toppings.
How to serve the trough:
1. Place it on a big table with a bunch of spoons and let the kids DIG IN.
OR
2. Scoop out into individual dishes. (Use this method if you're worried about germs.)
We've done it both ways. Oh, and don't forget the candles!
Start singing to your kids! Hold them close, shut your eyes and make your wish (or prayer!) because before you know it, they will be 19 and 21!
Happy June, by the way! Summer is here this month and I couldn't be happier.
What's your go-to ice cream dessert to serve at a party or for a crowd?
Years ago this idea came from my late Auntie, but I know many people used the same concept inspired by Farrell's Ice Cream.