Irish Dark and White Bread Pudding Recipe
This Irish Dark and White Bread Pudding Recipe is a delicious gooey dessert, made with white and dark chocolate for St. Patrick's Day!
Because we are an Irish Family (well, my husband is), and we love bread pudding, I want to share with you today an amazing, tantalizing Irish recipe from Epicurious.com.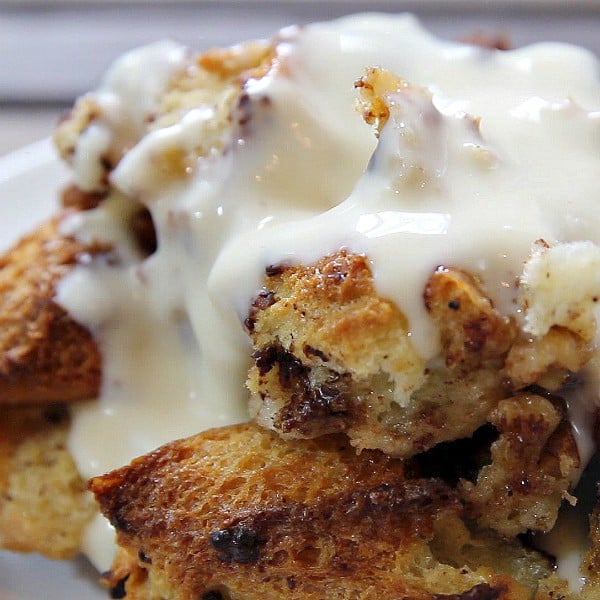 My husband and I traveled to Dublin a few years ago. One thing we noticed was that the people were so inviting and hospitable. Seriously, those words fell from our lips every day during our visit. Hospitality stood out like a beautiful bouquet.
It was our first time there, and our first time to meet some of my husband's family, and we relished the love that we received.
Irish Dark and White Bread Pudding Recipe
Since we love bread pudding, today it's all about making it the "Irish" way.
Made with both white and dark chocolate chips, this bread pudding is served with a creamy sauce poured over the top, right before serving!
Scrumptious for your next dinner party, or St. Paddy's Day!
Happy St. Patrick's Day!
What fun Irish treats will you be celebrating with tonight?
Irish Dark and White Bread Pudding Recipe
Recipe from Epicurious.com
Ingredients:
4 cups whipping cream, divided
6 tablespoons Irish cream liqueur
1/4 cup sugar
1/2 teaspoon vanilla extract
2 teaspoons cornstarch
2 teaspoons water
14 cups 3/4-inch cubes French bread with crust (about 12 ounces)
6 ounces bittersweet (not unsweetened) or semisweet chocolate, chopped
6 ounces imported white chocolate, chopped
4 large eggs
1/2 cup plus 4 tablespoons sugar
2 teaspoons vanilla extract
1/2 cup whole milk
Nonstick vegetable oil spray
Directions:
For the sauce, bring 2 cups whipping cream, liqueur, sugar, and vanilla to boil in heavy medium saucepan over medium-high heat, stirring frequently. Mix cornstarch and 2 teaspoons water in small bowl to blend; whisk into cream mixture.
Boil until sauce thickens, stirring constantly, about 3 minutes. Cool, then cover and refrigerate until cold, about 2 hours. (Can be made 3 days ahead. Keep refrigerated.)
For the bread pudding, combine bread, chocolate, and white chocolate in large bowl; toss to blend. Using electric mixer, beat eggs, 1/2 cup plus 2 tablespoons sugar, and vanilla in another large bowl to blend.
Gradually beat in 1 1/2 cups cream and milk. Add cream mixture to bread mixture; stir to combine. Let stand 30 minutes.
Preheat oven to 350°F. Spray 13x9x2-inch glass baking dish with nonstick spray. Transfer bread mixture to prepared dish, spreading evenly. Drizzle with remaining 1/2 cup cream. Sprinkle with remaining 2 tablespoons sugar.
Bake pudding until edges are golden and custard is set in center, about 1 hour. Cool pudding slightly.
Drizzle bread pudding with sauce and serve warm.
All images and text ©
More St. Patrick Day recipes:
Guinness Beer Beef Chuck Roast Recipe
Irish Slaw Dip
Irish Pub Salad
Are you following me on Instagram, Twitter, Facebook and Pinterest? If you'd like to subscribe to Reluctant Entertainer, to have each post delivered straight to your e-mail box, then please add your email, here. It's really easy! Thanks for being here today!