Layered Holiday Kale Berry Salad
Layered Holiday Kale Berry Salad is an elegant salad layered with bacon, quinoa, and roasted butternut squash, drizzled with a vinaigrette!
Friends, just because fresh berry season is behind us, doesn't mean you can't have that fresh summer taste mixed in with fall favorites! This week we enjoyed the most delicious Layered Holiday Kale Berry Salad, and it was so good, I can't wait to make it for more dinner parties, and the holiday season this year!
It's so pretty! All you need are these ingredients:
Baby kale leaves
Quinoa
Butternut squash chunks
Red apples
Marionberries (we bought frozen, and then defrosted them)
Red onion
Bacon bits
Sunflower seeds (or pumpkin seeds, or both)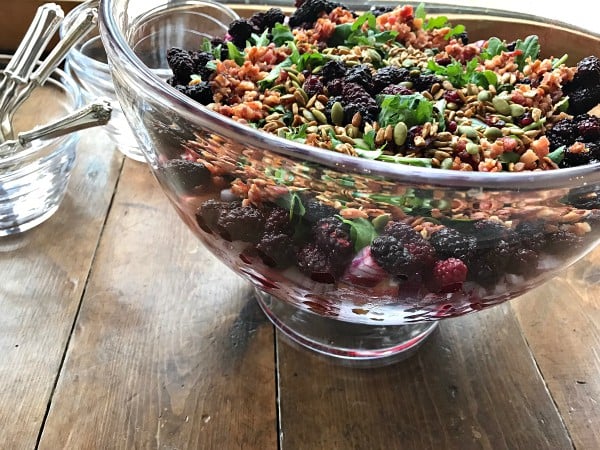 Having lived in Oregon for over 53 years, many of you know my love for berries. Even in the fall, it's easy to combine them with other fresh foods, like pears, apples, squash, even Brussels Sprouts. I was a lucky girl to visit the berry fields this summer in the Portland area, and get to the know the stories and history of Oregon berries.
It was a true delight!
Easy salad dressing:
The dressing is easy, too. You can also buy a Honey Mustard dressing that is delish on this salad!
Olive oil
Red wine vinegar
Lemon juice + zest
Dijon mustard
Salt & pepper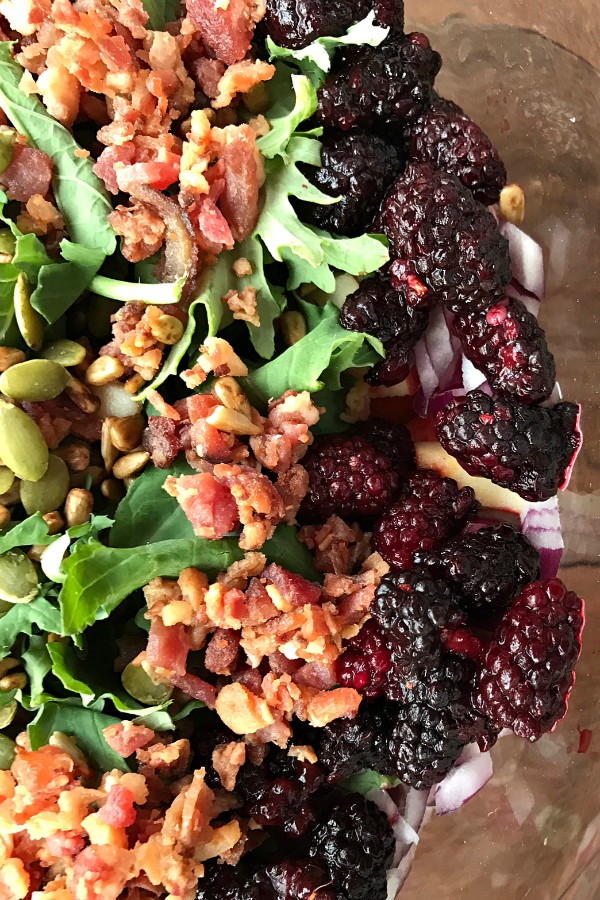 Layered Holiday Kale Berry Salad
What I love about this salad for the holidays is that you can make the quinoa ahead of time, roast the butternut (so sweet and tender) ahead of time, chop the onions, measure out the ingredients, and then a few hours before serving, grab a beautiful glass bowl (a regular bowl works, too, but why not show off the beauty of this salad?), and layer the ingredients.
Drizzle with dressing right before serving.
Where I live in Bend, I look for brands like Stahlbush Island Farms, Willamette Valley Fruit Co, and Scenic Fruit or Columbia Fruit in our local store. That way I know I'm supporting Oregon berries, and getting the freshest of fresh!
I particularly love Oregon blackberries or marionberries. You can make these appetizers by placing 1 berry on top, or freeze a cobbler ahead of time, pull out of the freezer, defrost, and bake. Or this Nutella Berry Bruschetta. So many great holiday ideas!
And this Layered Holiday Kale Berry Salad … feel free to leave off the bacon and serve it Vegetarian!
I'd love to hear your ideas for fall entertaining, how you'd incorporate frozen blackberries or marionberries into your menu?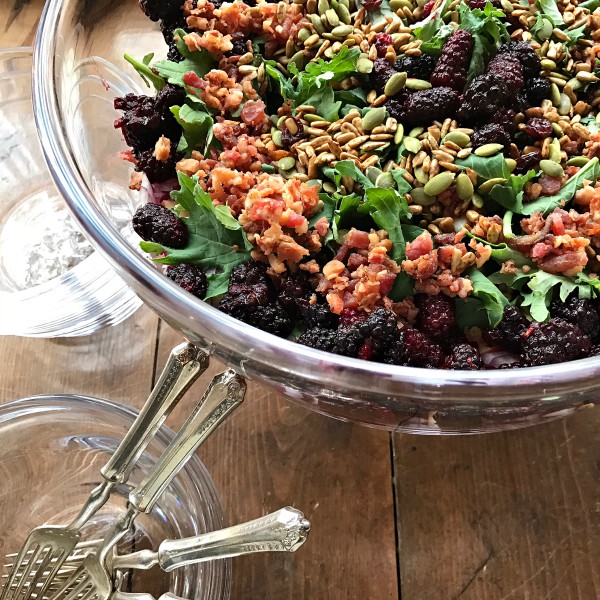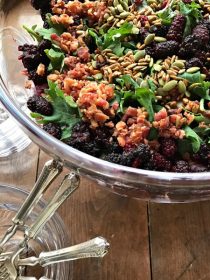 Get the Recipe: Layered Holiday Kale Berry Salad
Ingredients
6-8 cups baby kale leaves
3 cups cooked quinoa
2 pounds peeled butternut squash chunks, about 6 cups
2 medium apples, chopped
3 cups marionberries, defrosted
1 small red onion, chopped
1 cup bacon bits, optional
1 cup sunflower seeds, or pumpkin seeds, or both
Salad dressing:
1 cup olive oil
4 tsp. red wine vinegar
4 Tbsp. lemon juice
2 tsp. lemon zest
2 tsp. Dijon mustard
Salt & pepper to taste
Instructions
Cook quinoa according to directions; set aside.

Cut the butternut squash into 1/2-inch pieces; drizzle with olive oil, and sprinkle with salt and pepper. Roast at 400 degrees for 20 minutes, until tender. Allow to cool.

In a large bowl (glass is preferable, because it is such a pretty salad), layer 2 cups of kale and the quinoa.

Layer the apples and squash and red onions; add 2 more cups of kale.

Top with remaining kale, berries, and seeds.

Mix the olive oil, red wine vinegar, lemon juice, lemon zest, Dijon mustard, salt and pepper; set aside.

Right before serving the salad, drizzle the dressing over the salad. Serve!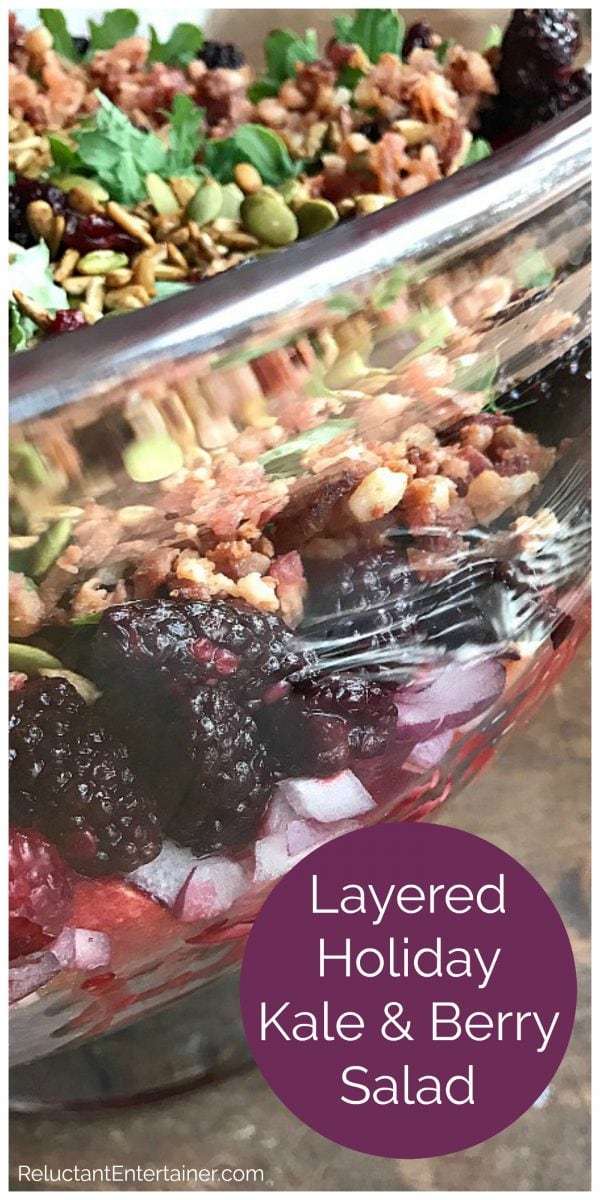 Follow Oregon Berries on Facebook, Twitter, and Pinterest.
This post is sponsored by Oregon Berries, but as always, all opinions are my own. We use Oregon berries (frozen) in our kitchen regularly!
Hello and welcome to my home and table!
I'm Sandy—lover of food, family, cooking, THE BIG BOARD, travel, and bringing people together. Through great recipes and connection around the table, we become better, stronger, and more courageous people. Feasting on Life is real, and every time we do it, we grow a little more. Read more...