Garbanzo Carrot Date Salad
This Garbanzo Carrot Date Salad is a delicious fresh, sweet and savory salad to make ahead – perfect for the reluctant entertainer to make for company! Watch the VIDEO to see how easy it is to make!
Friends, fall is here–yes, it's here! I don't know about you, but I sure have the urge to hunker down, gather with friends, and celebrate all the wonderful things that this life has to offer. We have several trips planned, several weekends with friends and family coming to visit us, and we are excited! (Photo below, a 4-minute walk from our house in Sunriver.)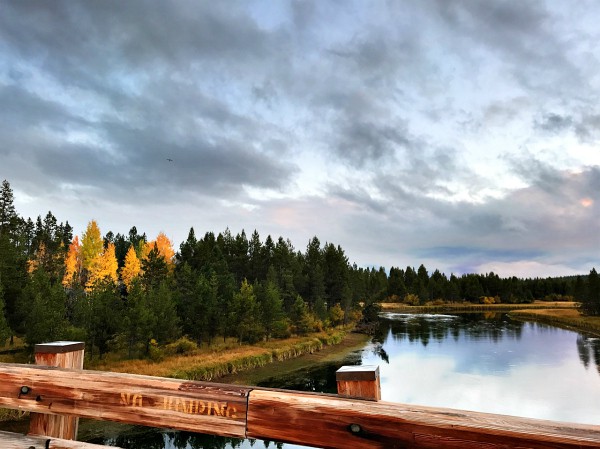 I have a friend who is a reluctant entertainer. It's not that she isn't warm, gracious, inviting, and welcoming—she is all of that. She jut lacks the confidence to make the invite, plan, and make it happen.
She has a beautiful home, and we talk about it all the time. Confidence isn't something that you just snap your fingers and it's a part of you. I was trying to help her gain confidence, but to be honest, she is going to have to walk through this on her own.
Now, I promised her I would be there to help in any way I can (encouragement, tips, shared recipes, and benefits of hosting).
How do you gain confidence?
I say cook as many recipes as you can ahead of time, so you can relax and enjoy your guests when they arrive.
Set the table early.
The more you host, the easier it becomes (and the more your confidence builds).
Don't … pile too much on your plate. Know what you can handle. If inviting 2 people over is all you can handle, or enjoy, then don't start with a party of 8! Start small!
Don't forget to ask your guests to bring something! That way you don't feel like you have to do it all.
Easy tips.
Easy hosting.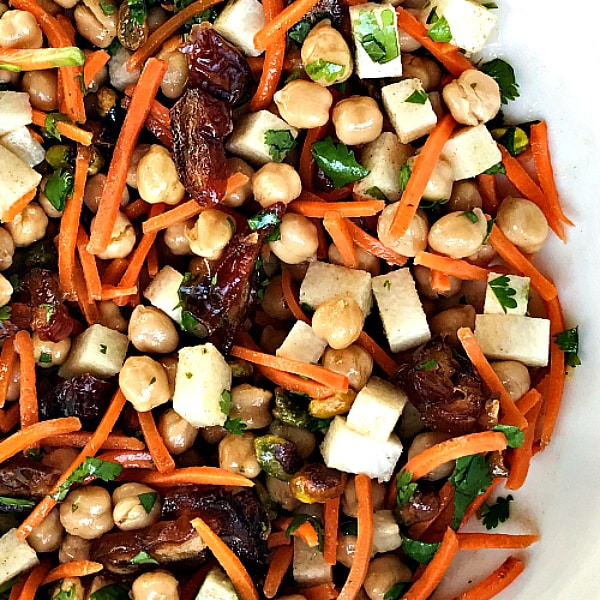 Garbanzo Carrot Date Salad
And now this easy salad, that we LOVE.
It's sweet and savory, with a little "kick" in the dressing!
It's fresh, healthy, and you can make it ahead of time.
Now that is a game changer! One recipe done – check!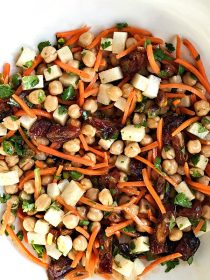 Get the Recipe: Garbanzo Carrot Date Salad
Ingredients
6 Tbsp. extra-virgin olive oil
1 tsp. cumin
Dash of cinnamon
2 15-oz. cans unsalted garbanzo beans (chickpeas), rinsed and drained
3 cups shredded carrots
1 cup jicama, chut into small chunks
1/2 cup dates, thinly sliced
1 cup fresh cilantro
1/4 cup dry-roasted pistachios
1/2 tsp. kosher salt
Instructions
Combine olive oil, cumin, and cinnamon.

Toss together chickpeas, olive oil mixture, carrots, jicama, dates, cilantro, pistachios, and salt.

Refridgerate and serve!
Hello and welcome to my home and table!
I'm Sandy—lover of food, family, cooking, THE BIG BOARD, travel, and bringing people together. Through great recipes and connection around the table, we become better, stronger, and more courageous people. Feasting on Life is real, and every time we do it, we grow a little more. Read more...