Easy Walnut Endive Appetizer
Quick and easy to prepare, this Walnut Endive Appetizer is a vegetarian, simple, light appetizer with walnuts, tomatoes and avocados!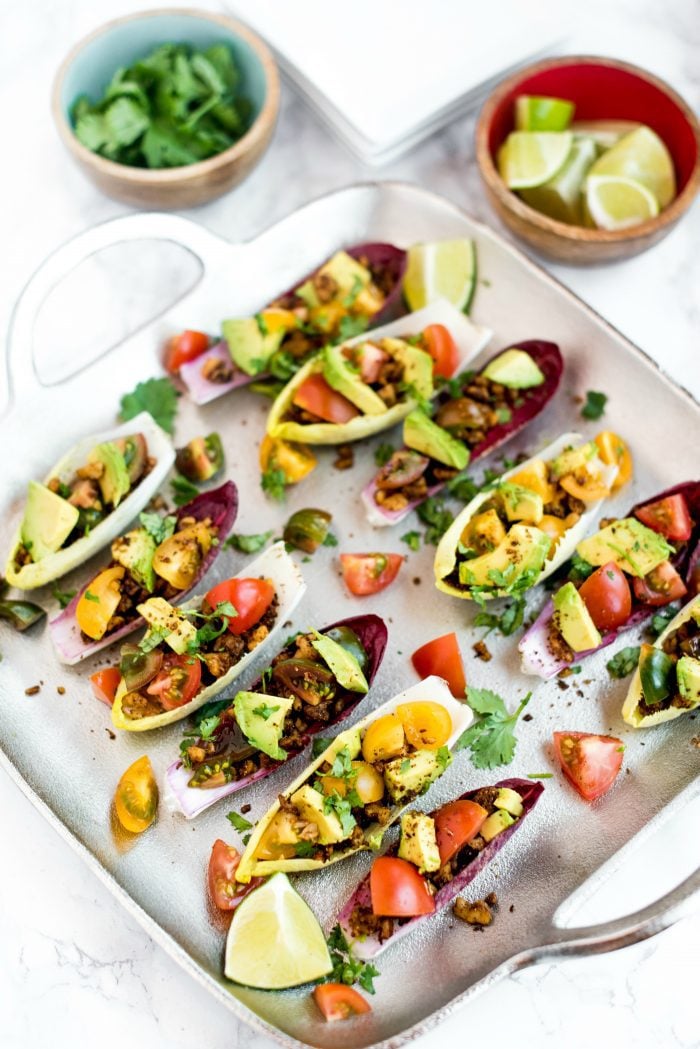 Friends, one of the easiest, healthiest appetizers we love to serve is stuffed endive leaves. You may have tried my Endive with Strawberry Mint Honey Recipe or Roasted Butternut Squash Endive Appetizer.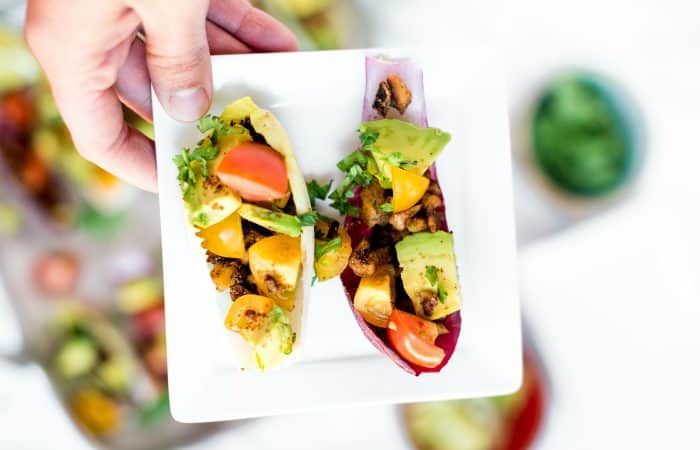 This Easy Walnut Endive Appetizer is great any time of year, but I specifically love to serve it at a Mexican feast.
What are endive leaves
Endive is sometimes called chicory, but the French call it chicorée frisée. That sounds pretty nice! Awhile back I was limited with appetizer ingredients, so I served a very simple Stuffed Endive with Walnuts and Honey Recipe.
Can you eat endive raw?
I've been posting recipes for years using raw endive leaves. The answer is yes, you can eat endive raw. The leaves are so tender and crunchy, and it's all about the "stuffing" because the leaves can be a little bitter if eaten alone. Belgian endive can be eaten raw or cooked.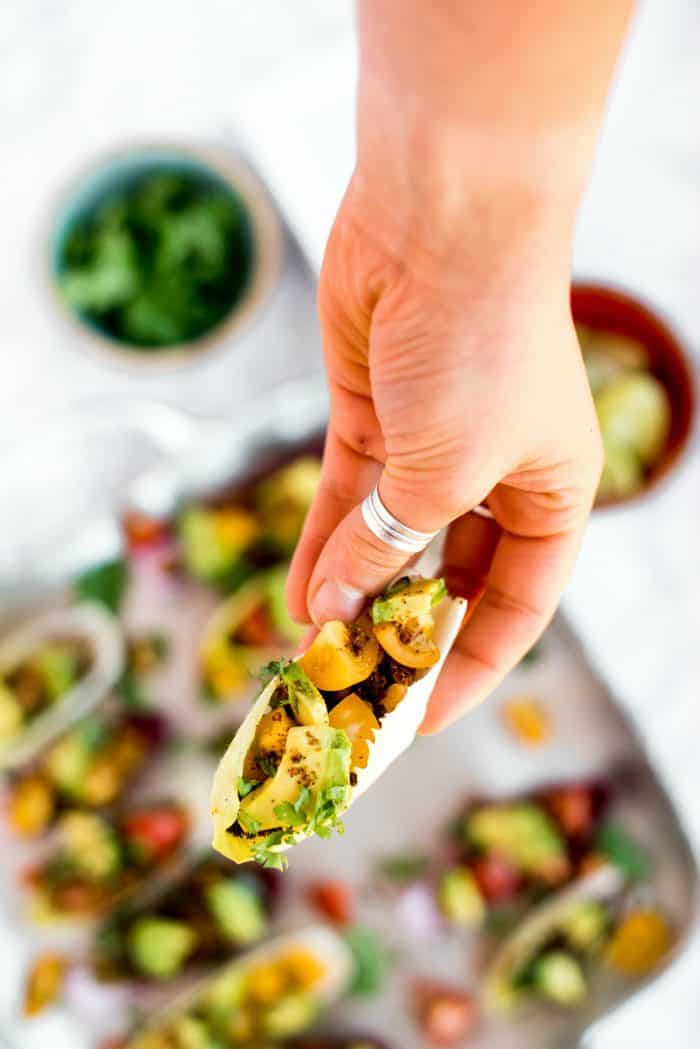 Fun facts – health benefits of endive
High in fiber
Low calorie (if you're watching your weight)
Full of vitamins
Aid in digestion and is also a diuretic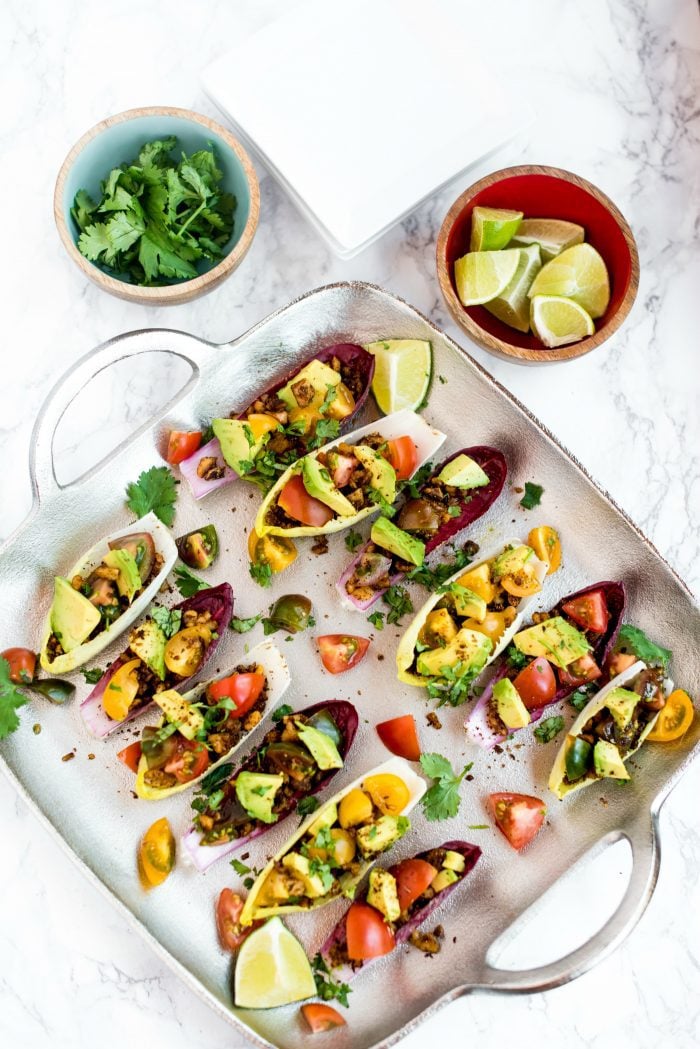 4 hosting tips
Today I'm sharing 4 simple, practical tips for those who feel they don't quite have the personality, confidence, budget, or ideal space to invite people into their homes.
Whew! There's a lot that went into that sentence. Entertaining can seem overwhelming if you think of all the details, so pick one thing you're good at and run with that.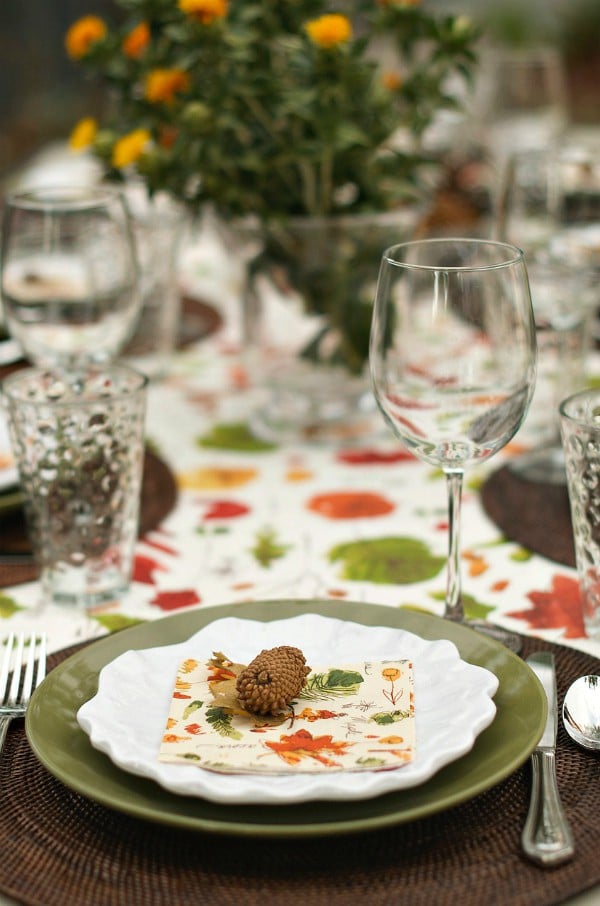 Start small
Invite one or two people over, and keep it simple, until the next time, when you feel you can expand the group. Sometimes we invite one couple, and it's way less work than when we invite 5 or 6 guests.
Entertaining is like a muscle, in that the more you use it, the easier it becomes.
Delegate
Choose a main dish you are comfortable making, and ask your guests to bring a salad, bread, and dessert. Delegation is really the key to keeping entertaining affordable, low-key, and easy. When everyone contributes, there's less time in the kitchen, it's easier on your budget, and there's less stress on the host.
Think outside of the box
Think outside the box if your space seems too small. Set up a buffet area, and let guests mingle and sit in the living room, or set up tables in a different room. It's okay to not always have to pull out the china for dinner guests; anymore, entertaining has really taken on a more casual approach.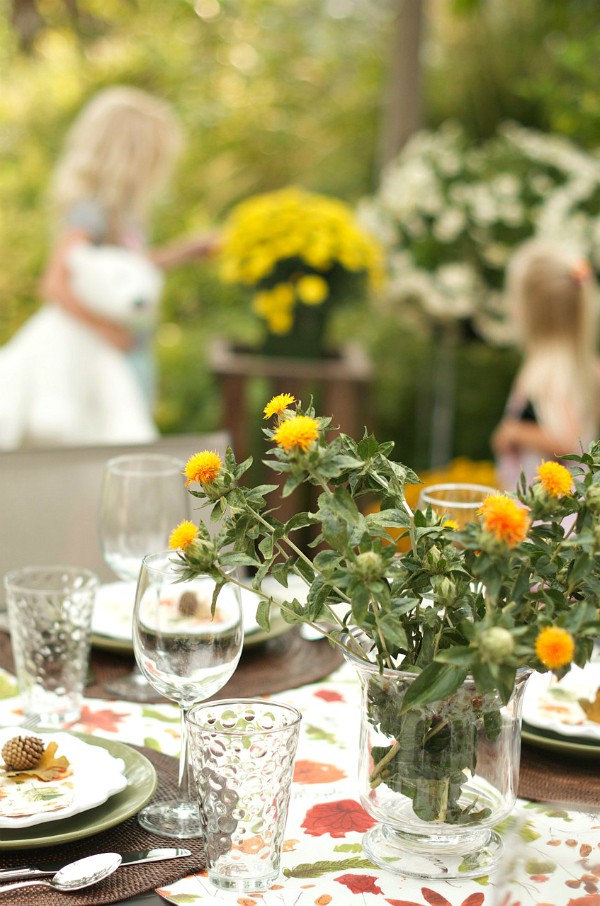 Set the table
For instance, I love to set a pretty table. And we love to entertain in the fall time because it is so pretty (and cool) in our backyard! This time I used safflowers for the centerpiece.
I tell our guests to bring a sweater, or be prepared to bundle up, when the night gets chilly!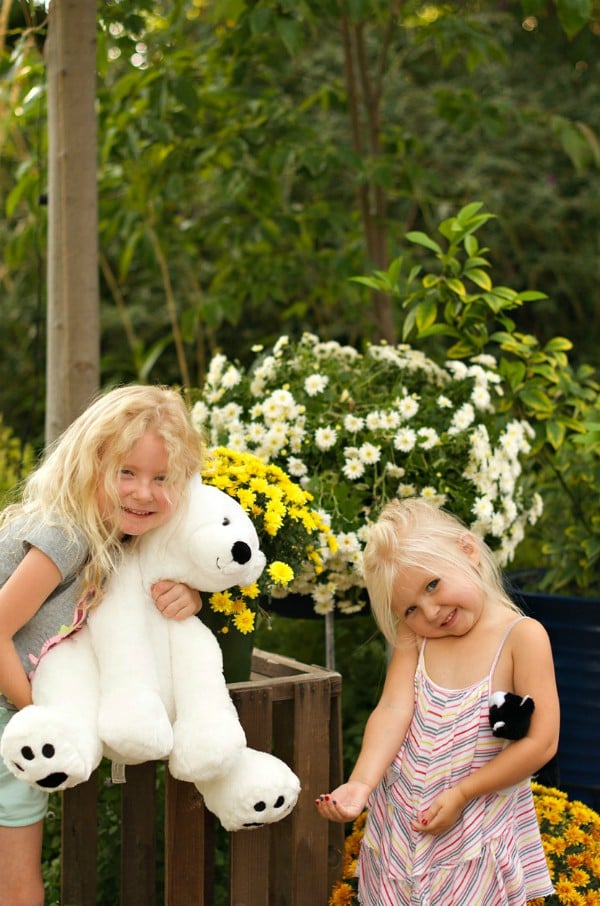 My little neighbor girls were over the other evening, and helped me set the table.
I used a fall runner that I bought in Ashland this summer (I love Tag products.)
Simon Pearce place mats (or chargers).
Pretty green dollar store plates and Q Squared NYC white salad plates.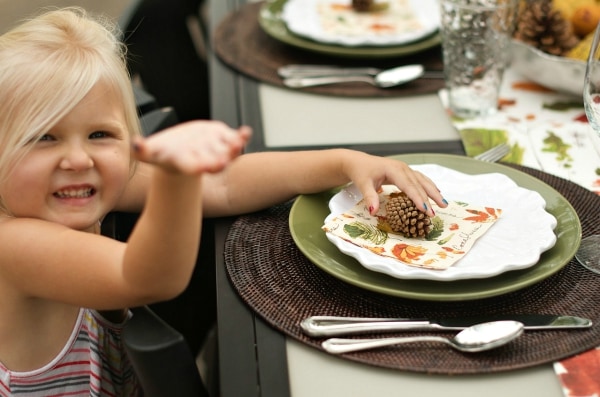 The girls were so cute, helping me place a pinecone on each plate. They are the best helpers!
More endive recipes
You may also enjoy Black Bean Salad Stuffed Endive (for Cinco de Mayo), Apple Endive Appetizer, BLT Endive Bites (so good), and Endive Spears with Smoked Trout!
Walnut Endive Appetizer
I delegated the menu, but I was in charge of the appetizer for this dinner. One couple coming was gluten-free, so I made a platter of Walnut Endive Appetizers. Delish!
People want to come, put their feet up, relax, unwind, eat, drink, share, and get to know each other. I find that setting a simple, but pretty table (if I have the time) makes the night even more enjoyable!
But of course, it's not necessary for the conversation to flow, and for everyone to have a great time.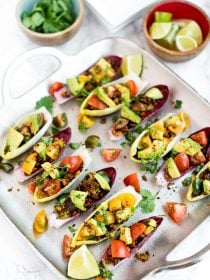 Get the Recipe: Walnut Endive Appetizer
Ingredients
2-3 endive
1 cup walnuts, finely chopped
2 tsp. cumin
2 tsp. coriander
2 tsp. balsamic vinegar
1/2 tsp. paprika
Dash of garlic powder
Dash of black pepper
1 avocado, cut in small slivers
Cherry tomatoes, cut in halves or fourths
Cilantro, finely chopped
Lime, cut in half
1 Tbsp. avocado oil
Instructions
Remove the endive leaves and place on a platter.

In a small pan, heat the oil and add the walnuts. Toast for 3-5 minutes, then mix in the spices.


Spread the walnut mixture on the endive leaves.

Garnish with sliced avocado, tomatoes, cilantro, and lime juice.
Notes
Originally posted SEPT 2015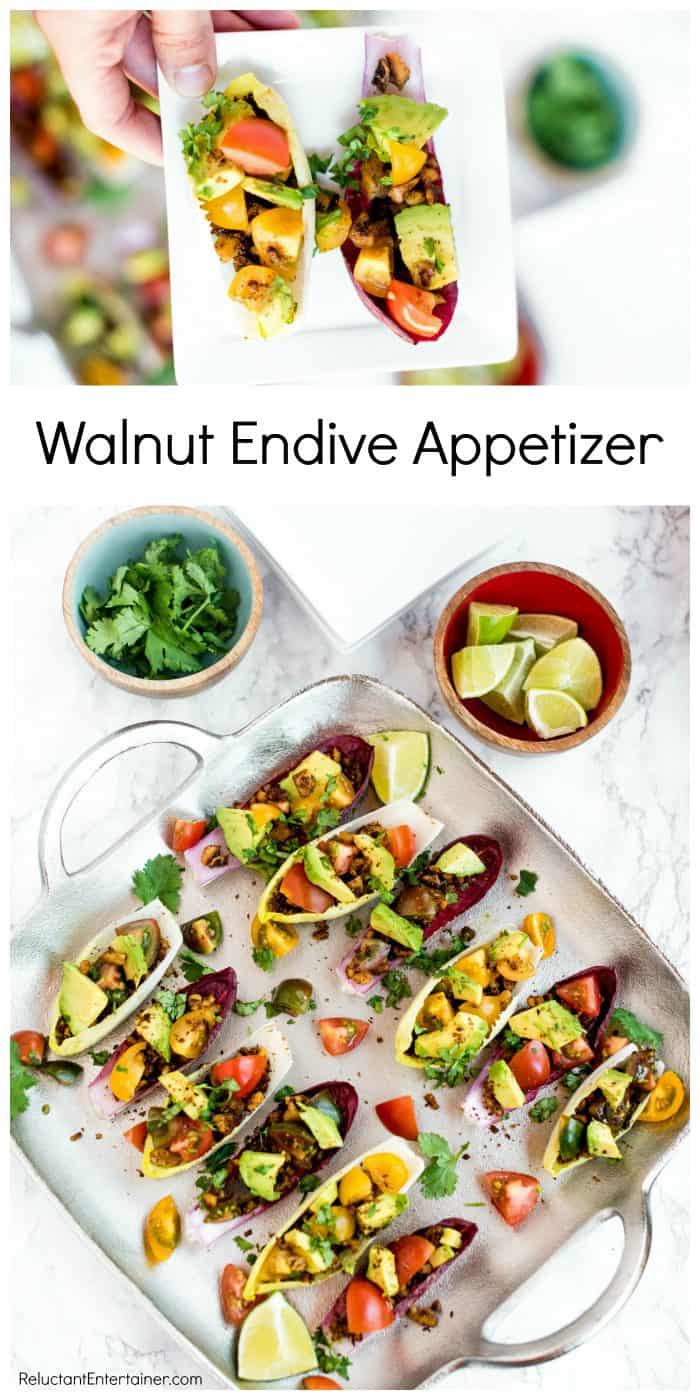 Hello and welcome to my home and table!
I'm Sandy—lover of food, family, cooking, THE BIG BOARD, travel, and bringing people together. Through great recipes and connection around the table, we become better, stronger, and more courageous people. Feasting on Life is real, and every time we do it, we grow a little more. Read more...