Black Bean Salad Stuffed Endive
When I think of "eating the rainbow" I think of this black bean and corn salad. Served in pieces of endive, this low-carb, gluten-free Black Bean Salad Stuffed Endive appetizer is great any time of year, and delicious served as a salad or an appetizer. Big pot luck party hit!
Bright, beautiful foods. Bright beautiful people. This Black Bean Salad Stuffed Endive + my favorite people at a party … this brings me happiness!
Is entertaining a waste of time? It seems silly to write a post on this subject, but I've been thinking about this lately, because I see where so many people are just not willing to invest in the lives of others. That, or they don't want to spend the money. It usually revolves around time and money.
Black bean and corn salad
I really believe the love that we give our guests requires huge amounts of time. It takes time to invite, plan, cook, get ready for company! I made this black bean and corn salad the night before, so I'd be ready for company!
Serve it for an appetizer or as a salad!
I also love this Apple Endive Appetizer because I usually have all the ingredients on hand!
Entertaining is an investment
Entertaining also takes money, but if everyone brings a potluck dish, it only leaves a few things to cover.
Delegation is key!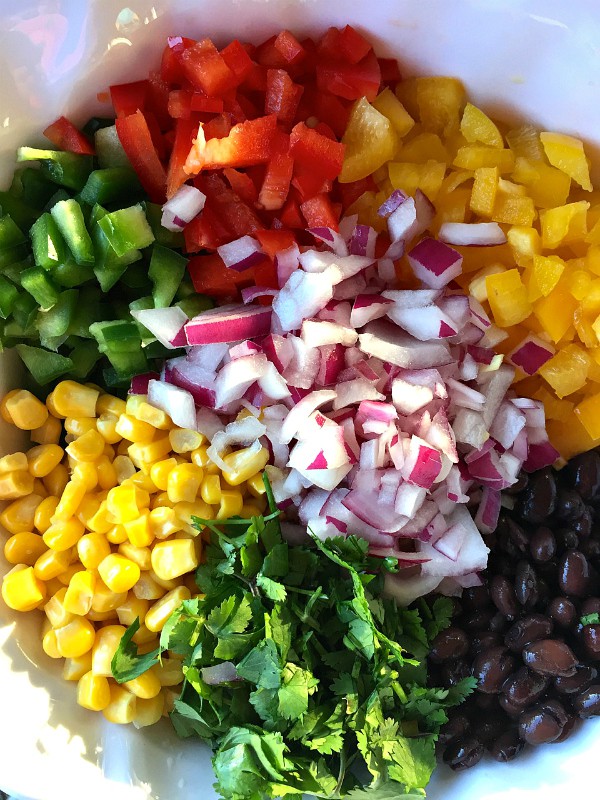 But … love comes first.
Paul and I do love to have company over. I probably love it more than Paul, since he's more of an introvert, but because he knows I love it, he does it for me. He's learned to really enjoy it. And then in turn, he gets to meet some very awesome people (we do invite a lot of new guests over), and it's a win-win for both of us.
Paul's given me the gift of freedom to use my gifts over the years, and I'm eternally grateful to have such a supportive partner in life.
Gift of friendship.
Awhile back I felt so blessed to be with some childhood friends. It was a night of laughter and love, to sum it up. We've known each other for over 50 years, but have not seen each other for a long, long time, but we still picked up where we had left off. That is the gift of friendship.
I really do believe that our love and our smiles and and our laughter—our ability to sit and listen to others, to converse about different subjects, dive into the difficult, laugh at the past, invest in the future—are all a part of hospitality.
It's wisdom and words of hope that carry our love and often gives faith and courage.
This is how I feel when guests leave our home—my heart is usually very full of love–and respectfully, I wonder if our guests may feel the same way?
Love in a potluck dish.
Their love comes to us in a potluck dish, with a good chunk of (their) time. (Everyonne brought a dish!)
When a man gives his time, he gives himself, his love.
He gives the greatest thing he can give.
Giving the gift of time is very special, for both the hosts and the guests, which I think forever changes us.
Black Bean Salad Stuffed Endive
This recipe today is delicious serveded as a salad, dip, in a wrap, or this tasty little endive appetizer, perfect for any time of year, but especially pretty in spring and summer!
When's the last time you reached out to friends that you have not seen in a long time?
Get the Recipe: Black Bean Salad Stuffed Endive
Serve as a salad or appetizer with your favorite chips, or stuffed in endive.
Ingredients
1 red bell pepper, diced
1 green bell pepper, diced
1 yellow bell pepper, diced
½ cup diced red onion
1 15 oz can corn, drained
1 clove garlic, minced
1 tablespoon cilantro
¼ cup olive oil
4 tablespoons red wine vinegar
1 teaspoon lime juice
1 15 oz can black beans, rinsed and drained
Salt and pepper to taste
4 Endive, leaves separated
Instructions
In a small bowl, combine peppers, onion, corn, garlic and cilantro. Add olive oil, vinegar, lime juice and salt and pepper to taste.

Add drained black beans and toss well.

Serve on separate endive leaves, or with tortilla chips, or as a salad.
More endive appetizers: Stuffed Endive with Walnut and Honey Appetizer, BLT Endive Bites [Real Housemoms], Mediterranean Endive Boats [That Skinny Girl Can Bake], and Pear Cranberry Endive Appetizer.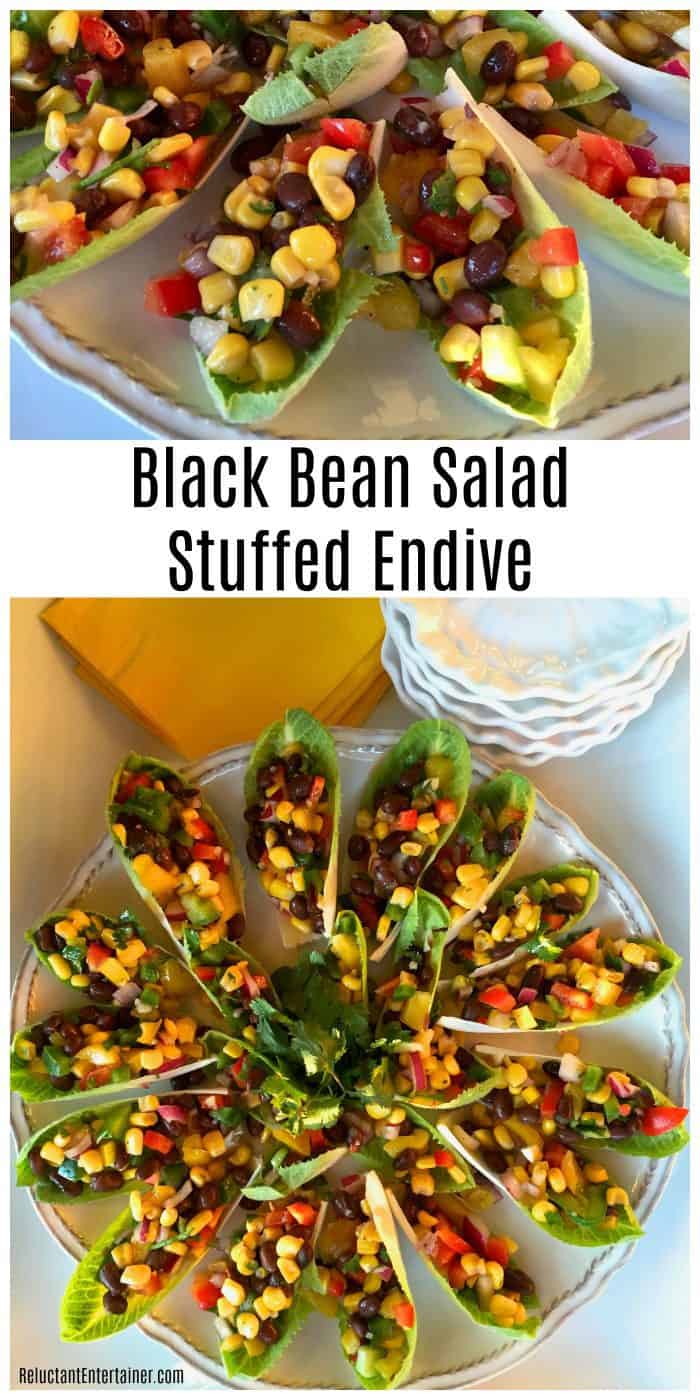 Hello and welcome to my home and table!
I'm Sandy—lover of food, family, cooking, THE BIG BOARD, travel, and bringing people together. Through great recipes and connection around the table, we become better, stronger, and more courageous people. Feasting on Life is real, and every time we do it, we grow a little more. Read more...