Roasted Chicken with Root Vegetables
This Roasted Chicken with Root Vegetables so a delicious, comforting, one-pot meal made with carrots, parsnips, onions, and a whole chicken.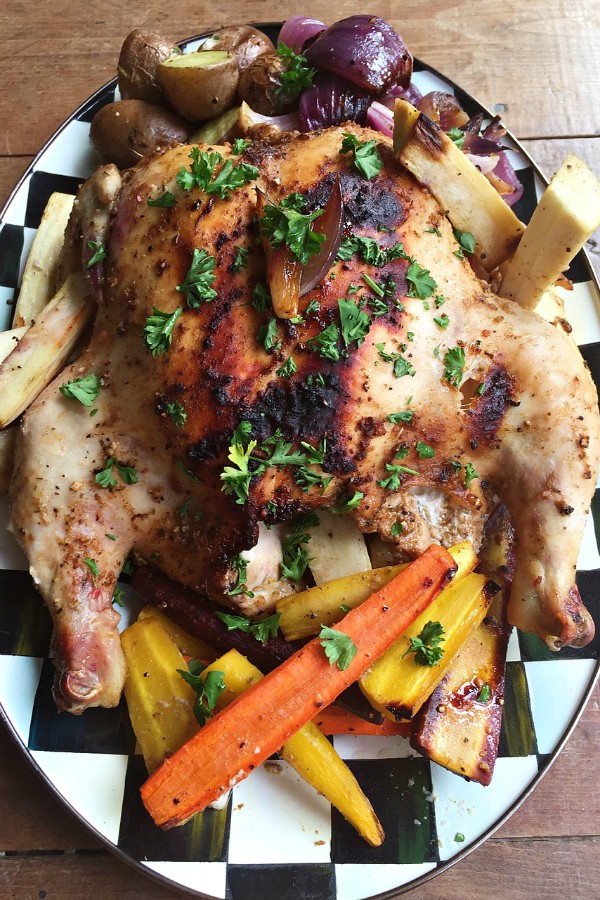 Friends, this past weekend I went on a glorious bike ride with my 2 sons. A friend with similarly-aged children recently reminded me that our home is a "soft place to land," sometimes a transition between graduating and the "next thing" in life.
I love that. It truly has been a soft place, and we have been so lucky to spend this season with our 2 sons.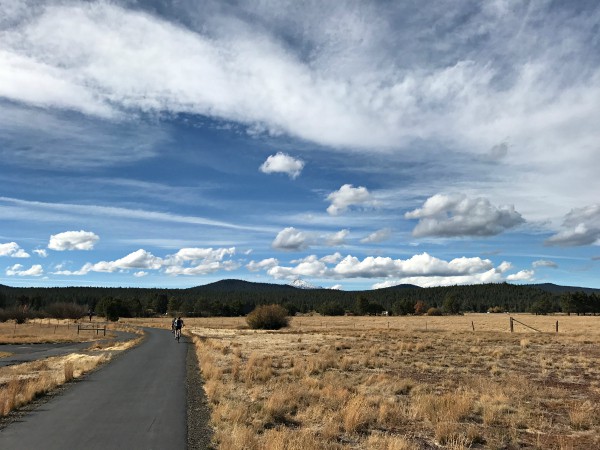 Before we know it, we'll be longing for the hours together that we've been able to enjoy. We've shared so many laughs and wonderful moments, like our bike ride along the river this past weekend, in the warm sunshine, which may be the last of the warm days here in Bend. We had some good laughs, especially after earlier in the week when I had a bike crash (long story, I'm okay), when we got a lot of bugs in our eyes, but saw the most glorious landscape …
Oh, the beauty of central Oregon.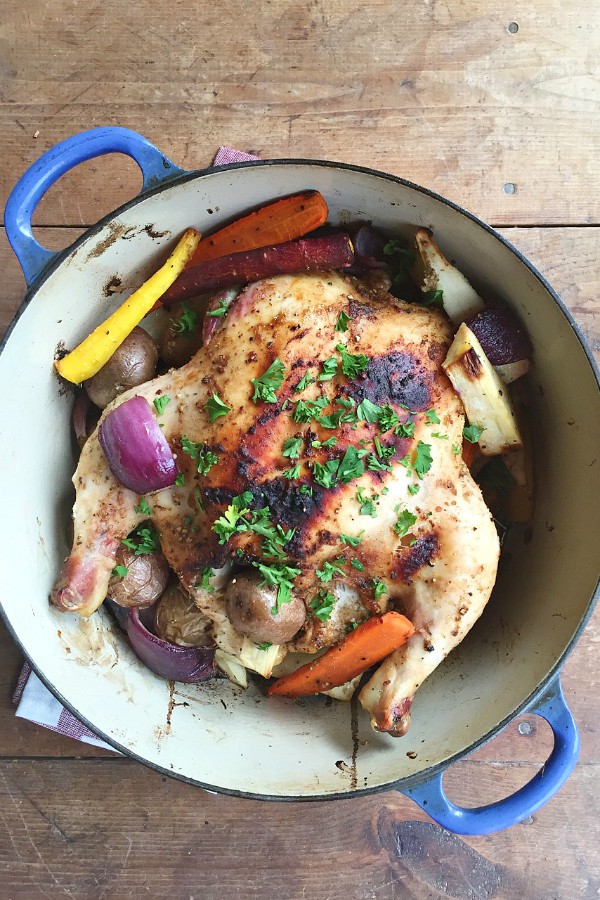 Home to a yummy smell in the house.
We are a parsnips family, are you?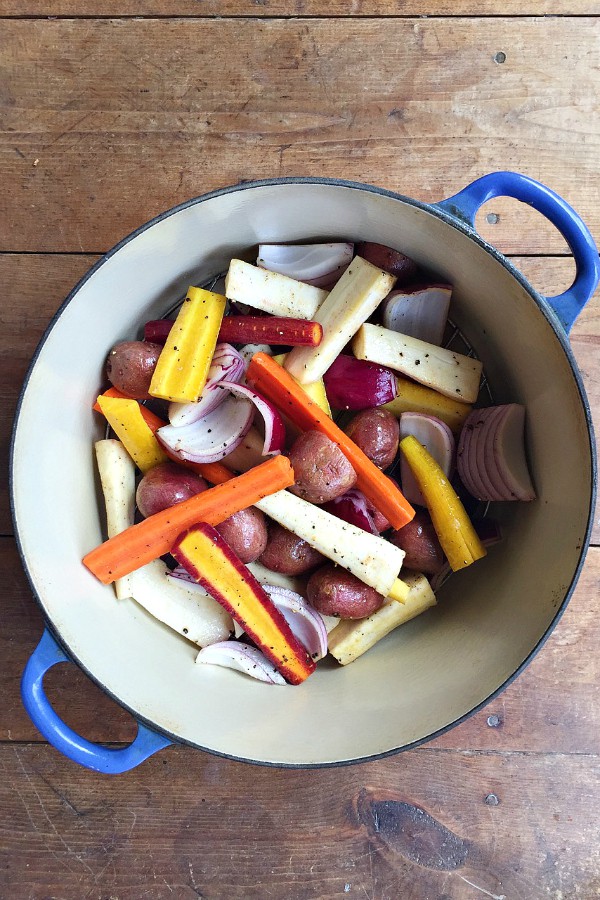 My husband grew up in an Irish home (his parents were Irish immigrants), and he had his fair share of potatoes, parsnips, and rutabagas. In fact, I have a delicious smashed potato recipe with all three! We also love this German Potato Butternut Sausage Soup (with parsnips).
Roasted Chicken with Root Vegetables
This time I prepared a whole chicken and placed it in my LeCreuset Dutch Oven large baking dish. (One of my favorite baking dishes. I also love, love, love this braiser!)
Added the parsnips, potatoes, and carrots.
Tossed it in the oven, while we went on our bike ride.
I love walking in the door and smelling something good cooking!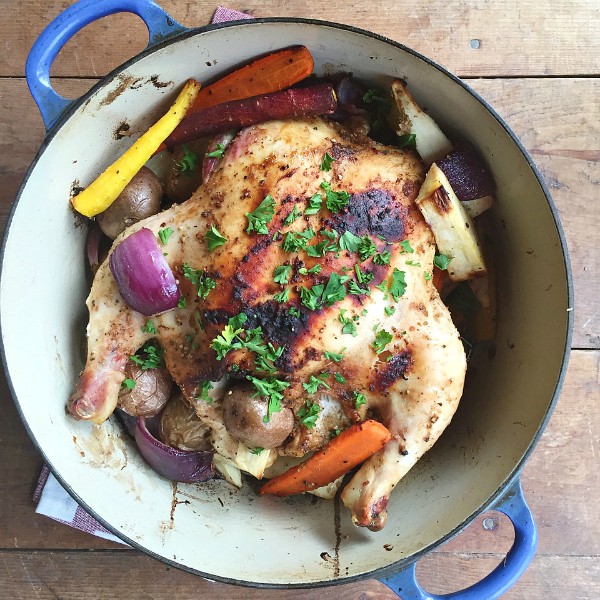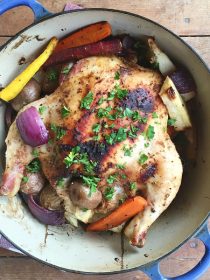 Get the Recipe: Roasted Chicken with Root Vegetables
Ingredients
1 3-4 lb. whole chicken
3/4 tsp. black pepper, divided
1 lemon
2 tablespoons chopped fresh ginger
1 Tbsp. chopped garlic, about 3 cloves
1 Tbsp. honey
1 Tbsp. canola oil
1 tsp. dried oregano
Cooking spray
3 parsnips, peeled and halved lengthwise
4 carrots, peeled and halved lengthwise
3 small red potatoes, halved
2 medium red onion, quartered
2 tablespoons extra-virgin olive oil
1/4 teaspoon kosher salt
Fresh parsley leaves
Instructions
Pat chicken dry with paper towels. Sprinkle cavity and outside with 1/2 teaspoon black pepper.

Process lemon juice, ginger, garlic, honey, and canola oil in a blender until smooth. Stir in oregano. Rub lemon mixture over chicken, and place, breast side up, on a plate. Refrigerate, uncovered, 4-8 hours or overnight.

Lightly coat a wire rack with cooking spray; place in a roasting pan. Place chicken, breast side up, on rack; let stand at room temperature 30 minutes.

Position an oven rack in the bottom third of oven. Preheat oven to 425°F.

Combine parsnips, carrots, potatoes, onion, olive oil, salt, and pepper; toss to coat. Arrange vegetables on wire rack around chicken.

Bake chicken and vegetables at 425°F, until a thermometer inserted in thickest portion of thigh registers 165°F, and vegetables are tender, about 50 minutes to 1 hour. Let chicken stand 20 minutes before slicing. Garnish with parsley.
Hello and welcome to my home and table!
I'm Sandy—lover of food, family, cooking, THE BIG BOARD, travel, and bringing people together. Through great recipes and connection around the table, we become better, stronger, and more courageous people. Feasting on Life is real, and every time we do it, we grow a little more. Read more...