Make-Ahead Sausage, Egg and Kale Strata
What I love about hosting a holiday brunch is that so many recipes can be made ahead of time, like today's recipe, Sausage, Egg, and Kale Strata, a recipe you can make 1-2 days in advance, pull out of the oven, and pop into the oven before the guests arrive!
A little bit of this, and a little bit of that. I recently made these delicious blueberry scones, set out a platter of fresh fruit, plates, silverware, napkins, and we served a very casual buffet-style brunch for our guests with this delicious casserole recipe, using Spelt bread (for our wheat-free guests).
The little people pulled out the toys we have stored in the closets.
Always Littlest Pet Shop for the girls and Legos for the boys.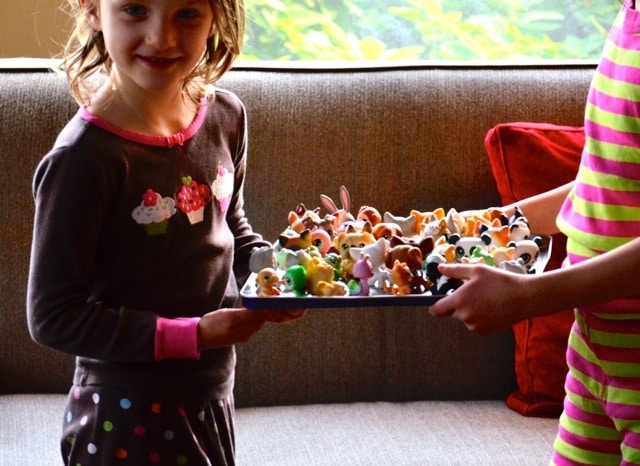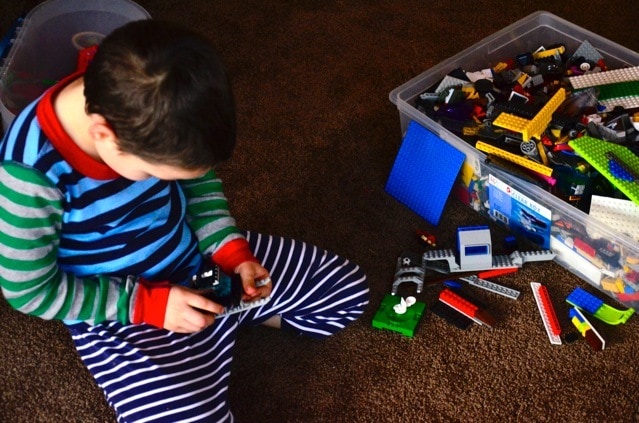 So many think of holiday dinners that have to be a big huge meal, but the last few years we've hosted a simple brunch on Christmas Day, which usually means baking a few items, and then setting out fruit, cheeses, smile bites—all easy to prepare–and then one or two main dishes, which are usually different varieties of egg in a strata or casserole.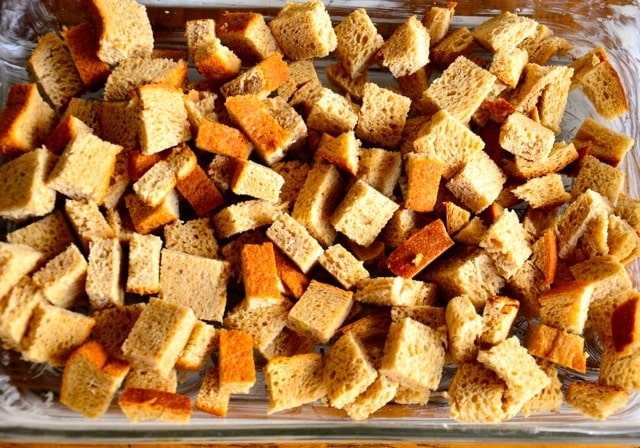 Brunches are low-key; kids can come in their jammies, guests mingle and sit in different locations of the home– plate of food in one hand, nice hot drink in the other— chatting, spreading cheer, catching up.
There's no aiming for perfectionism when serving a brunch. It's easy, casual, go-with-the-flow type entertaining.
The kind that I love.
Especially when you're coming off the holidays and wanting to relax and just hang with good friends and family.
What's your favorite way to entertain on Christmas Day?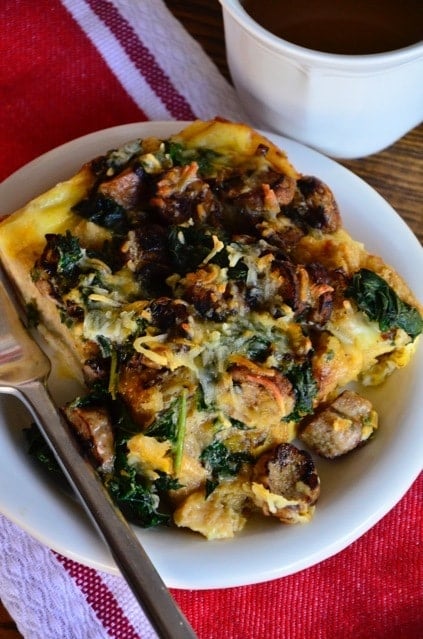 Get the Recipe: Sausage, Egg, and Kale Strata Recipe
I used Spelt bread to make it wheat-free.
Ingredients
1 cup leeks, cut in rings, rinsed thoroughly
2 T. oil
3/4- 1 pound breakfast sausage
7 cups chopped curly kale leaves
1/2 loaf multigrain, spelt, or hearty bread (about 5 cups), cubed in 1/2" pieces
12 eggs
2 cups milk
1 T. Dijon mustard
Salt and pepper
8 ounces Fontina or Guyre cheese, about 2 cups
Instructions
Heat oil in a heavy bottomed skillet on medium-high heat. Saute the leeks with a pinch of salt and pepper, until they are translucent. Raise the heat to high and add the sausage and cook for 5-8 minutes or until browned.

Add in the kale as it will fit. Reduce the heat to medium, tossing and adding in more kale as there is room, until wilted but still bright green, 1-3 minutes.

Place the bread in a buttered 9×13 baking dish and top with the cooked sausage and kale mixture.

Whisk the eggs in a large bowl. Whisk in the milk, mustard, 1 tsp. salt and 1/2 tsp. pepper. Stir in the cheese. Pour over the bread mixture; cover and refrigerate for 1 hour or up to 2 days in advance.

Heat oven to 350 degrees. (If the strata is refrigerated overnight, remove from the refrigerator 40 minutes before baking). Bake until golden brown and set around the edges, but still wobbling in the center, 40-45 minutes. Let cool for 15 minutes before cutting. Serve warm or at room temperature.
Hello and welcome to my home and table!
I'm Sandy—lover of food, family, cooking, THE BIG BOARD, travel, and bringing people together. Through great recipes and connection around the table, we become better, stronger, and more courageous people. Feasting on Life is real, and every time we do it, we grow a little more. Read more...