Mediterranean Fish Burger Dinner Board
Mediterranean Fish Burger Dinner Board is an easy way to serve dinner. Make with Crispy Fish Fillets, sautéed greens, and favorite toppings!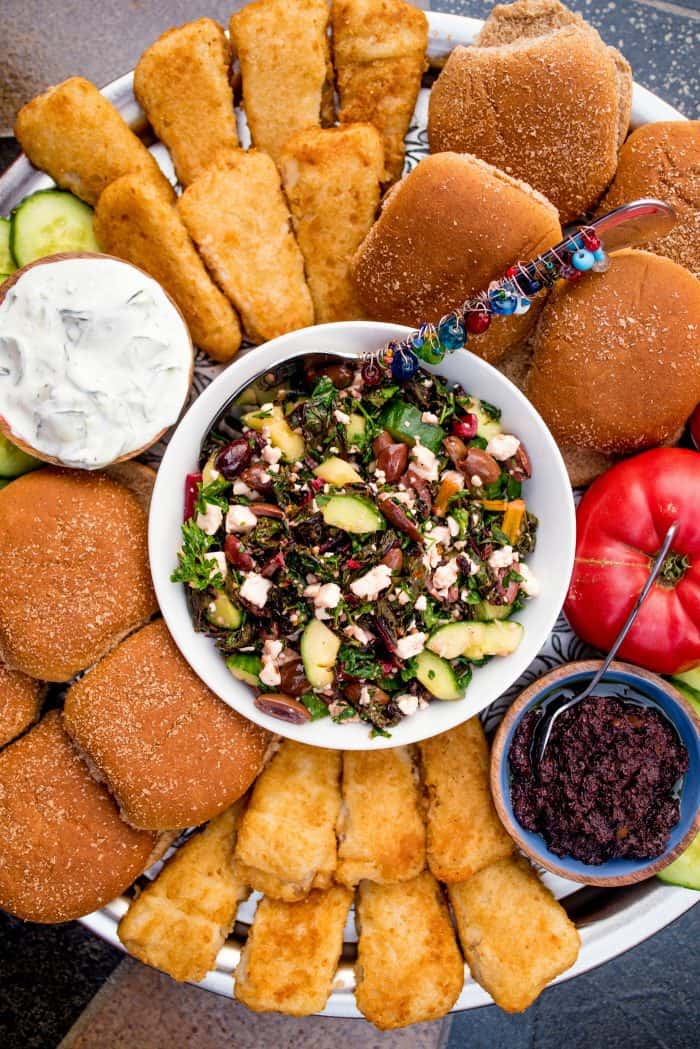 Enjoy a delicious Mediterranean Fish Burger Dinner Board for a casual dinner! The sautéed greens and the special sauce really make these burgers scrumptious!
Sharing a seafood feast with friends is one of the things we love about summer! You may have already tried our Fish Sticks Taco Board. Such a cool, bright, festive way to bring people together for Taco Night!
Mediterranean Fish Burger Dinner Board
We served this outside on our front deck, but it's truly an "anytime" dinner board. Ask your friends to bring an appetizer or dessert, and you'll have a party!
Ingredients for fish burger board:
Crispy Battered Fish Fillets
Tapenade
Tzatziki sauce
Heirloom tomatoes
Sliced cucumber rounds
Hamburger buns
Sautéed Mediterranean Greens: see recipe below
To build friendships with your dinner guests, you have to be intentional about who you invite over! For years, my husband and I have thought about who should get to know who, and who do we want to get to know better? Making that dinner invitation with intentionality takes a little thought.
Fish Burger Dinner Board
We had friends over last week for the most casual dinner, and served this Mediterranean Fish Burger Dinner Board.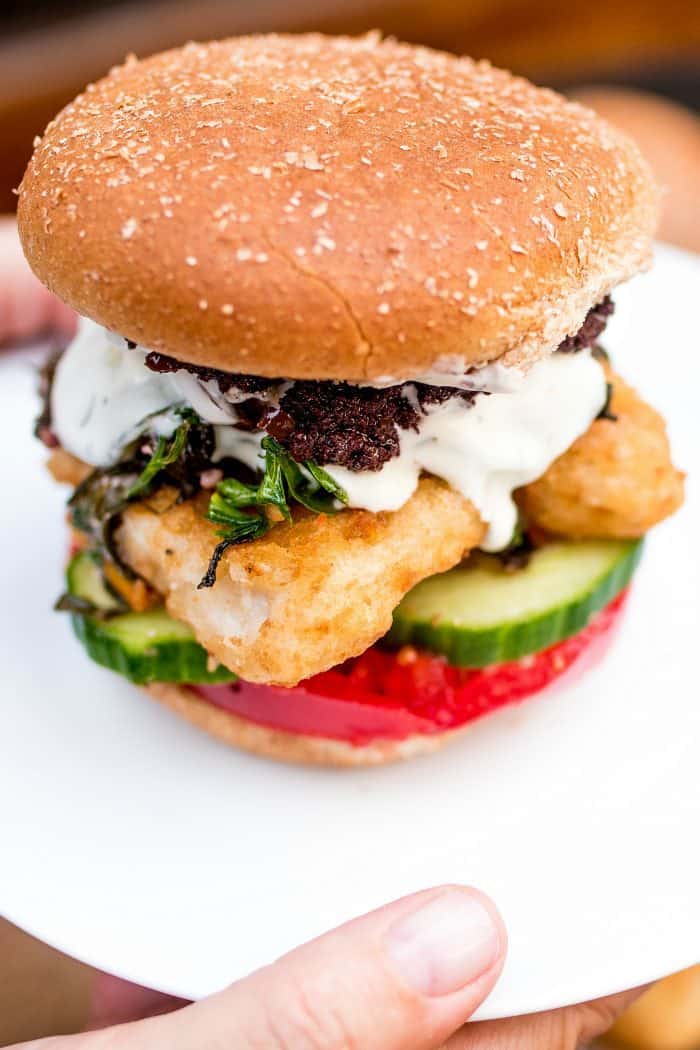 Gorton's Crispy Battered FIsh Fillets
What a fun, easy way to serve dinner, using Gorton's Crispy Battered Fish Fillets, and the most freshest, tastiest, sautéed Mediterranean greens.
Everyone makes their own fish burger!
We love that Gorton's Seafood makes entertaining super simple. First of all, Gorton's is "trusted by those who know seafood," because they have fed families around the world for generations. Gorton's has actually been around for 167 years, in recent decades with the finest frozen seafood.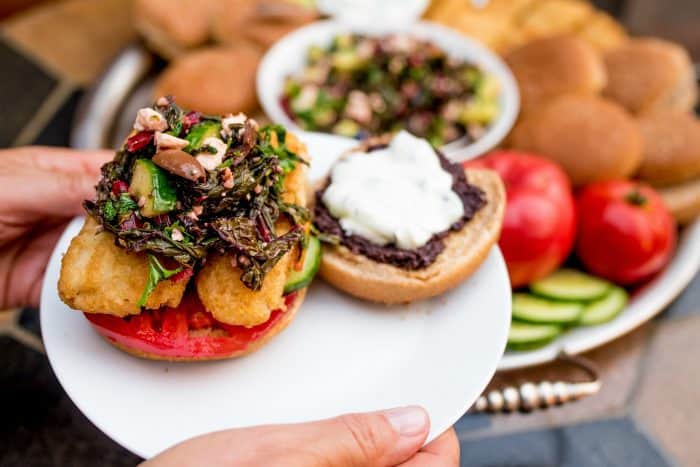 These Crispy Battered Fish Fillets are made with haddock (hello, delicious fish burger!)
Sautéed Mediterranean Greens
Make the Sautéed Greens with these ingredients:
You can also add their fish to classic dishes, like my Salmon Spaghetti Carbonara, and keep it in the freezer for weeknight meals or last-minute guests. My friend, Lori, used the same salmon and made delicious Salmon Wellington.
We recently served these Shrimp Scampi Taco Bites at a Mexican feast; a super simple party appetizer!
Putting together a board for easy hosting
How often we host depends on how casual we keep our dinners. The more casual, the more we can have last-minute guests in, spend less money than a dinner party, and help our mission of focusing on hospitality (not entertaining).
Which is why I love to put together a board, and let everyone dig in!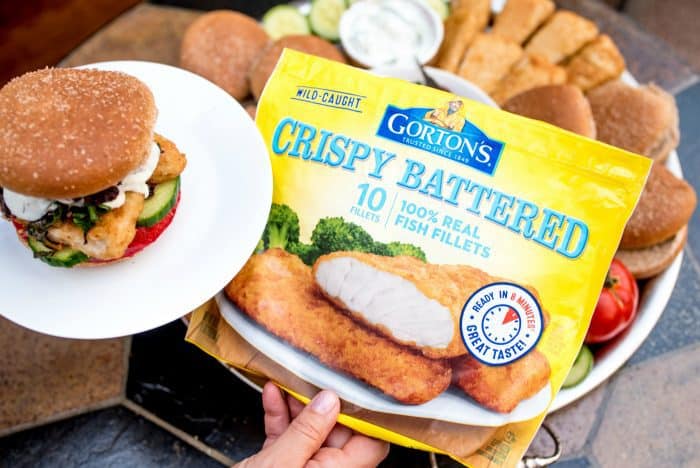 Friends, when we make those invites to get to know people better, and to share our tables, we are extending an invitation to invite them into our lives, not just to dinner, but to an ongoing friendship!
Enjoy this Mediterranean Fish Burger Dinner Board idea–super fun for a casual dinner!
Friends, The Big Board is here! Yes, I've partnered with JK Adams, the premier woodmaking company in Vermont, with my own line of RE boards!
20-inch
26-inch
12 x 36-inch
23-inch Lazy Susan
A board with a lip (or raised edged) so the food doesn't fall off
FOOD SAFE
Made in the USA
Undercut handles (a unique design)
Thank you for your support, as we've sold out so many times already!
Order The Big Board today!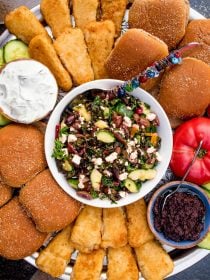 Get the Recipe: Mediterranean Fish Burger Dinner Board
Mediterranean Fish Burger Dinner Board is a causal way to serve dinner guests. Made with fish fillets on buns, served with sautéed greens, tomaotes, tzatziki sauce, and cucumbers.
Ingredients
1 package Gorton's Crispy Battered Fish Fillets, 10 Count
4 oz tapenade
1/2 c tzatziki sauce
2 heirloom tomatoes, cut into thick slices
Sliced cucumber rounds
Hamburger buns
Sautéed Mediterranean Greens: 1 bunch rainbow chard
1 lemon, juiced
1 Tbsp. maple syrup
1/4 c olive oil
2 Tbsp. garlic
1/4 cup currants
A pinch of red pepper flakes
1 tsp cinnamon
1/2 tsp nutmeg
Salt to taste
1/2 cup feta
1 cup chopped parsley
1 cup chopped mint
1/2 cup kalamata olives, halved
1 cup chopped cucumber
Instructions
In a large sauté pan, heat olive oil on medium high heat for 2-3 minutes, then add garlic and allow to brown slightly. Add in lemon juice, maple syrup, currants, and all spices. Allow currants to cook for about 2 minutes on medium heat. Next, add rainbow chard and allow to reduce—5-7 minutes. When greens have wilted, remove from heat, set aside, and allow to cool.

When greens have cooled slightly, add cucumber, feta, and olives. Toss lightly, then transfer to bowl for serving. Prepare the rest of your board with the remaining ingredients.

On a bun, place 2 crispy fish fillets, tomato, cucumber, tapenade, Mediterranean greens, and tzatziki sauce and serve!
Disclosure: This post wad sponsored by Gorton's.
Hello and welcome to my home and table!
I'm Sandy—lover of food, family, cooking, THE BIG BOARD, travel, and bringing people together. Through great recipes and connection around the table, we become better, stronger, and more courageous people. Feasting on Life is real, and every time we do it, we grow a little more. Read more...