Blind Medjool Date Cake Recipe
A moist, delicious cake that is perfect for a potluck or party, this Elaine's Blind Medjool Date Cake Recipe is made with fresh medjool dates!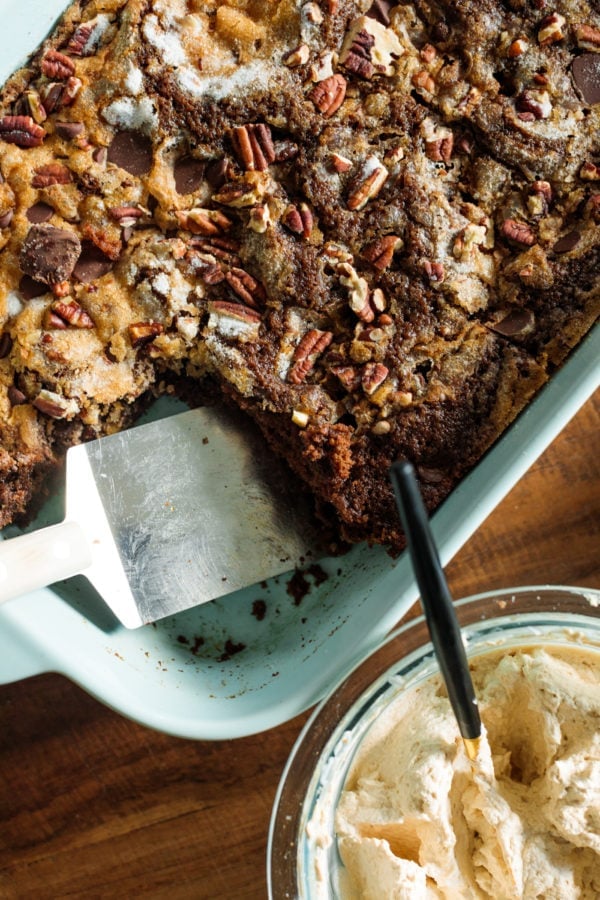 Friends, this Blind Date Cake is moist and very soft and easy to make. I got this from my mom's church cookbook from years ago.
Elaine's Blind Date Cake
It's called "Elaine's Blind Date Cake" … so now I wonder who Elaine was, and did she marry the guy she was set up with? HA. Please someone help me! :)
Medjool Date Cake Recipe
When we were in the desert in March, my neighbor Sue brought me some fresh dates, and we made a delicious appetizer that I'll be sharing here soon. There's nothing like Palm Springs dates! For this recipe, we used fresh Medjool dates (I bought them at Costco). What really makes the recipe, too, is the Guittard Super Cookie Chips, if you can find them. I'll link to them here on Amazon.
You can also use your favorite brand or flavor of chocolate chips!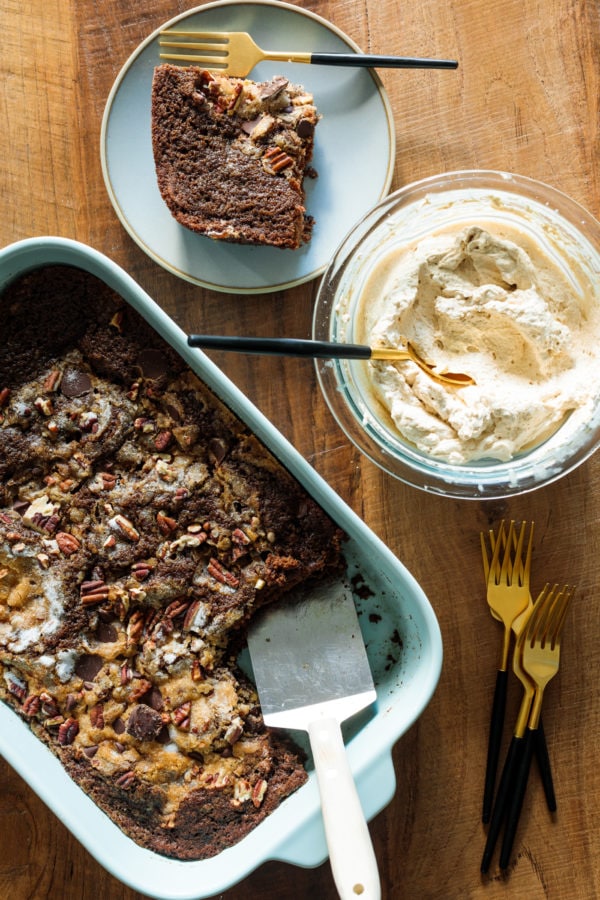 Ingredients for date cake:
Dates (fresh Medjool dates are best)
Boiling water
Baking soda
Butter + sugar + eggs + vanilla
Flour + cocoa + salt
Guittard Super Cookie Chips (or your favorite chocolate chips)
Pecans (optional, but I promise they are fantastic in this cake!)
How to bake date cake
Here's what I love about this cake, besides the memories as a kid, mom making this for potlucks and picnics. I love the crunchy topping and the mushy dates. It's so moist and delicious! I changed up a few ingredients, but it's really fantastic.
In fact, I made it again for eight guests for dinner over the weekend.
I baked it for exactly 38 minutes and it turned out quite moist and lovely.
You don't want to overbake this cake, and it will be very moist!
You can serve it warm, with fresh whipped cream and vanilla ice cream.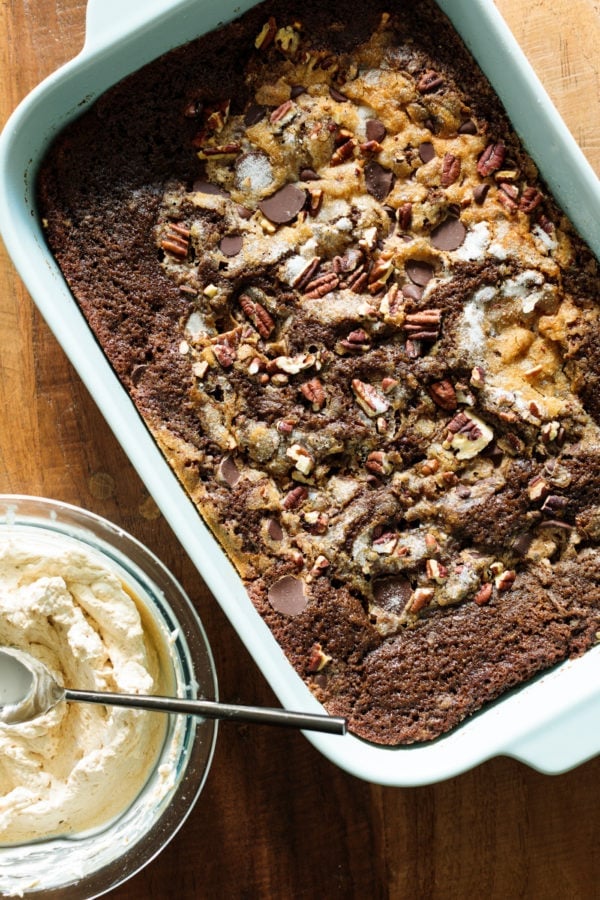 How to make the whipping cream
All you need are these ingredients:
Heavy whipping cream
Coconut sugar, or soft brown sugar or powdered sugar
Vanilla extract
In a medium bowl, add the cream and whip for 3-5 minutes until thick (don't over-whip).
Add sugar and vanilla; mix together and serve on top of the cake.
Fly fishing the Crooked River
In the meantime, our son was home last week, we've been out at the Crooked River, out by Prineville, OR, and I rediscovered this quote that I want to share today.
Today is the Best Day
"Write it on your heart
that every day is the best day in the year.
He is rich who owns the day, and no one owns the day
who allows it to be invaded with fret and anxiety.
Finish every day and be done with it.
You have done what you could.
Some blunders and absurdities, no doubt crept in.
Forget them as soon as you can, tomorrow is a new day;
begin it well and serenely, with too high a spirit
to be cumbered with your old nonsense.
This new day is too dear,
with its hopes and invitations,
to waste a moment on the yesterdays." ― Ralph Waldo Emerson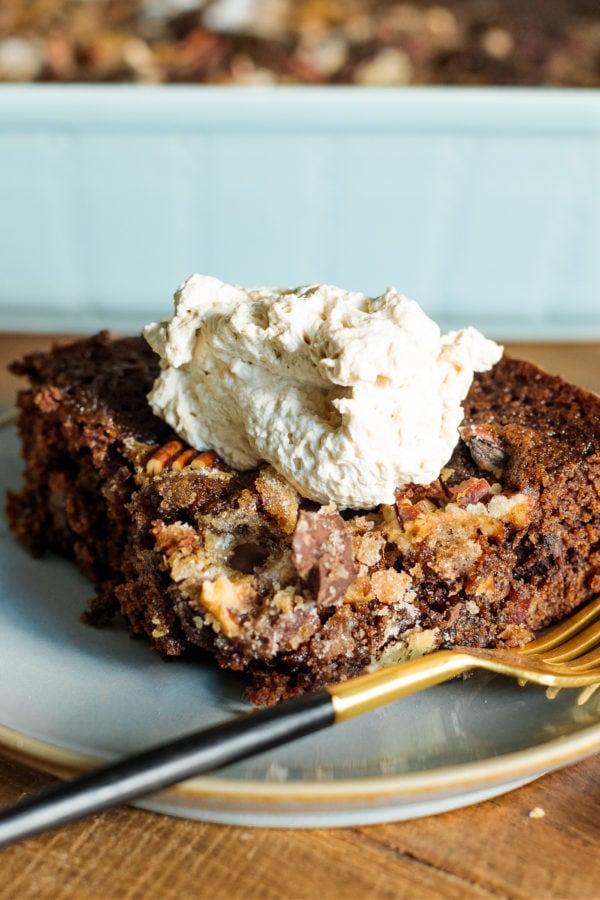 So here's a delicious date cake sprinkled with chocolate chip topping – a cool dessert treat!
Happy June!
More recipes with Medjool Dates:
Healthy Banana Bread with Medjool Dates
Cranberry Goat Cheese Stuffed Dates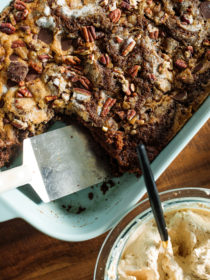 Get the Recipe: Blind Medjool Date Cake Recipe
Ingredients
1 c dates, chopped
1 ¼ c boiling water
1 tsp baking soda
1 stick butter, softened
1 cup sugar
2 eggs, beaten
1 tsp pure vanilla extract
1 ¼ c flour
2 Tbsp cocoa
1 tsp salt
Topping:
½ c sugar
1 c chocolate chips, Guittard Super Cookie Chips are the best
½ c chopped pecans, optional
Whipping cream:
2 c heavy whipping cream
3-6 Tbsp coconut sugar, or soft brown sugar or powdered sugar
1 tsp vanilla extract
Instructions
Preheat your oven to 325. In a medium bowl, pour the boiling water over the dates and mash them. Let this mixture cool before adding the baking soda; set aside.

Cream together the butter, 1 cup of sugar, beaten eggs, and vanilla. Sift together the flour, cocoa and salt. Stir all three of these mixtures together and pour into greased 9x13 pan.

Stir together the other 1/2 cup of sugar, chocolate chips and nuts; sprinkle over cake. Bake at 325 for 38 minutes, or until cake tests done in center. Serve with whipped cream.
Whipping cream:
In a medium bowl, add the cream and whip for 3-5 minutes until thick (don't over-whip).

Add sugar and vanilla; mix together and serve on top of the cake.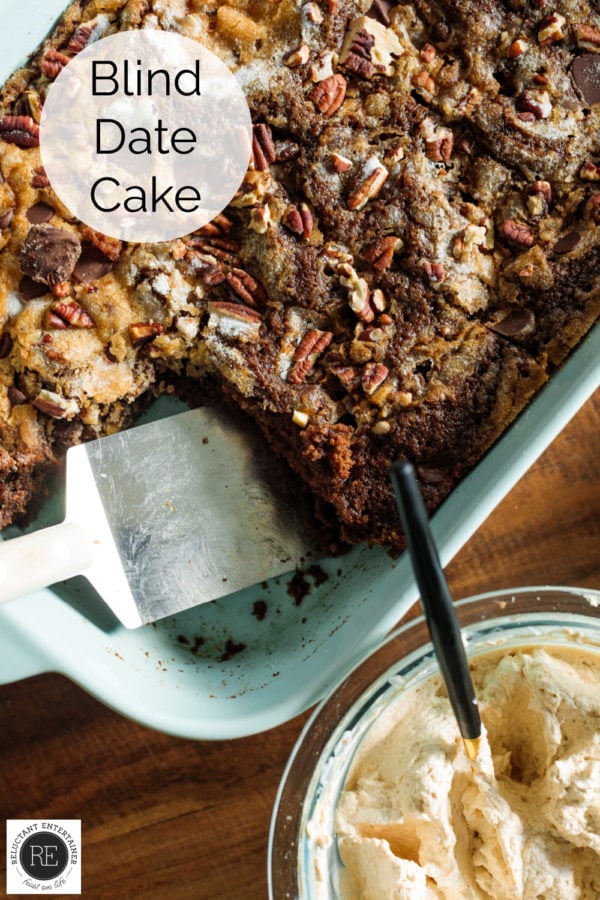 Hello and welcome to my home and table!
I'm Sandy—lover of food, family, cooking, THE BIG BOARD, travel, and bringing people together. Through great recipes and connection around the table, we become better, stronger, and more courageous people. Feasting on Life is real, and every time we do it, we grow a little more. Read more...