Summer Squash Salad Recipe
A simple, fresh summer salad, this Summer Squash Salad Recipe made with zucchini, red onion, feta cheese, and an amazing fresh vinaigrette!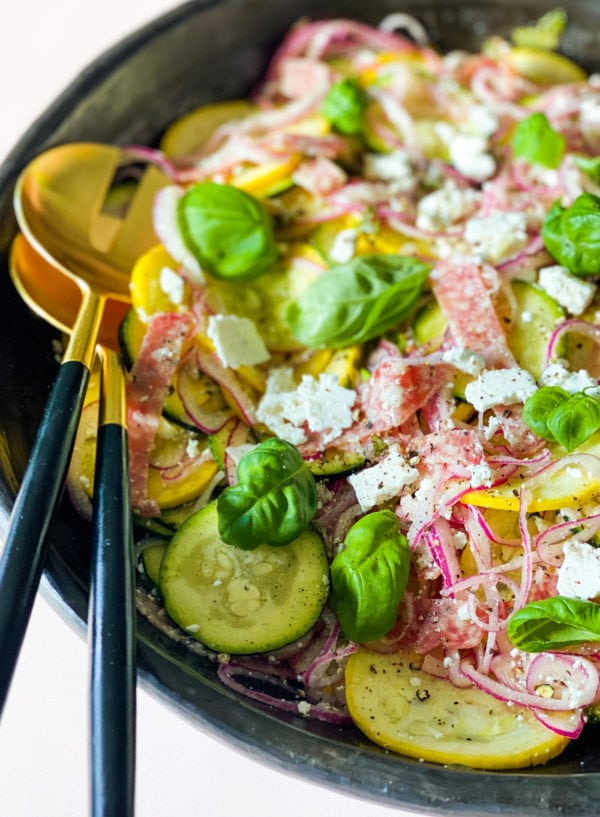 Friends, this is my go-to salad this summer. If you come for dinner, I'll be making this Summer Squash Salad for sure. This week our friends Lloyd and Laurel are coming to visit!
Summer Squash Salad Recipe
Maybe I'll change it up a bit here and there, but wow, it's good. The last few years I'd make this Cucumber Salad Recipe with Pineapple and Cilantro and Forbidden Black Rice Salad. Again, two of my favorites.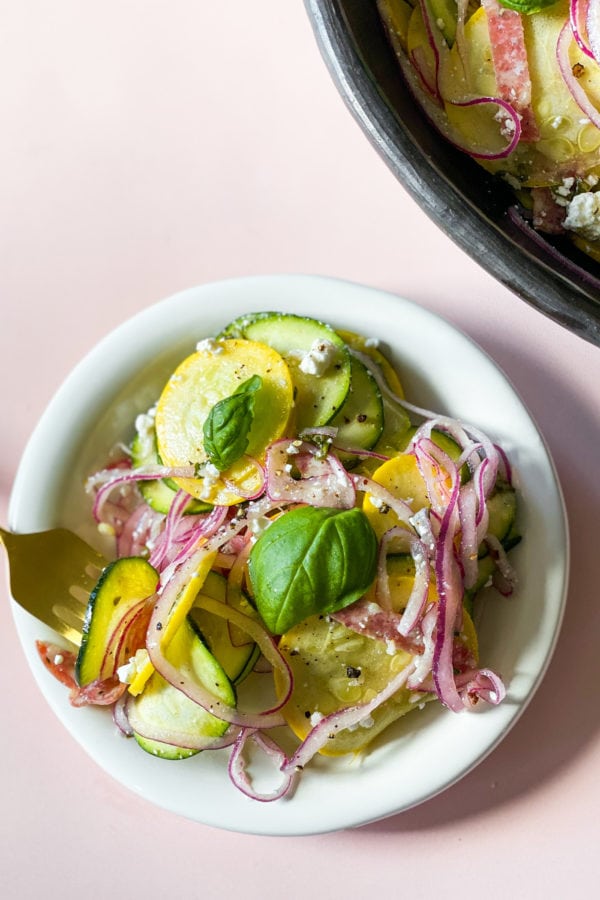 This past weekend, it was a delight to cook for our kids who were home, and their friends. Cooking reminds me of how I love to be in my kitchen, and bring my people together around our table. I wish more people would realize that all you have to do is tell others you love them, then gather them together for a good comfort meal.
Summer Squash Salad Recipe with zucchini
All you need for this salad are these ingredients:
White wine vinegar + olive oil
Fresh basil
Garlic
Salt + pepper
Summer squash: zucchini and yellow zucchini or yellow summer squash
Red onion
Salami
Good quality feta cheese (we used Trader Giotto's feta cheese)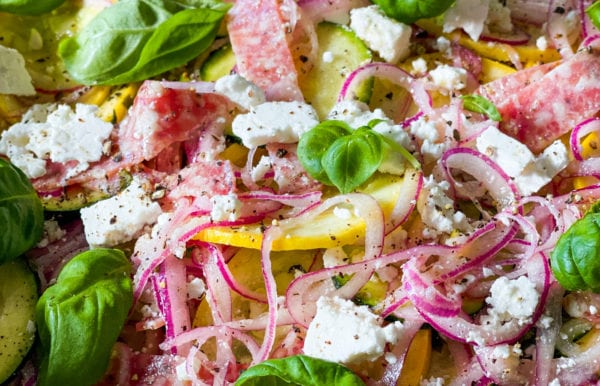 Favorite kitchen tool: Mandolin
Do you have a mandolin? If not, you should. I use it so much in the kitchen, it's one of my favorite tools. It slices veggies to the perfect size you are needing for a recipe.
Here's the link to one that will fit your budget. Buy a mandolin, HERE.
Again, this tool makes salads AMAZING!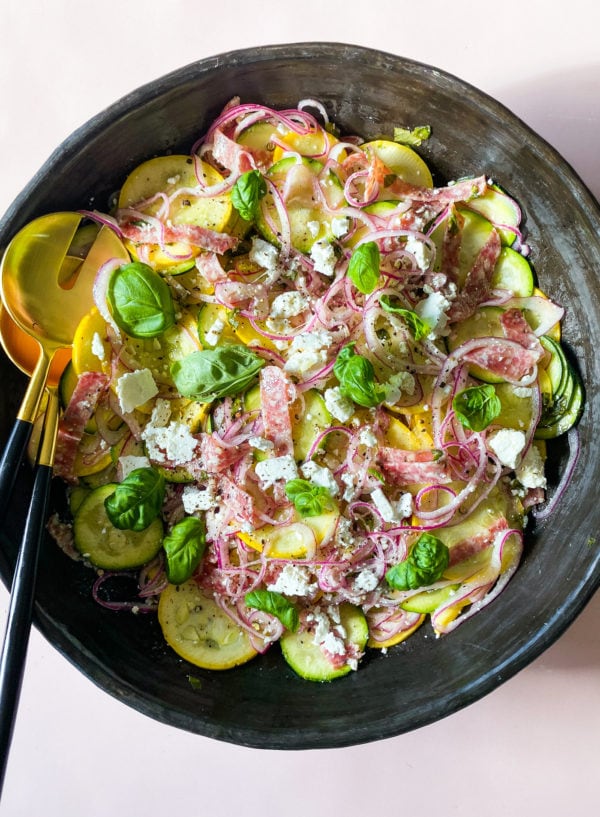 Veggies to slice with mandolin for squash salad
Tip for this salad is to slice the zucchini and red onion very thin, into rounds.
Optional to slice a few radish for the garnish. I did this the other night when I made this salad again. Remember this is my new go-to salad to make this summer for guests (wink-wink).
Of course for zucchini, you should also have a spiralizer!
Another tip for the salad is that we use a lot of Trader Joe's White Modena Vinegar. It's delicious in so many recipes, but even just sprinkled on a green salad with a drizzle of olive oil? DELISH!
I may be late to the party, but I had not noticed that Trader Joe's has another brand in their store. It's called Trader Giotto's. Did you know this? Anyway, their Trader Giotto's feta cheese is fantastic!
Summer in my soul makes me think of these fantastic recipes:
On Sunday's on Instagram, I'll often post a beautiful picture of the outdoors, usually on my walk, with the caption "Sunday in my soul." There's something about a Sunday that is good for the soul. Yours, too?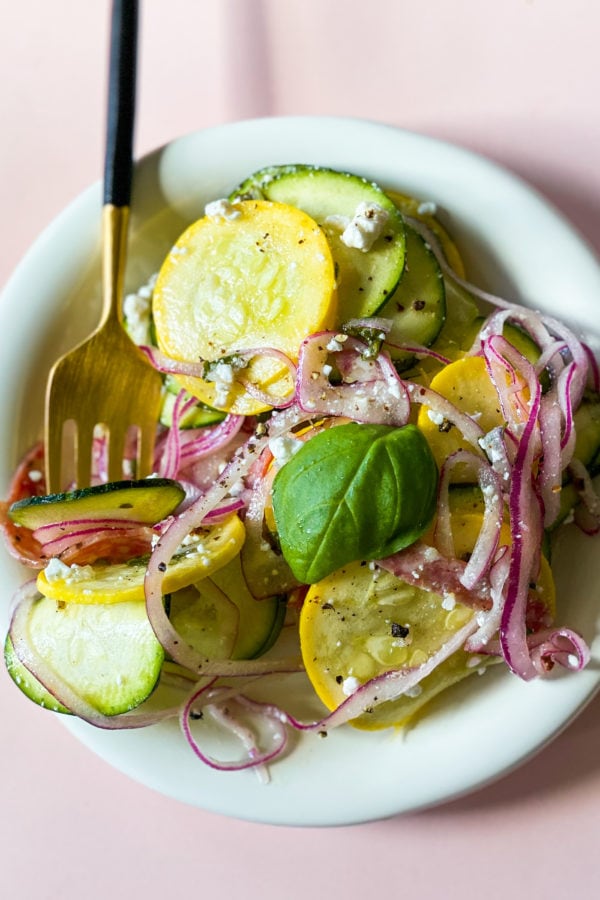 Happy Memorial Day weekend!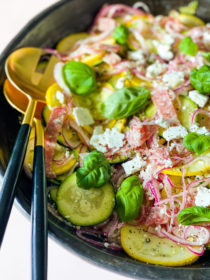 Get the Recipe: Summer Squash Salad Recipe
Ingredients
Vinaigrette:
6 Tbsp white wine vinegar, we use Trader Joe's White Modena Vinegar
6 Tbsp olive oil
4 Tbsp chopped fresh basil
5 garlic cloves, pressed
1 tsp kosher salt
½ tsp fresh cracked black pepper, plus more
Salad:
2 medium zucchini, thinly sliced
2 medium yellow squash, thinly sliced
1 medium onion, halved, thinly sliced
6 oz thin-sliced salami, cut in thin strips
1 cup fresh basil leaves, cut into thin strips (keep about 2 Tbsp out for topping)
6 oz feta cheese, we used Trader Giotto's feta cheese
Instructions
For the vinaigrette: In a small bowl, whisk together the vinegar, oil, fresh basil, garlic, salt and pepper. Set aside.

Using a mandolin, thinly slice the zucchini and squash and red onion; add to a large bowl. Add the dressing and gently mix together.

Cut the salami and fresh basil in thin strips. Add to the salad.

Crumble the feta cheese on top. Add the remaining basil and sprinkle with more fresh cracked black pepper.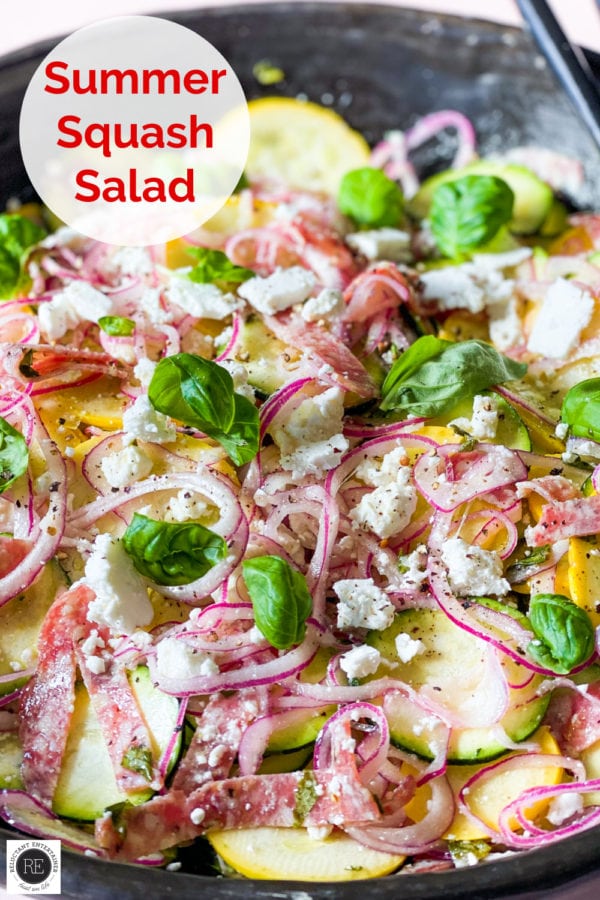 Hello and welcome to my home and table!
I'm Sandy—lover of food, family, cooking, THE BIG BOARD, travel, and bringing people together. Through great recipes and connection around the table, we become better, stronger, and more courageous people. Feasting on Life is real, and every time we do it, we grow a little more. Read more...