Watermelon Feta Bites Appetizer
Watermelon Feta Bites Appetizer are an elegant bridal or baby shower, potluck or a snack out by the pool recipe, with a basil drizzle on top!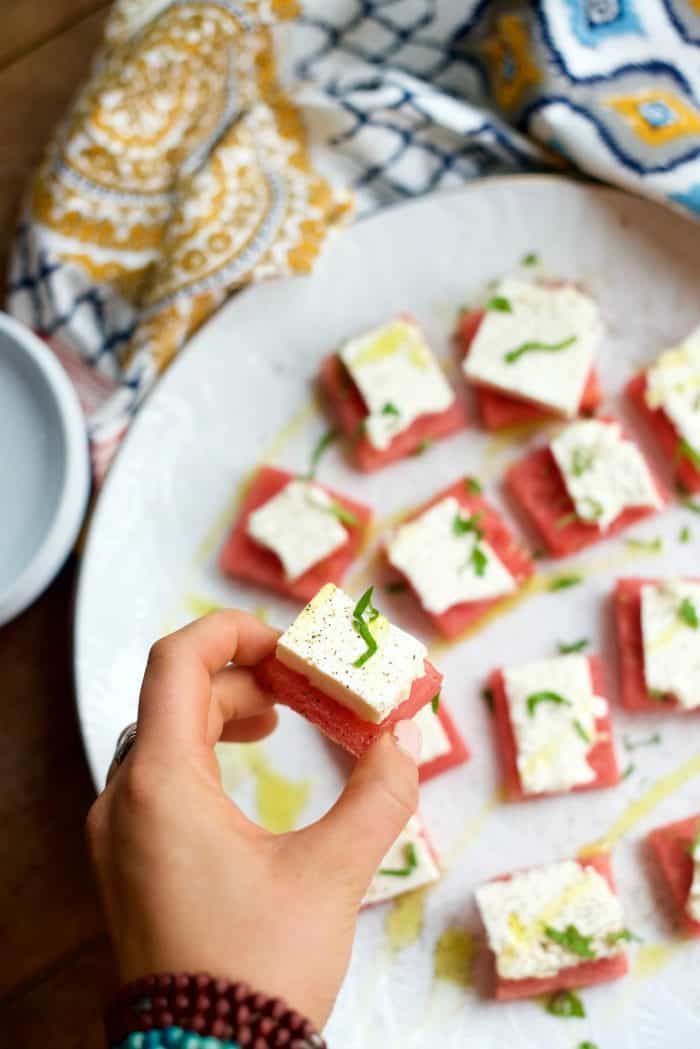 You may enjoy a good watermelon feta salad, but have you tried Watermelon Feta Bites Appetizer with a basil drizzle? So good. Bring to a party or just enjoy as a light, summer appetizer.
This has got to be one of the easiest, most elegant appetizers.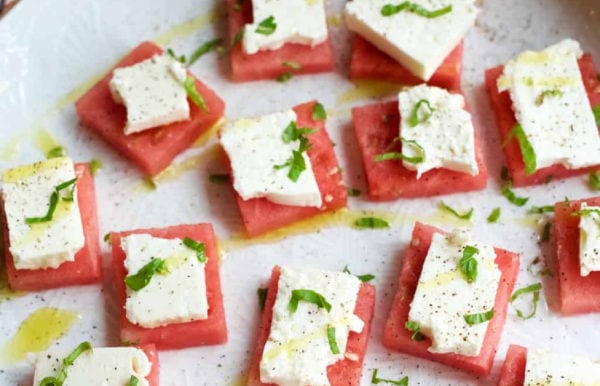 Watermelon Feta Bites Appetizer
All you need are these ingredients:
Fresh basil leaves
Olive oil to drizzle
Watermelon
Feta cheese (use a good quality)
Salt and pepper
This past week, it was a delight to cook for some friends. Cooking reminds me of how I love to be in my kitchen, and bring my people together around our table. We've also been enjoying meals outside by the fire, with our puffy jackets on, but oh, so beautiful.
We Flank Steak with Cocoa Chili Rub, served a Greek Pasta Salad with Grilled Corn Pineapple Salad (so good this time of year). If you're a watermelon lover, you'll have to try this Easy Watermelon Skewers!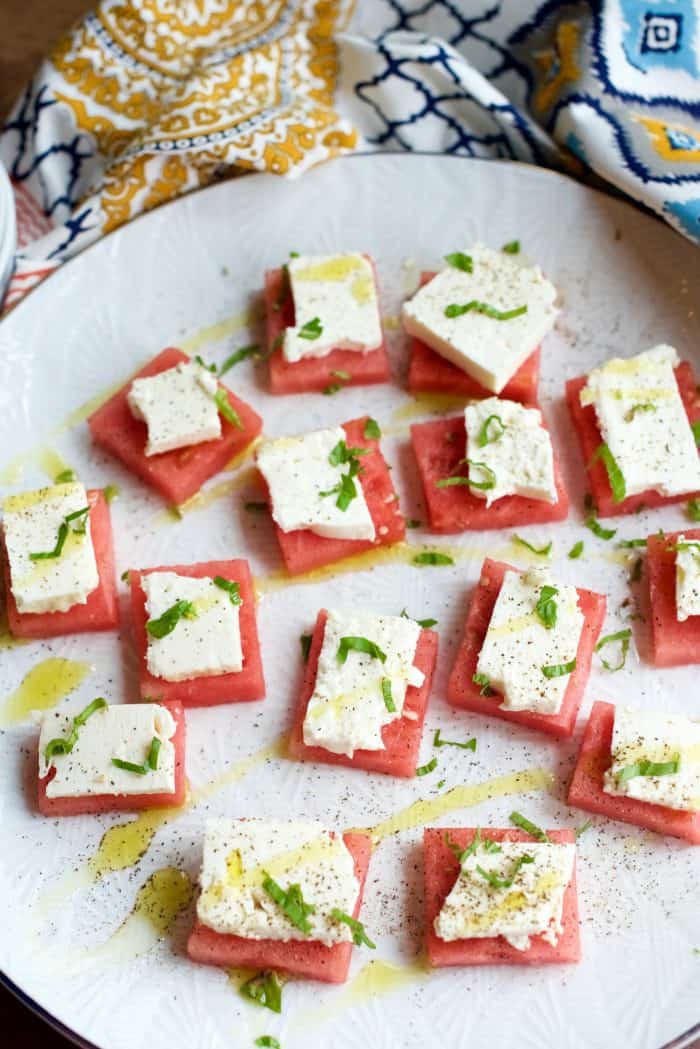 Feta and Watermelon Bites
For a little nosh before dinner, this Watermelon Feta Bites Appetizer.
If you love watermelon feta salad, then these bites are a mini version of that.
Shauna Niquest says, Gather the people you love around your table and feed them with love and honesty and creativity.
What this means to me is that sometimes the conversation around the table is light and fluffy, and sometimes it's meaty and robust.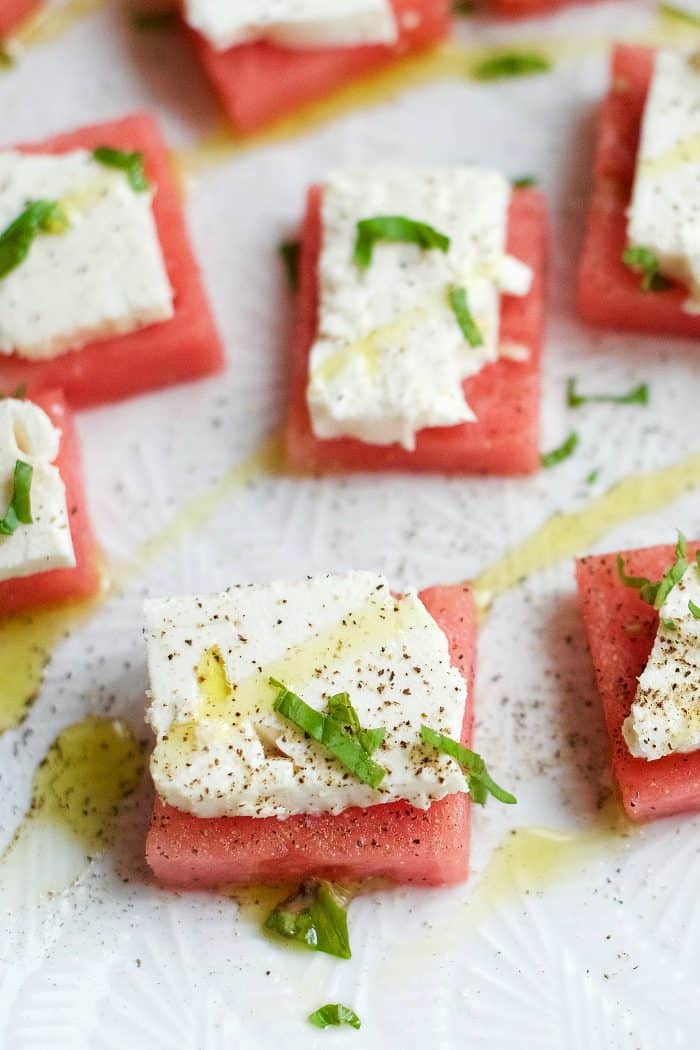 We've always had honest conversation with our kids and that pattern continues today. And just as with our family, we love to ask questions when company comes to dinner. It makes the table interesting and fun.
Easy Watermelon Nosh
We're totally ready to feast on life this summer … dinner with friends, hiking, picnics, meeting new people, neighbors, and investing in our town a little more.
Can't wait.
I wish more people would realize that all you have to do is tell people you love them, then gather them together for a good comfort meal!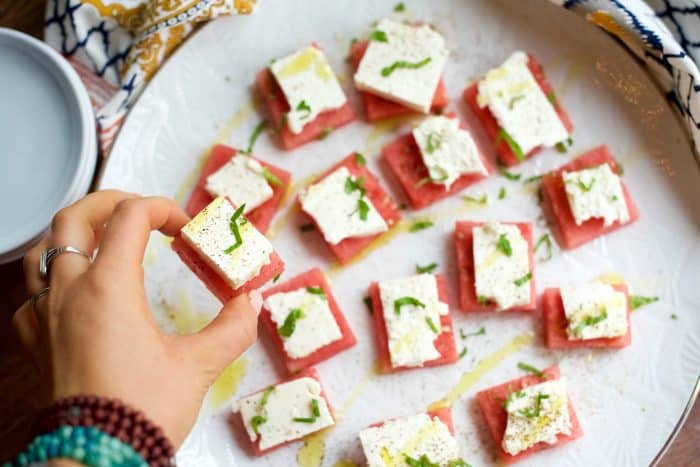 For now, enjoy this little nosh. ENJOY!
Happy weekend!
More watermelon recipes:
Grilled Watermelon with Smoked Salt and Jalapeno Rings
Watermelon Blackberry Lime Salad
Get the Recipe: Watermelon Feta Bites Appetizer
Ingredients
¼ cup fresh basil leaves
Olive oil to drizzle
Watermelon, sliced 1" thick in squares
1 block of feta cheese, sliced 1/4" thick in squares
Salt and pepper
Instructions
Remove the basil leaves from the stem and chop into thin strips.

Slice the watermelon and feta, placing the feta on top of the watermelon.

Sprinkle basil evenly on top of watermelon and feta.

Drizzle with olive oil.

Salt and pepper watermelon lightly.
Notes
Reposted from May 2018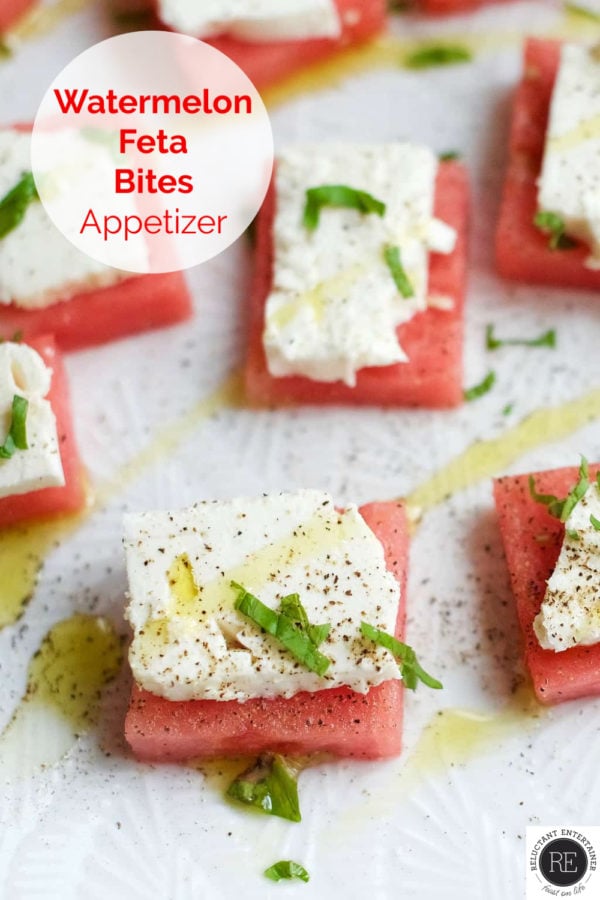 Hello and welcome to my home and table!
I'm Sandy—lover of food, family, cooking, THE BIG BOARD, travel, and bringing people together. Through great recipes and connection around the table, we become better, stronger, and more courageous people. Feasting on Life is real, and every time we do it, we grow a little more. Read more...