Strawberry Goat Cheese Bruschetta
Strawberry Goat Cheese Bruschetta is topped with a creamy goat cheese mixture, fresh strawberries, balsamic glaze, and garnished with mint.
Friends, happy SUMMER hosting with my very easy, Strawberry Goat Cheese Bruschetta recipe.
Strawberry Goat Cheese Bruschetta
It's a simple, flavorful appetizer, ready in minutes for a dinner party, or even last minute guests! And if you're looking for another quick appetizer "ready in minutes," try this Salami Wrapped Pepperoncini Rollups!
I also love how beautiful strawberries are on an appetizer or a dessert. Like these recipes: Strawberry Cream Shortbread Dessert, Tangerine Poppy Seed Cake with Strawberries, and Endive with Strawberry Mint Honey Recipe.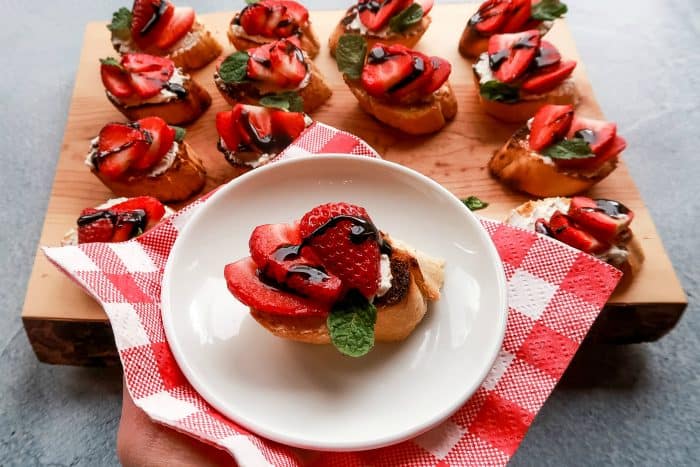 Ingredients for Strawberry Goat Cheese Bruschetta
Super easy ingredients, here's what you need for this recipe:
French baguette
Olive oil
Goat cheese
Cream cheese
Fresh strawberries
Balsamic glaze*
Mint leaves (yes, mint can be substituted with fresh basil)
*The balsamic glaze really makes this recipe. Here you can buy a pack of 2 of this Delallo Modenacrem Balsamic Glaze 8.5 Oz (Pack of 2). We always keep this stocked in our pantry, and eat it sparingly, because it's that good! [affiliate link]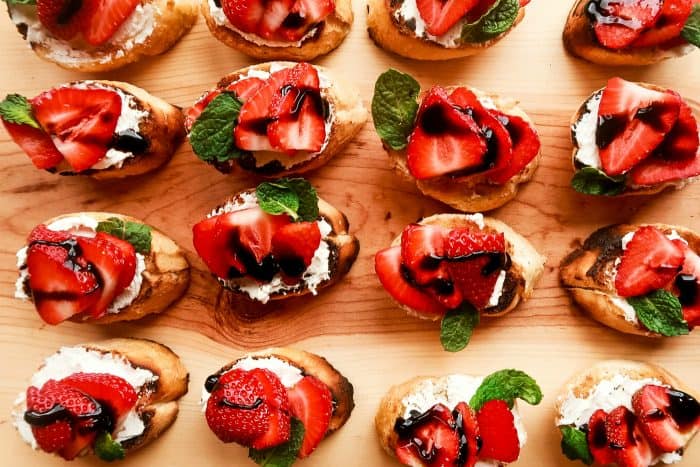 The Apple Tree, by Kayla Rose
Last year I was delighted to read my niece's first ever novel (let's open the champagne!) The Apple Tree, by Kayla Rose.
Of course I'm putting a plug in for her today, being the proud Aunt, for her amazing accomplishments.
What a fun, heartwarming book to read, and so well-written, with so many twists and turns! I thoroughly enjoyed myself, reading it on the plane to the east coast. I don't read a lot of "romance" novels or books in this genre, so I'll admit that I was pleasantly surprised, sucked into the story of Drew Caldwell.
3 more books by Kayla Rose
But wait! Since Kayla's first book, she has written 2 more: The Hallowed Halloway and The Rain in Sapphire. But wait, she has a 4th NEW book out: The Sugar Thorns.
Get your copies today for any young adult novel fans!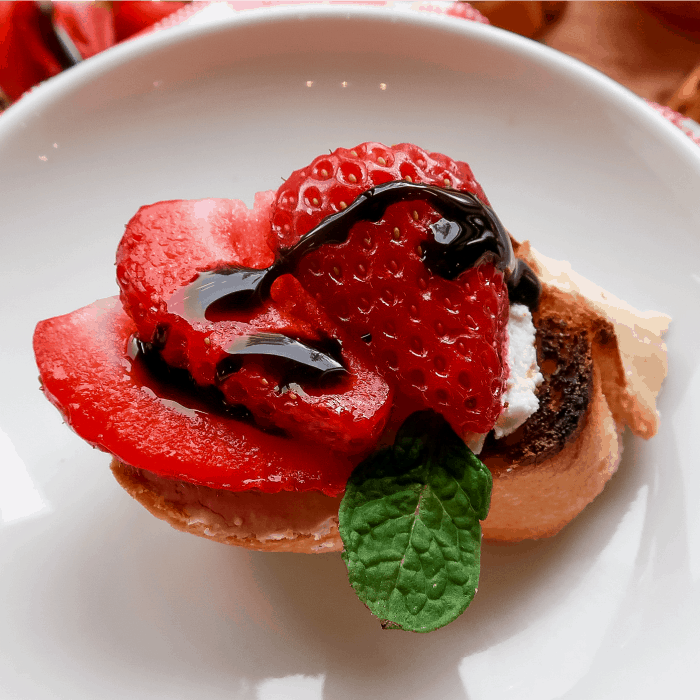 Thanks for letting me share this with you all. Not everyone can write books and publish them in your 20s! So great job, Kayla Rose! With love, your proud Auntie! :)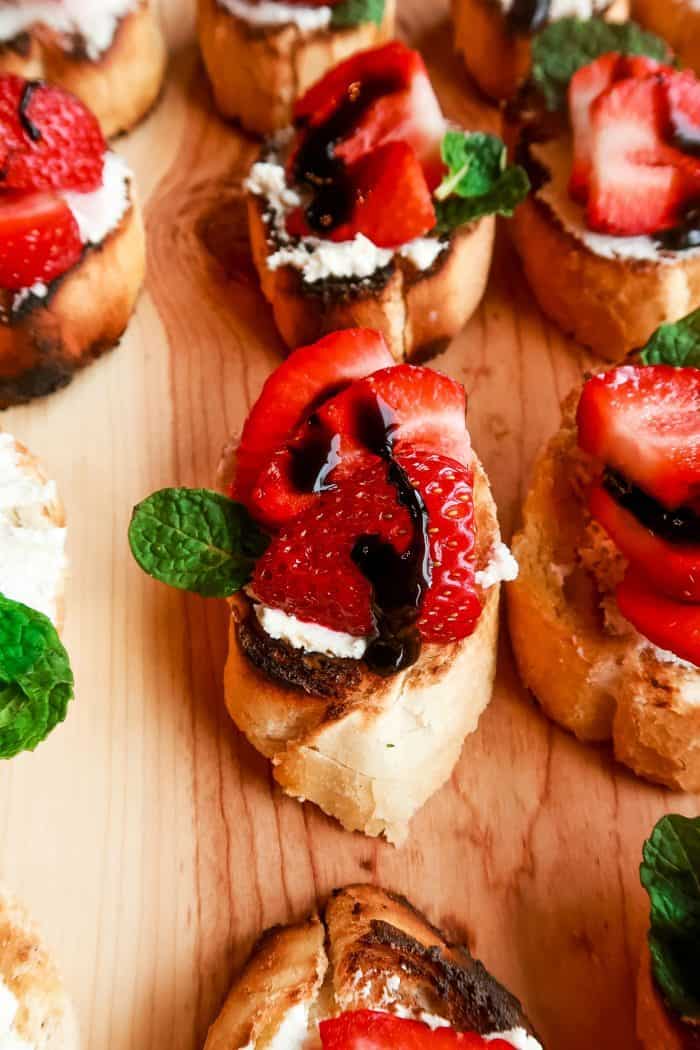 Easy entertaining
Back to our appetizer. Add this to your menu if you're having neighbors over for a glass of wine and a book discussion, or making up a beautiful platter for spring or summer hosting!
DELISH!
More bruschetta recipes! Instant Pot Chicken Bruschetta and Cucumber Bruschetta.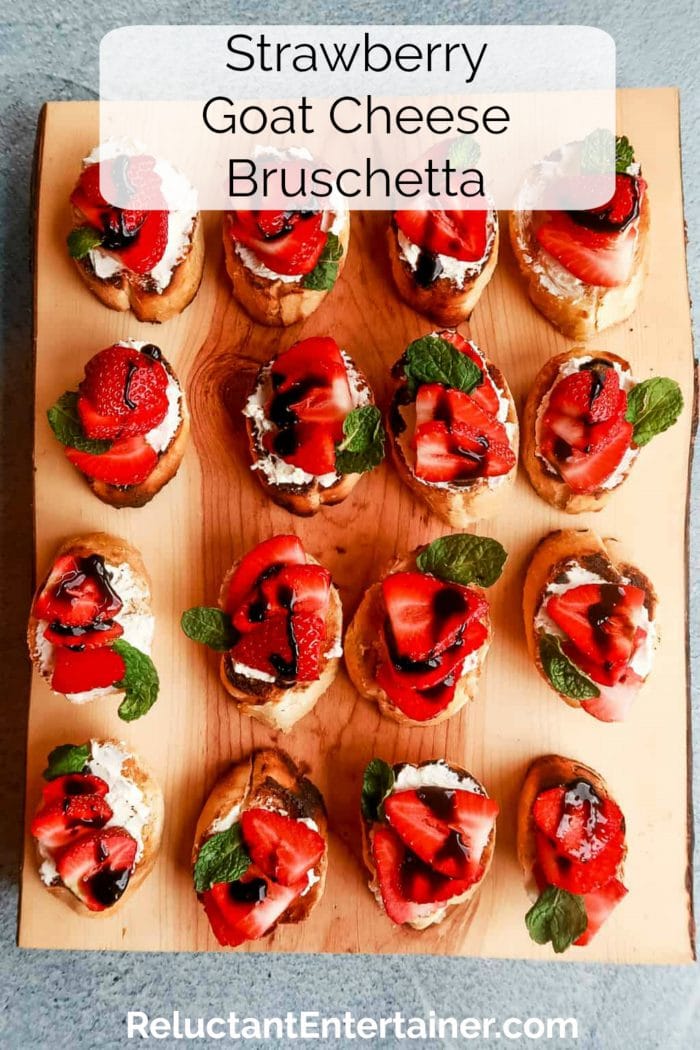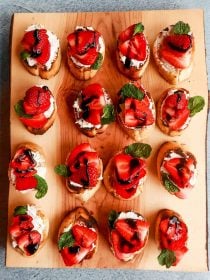 Get the Recipe: Strawberry Goat Cheese Bruschetta
Ingredients
1 French baguette, sliced 1/4" thick
Olive oil
2 oz goat cheese
2 oz cream cheese, softened
10-16 fresh strawberries, hulled and sliced
3 Tbsp. balsamic glaze, we love DeLallo brand
1/3 cup small mint leaves for garnish
Instructions
To prepare the bread, preheat oven to BROIL. Lay the slices of bread on a baking sheet. Drizzle with olive oil.

Broil each side for about 30 seconds until toasted and brown. (Don't walk away, it's easy to over-toast the bread:)

Combine cheeses in a small bowl and mix well.

Spread the toasted baguette slices with cheese mixture and top with strawberries, pressing the strawberry pieces into the cheese.

Drizzle with balsamic glaze and garnish with a fresh mint leaf. Serve!
Notes
reposted from April 2019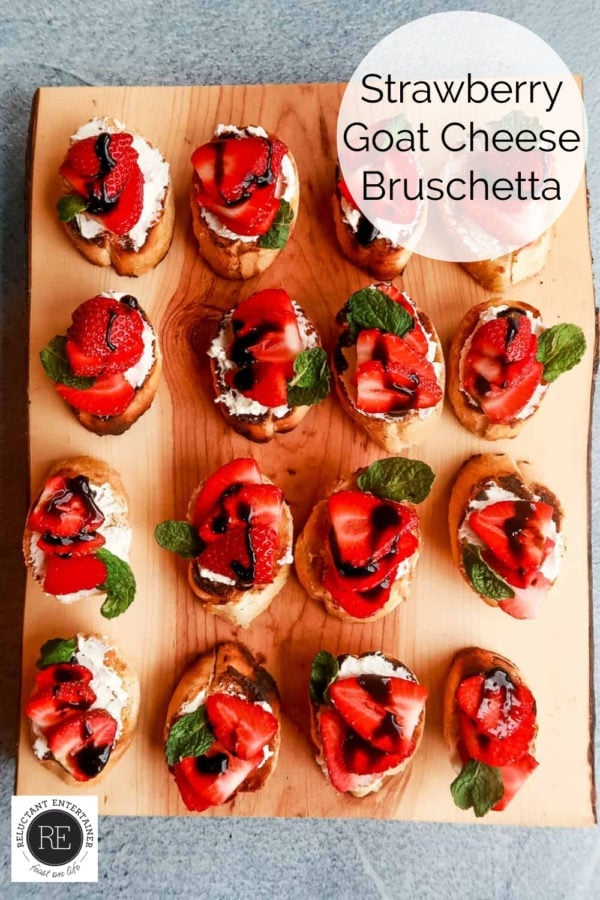 This post has affiliate links. Every purchase from these links supports RE at no extra cost to you. Thank you!
Hello and welcome to my home and table!
I'm Sandy—lover of food, family, cooking, THE BIG BOARD, travel, and bringing people together. Through great recipes and connection around the table, we become better, stronger, and more courageous people. Feasting on Life is real, and every time we do it, we grow a little more. Read more...