Melon Blue Cheese Appetizer
This Melon Blue Cheese Appetizer is the perfect summer salad or appetizer to serve or bring to a party! A great presentation with a balsamic drizzle on top!
Just in time for summer, this Melon Blue Cheese Appetizer! Super easy and quick, too, to put together!
We've been cleaning through drawers and boxes and cubbies, and spaces that I did not know I even had, and the other day brought a nice surprise.
And a flood of memories.
Living in this house for 11 years, we hosted many outdoor parties for kids and adults. We went through a season of ping pong, swimming, Corn Hole, trampolines, and badminton.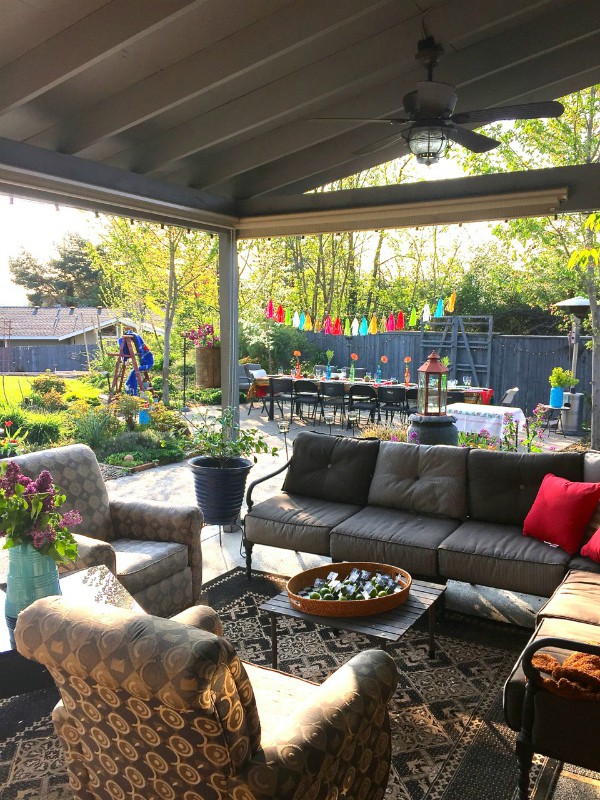 Melon Blue Cheese Appetizer
And some great dinner parties. This recipe was served at a summer party a year ago. Everyone loves cantaloupe, but have you served it with blue cheese? Mm-m-m … good!
Creative dinner party fun
This particular party, I think we had some sort of competition going on, and I vaguely remember the fun now …
It came down to 2 lively players.
A face-off, at the end of the night.
An invitation for the challenge …
"Dr. Conway, This end of the table requests a shuttle cock demo .. our 2 finest players. Us. You. …"
And the winner had a nice surprise of one year of coffee.
Which, I don't think really happened.
But this is the kind of fun to have in your backyard, Friends.
Grab a napkin, be creative, get the group involved, and bring life to your party!
Melon Salad or appetizer
Since summer is right around the corner, the other night we had a couple over for a simple, summery meal (salad and bread), to say our last goodbyes.
With a melon on the counter, I looked around to see what I had in my kitchen.
Blue cheese and DeLallo balsamic glaze.
Perfect for a Melon Blue Cheese appetizer or salad! And, by the way, is also just as delicious on watermelon or Honey Dew!
Are you looking forward to summer entertaining?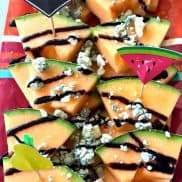 Print Recipe
Melon Blue Cheese Appetizer
Ingredients
1

melon

1/4

cup

blue cheese

Balsamic glaze

I use DeLallo brand
Instructions
Cut the melon in small chunks. Sprinkle with blue cheese; refrigerate.

Right before serving, drizzle with balsamic glaze; serve!
More melon recipes:
Prosciutto Wrapped Honeydew with Blue Cheese
Cantaloupe and Mozzarella Caprese Salad [Foodie Crush]
Cantaloupe and Sweet Ricotta Pizza [A Spicy Perspective]