Apricot-Glazed Chicken Thighs
Here's a delicious meal that I cooked this past weekend, Apricot-Glazed Chicken Thighs, that only took one hour and fifteen minutes! On the table – Bam!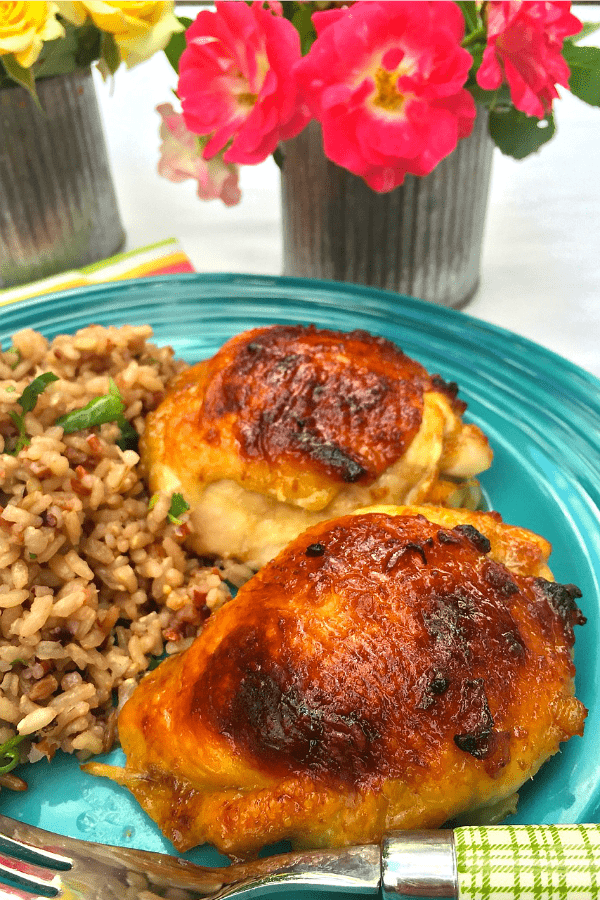 Over the weekend, my friend Jenny came to help me pack up our kitchen, as we'll be moving in a few short weeks. In the meantime, I was cooking away, trying some new recipes to share with you over the next few weeks, while we are moving and taking on a new fun project. Yes, we'll be fixing up a new-to-us house, and I'll be sharing more with you very soon!
Being Mother's Day weekend, our boys were home, and it was fun just sitting around the table (in the mix of boxes and stacks of … everything!), and reminiscing, just talking about life.
Mother's Day when you don't have your mom
Mother's Day on Facebook was fun for me, too. I don't get jealous when I see some of my friends who are still blessed to have their mothers. It makes me smile, makes me happy and joyful inside that they would have that gift. Life is to not be squandered with sad and jealous feelings for what others have. It's to be embraced with what we have NOW!
My husband has helped me over the years to get over the "shoulda-woulda-coulda's," which really do steal the joy that we should be living out. Which is why I not only am happy for all the mamas out there, I rejoice in my kids and the blessings that God has given me – TODAY!
Getting over those "should-woulda-coulda's" has also helped me embrace the new adventures ahead for Paul and me. And for our kids!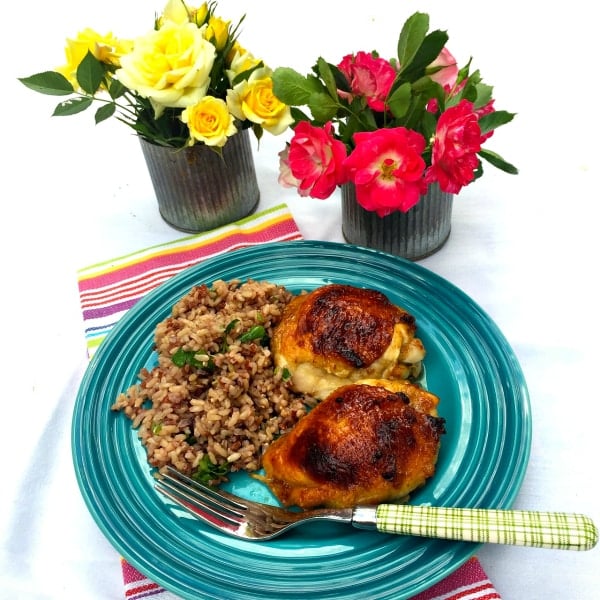 When we look at our lives, there is so much to experience, whether we live in the same town our whole life, or we pick up and move to start something new.
I never want to miss out on new things and where God is calling our family.
To not listen, quite honestly, would be a tragedy. Even if we some day come back to our beloved town of Medford, this move will help shape us and mold us to more of who we are to become.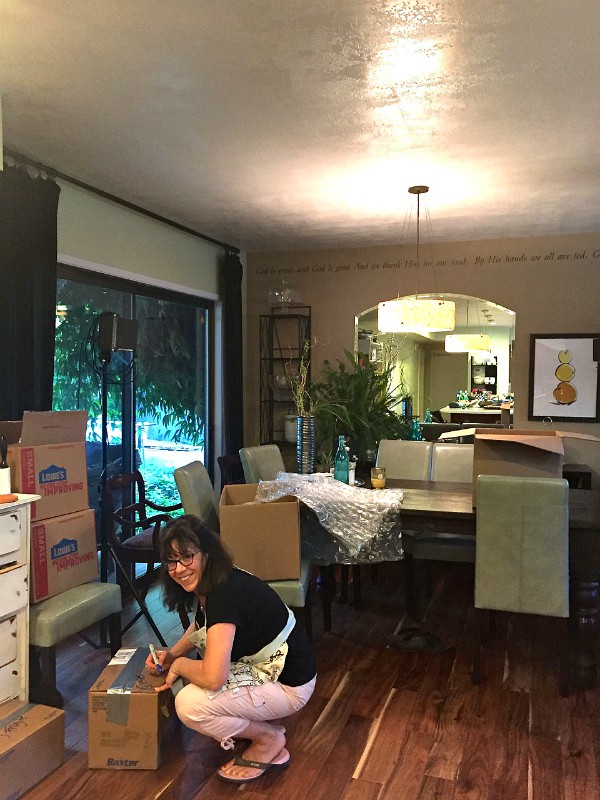 So in the mix of boxes, and a few tears, we worked hard on Saturday night.
Apricot-Glazed Chicken Thighs
Then we sat down to enjoy these lovely little chicken thighs, inspired by Better Homes and Gardens this month.
I just love it when you see a recipe and you know you have all the ingredients to make it!
I'll be making this over and over and over – we loved it.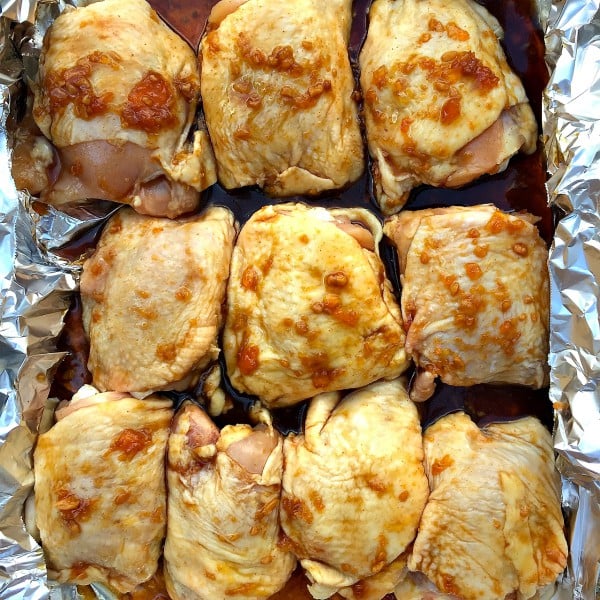 It only takes 1 hour and 15 minutes to prepare and have it on the table!
Love the dash of cayenne pepper keeps the sticky glaze from being too sweet – the flavor was just perfect!
Of course I'll be doubling it next time, because we love leftovers. Or, I can bring a meal to someone who needs it!
I hope you will enjoy it as well!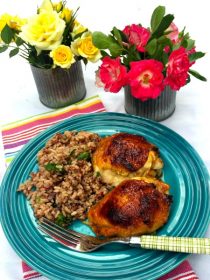 Get the Recipe: Apricot-Glazed Chicken Thighs
Inspired by BHG May 2016 magazine
Ingredients
1/4 cup apricot spreadable fruit, large pieces snipped
1/4 cup honey
2 tablespoons soy sauce
2 tablespoons minced fresh ginger
6 cloves garlic, minced (1 tablespoon)
1/2 teaspoon cayenne pepper
1/4 cup cider vinegar
8 bone-in chicken thighs, 3 1/2 to 4 pounds total
Instructions
Place oven rack in bottom third of oven. Preheat oven to 400 degrees F. For glaze, in small saucepan, combine spreadable fruit, honey, soy sauce, ginger, garlic, and cayenne. Heat over medium-low heat, until spreadable fruit is melted. Remove and stir in vinegar; cool.

Line a 13×9-inch baking pan with foil. Arrange chicken in single layer. Pour apricot glaze over chicken, turning pieces to coat. Arrange pieces skin sides up. Bake, uncovered, 40 to 45 minutes or until done (175 degrees F in thickest part), and tops are browned, brushing with glaze two times during baking. Skim fat from pan juices; serve juices over chicken.
More chicken thighs recipes:
Paprika Chicken Thighs (most popular recipe on RE!)
Skinless Chicken Thighs with Shallots (Skinnytaste)
Easy Weeknight Chicken Tacos (How Sweet it is)
Hello and welcome to my home and table!
I'm Sandy—lover of food, family, cooking, THE BIG BOARD, travel, and bringing people together. Through great recipes and connection around the table, we become better, stronger, and more courageous people. Feasting on Life is real, and every time we do it, we grow a little more. Read more...