Melon Bowtie Pasta Salad Recipe
Melon Bowtie Pasta Salad recipe–with cantaloupe, salami, feta cheese–is a delicious summer lunch or potluck dish. Drizzle with a light dressing and serve!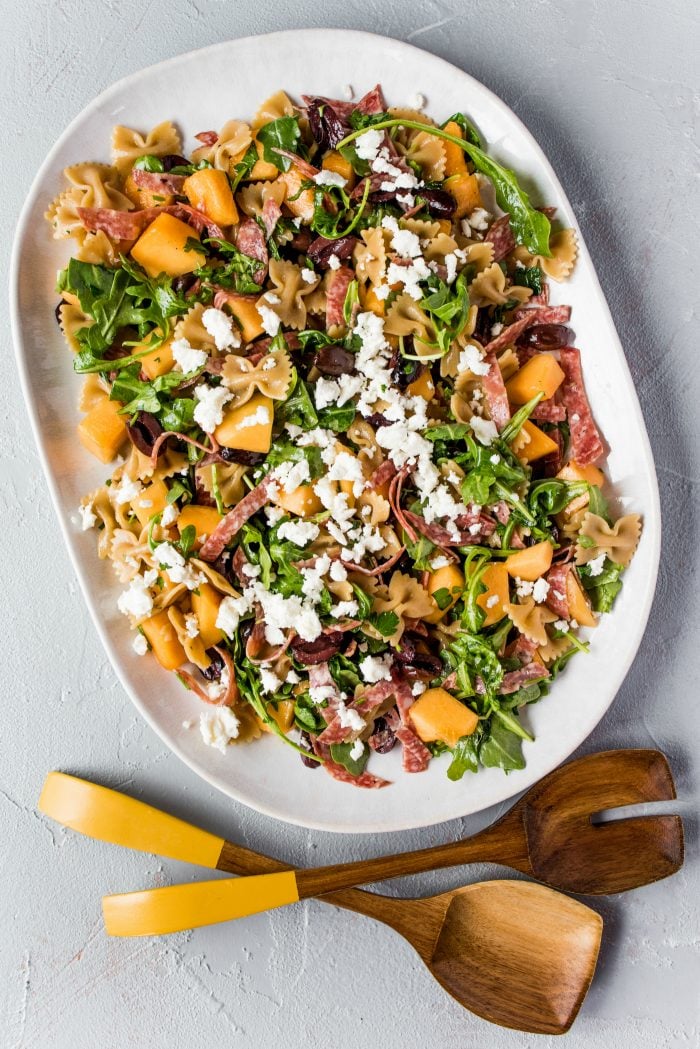 Friends, I love a good summer salad, like this Melon Bowtie Pasta Salad Recipe with feta, salami, and arugula.
Think lunch, dinner, or make a giant bowl (double the recipe) for your next potluck or summer gathering! Also try different flavors like this Cantaloupe Avocado Raspberry Salad or Cantaloupe Honey Shaved Ice!
Melon Bowtie Pasta Salad Recipe
All you need for this recipe is fresh basil, salami (save some from your leftover charcuterie/cheese board leftovers!), arugula greens, and summer cantaloupe (YUM).
Then add feta cheese and Kalamata olives.
Don't forget the bowtie pasta! We love using DeLallo Foods Whole Wheat brand if you have not tried it.
Actually, most summer salads remind me of my mom and grandmother.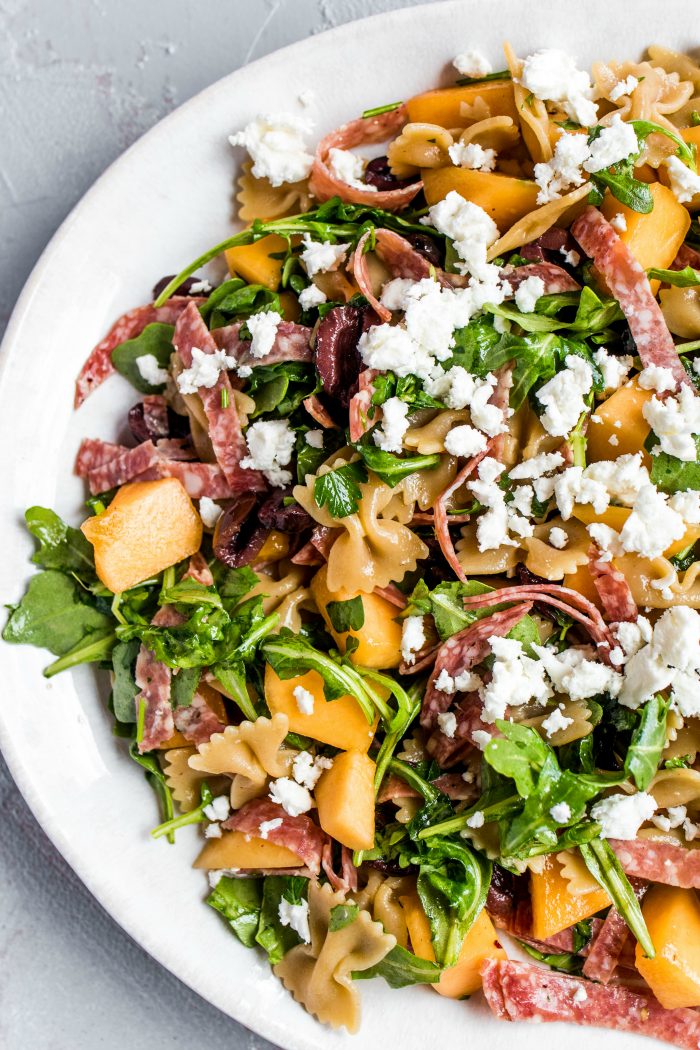 They loved the garden, and my earliest memories of summers are enjoying foods from Grandma Dubs' garden! Or sitting on the porch after dinner, enjoying half a cantaloupe served like this.
Mom was good about setting out a bowl of melon or cherries or Oregon berries, and she always had sweet tea made up in the fridge.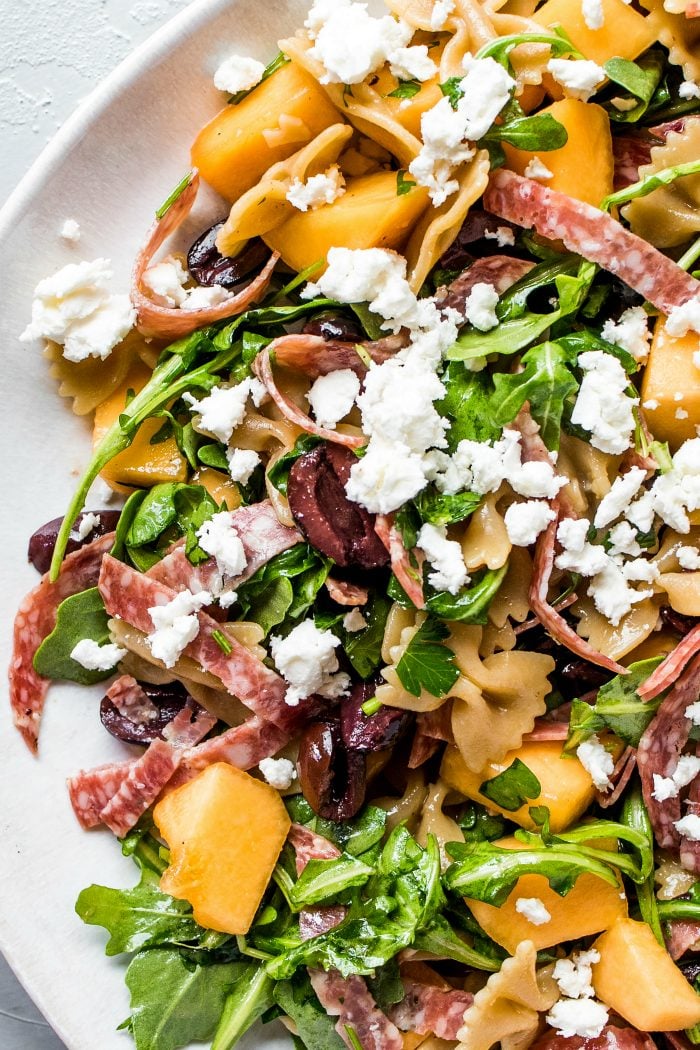 I also love sister time and sun tea (reminds me so much of our mom), and eating with my sisters. We love food! :), I think because we grew up with a non-fancy way of hosting, but really good flavors.
Bowtie Pasta Salad
This Melon Bowtie Pasta Salad Recipe is delicious for summer!
Make ahead and store in the fridge until you're ready to serve.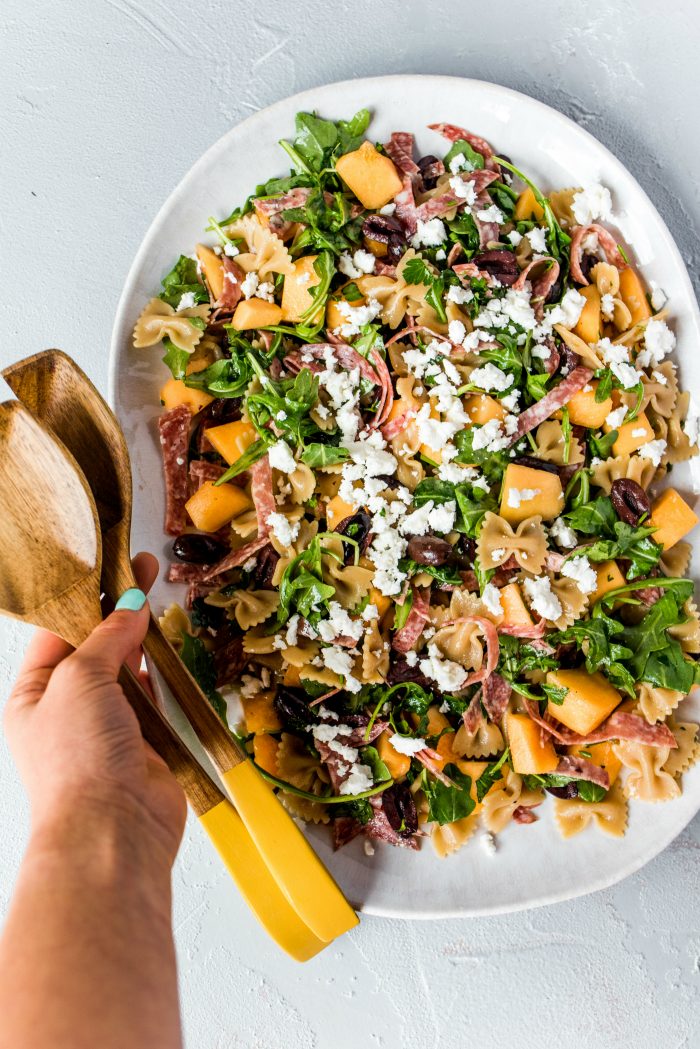 Great for summer parties!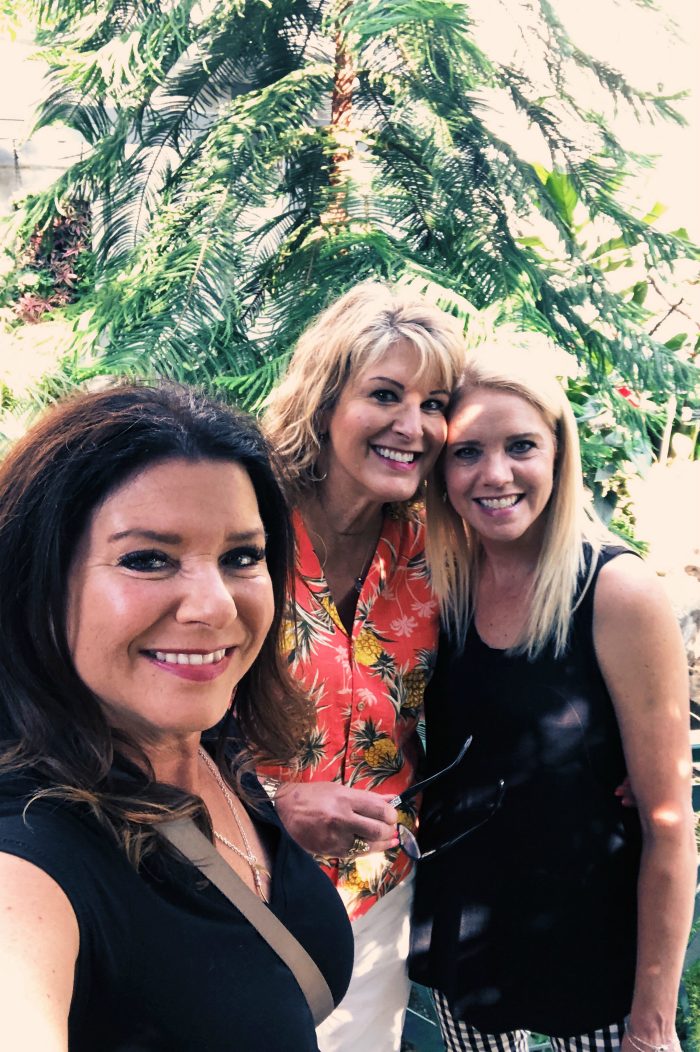 Sister weekend in Spokane, WA
My recent sister trip to Spokane, Washington was so pretty. Visiting in early summer, this was my first time in Spokane, which is surprising, I know, having lived in the Pacific Northwest most of my life.
When we arrived, my sis had mom's "sun tea" brewing in the Spokane sunshine.
We enjoyed walking through Manito Park. The poppies and peonies and flowers were in full bloom!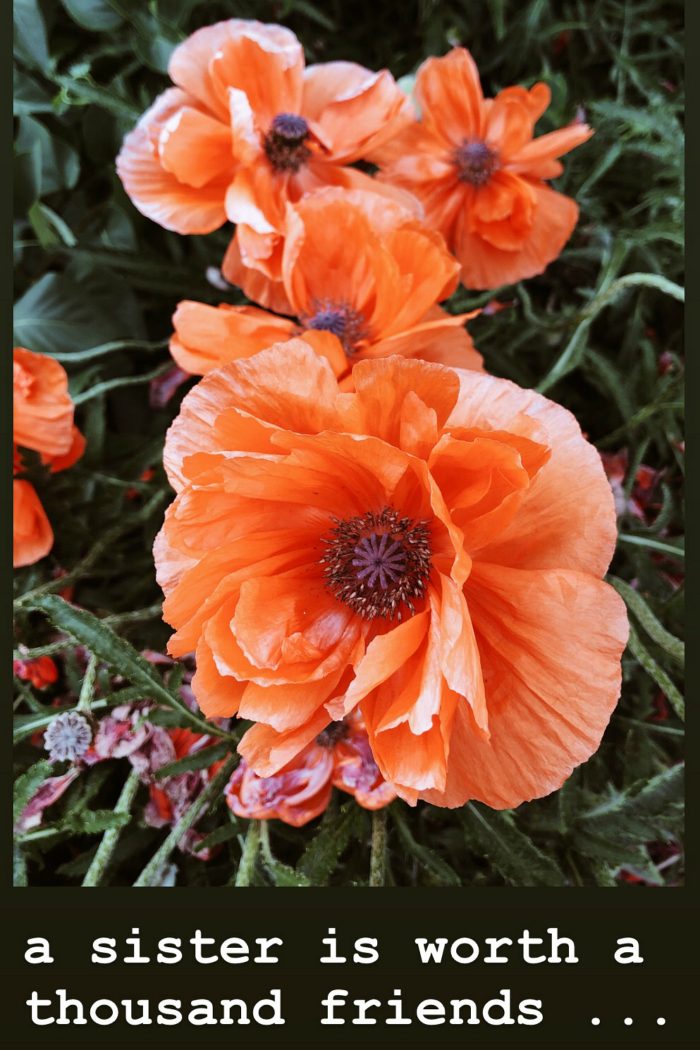 We spent the day at Lake Coeur d'Alene, with the longest floating boardwalk in the US!
A quick outing, we rode the Spokane SkyRide, a gondola over Spokane River Falls.
Of course we ate out at great restaurants like Luna and some others. And my favorite meals were the ones that my sis cooked for us at home.
Summer salads
So back to summer salads (that remind me of my mom and sisters).
With this recipe, feel free to change it up! Add chicken or steak, or change up the herbs (like add in cilantro or oregano in place of basil).
So many options!
Happy hosting!
More salads to try: Creamy Bowtie Pasta Salad [Spend with Pennies] and Summer Melon Salad [The View from Great Island].
Get the Recipe: Melon Bowtie Pasta Salad Recipe
Ingredients
Dressing:
1/3 cup extra virgin olive oil
1/8 cup red wine vinegar
1 Tbsp champagne vinegar
1 1/2 teaspoon dijon mustard
1/4 cup finely chopped parsley
1/4 orange, juiced
2 tsp honey
1/4 tsp kosher salt
1/2 tsp freshly ground black pepper
Salad:
1/4 cup chopped basil
2/3 cup chopped salami
2 cups bowtie pasta
1 large handful arugula
1 cup cantaloupe, cut into bite-sized pieces
1/2 cup feta
1/2 cup Kalamata olives, halved
Instructions
Cook pasta according to package directions. After cooking, draining, and rinsing, allow it to cool and set aside.

In a small mixing bowl, whisk together all ingredients for the dressing. Refrigerate until ready to use.

In a large bowl, combine pasta, melon, basil, olives, salami, and arugula. Pour the vinaigrette over the salad mixture and toss with your hands.

Plate on a large platter and top with fresh feta cheese. Serve cold and enjoy!
Hello and welcome to my home and table!
I'm Sandy—lover of food, family, cooking, THE BIG BOARD, travel, and bringing people together. Through great recipes and connection around the table, we become better, stronger, and more courageous people. Feasting on Life is real, and every time we do it, we grow a little more. Read more...