Mexican Shepherd's Pie Recipe
In 30 minutes, serve a fiesta potluck Mexican Shepherd's Pie Recipe, made with leftover mashed potatoes, and black beans!
Friends, today I'm thinking about how easy it is to host a potluck this month, especially with all the leftovers we may have! Enjoy this video below how to make a Mexican Shepherd's Pie Recipe!
Mexican Shepherd's Pie Recipe
Easy one-pot dish for dinner tonight! You can either prepare mashed potatoes, buy storebought, or use leftovers for this dish.
Ingredients needed for black bean Shepherd's pie
Rotisserie chicken
Green onions
Frozen roasted corn
Black Beans
Favorite salsa
Salt and pepper
White cheese, Jack or Mozzarella
Leftover mashed potatoes
Easy Dinner tonight
Invite a few friends, ask them to bring their favorite dish, set the table (or not), and just enjoy!
Can you imagine if you could take away the dread of having company?
I've been there, Friends. I've made that initial invite, and then later regretted the commitment.
Why are commitments so hard these days, by the way?
Besides struggling with perfectionism, it doesn't help that it's a frustrating election year, and everyone is on pins and needles, or in utter disgust. It sort of takes away the party mood, that is for sure.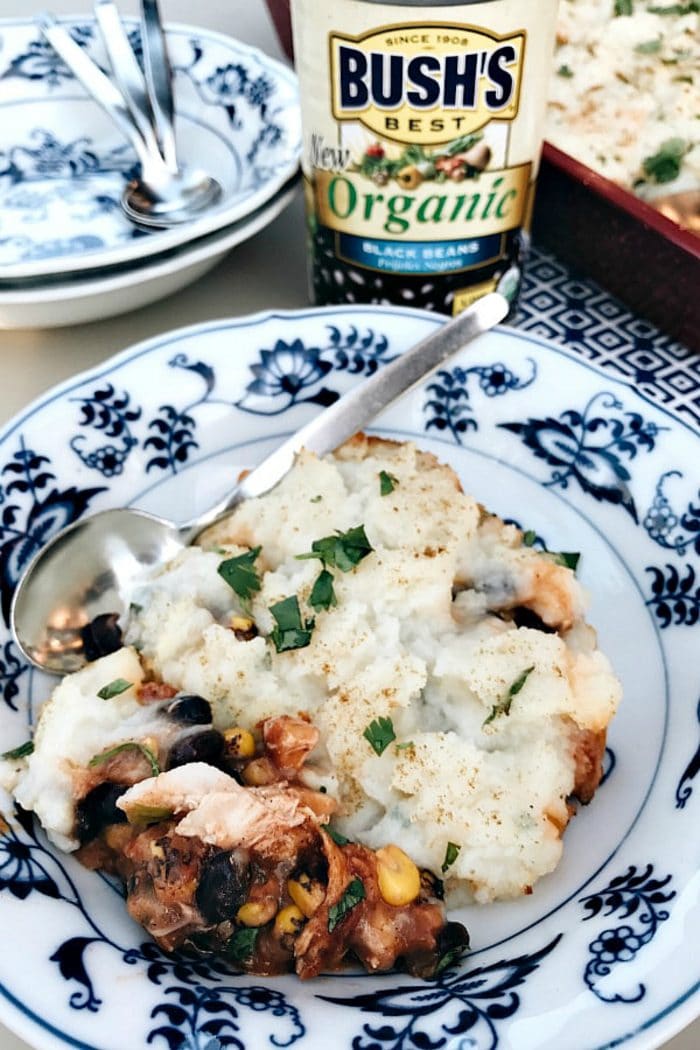 But we have to remember, November is the month of thanksgiving. No matter what is happening in our world, we need to come together, break bread, talk, share, and be there for each other!
So why not plan a potluck or simple meal?
Shepherd's Pie Recipe
This week, using leftover mashed potatoes, I made a delicious Mexican Shepherd's Pie, using leftover mashed potatoes and black beans.
Beans are a staple in Latin American cuisine, and now, Bush's offers organic! BUSH'S® Organic Black Beans are grown in the United States.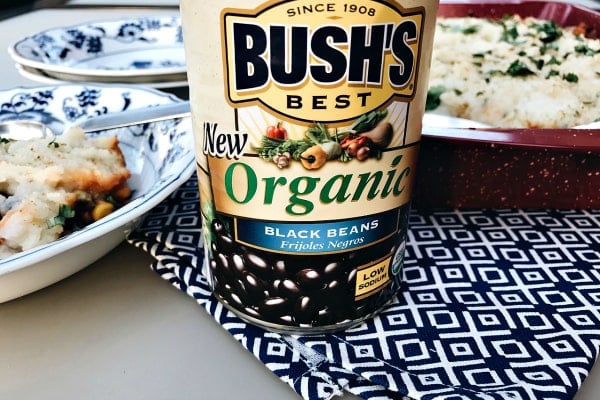 They select the highest quality beans, ensuring the perfect taste and texture, which is why I love to use their assortments (garbanzo, kidney beans, black beans, to name a few), adding them to our favorite soups, dips, one-pot meals, and side dishes.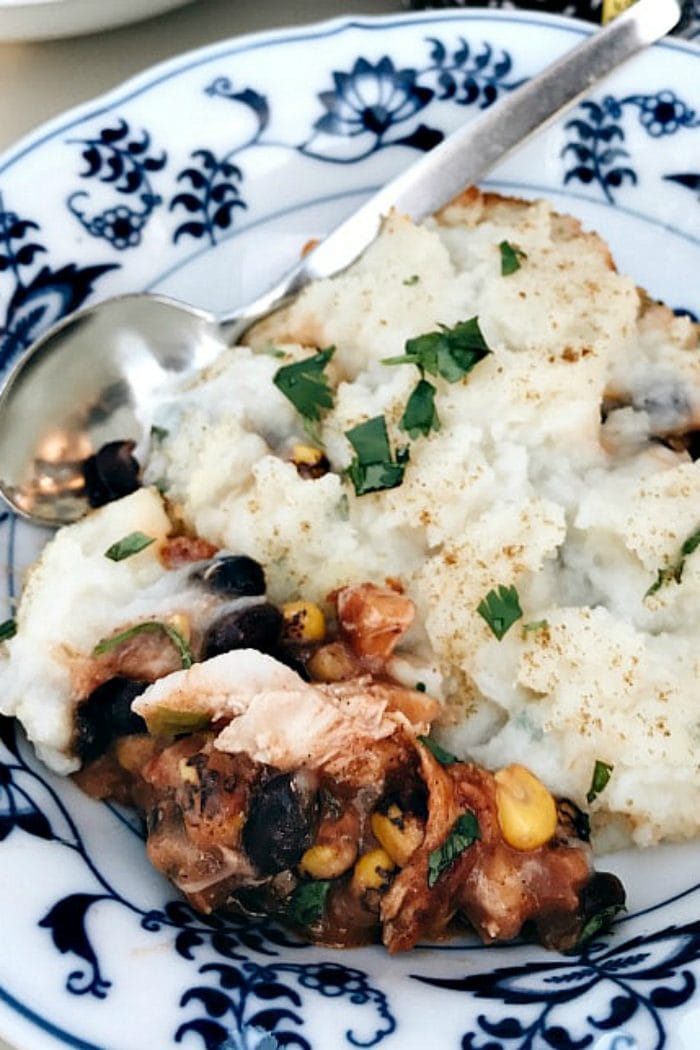 In the meantime, whip up a couple of potluck dishes, and get your friends over and around your table … this week?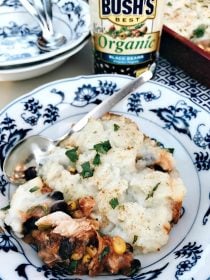 Ingredients
2 cups Rotisserie chicken, or turkey, chopped
1/2 cup sliced green onions
2 cups frozen roasted corn, I buy at Trader Joe's
1 15 oz Black Beans, rinsed and drained
1 1/2 cups favorite salsa
Salt and pepper
3 cups white cheese, Jack or Mozzarella
2-3 cups leftover, prepared mashed potatoes
Instructions
Preheat oven to 375 degrees.

In 10-inch skillet, heat up the chopped meat, green onions, roasted corn, black beans, and salsa over medium-high heat, for 5 to 7 minutes, stirring occasionally until heated through. Salt and pepper to taste.

Add 2 cups of cheese to the meat mixture; gently mix.

Heat prepared or leftover mashed potatoes.

Prepare a 9×13 pan with cooking spray. Spoon the hot meat mixture into the pan. Sprinkle with remaining 1 cup of cheese. Cover (spread) the top with heated, prepared mashed potatoes.

Place in oven uncovered; heat for 20 minutes.

Garnish with chips or cilantro! Serve!
This post is sponsored by Bush's Beans, which we use weekly in our kitchen! As always, all opinions are my own.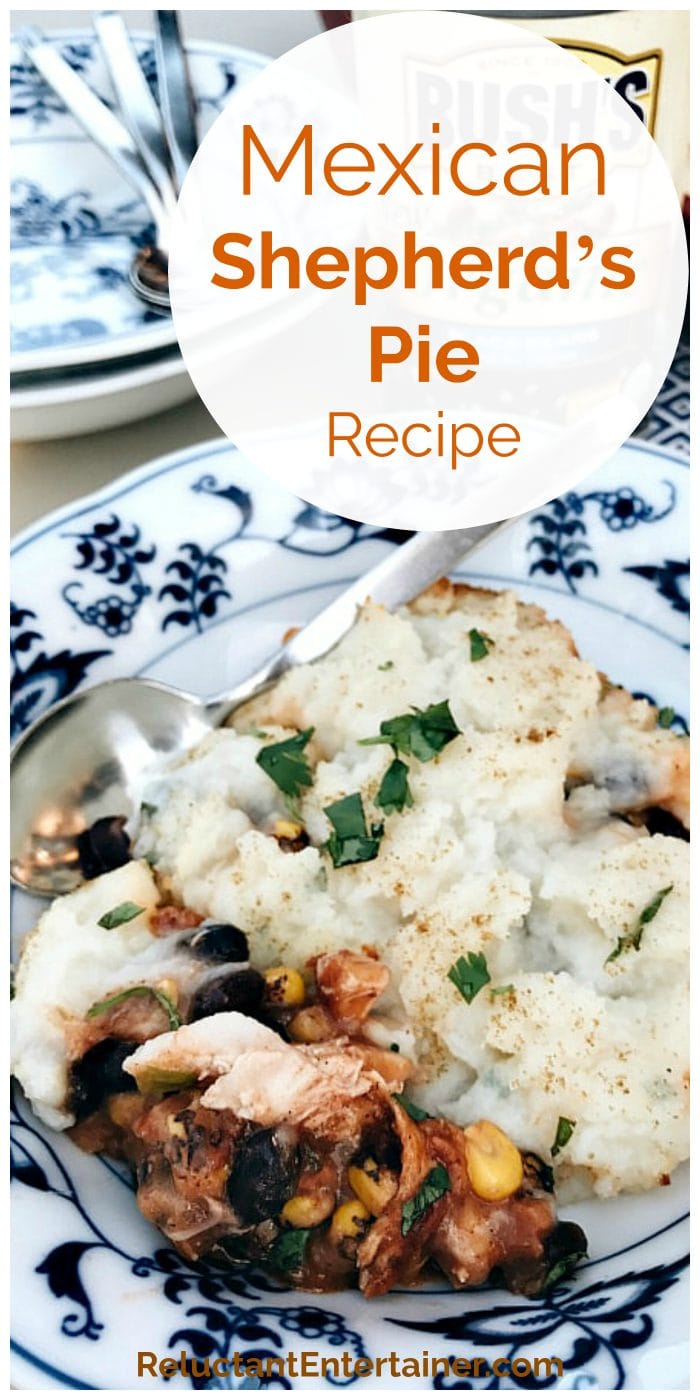 SaveSave
Hello and welcome to my home and table!
I'm Sandy—lover of food, family, cooking, THE BIG BOARD, travel, and bringing people together. Through great recipes and connection around the table, we become better, stronger, and more courageous people. Feasting on Life is real, and every time we do it, we grow a little more. Read more...