Minted Graduation Party with Raspberry Fruit Dip
Invite guests to a graduation party in style with Minted's selection of party invitations, announcements, decor and more, plus this Raspberry Fruit Dip!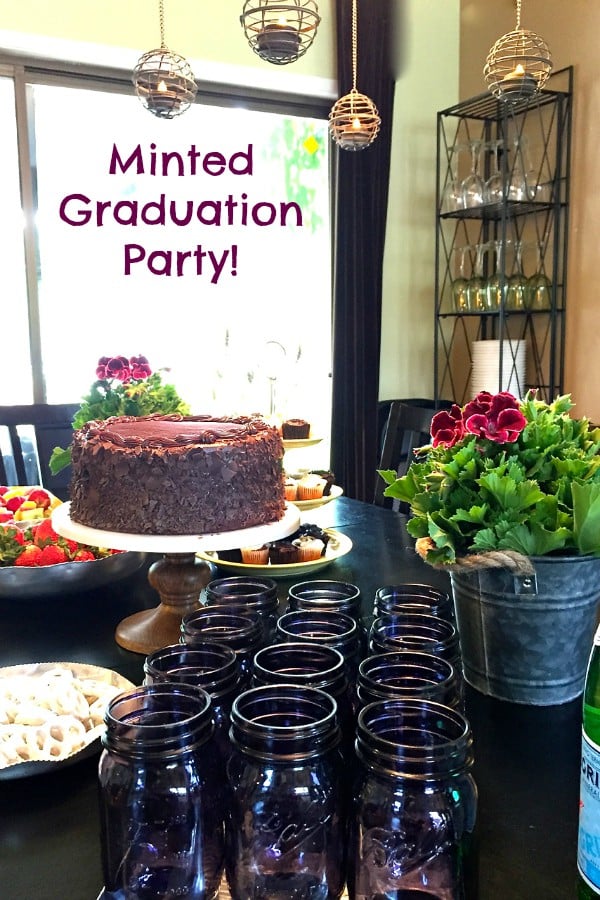 Planning a graduation party is fun, especially when you have a creative girl helping you! This year, with the help of Minted, we're planning a dessert party for Abby's graduation celebration, so I get to share all the details. But we'll first start off with graduation announcements!
Graduation Announcements.
A few weeks ago, we ordered a combo package of Abby's graduation announcements plus thank you cards from Minted. I love how Minted makes ordering easy, with their combo packs, which is going to make writing all those thank you notes much easier for Abby. One lesson I've taught my kids: The importance of thanking others for generosity shown to them. The return address is already on the envelope, one step that makes it easier.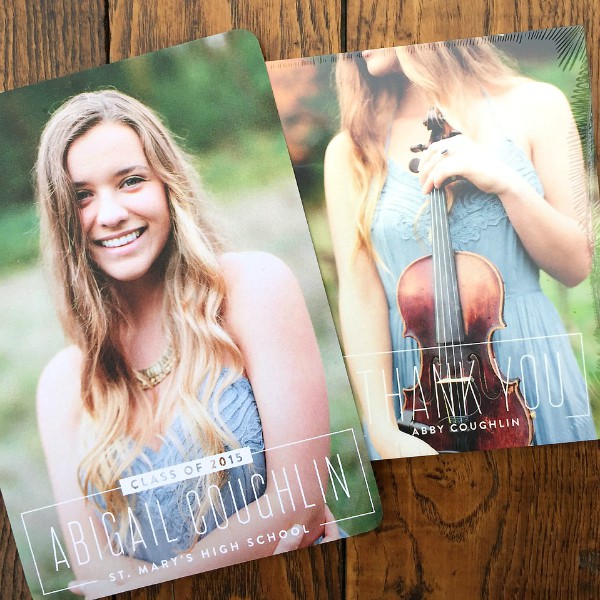 Abby chose 2 photos from her friend, Olivia Leigh Photography's, for a beautiful, simple card, and then a separate photo for the thank you notes.
Shop Minted.
Minted offers unique graduation announcements, photo graduation announcements, and graduation party invitations. They are created exclusively for Minted by their community of independent designers, fully customizable and beautifully printed on luxurious signature paper, 100% recycled matte stationery paper or gorgeous pearlescent paper.
Plus … they do beautiful work with photo art!
Family photo art.
Paul and I turned two of our favorite prints into photo art for our family wall.

Minted makes it easy, because they have designs ready to use, you just insert the photos, and then you can personalize each one by choosing colors, frames, and even text!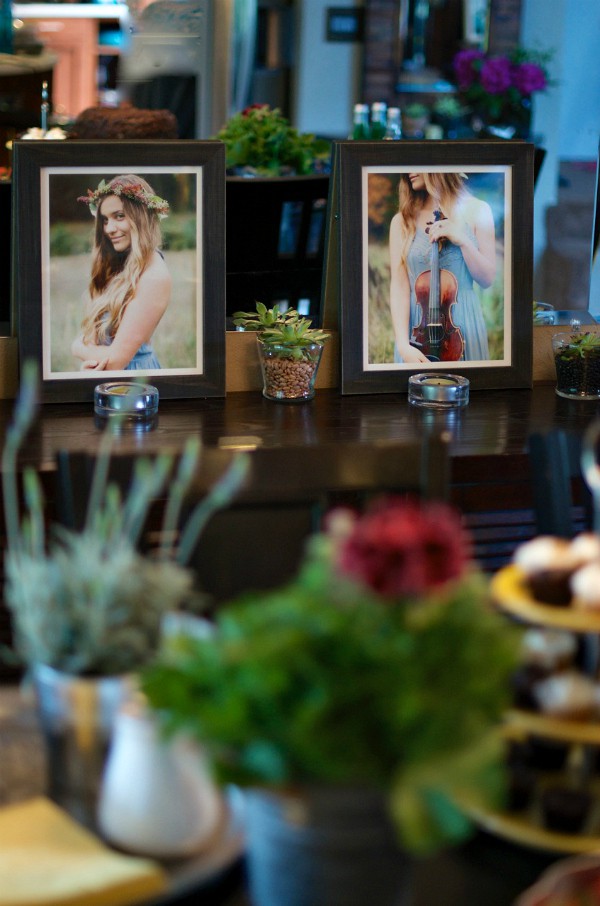 Dorm room art.
High School gradation comes once in a lifetime, so with Abby moving up to Seattle, she'll be decorating her walls with some of her favorite photography!
She took 4 photos and framed them in a natural premium wood. Photos come in multiple sizes, framed or unframed, and start at $20.
Personalized friend gifts.
She also got creative with her gift giving, taking special memories shared with some of her girlfriends, turning them into chic photo gifts.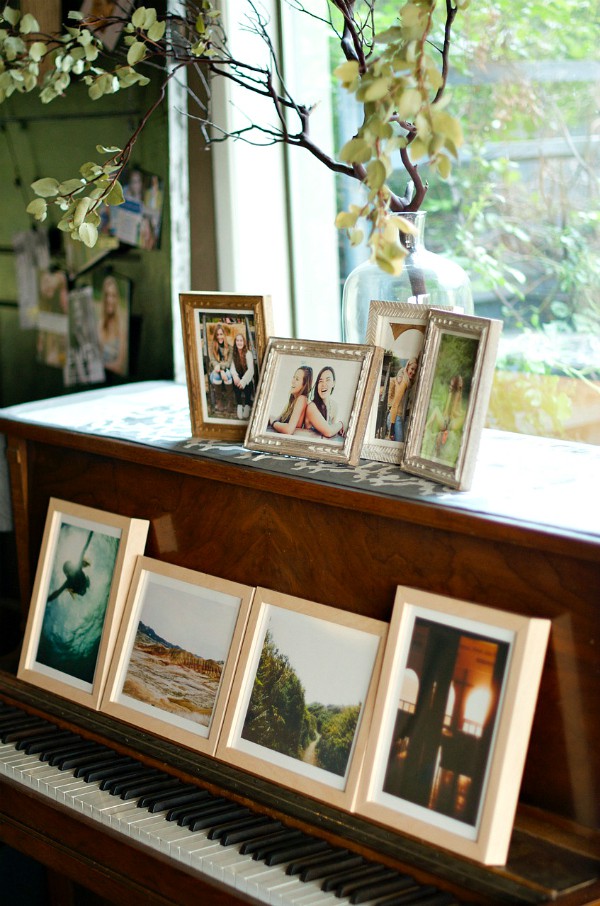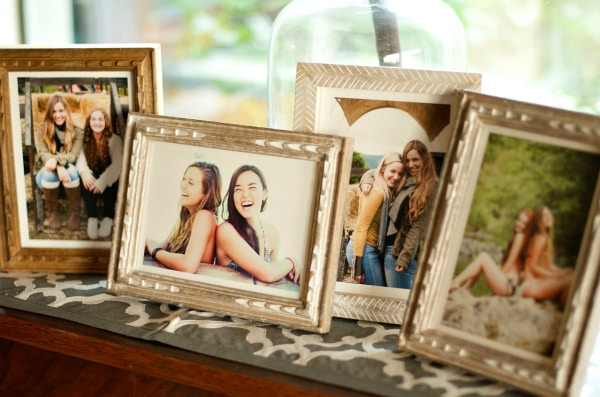 You can also add photos and personalize journals, such as the adventurer notebook. Another sweet gift to give!
Home art.
I spruced up our dining area with 2 new pieces of art—in the space we chose to host the party.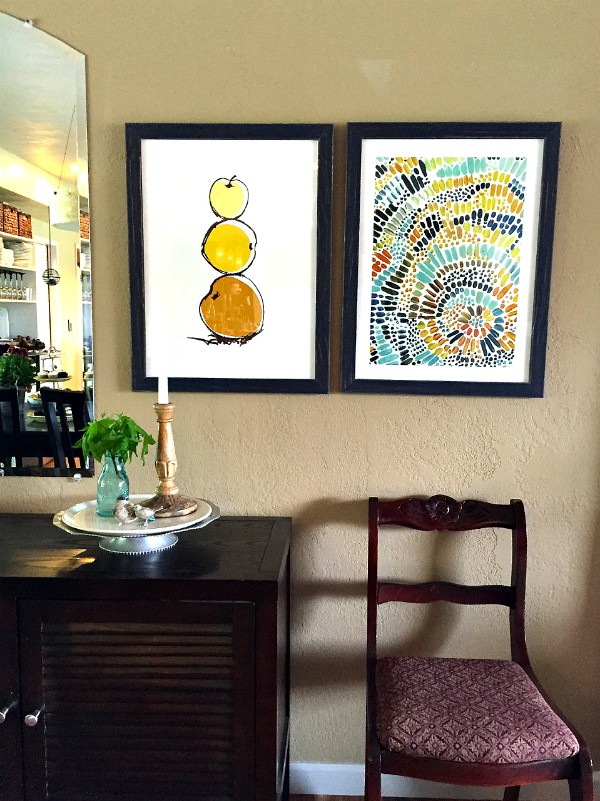 Which also, by the way, I've created a "graduation door" which we're filling up with all the grads announcements! Take a peek … (This is my $10 yard sale bargain.)
How do you choose fine art with so many selections? For me, I chose a color scheme that worked well for my home—blues and yellows—placing 2 vertical photos side by side: Stack of Apples, by artist Nicole Eckenrode (Seattle, WA), and Sun Drop, by artist Holly Royval (Denver, CO).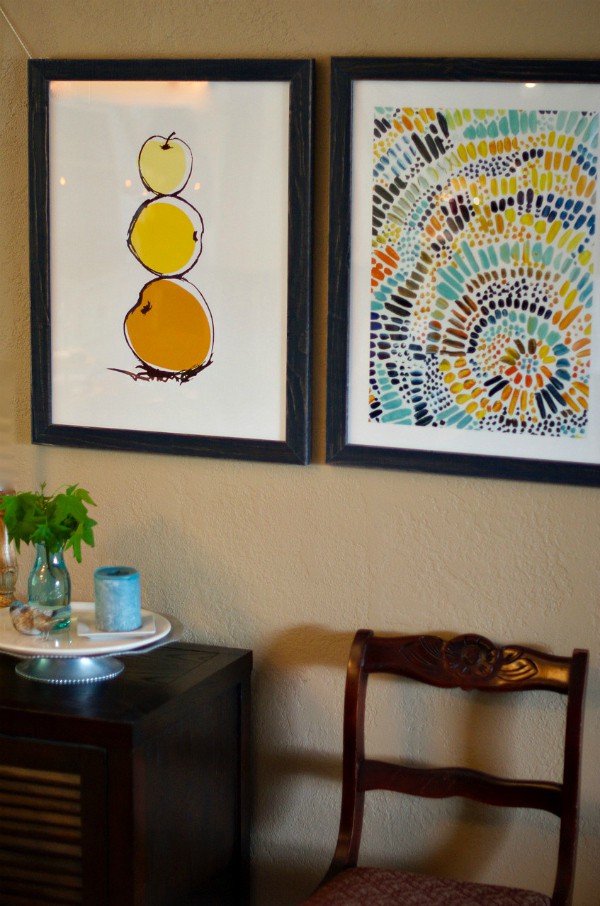 If you aren't familiar with Minted, they bring in artists from all over the world with "a flare" for exceptional designs!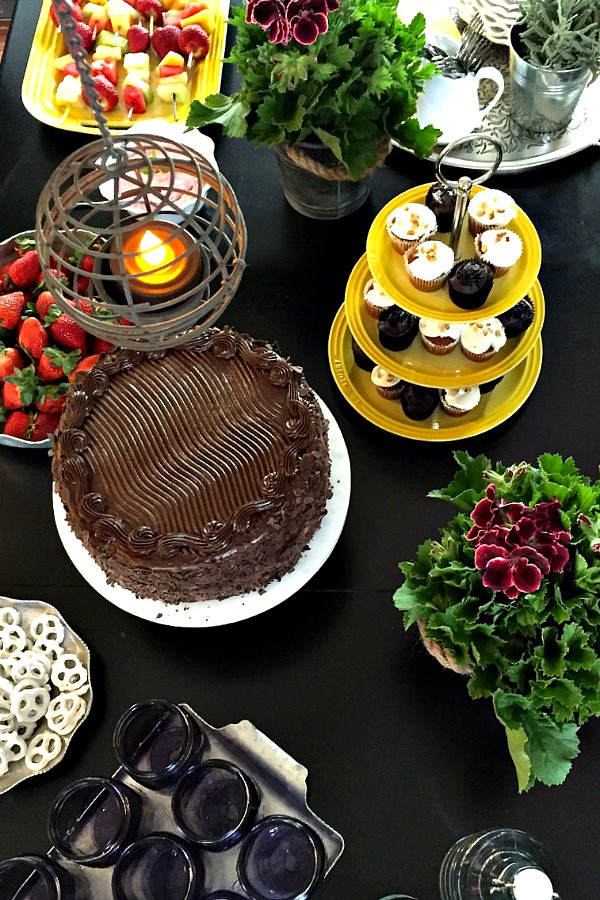 Get the party started!
Setting up for the party, we decided on a dessert theme, with yellow as our highlight color. My girl was a big helper!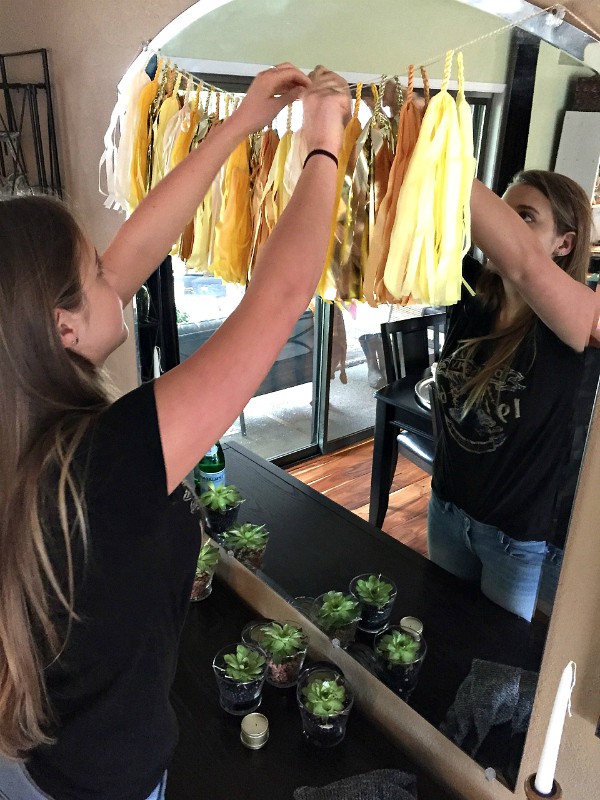 Yellow tassel garland from Prospect Goods.
Ball Purple canning jars for drinks.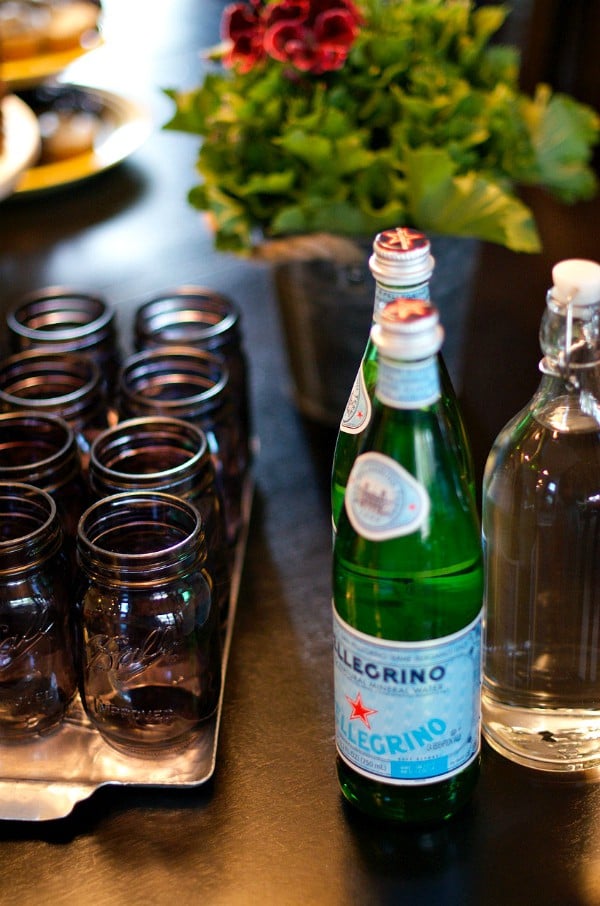 Purple Regal Geraniums for the flowers.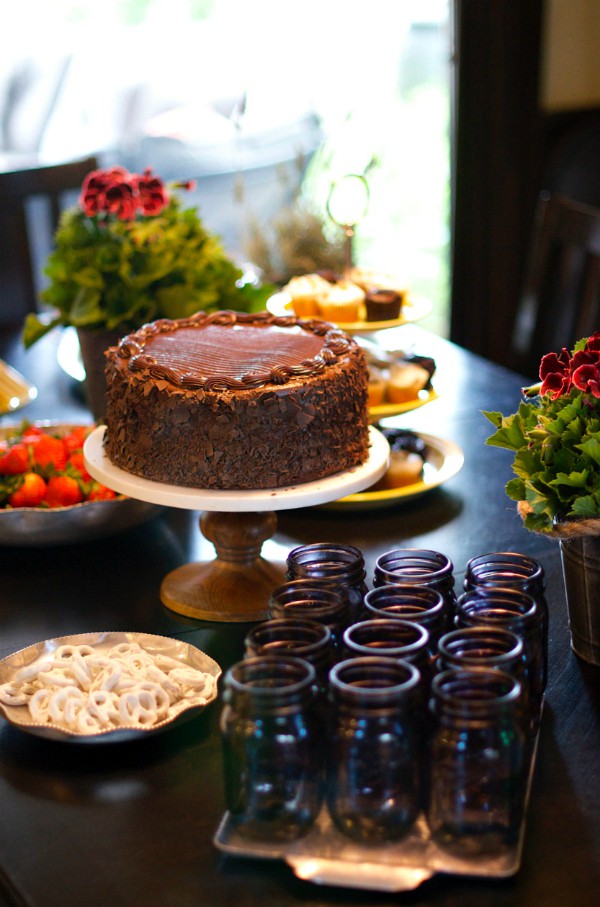 Chocolate cake was the star of the party.
Little cupcakes and snacks.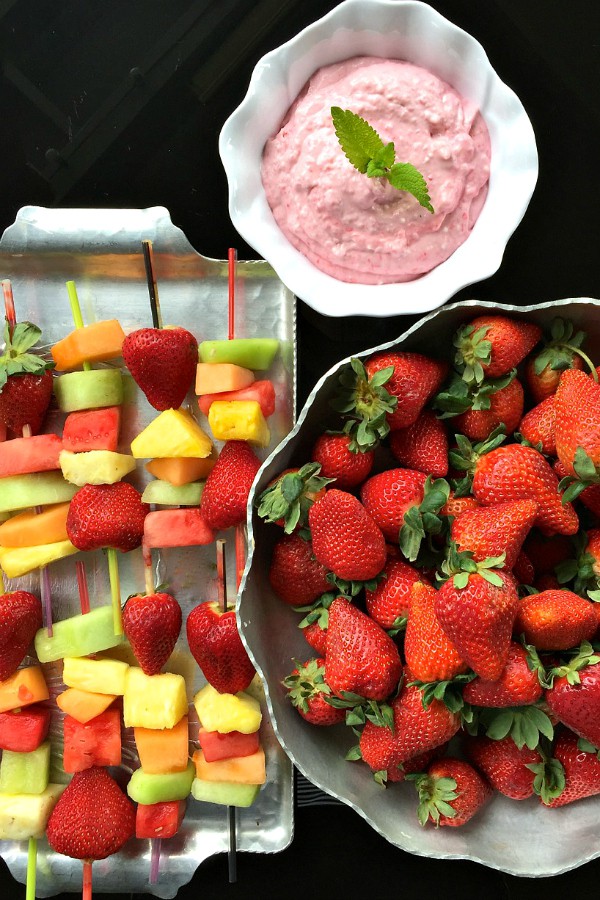 Raspberry Fruit Dip.
A delicious dip served with fruit skewers, strawberries, pretzels (also great with apple slices, bananas, pineapple, and more)! Store in fridge up to 3 days.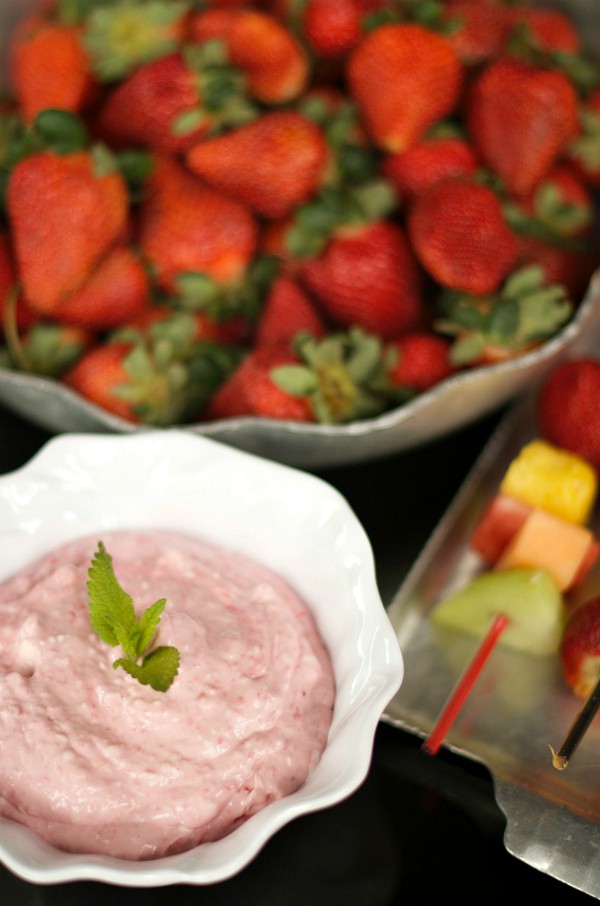 We couldn't find the skewers for the fruit, so we actually used straws. Clever, huh? It worked like a charm!
A graduation party doesn't have to be a huge event. For our oldest son, we had a giant party with a taco truck (shared with another family), and our middle son headed off to China right after graduation, so he opted to not have a party at all. Abby's … simple and sweet (literally, with lots of yummy desserts), but not too much.
Our wish for Abby is for friends to pop in, say hello, congratulate our little girl with a hug and well wishes, and not feel like they have to stay for hours.
It will be a lovely event. :)
Thank you, Minted, for making it special for our Abby!
Get the Recipe: Raspberry Fruit Dip
A delicious dip served with fruit skewers, strawberries, pretzels, apple slices, bananas, pineapple, and more! Store in fridge up to 3 days.
Ingredients
Fruit pieces, strawberries, pineapple, melon, in chunks
8 oz. cream cheese, room temperature
7 oz. marshmallow cream
1 cup fresh raspberries
Mint for garnish
Instructions
In a medium bowl, beat the cream cheese and marshmallow cream together.

Puree the raspberries; add to the cream cheese mixture. Continue to beat on low until combined.

Using a skewer (or straw), thread the fruit to create a skewer with about 5-6 pieces.

Serve the skewers with the fruit dip.
This post is sponsored by Minted, but as always, all opinions are my own.
Are you following me on Instagram, Twitter, Facebook and Pinterest? Thanks being here today, and if you'd like to subscribe to Reluctant Entertainer, to have each post delivered straight to your e-mail box, then please add your email, here. It's really easy!
Hello and welcome to my home and table!
I'm Sandy—lover of food, family, cooking, THE BIG BOARD, travel, and bringing people together. Through great recipes and connection around the table, we become better, stronger, and more courageous people. Feasting on Life is real, and every time we do it, we grow a little more. Read more...