No-Bake Dark Chocolate Peanut Butter Cookies
No-Bake Dark Chocolate Peanut Butter Cookies are a healthy snack or dessert, when you're craving a bite of dark chocolate that isn't too sweet.
Friends, today I'm sharing a New Year treat from my husband, his annual letter that he writes to friends and family (and has for almost 25 years), summing up our 2015! Plus a delicious recipe that our youngest loves to make, No-Bake Dark Chocolate Peanut Butter Cookies.
No-Bake Dark Chocolate Peanut Butter Cookies
You can call them "bites" or "cookies," either way, they are sooooooo good!
It's easy to freeze these No-Bake Dark Chocolate Peanut Butter Cookies (on parchment paper), and then pull out of the freezer one at a time, when you're in need of a small chocolate fix, or a special treat.
By the way, we just sent our lovely girl back to Seattle for college, and it was hard to say goodbye! I'm confident that each time will get easier and easier, as it did with our sons.
Annual Letter
Some of you may know our family, some not. Either way, you'll learn more about the Coughlin Clan. Our eldest is Elliot, middle son, Garrett, and our baby (well, youngest), is Abby.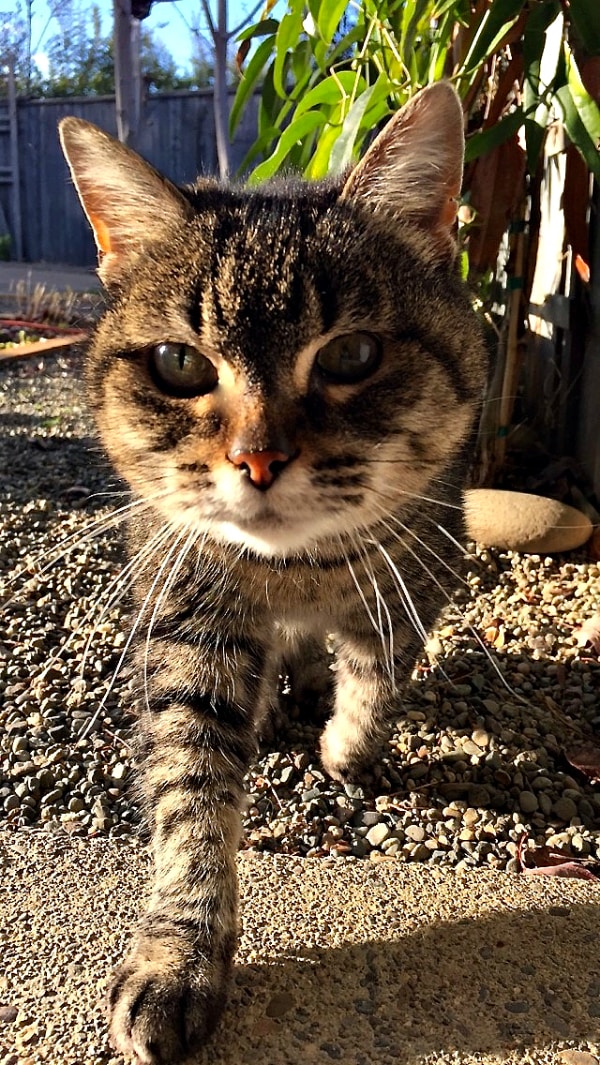 We have 3 pets: Haggis (Cairn Terrier), and Filly (above), and Hobbes (our 2 cats). I just took this picture of Filly (almost 17), basking in the sun this past weekend. She still looks like a kitty!!
And, if the letter's a little too long, no worries–just go straight to the recipe (yummy)!
I personally love Paul's book idea: "Can I Eat Now? The Hungry Life of a Food-Blogger's Husband!" :)
What is your favorite no-bake recipe?
More NO BAKE recipes: No Bake Peanut Butter Coconut Bites, Chocolate Almond Cranberry Oat Bars, Peanut Butter Ice Box Cake, Pineapple Lush Dessert.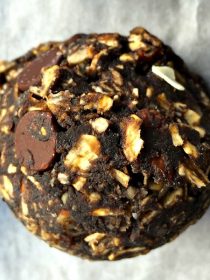 Get the Recipe: No-Bake Dark Chocolate Peanut Butter Cookies
Ingredients
2 1/2 cup oats
1 cup toasted coconut
1/2 tsp. salt
2 1/2 Tbsp. cocoa powder
1/2 cup coconut oil, melted
1/2 cup almond milk
1 tsp. vanilla
2 Tbsp. honey
2 cups peanut butter
1/2 cup chocolate chips
Instructions
Combine all dry ingredients in a large bowl. Add in the rest of the ingredients; stir together.

Scoop onto a parchment-lined cookie sheet. Freeze or refrigerate.
New Years 2016

It was an uneventful year in the Coughlin home. Not much happened.

Elliot's home from college, working as a medical assistant and scribe with Providence Health & Services, which he loves and is all part of his pre-med aspirations. In his free time he studies bio-chemistry, telling us about the building blocks of life that sounds like fancy witchcraft to the unlearned. We're fortunate to have him home, where he cleans the kitchen, vacuums the pool and even cleaned our gutters without being threatened with physical harm. He checks Instagram on his way home from work for clues about what savory delights might await as seen on Sandy's food blog.

He bursts through the door in the evening and pretends he cares about us—"Hey, yeah, how was your day?!…" but his eyes betray him. He scans the kitchen for what he saw on his phone then feasts as if the End of Days is upon us. He's enjoying swimming and has finally agreed to go snow camping again after what has come to be known as "The Meat Freezer Weekend" that took place around this time a year ago near the rim of Crater Lake.

Garrett, our "forgotten middle child," graduates from U of O with a double major this summer, then is off to his third trip to China to immerse himself in the complex language, mystery meats and choking smog. He speaks highly about his three roommates (one is the state road bike champion), and is also eager to put college life behind him where he works at a sorority. He recently played Joe Zawinul's "Mercy, Mercy, Mercy" on the sorority's dusty piano and where about 60 young ladies broke away from glowing rectangles and curling irons to hear him and applaud his spirited rendition.

Music is his greatest passion, especially after witnessing its spell upon women. He plays his keyboard and acoustic guitar for hours in his tiny bedroom, which is no tidier than the one he lived in here. Sounds strange, but that brings us comfort because we now know that his carelessness wasn't personal.

Abigail Ellen Rose is a sophomore at Seattle Pacific University where she adores that gloomy and opinionated weather. When we talk with her on the phone, we care about her grades and all that stuff, but what we really listen for and hope to hear is something much more important. While FaceTiming, we pretend like we care about her overall GPA, then we hit the mute button…

Me: Did you hear that?!
Sandy: I think so.
Me: Was it?…..
Sandy: It sounded like her throat…tightened (giddy laughter)
Me: She, she just stammered, cleared her throat.
Sandy: I heard it, too. You think?
Me: I do! Follow my lead…

Me: "Sweet Pickle, sorry to interrupt, but I wanted to tell you that I was in the attic the other day and I found Lala and Lulu, you know, your American Girl Dolls."
Abby: What? Oh yeah…
Sandy: Sweetie, Lulu is soooo cute. The look on her face, she reminds of that time when we watched The…
Abby: (Interrupting) Sound of Music?! (tears)
Sandy: YES!
Abby: When Maria!
Sandy: YES!
Abby: Reaches for!
Sandy: OH YES!…(sobs)
Abby: I love you Mommy!
Sandy: I know Sweet Cakes. I know…

Sandy and I hang up and chest bumped like NFL receivers because we now know that not only does she feel horrible, she feels horrible because of one of God's greatest gifts to parents: Home Sickness. But we have to make sure it sticks, like rheumatic fever, so we paid her roommate to play subliminal messages at night:

"Only two people will ever really love you, and their lab tests came back positive…"
"Only two people will ever really love you, and their lab tests came back positive…"

Sandy's blog, ReluctantEntertainer.com, continues to flourish. A highlight was going to The Downton Abbey Highclere Castle in London, a partnership with Grey Pupon. There she got the skinny, or how they say, "juicy bits," about what really goes on behind those 30-foot curtains. But we're under contract not to talk about it. Sandy continues to share food, dinner party inspiration, tips, recipes, and travel adventures as a full-time blogger. She feels very blessed to have so many people in to our home to share meals and meaty conversations. In 2016, we plan to launch the Knife & Fork Club, where much ministry happens in the hours that we share food with people around our table.

The Protectors continues to expand, including a unique relationship with The Blanchard Institute, which works with entire school districts across the United States and Canada. Proceeds from two upcoming songs will be donated to The Protectors as well this year. I was asked to revise a book I wrote 10 years ago, which will be released this July. It's a rare to be asked to revise a book, especially one that launched a freedom-from-bullying movement. If time permits, I'd like to write another book, "Can I Eat Now? The Hungry Life of a Food-Blogger's Husband." Remember when food was just food, to be enjoyed and provide strength to your bones? I don't. Now breakfast, lunch and dinner are basically crime scenes that require documentation from each conceivable angle.

Hobbes and Filly are completing their 10th year of trench warfare. Filly, almost 17, still glares at Hobbes with the heat of a thousand suns through her only good eye. She's our aging queen, a lioness in the winter of life. Mother Nature has revoked her hunting license, so she hasn't brought us a mouse, rat or bird in a very long time. I read an article that said how most house cats are crazy and would kill us if they could. Well cats, the feeling's mutual, except for Filly. We talk about her formidable years, when she hid under our Japanese maple and waited for our kids to come home from elementary school. She jumped them like a ninja, wrapped all four legs around their side, and left them with a love bite, arrhythmia, and a taste of something wild.

Haggis, 11, is gray around his eyes and muzzle, yet still thinks he's a puppy. He still bounds through the snow like a rabbit for about a minute, then he rests the way I need to rest now. He looks at me with his earnest and playful eyes that say…"Give me a second so I can go ahead and protect you." He believes this within the furnace of his half-pint soul, but I know better. He needs years not seconds, and those years will never return. We are both on the other side of the Mountain of Life, the dreaded north face of opposing winds where fire still fills our eyes and imaginations, but not our bones and paws.

We are descending, as many of you are descending.

Yet who says we can't go out with fire?! That we can't we be like Jack London, about whom Fin Frolich wrote, "I never saw a person in all my life with more magnetism, beautiful magnetism. If a preacher could have the love in his make up, and the life, God, this whole world would be religious." London regaled and sometimes inflamed is friends with the prophet's truth that all of us are descending. Yet we live. All are sliding. Yet we can climb with the right footing. He inspired his friends with what he called his Credo:

I would rather be ashes than dust!
I would rather that my spark should burn out in a brilliant blaze than it should be stifled by dry-rot.
I would rather be a superb meteor, every atom of me in magnificent glow, than a sleepy and permanent planet.
The function of man is to live, not to exist.
I shall not waste my days in trying to prolong them.
I shall use my time.

During this season of half-hearted resolutions, let's resolve to use our time to love God and our neighbor as ourselves. Let's transcend the pain and glibness of this world with a functioning cheer that proclaims I will spend my time well today, regardless of politics, our widening waistband, and what those Kardashians do and say.

That's life in the Coughlin home, uneventful but still trying.

Much Affection,

Paul, Sandy, Elliot, Garrett, Abigail
Haggis, Filly & Hobbes
SaveSave
Hello and welcome to my home and table!
I'm Sandy—lover of food, family, cooking, THE BIG BOARD, travel, and bringing people together. Through great recipes and connection around the table, we become better, stronger, and more courageous people. Feasting on Life is real, and every time we do it, we grow a little more. Read more...