Raspberry Nutella Tortilla Wrap Hack
Make a Raspberry Nutella Tortilla Wrap Hack dessert with a tortilla and ingredients like Nutella, almonds, raspberries, mascarpone cheese!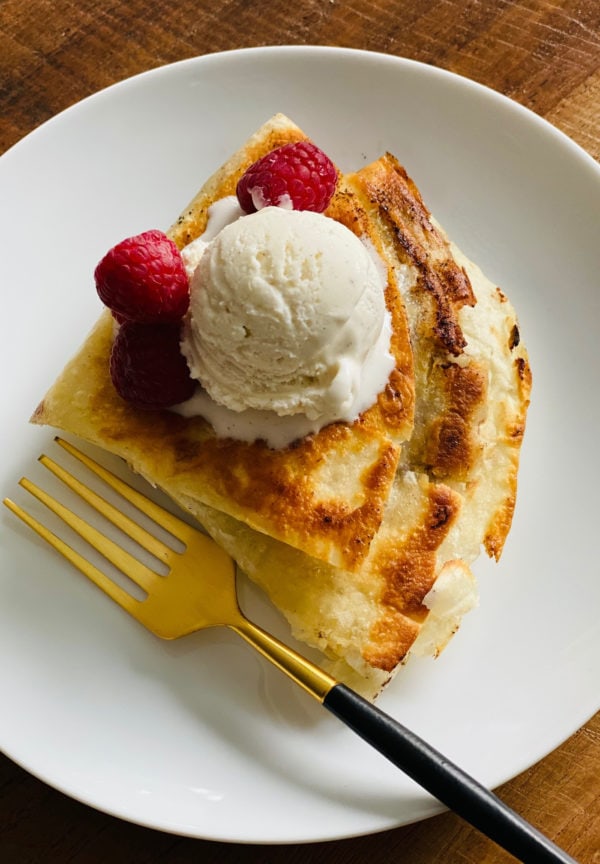 Friends, have you heard of the new tortilla trend, or tortilla hack? It's a trendy way to take a tortilla–make one cut, and wrap all your favorite ingredients. Today we chose to make a sweet one!
Raspberry Nutella Tortilla Wrap Hack
Make and grill this Raspberry Nutella Tortilla Wrap! Wow your friends for a sweet Valentine's dessert this year! Also another sweet treat is this Nutella Berry Bruschetta Recipe!
Let me show you how! Using a large tortilla, make one cut to the center, and place 4 ingredients down in the quarter sections. Wrap and grill or watch it on my Instagram story?
Ingredients for sweet tortilla wrap hack
Tortillas
Nutella
Roasted sliced almonds
Raspberries
Mascarpone cheese
4-layer wrap in just one simple step
I love how simple this method is, and fun to surprise your family or dinner guests with a delicious dessert! I mean, the combinations are endless.
These tortilla wraps have recently become popular all over social media, so I also gave it a spin with a tuna melt on my Instagram story.
Then last weekend we made these sweet wraps for dessert!
Love is in the air ….. and not only did we enjoy some sweets, but we went on an early Valentine's Day snow hike at night, into the swampy warming hut nearby. We took our snow shoes, but we didn't need them.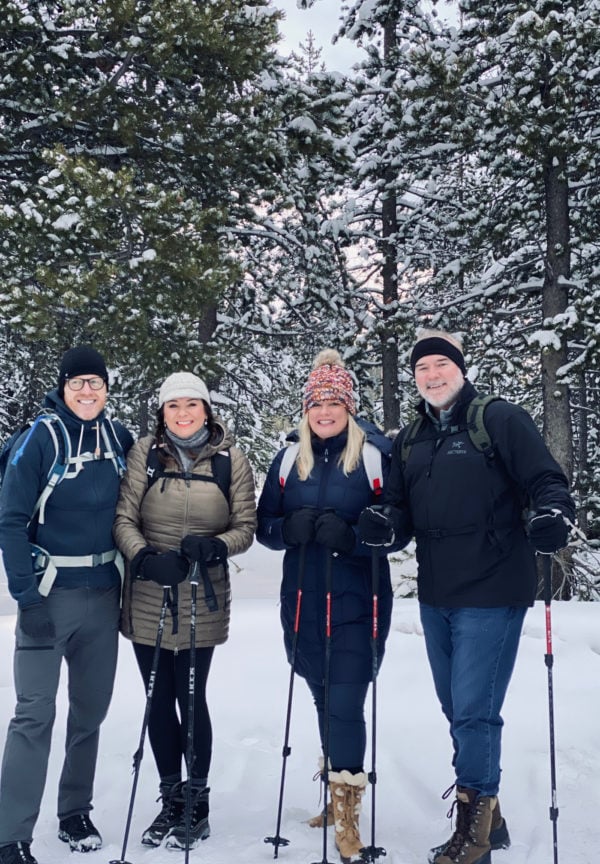 This has become a tradition now to hike in and bring a giant charcuterie! Even in all the snow and February chill, it's fun to get in the great outdoors. We love living in Bend, OR, and trying new adventures!
Back to this 'Dessert Wrap Hack' – here's how you do it
Make one cut into the center of a round tortilla.
Then visually separate the tortilla into 4 spaces. In each space place the following:
A spoonful of hazelnut spread (or Nutella)
Spoonful of mascarpone cheese
A sprinkle of toasted almonds
Handful of fresh raspberries
At this point I added a smear of butter to each side also, and grilled for about a minute on each side. But you can also put these sweets into a toaster oven!
Other sweet combinations to add with mascarpone cheese:
Lemon curd, blueberries, macadamia nuts
Strawberries, Nutella, walnuts
Peaches, brie, fresh basil, and raspberry jam
Bananas, nutella, peanut butter, and peanuts
The list goes on and on!
Tortilla wraps are loved by almost everyone, but to eat them without messing up your hands and plate is quite a task.:)
ENJOY!
More Nutella dessert recipes:
Nutella Fondue Dip Dessert Board
Grilled Glazed Nutella Donut Sandwich
Homemade Strawberry Nutella Ice Cream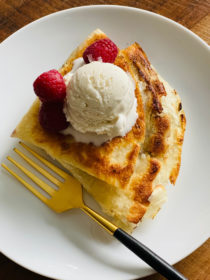 Get the Recipe: Raspberry Nutella Tortilla Wrap Hack
Ingredients
4 tortillas
8 TBSP Nutella
8 TBSP roasted sliced almonds
1 cup fresh raspberries
8 TBSP Mascarpone cheese
Vanilla ice cream
Instructions
With scissors, make one cut from the outside of a tortilla to the center. Visualize 4 open areas to add ingredients.

Place the ingredients in 4 separate quarters, staring with 2 TBSP Nutella, nuts, raspberries, and ending with 2 TBSP mascarpone cheese.

Starting with one edge, fold it upwards, then to the left, then down to the 4th quadrant. You will have a triangle wrap.

Add a smear of butter on both sides and grill (or toast in oven) for a couple of minutes; serve with vanilla ice cream and enjoy!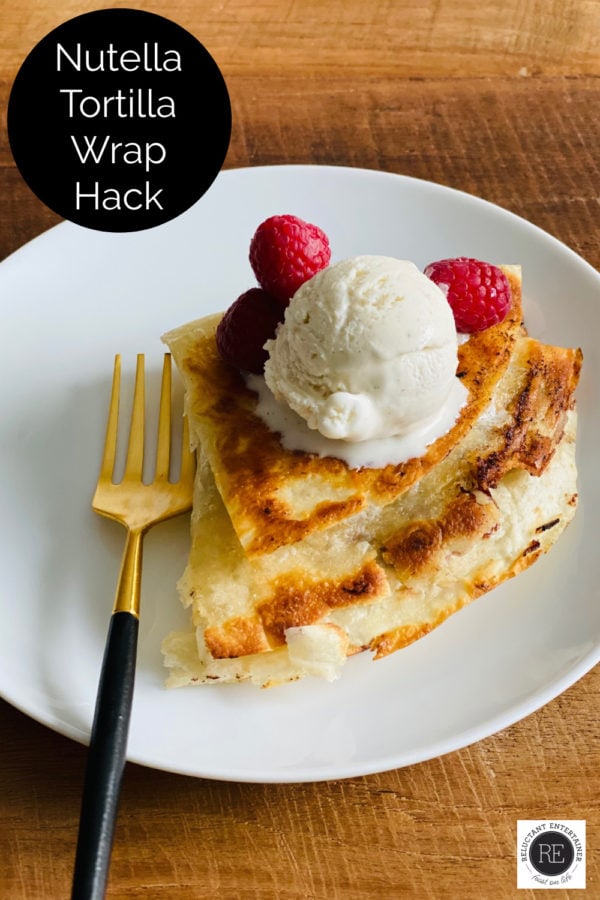 Hello and welcome to my home and table!
I'm Sandy—lover of food, family, cooking, THE BIG BOARD, travel, and bringing people together. Through great recipes and connection around the table, we become better, stronger, and more courageous people. Feasting on Life is real, and every time we do it, we grow a little more. Read more...