Making Peach Upside Down Cake for Dinner Guests
Just like my mom, Making Peach Upside Down Cake for Dinner Guests is a must; easy and delicious to pull hot from the oven, served with a dab of whipped cream!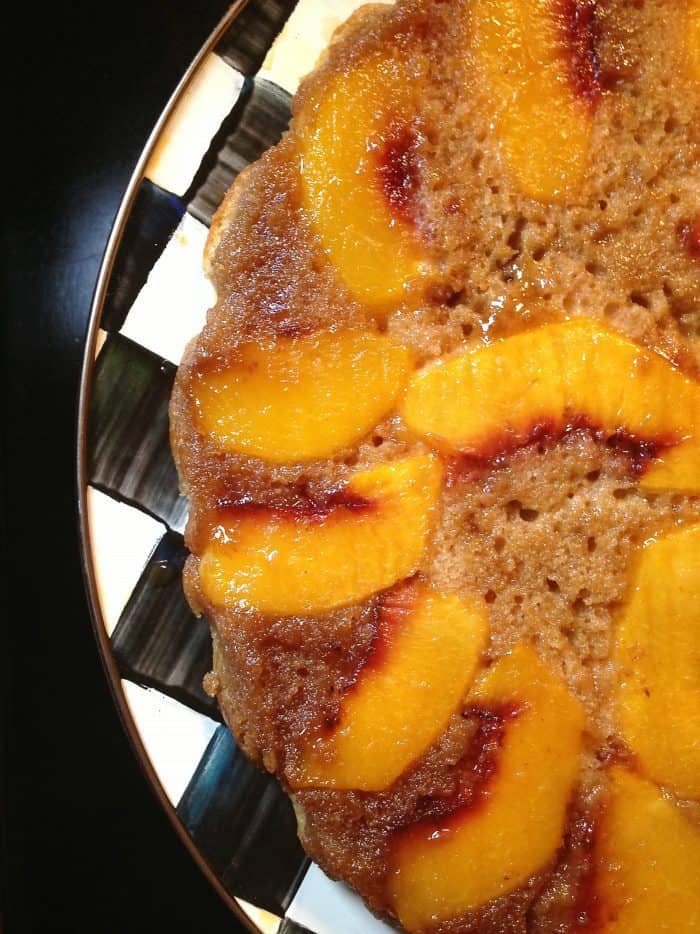 Fall for me is a time to pull out a new journal and start writing. I'll write about what's inspiring me, what I need to do that day, and other things that are important. I'll also add in different recipes I want to try and articles in magazines that inspire me. Like Making Peach Upside Down Cake for Dinner Guests, like my mom used to do.
A new journal is a good thing. :)
Another thing I like to do is go to the back of the book and dream about guests we'd like to invite to dinner.
Blank pages are just waiting to be filled, in my case, with names.
I recently found an old journal and was thumbing through it, when this page jumped out at me:
"Autumn guests" was listed with about 50 people, some couples, some single friends — grouped together by dinner parties.
Years ago I started dreaming about dinner parties. I liked to put the parties together in my head, and then on paper.
Some are new friends, some are old (as in friends in our lives for 22 years of marriage).
Making Peach Upside Down Cake for Dinner Guests
Fall is a wonderful time to invite people over for a meal.
You can keep it simple, make a one-pot-meal, delegate the dishes so you don't have to do it all, or you can even head out to a restaurant and then come back home for dessert.
Last week I whipped out my mom's Peach Upsdie Down Cake and made it with fresh peaches for a few friends.
And then the next night I made it with plums and bananas. That is what I LOVE about this kind of cake. Most any fruit will do! Or, have you tried it with pecans?
(Or, in the spring or summertime, make Strawberry Coconut White Chocolate Upside Down Cake!)
It's not fancy, really, but it's warm and delicious. (Mm-m-m, plums and bananas!)
For me, upside down cake is the perfect fall-time dessert.
Perfect for warm connections–when friends join us in any season of life–for relaxation, good food, and a delicious dessert.
What is your favorite fruit when making an upside down cake?
Making Peach Upside Down Cake for Dinner Guests
Most any fresh or canned (drained) fruit will work!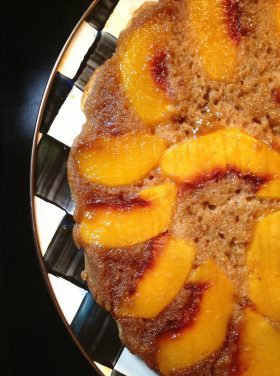 Ingredients:
1/2 cup (1 stick) butter
1/2 cup brown sugar
2 peaches, peeled and sliced
1 1/2 cups flour
1/2 cup granulated sugar
1 1/4 tsp. baking powder
1/2 tsp. salt
1/2 cup whole milk
1 tsp. vanilla extract
2 eggs
Directions:
Preheat oven to 350 degrees. Lightly spray a 9″ round baking pan (a 9×12 pan works, too) with cooking spray. Line the bottom with parchment paper.
Melt 2 Tbsp. butter and stir in the brown sugar until blended. Spread over parchment paper.
Arrange the peach slices on top of the brown sugar mixture.
Combine the flour, sugar, baking powder and salt in a large bowl. Using an electric mixer, beat in the remaining 6 Tbsp. of butter, and then beat in the milk, vanilla, and eggs. Beat for 1 minute.
Spoon the batter evenly over the peaches. Bake until the top is golden and a toothpick inserted into the center of the cake comes out clean, about 35 minutes.
Remove from the oven; transfer the cake to a wire rack and cool for 10 minutes.
Run a knife blade around the edge of each cake to loosen it from the pan. Invert the cake onto a serving plate. Lightly tap the bottom of the pan to loosen the cake, then lift the pan.
Peel off the parchment paper. Serve the cake warm and top with whipped cream if desired.
All images and text ©Sandy Coughlin for Reluctant Entertainer.
More cake recipes: Gooey Upside Down German Chocolate Cake [TidyMom], Blueberry Lemon Upside Down Cake [Foodness Gracious], Slow Cooker Peach Cobbler Recipe [A Spicy Perspective], and Coconut Peach Crumble [Noble Pig].